Back to Basics is a Think with Google Canada series where Google experts explore digital marketing best practices. Roberto Faria, program manager for Grow with Google at Google Canada, shares lessons from the Google UX Design Professional Certificate, which introduces the foundations of the design process, including empathizing with users, building wireframes and prototypes, and conducting research to test your designs.
User experience (UX) design is more than visual design — it's about making products and marketing materials accessible, and aims to offer an enjoyable, seamless experience. The ease of a digital journey can create a positive customer experience and can have a big impact on marketing and a company's bottom line.
A 2018 McKinsey and Company report on the business value of design found that businesses that focused on good usability and design performed better. When people like using a product, they use it more and are likely to recommend it to their friends. As well, when people have a positive experience using a product, they are more likely to have a positive opinion of the company that made it. This all has an impact on business revenue.1
Marketers can play a big role in the usability and accessibility of products as well as websites, apps, marketing materials, social posts and business communications, and in turn, the customer experience. And with marketers often working across teams and products, they are well-positioned to influence the usability of them.
Here are five ways marketers can incorporate the foundations of UX design into their work.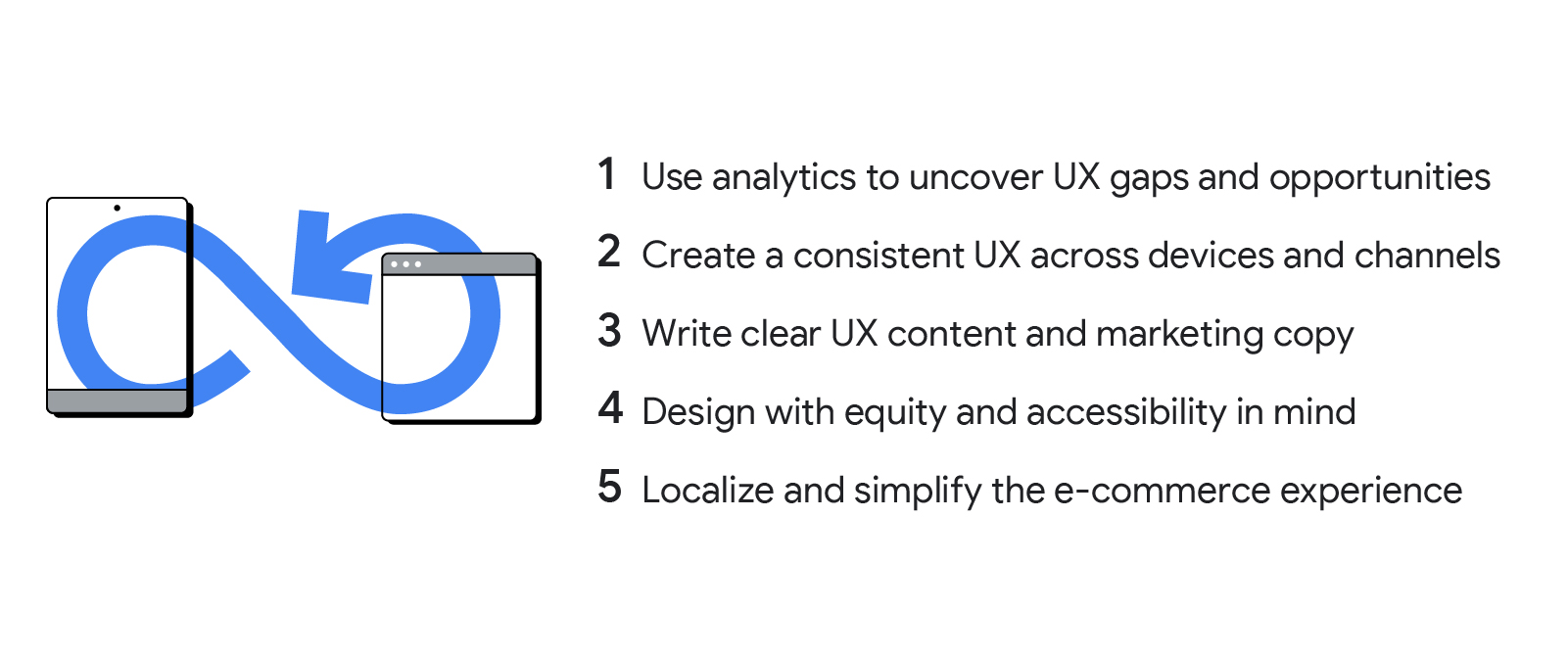 Use analytics to uncover UX gaps and opportunities
Marketing data and analytics can offer clues about the overall customer experience and where there is room for improvement. If you notice people are dropping off before completing a purchase, is there something about the checkout process that is complicated or hard to use? Regularly testing mobile site speed and analyzing engagement analytics can also help uncover potential barriers.
Research and test with real people. User testing allows marketers to understand how people interact with products and campaigns, and get a sense of what works and what doesn't before going to market. It can uncover things that are hard to catch while testing with tools or team members that are already familiar with the product. These tests range from how easy it is for someone to locate a product on the site, to barriers to access for people with different needs. Conducting user tests in advance can help improve e-commerce sites, and can save companies time and money.
Create a consistent UX across devices and channels
The consumer purchase journey has changed, with people now moving between online and offline, desktop and mobile devices, and researching purchases in advance. Find ways to remove potential confusion and create a consistent experience on the backend, by having responsive sites and apps that work across many devices.
Consistent branding across products, platforms, campaigns, newsletters and social channels can help build trust, as people know what to expect. Make sure teams on different products and channels are working with brand guidelines so everyone is aligned. If there's no existing brand guideline to refer to, Primer offers a free course on creating brand guidelines. Sites like Canva also offer tools for creating colour schemes and consistent design templates.
Write clear UX content and marketing copy
Text and copy can have a big impact on the performance of a product or campaign, as it's in everything from website content, promotional emails and campaign slogans to developer copy in product builds. It's important to use plain terms and clear language (no jargon) that is easy to understand, a tone that is appropriate for your audience, and language that is inclusive and equitable.
In newsletters, button and feature copy, clearly communicate the actions you want people to take, such as "continue shopping" or "book an appointment now." When writing about complicated topics or unfamiliar terms, address barriers by adding short explanations or link out to more information, like frequently asked questions (FAQs), video tutorials or step-by-step instructions.
Design with equity and accessibility in mind
UX design is about designing for all, at every step, without barriers or bias. Visual designs are an important part of a positive, equitable and accessible user experience. Work with agency partners and graphic designers to ensure marketing materials and sites meet accessibility guidelines, and that visuals are clutter-free and easy-to-read or view. Things like consistent colour schemes and high-contrast images and logos are more easily seen by people with low vision.
Evaluate all language and copy to make sure it is inclusive and equitable. Many companies and agencies have processes for this in place. Google's precise language team put together a set of principles and steps to assess language and use more equitable words and terms. Ensure text is in a readable font and size, videos include captions and images include alt-text, that can be read by virtual assistants and screen readers
Localize and simplify the e-commerce experience
People want a seamless online shopping experience, including the checkout process. If it is too complicated, people can lose interest or get frustrated and drop off. Work with platform partners to explore ways to simplify the checkout process so customers have an enjoyable experience, and can complete purchases in as few clicks as possible. Localizing the checkout process can also have an impact on the user experience. Be transparent with shipping fees, conversions, duties and delivery times and offer customers a way to track it.
A positive UX comes from constantly learning and iterating on products and processes, and keeping close to the evolution of how people engage with them. To learn more about UX, the Google UX Design Professional Certificate introduces you to the foundations of the design process, including empathizing with users, building wireframes and prototypes, and conducting research to test your designs. You'll understand how to make digital and physical products that are easier and more enjoyable to use.