As digital advertising shifts from third-party identifiers toward a privacy-driven approach, investing in first-party data is a strategy that can help marketers adapt.
Unlike third-party data that is often available to many different companies, first-party data is unique to your business. It's data that you own and collect with direct consent from consumers, through interactions on apps and websites, and in response to marketing initiatives, like email and loyalty programs. When used responsibly, first-party data helps brands build direct relationships with their customers, create value, and boost their advertising performance.
For the past few years, we've partnered with Boston Consulting Group (BCG) to study how brands succeed with first-party data strategies. We found that those using first-party data for key marketing functions achieved up to a 2.9X revenue uplift and a 1.5X increase in cost savings. Despite its clear benefits, however, most brands aren't yet harnessing first-party data's full potential.
In our latest research with BCG, we looked at how large advertisers are using first-party data to gain a competitive edge. Based on interviews with more than 20 brands and 7 agencies throughout the U.S. and Canada, we identified specific ways marketers can get more from their first-party data strategy.
Despite its clear benefits, most brands aren't yet harnessing first-party data's full potential.
Here are five key things to do.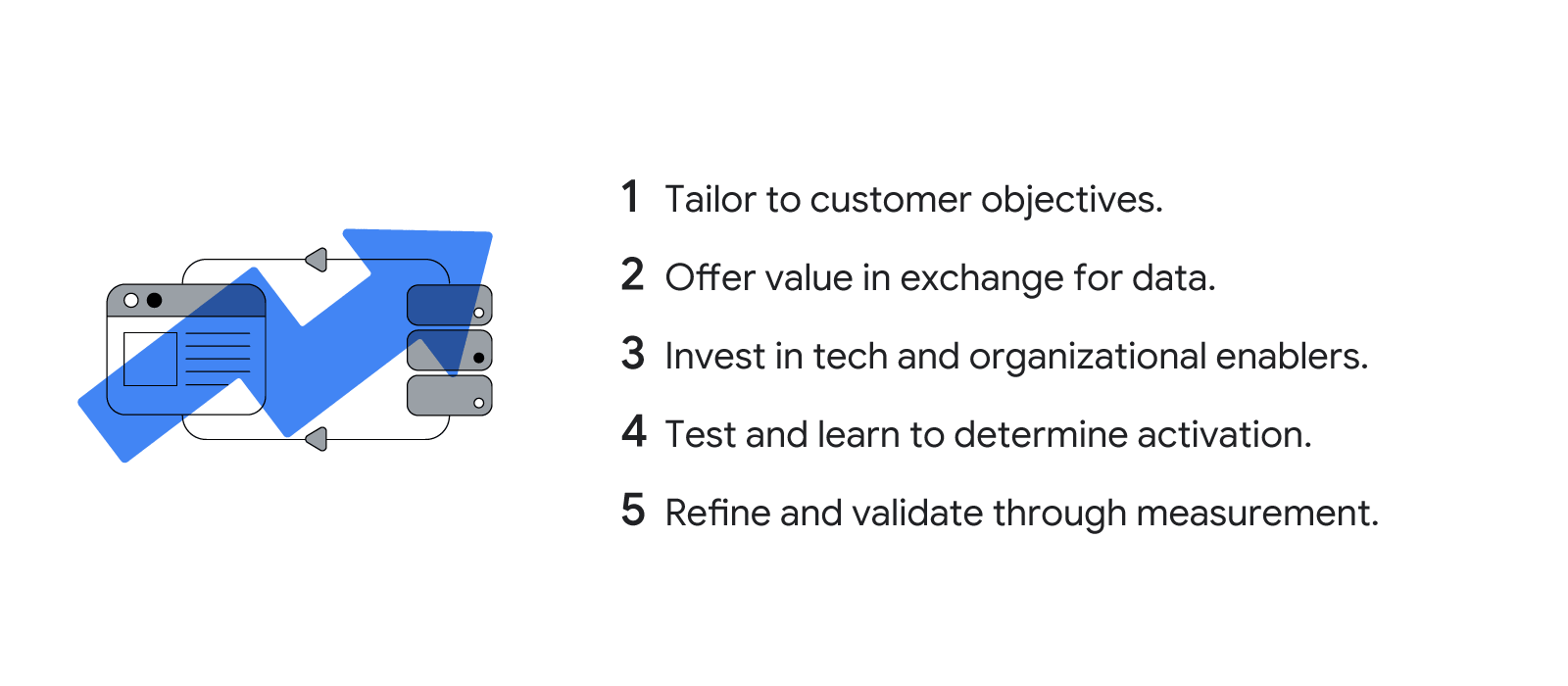 1. Tailor to customer objectives
What holds most brands back from using data effectively is the lack of a coordinated plan to guide choosing which data to collect, and how to analyze and activate it. Brands can overcome these challenges by establishing clear customer experience goals and aligning them to business objectives. These goals can then help you differentiate between data that is required and data that is nice to have.
Let's say, for example, that you aim to drive loyalty and retain your most valuable customers. With that vision in mind, the next step would be to invest in your loyalty program by making it your primary first-party data source. You could then use the program to provide discounts, redeemable points, and personalized offers for loyalty members to increase engagement with your brand and products.
From there, create a plan with measurable goals to guide which data you collect and invest in. Calculate the cost of acquiring that data as well as related complexities, such as compliance with privacy laws, risks of data breach, and impact on consumer trust. This helps you identify which data to prioritize.
2. Offer value in exchange for data
People want more transparency into how their data is being used online and more control over their experiences with digital advertising. When brands show that they are responsible with data and use it to deliver value through exclusive offers and loyalty programs, then customers are more willing to share their information.
As you're planning or reevaluating your first-party data strategy, an important question to ask is, "Have we made it easy for customers to see the benefits of sharing their data with us?" Consent management is the key consideration here. If customers experience your brand through a website or app, for example, incorporating consent forms into the user experience should be a priority.
Another way to maintain customer trust is through strong data governance. By managing data properly and implementing processes that ensure data accuracy and integrity, you can avoid data breaches while improving data accuracy, timeliness, and usability.
As you're planning or reevaluating your first-party data strategy, an important question to ask is, "Have we made it easy for customers to see the benefits of sharing their data with us?"
3. Invest in tech and organizational enablers
Putting the right people, technology, and processes in place is also key to getting the most out of first-party data. A great starting point is assessing your digital marketing maturity and identifying opportunities to increase your maturity.
Our research shows that the ideal organizational model is a hybrid approach. Typically this is when a brand takes data ownership and develops key capabilities related to data analysis and activation internally, and works with a trusted partner to fill any expertise gaps. Determine where you have capability gaps and consider whether a new piece of technology is critical to meeting your business objectives. Keep in mind that adding new technology won't help if you haven't been able to connect your existing technology and data platforms.
Strategic partnerships can also help you uncover the benefits of first-party data. Technology providers and platform partners bring external expertise and a deep understanding of data to better guide your strategy.
4. Test and learn to determine activation
Once you've determined which first-party data is most meaningful for you to collect, and how you'll collect and manage it, you can focus on how you'll use first-party data to improve customer experiences.
While many brands aim for one-to-one personalization, the time and investment required to pull it off can be significant. Our research found that a test-and-learn approach to assess the level of personalization needed for specific audience segments is an effective way to assess which activation type helps you achieve your marketing objectives. The idea is to prove value quickly with narrow use cases.
A large pharmaceutical company is a great proof point. The company wanted to provide more personalized customer experiences by understanding and overseeing all touchpoints along the path to purchase. The marketing team began by analyzing data from various digital channels where people engaged with their products. This gave them a clearer picture of how customers interacted with the brand day to day.
From there, they identified which data sources were most helpful across the purchase journey, like search behaviors and website interactions. The team used this information to design a small test for a specific brand with a broad audience, which personalized the customer experience across digital touchpoints.
The idea is to prove value quickly, with narrow use cases.
The test showed that a personalized approach increased the brand's ROI between 12% and 35%, depending on the marketing channel. This gave the marketing team value-based results to prove the impact of a first-party approach and drive its adoption across the company.
5. Refine and validate with measurement
The final key to a successful first-party data strategy is measurement. While measuring the effectiveness of the channel where you apply data can help with media optimization, measuring the effectiveness of your data strategy can help you optimize your overall marketing strategy.
In one example of this, a well-known automobile brand used measurement to refine its approach to data collection and management. While the company used auto show contests as its primary source of data and lead generation, its measurement approach showed that the leads were not actionable.
As a result of this insight, the company shifted its focus to branded microsites that invited customers to design their own car. This approach provided more qualified, actionable leads and ultimately helped the automaker put its marketing spend behind fewer, more impactful campaigns.
First-party data provides valuable insights that can help deliver better customer experiences and drive business results. But it's also important for marketers to use first-party data responsibly. To learn more about how you can make the most of your approach, be sure to review BCG's key principles for delivering the promise of first-party data.