If I had to sum up Google's mission in one word, it would be "help." Help people find the information they need. Help the online world be a better, more useful place. Help businesses thrive and grow.
And if you want to grow your business, you have to assist your customers throughout the entire shopping journey, from the earliest stages of research, to the point of sale, to customer service after the deal is done. This only becomes more important as people grow more demanding and impatient, and the traditional marketing funnel morphs into new, harder-to-define shapes.
I've been combing through our Grow with Google stories and this year's Economic Impact Report, and I've been highlighting lessons businesses of any size can learn from these companies. Some of them are breaking new ground; some of them are simply great examples of age-old business strategies. All of them are inspiring.
How are businesses winning by assisting? Here are three takeaways.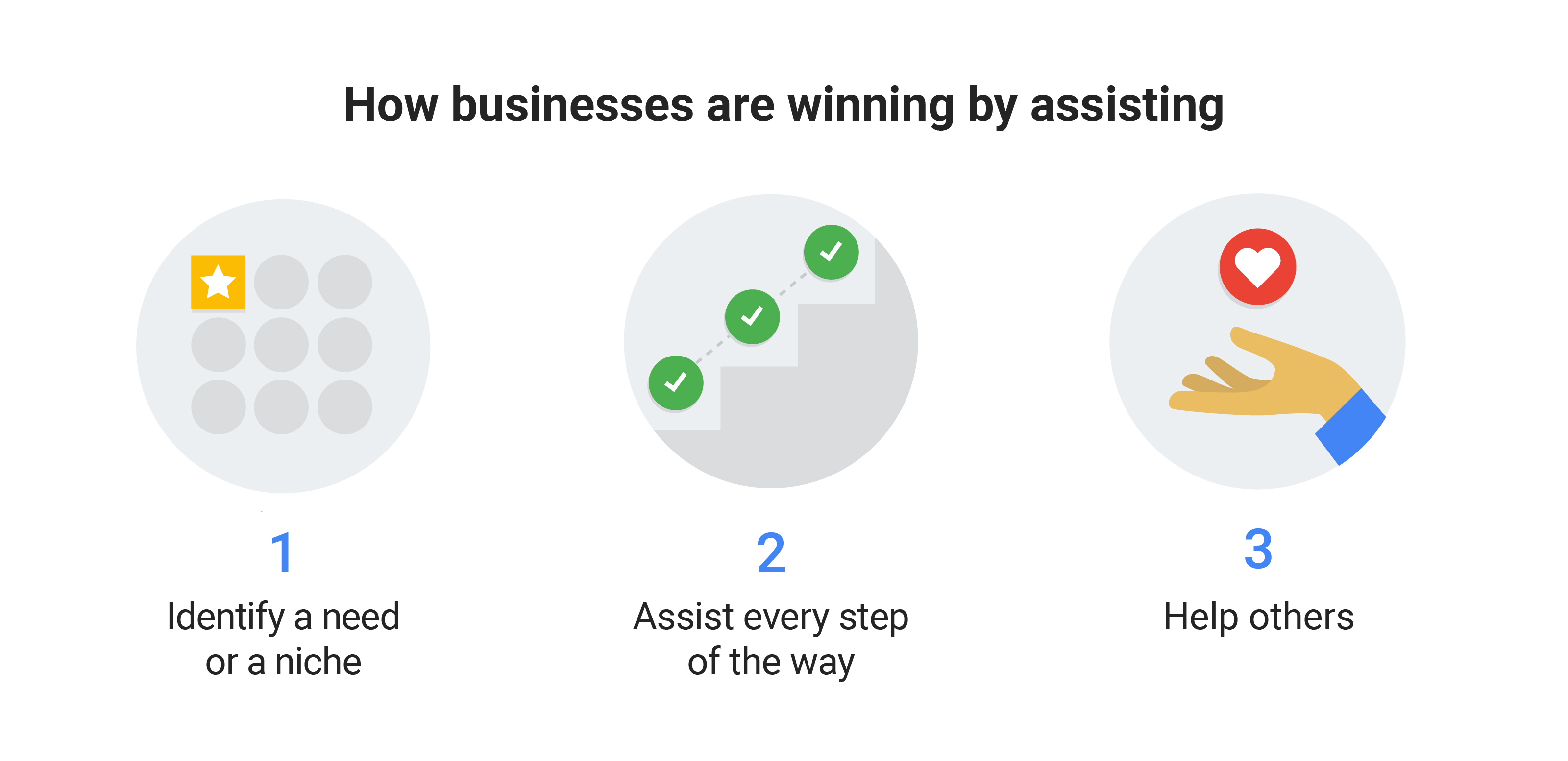 Identify a need or a niche
It's the original business model. Identify (or create) a need and then fill it. For decades the fastest growing companies were mostly about mass. Field a product that appealed to the most people possible and market it broadly. The digital age, however, has created a new breed of consumer. More and more people now expect to pull out a smartphone or go to a laptop, type the product they desire into a search engine and find it. That creates opportunity for companies both large and small to launch new products or expand into new categories.
Imagine a bow-tie enthusiast. He's already scooped up the local wares, and what remains is overpriced or shoddy. Luckily, Kirk Hinckley in Gaithersburg, Maryland, is there to help. He founded The Bow Tie Club in 1994 and the company has grown up alongside the internet. In fact, 90% of his marketing budget now goes to digital. It's not hard to understand why. If you decide one day you need a bow tie, chances are you're turning to search. The Bow Tie Club is more than likely to be near the top of the search-results page.
"It's hugely important for understanding what the customer wants, refining our product, and creating a better shopping experience."
Hinkley understands that a person searching for a bow tie is also signaling intent to purchase. "The reach and purchase intent are what make AdWords so powerful compared with other media tools," he said. The company also uses analytics tools to optimize its online presence. "It's hugely important for understanding what the customer wants, refining our product, and creating a better shopping experience."  
This doesn't only apply to niche fashion items. Rug Pad USA is a direct-to-consumer company based in Bridgeport, Connecticut. The business is "super niche and not glamorous," says CEO Will McDonald, "and that's why we like it." Again, if a person is shopping for something as specific as rug pads, it's very likely that they need to buy rug pads.
Assist every step of the way
We've been hammering this point home all year. Businesses who help along the entire customer journey will win. That doesn't just mean putting your product or location on search. It can be as simple as making your hours and locations easy to find or ensuring your web experience is fast and frictionless. But it can also involve teaching your potential customers before the purchase and engaging with them after it.
Tuft & Needle in Arizona is an online mattress company. A mattress seems pretty self-explanatory, but Tuft & Needle's founders knew that shoppers might have concerns about ordering a mattress through the mail. So the company produces YouTube videos that cover everything from unboxing tutorials to FAQs.
You can also let your customers virtually try before they buy. The website of Georgia's Carousel Designs features an interactive tool that lets expectant parents design and visualize their own unique nursery.
Help others
One thing that comes up again and again in reading the Economic Impact Report or exploring Grow with Google stories is how embedded these small- and medium-sized businesses are in their communities. Many of them aren't content simply to grow their businesses, they want to support their towns and the people who live and work there.
Supporting a community can be tied directly into the brand's purpose.
What's really great is when supporting a community can be tied directly into the brand's purpose. We've seen it with big companies like Lowe's, but I've also seen it with a company called Bit Source.
Bit Source builds websites, mobile applications, and software solutions for other businesses. It's a service that co-founder Rusty Justice said "can be done in the mountains and be sold around the world." Which is important, because Bit Source is based in Pikeville, Kentucky, one of many towns in the Appalachians hit hard by the decline of coal mining.
"About 12,000 miners in our part of the world lost their jobs," according to co-founder Lynn Parrish. "But we recognized that there was a really talented workforce here. We just needed to find an industry with equivalent demand for work and earning potential."
"The coal miner, like the coder, is a technology tradesman — he just happens to work in the coal industry," said Justice. With this realization, they partnered with a local software developer to design a coding curriculum for ex-miners. And in 2015, with a team of 10 miners-turned-coders, Bit Source went live.
"In a time of real economic despair, Bit Source was hopeful," said Parrish. "And we're still hopeful that someday we'll be part of a robust and diversified economy here in the heart of Central Appalachia," added Justice.
It sounds like a win-win for both the community and the company. And it's the sort of lesson I think businesses of any size and in any location should take to heart.