Everyone has a favorite meme to describe the brutal disaster of a year 2020 has been. But if there's an upside, the events of 2020 have driven us to reflect on what's most important, recalibrate expectations, and recommit to the values we want to uphold.
For me, both as an individual and a marketer, the opportunity to reframe the year as a "reboot" brings energy and focus to a time that might otherwise feel like an overwhelming slog. Brands, from Google to Nike to Snickers, have been given an invitation to reflect on the fundamentals. Do we really know our brand purpose — and are we activating it to its full potential for the times? Are we actually deploying our time, people, and budgets in the smartest ways? Are we fully living out our values internally and externally? Are we connecting meaningfully with consumers?
The core storytelling principles simply don't change – no matter how upside down everything else seems to be.
That last one leaves some marketers stumped. What's the right way to connect these days anyway? Given the heaviness of this year, should we expect a new formula for successful storytelling? Will there be a sustained shift in the tone of marketing communications and creative?
But let's not forget: The core storytelling principles simply don't change – no matter how upside down everything else seems to be. The best, most resonant stories are always rooted in core human truths and successfully connect those to what the brand uniquely can deliver — in a culturally attuned way. But in the face of significant contextual shifts — such as those driven by the COVID-19 pandemic or the resurgence of the ongoing Black Lives Matter movement — brands need to reevaluate how they put those pieces together to best connect with people at the sweet spot of empathy, ownability, and timeliness. Putting out a new 30-second spot with a "we're in this together" message isn't likely enough. (Cue flat storytelling and sea of sameness we saw early in the pandemic.)
Tap into how people are feeling — and what's uniquely ownable
Take Nike's Never Too Far Down creative. This married the key elements so well. With a worsening global pandemic making us feel discouraged and defeated, Nike aptly used the example of sport comebacks to inspire us to tap into our collective hopefulness and resolve. As a natural extension of the brand's core positioning, this creative resonates because it reflects what people were feeling (and what many aspired to deep down), it feels ownably linked to Nike, and it was a powerful commentary on the times.
Successful application of storytelling principles don't hold us to videos alone. At Google, while we're always trying to innovate with storytelling and adapt how we connect with users, this year's events really accelerated some of those efforts. During the onset of the pandemic, for example, we delivered on our core brand positioning of being helpful in new ways with our social followers. With our Weekly Trends Series, we not only shared timely insights about how the world was navigating the pandemic through searches, but we also connected those trends to guidance on practical tasks like "how to make a mask" or "how to make bread" through YouTube tutorials.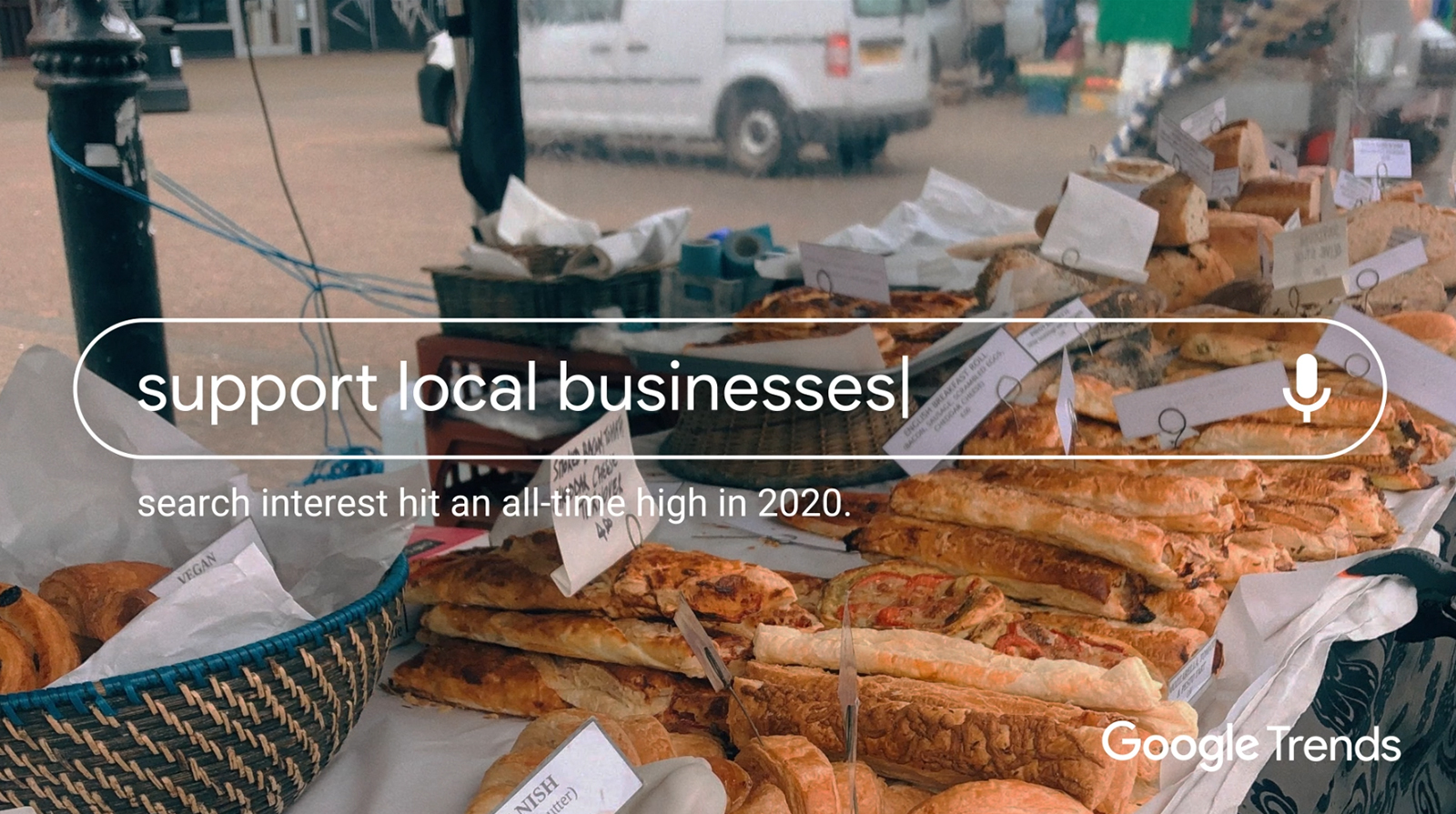 Similarly, helping users "support local businesses" drove them to an in-product experience to locate them. This social program was a different approach to connect the dots between consumer insight, unique value proposition, and contextual relevance. And while Nike's intersection of brand value and consumer empathy had centered on hopefulness, Google built a meaningful connection around empowerment and "how to."
Identify the right tone and speak human
Then there's the question of tone. A heavy year won't darken it forever. Marketing speaks to humans, and humans are complex and nuanced creatures with a range of mindsets and needs. Brands, too, run the gamut in personality and provocation. So while there was a skew toward more serious and heavy messaging earlier on in the year, creative and communications will expand to once again show a breadth of styles and tones. Sometimes serious, weighty creative will work best. For other brands and contexts, levity and positivity will jibe.
Great marketing and storytelling will always be both an art and a science.
With Google's recent "Return of the Macks" creative, the team leaned into straightforwardness – with a sprinkling of humor – to connect with consumer readiness to support small businesses. Subsequent creative further tapped into the practicality and pride of supporting nearby places specifically – in a way that delivers some real warm fuzzies. And then there's Snickers, which offers a bit of a wink. Its "First visitors" creative extends its "you're not you when you're hungry" message in a way that cheekily sends up a watch-out for transitioning back to socializing IRL.
Great marketing and storytelling will always be both an art and a science. If we remember the enduring principles, the "art" part becomes one of the most interesting and rewarding aspects of our job — not despite challenging circumstances around us, but because of them.