Like many in our industry, the marketers at Google are actively testing new privacy-safe ways to discover and engage with audiences. Our Media Lab team, which manages all media strategy, ad buying, and planning for Google Marketing, has historically relied on third-party identifiers to reach relevant audiences and measure our marketing performance. These identifiers — third-party cookies in particular — have been the standard for digital advertising for many years. But evolving user expectations for privacy are driving platform and regulatory shifts that challenge us to reexamine the traditional way we do our jobs.
We're rethinking how we approach digital marketing
Now, in addition to finding new ways to reach the right audiences and optimize our marketing creative, we're very focused on driving results without using these common identifiers. This initiative is not new but rather part of an ongoing, multiyear effort to build a data foundation that can excel at today's most important digital marketing functions in the absence of third-party cookies.
Today we'll describe a few key steps we've taken to build a strong digital infrastructure capable of activating first-party data across the business, achieving accurate measurement, and driving performance.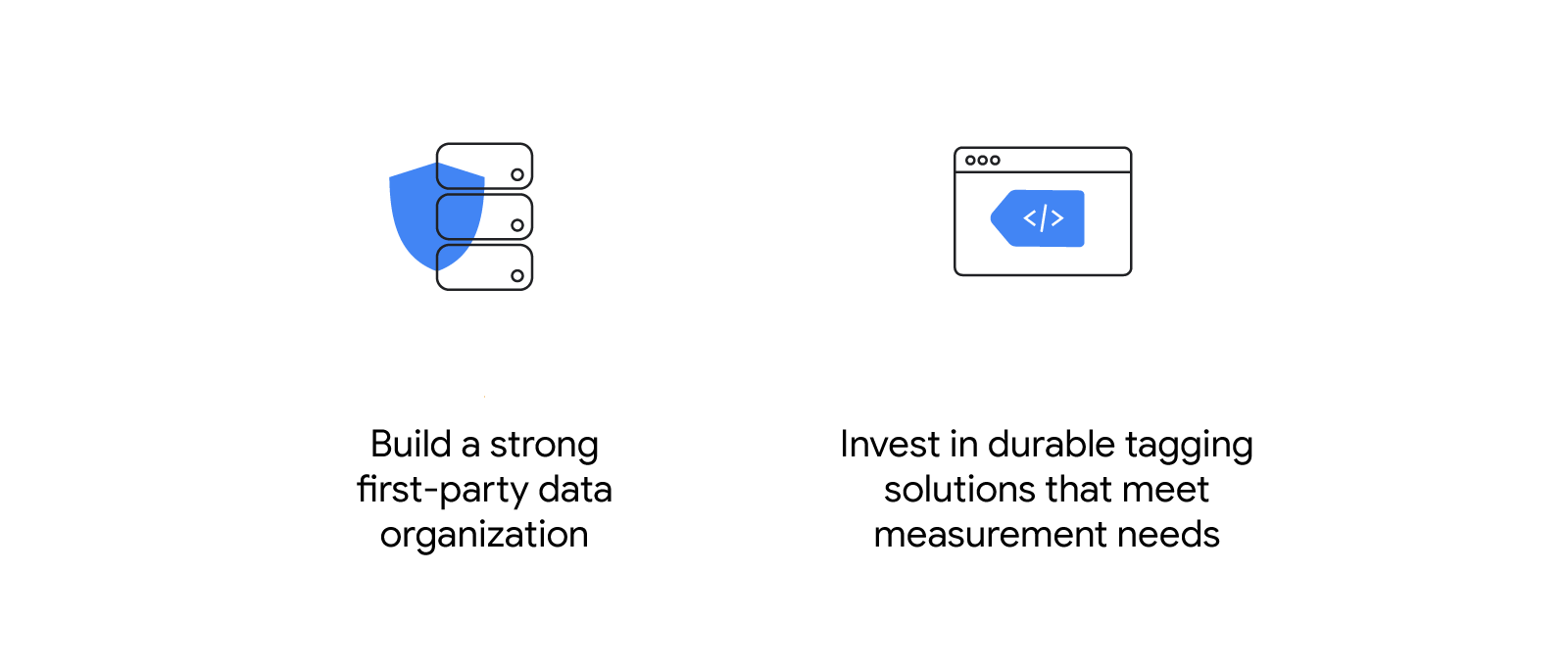 Build a strong first-party data organization
Our top priority is to build a data foundation that is privacy-safe and resilient to change, one that makes the most of Google's own first-party data to inform our marketing efforts.
Google's products are used by hundreds of millions of people every day, often through a signed-in experience. Several of our most popular products don't use first-party data for advertising, and, for those that do, we take special care to ensure that any data that is used for advertising honors user choice and privacy.
By improving communication with engineering and IT, we've successfully developed a central process for activating first-party data.
This can be a complex and involved process, particularly at a large company like Google. Our team runs thousands of marketing campaigns, so having a centralized system with the right checks in place is essential. To create this system, we've taken steps to remove silos and work more closely with internal teams to activate our first-party data.
We kicked off this process by briefing our partners in engineering and IT about our needs. We formed a tight working group with these partners to track progress and adjust our approach as needed. This collaboration is sponsored by all the cross-functional VPs, and we provide these leaders with quarterly updates as part of our regular workflow.
This step has helped Media Lab unlock insights that can inform our strategy and deliver our creative messaging to the right people. It has also necessitated a big time investment, in some cases requiring us to spend more hours on compliance processes than developing innovative media campaigns.
Therefore we set out to build solutions that would give us more time to focus on the core ways we add value. To that end, we've been working on an automated privacy audit capable of helping us honor people's data choices.
This automated approach to compliance isn't something that every company will need, but it has helped Google's marketing teams spend more time on what we do best — designing innovative and creative campaigns that connect people with our products — while protecting user privacy.
Invest in durable tagging solutions that meet measurement needs
Another Media Lab priority is to generate accurate measurement insights that will help us know how to reach and engage more people. In the cookieless future, gleaning more of these insights from our own webpages represents a key opportunity.
A robust tagging infrastructure allows us to better understand those preferences and strengthen our first-party data foundation.
With greater insight into sitewide activity, like conversions, we're able to quickly adapt our strategy as needed based on customer preferences and interests. A robust tagging infrastructure allows us to better understand those preferences and strengthen our first-party data foundation.
Over the last few years, we've gone through all our products and set up our site tags in a way that's consistent, durable, and scales with our measurement needs. This in turn has enabled us to centralize insights and adjust our strategy as needed.
The best time to start is now
Laying a strong foundation for first-party data takes time. At Google, this mission requires an ongoing effort given the size and complexity of our organization. In addition to improving workflow and communication, we have built new automated processes that ensure we respect user choice. And, through tagging, we're getting more from our first-party data. We've still got work ahead of us, but we believe our efforts to be ready today will build resilience as the privacy environment continues to evolve.