I have worked in digital advertising for over 20 years, more than half of that time spent at Google. And a big part of my job has been to ensure that everyone in the ecosystem, from publishers and advertisers to users, benefits from the opportunity that digital advertising creates.
The truth is, ads play a major role in sustaining the free and open web. Ads underwrite the great content and services that users get for free. They support a universe of creators and publishers. And they enable marketers of all types and sizes to connect with people interested in what they have to offer.
But expectations are changing. Increasingly, there are users who feel shortchanged in this deal, especially when it comes to their privacy and the ways their personal data is being handled.
We are seeing this change play out in how people interact with Google. For instance, there's "My Activity," which is a place where users can go to manage information that's saved to their Google Account, such as their search and browsing history. Since 2016, search interest for this phrase has increased by more than a thousand percent worldwide.1 Last year, people made more than 2.5 billion visits to their Google Account pages, where they can view or adjust how their ads are personalized.2

The entire online advertising industry has already seen sweeping changes as a response to these user concerns. New regulation has set higher standards for user privacy and data protection. And some web browsers have added restrictions that make campaign measurement and ad personalization more difficult.

That's why it's critical for all of us in the ads ecosystem to be focused on improving trust and user experiences. We must work together to ensure that people all around the world can feel confident that their privacy is protected when they're accessing free, ad-supported content on the web.
It's our experience that people prefer ads that are relevant, but only if those ads meet users' expectations in three key areas:
Transparency. People should be able to easily see how their data is being used for ads, including what data is collected and who's collecting it.
Choice. People's choices about how ads are tailored to them should be respected, and any attempts to bypass those choices should be prevented.
Control. People should have control over the data used to tailor their ads, including who has access to it, how long it's stored, and how it's used.
Those are the ideas behind some important steps that we recently announced in partnership with the Chrome team. To bring these principles to life for our users, we've begun:
Building new tools that give people more transparency into the data used to personalize ads and the companies involved in the process.
Placing new restrictions on fingerprinting to ensure that when users opt to block third-party tracking on Chrome, that choice is respected.
Offering improved controls for users to block or clear third-party cookies in Chrome without degrading their browsing experience.
But to create experiences that are truly privacy-forward for users, we need to work together. Here are some steps that marketers can take:
Three steps to building trust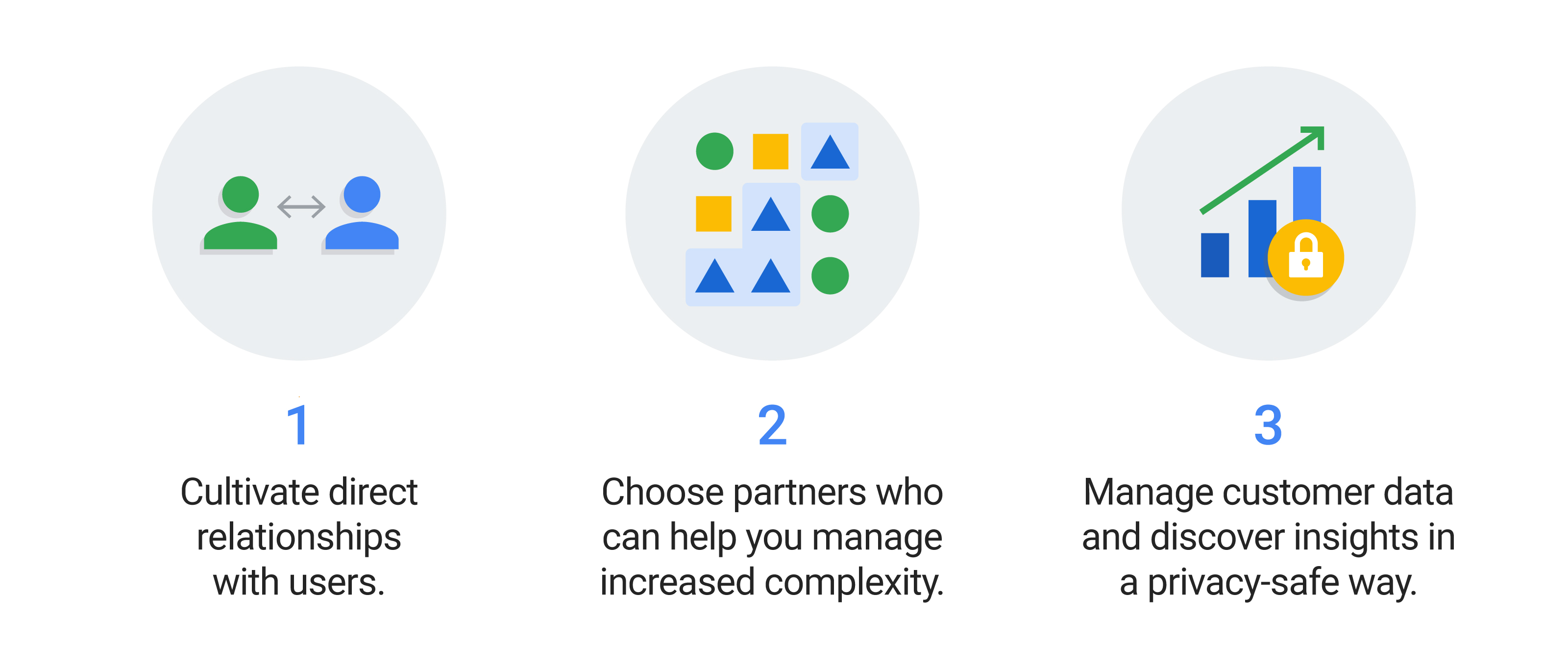 Cultivate direct relationships with users: This means being clear about the data you collect and why, so make sure your privacy policies are up-to-date. You should also adopt a first-party measurement solution, in which cookies are set only when someone has contact with your site. You can do this type of tagging with Google's global site tag or a tool like Google Tag Manager.
Choose partners who can help you manage increased complexity: These days, each ad impression can have a different set of conditions that you'll need to consider, such as someone's consent choices or which browser a person is using. In cases when people have opted out of personalized ads or when cookies are constrained, you'll just have less data to work with. In such cases, you'll need to work with partners who have the expertise to help you do more with less data. Google Audiences, for example, can use machine learning to assess the context of the page where the ad is shown to ensure it is relevant.
Manage customer data and discover insights in a privacy-safe way: Cloud technology has inherent privacy and security advantages when it comes to analyzing large data sets, such as encrypting all data by default and employing strong user access controls. These capabilities are built into solutions like Ads Data Hub so that you can protect user privacy while discovering insights.
We need to change our approach to keep pace with evolving expectations for user privacy. That's why Google is taking steps to ensure users feel confident that their privacy is being protected — and why we're working to help marketers find privacy-safe ways to continue to reach your audiences and measure results accurately.
Ultimately, I believe this shift is a significant opportunity for all of us. If we get this right, we will create a better, more sustainable online advertising ecosystem that works for everyone.