Caroline Leksell is Retail Lead at Google EMEA. Rasmus Kragh, Retail Lead for the Nordics and Benelux region, provides local insights to illustrate Leksell's perspective.
If there's one thing we've learned in the last year it's that plans tend to change, a lot. Marketers and retailers alike have had to revisit not just campaigns, but entire strategies — and that lesson in agility is one we'll all be holding onto as we move forward.
In a time when consumer expectations, habits, and purchasing behaviour are constantly shifting, paying attention to seasonal moments can help retailers find a structure that is both reliable and set up for success. To help, we'll be sharing seasonal insights from across the Nordics and Benelux regions throughout the year. Utilise these to guide your approach, prioritise your next steps, and create a marketing strategy that meets your evolving business needs. Next up: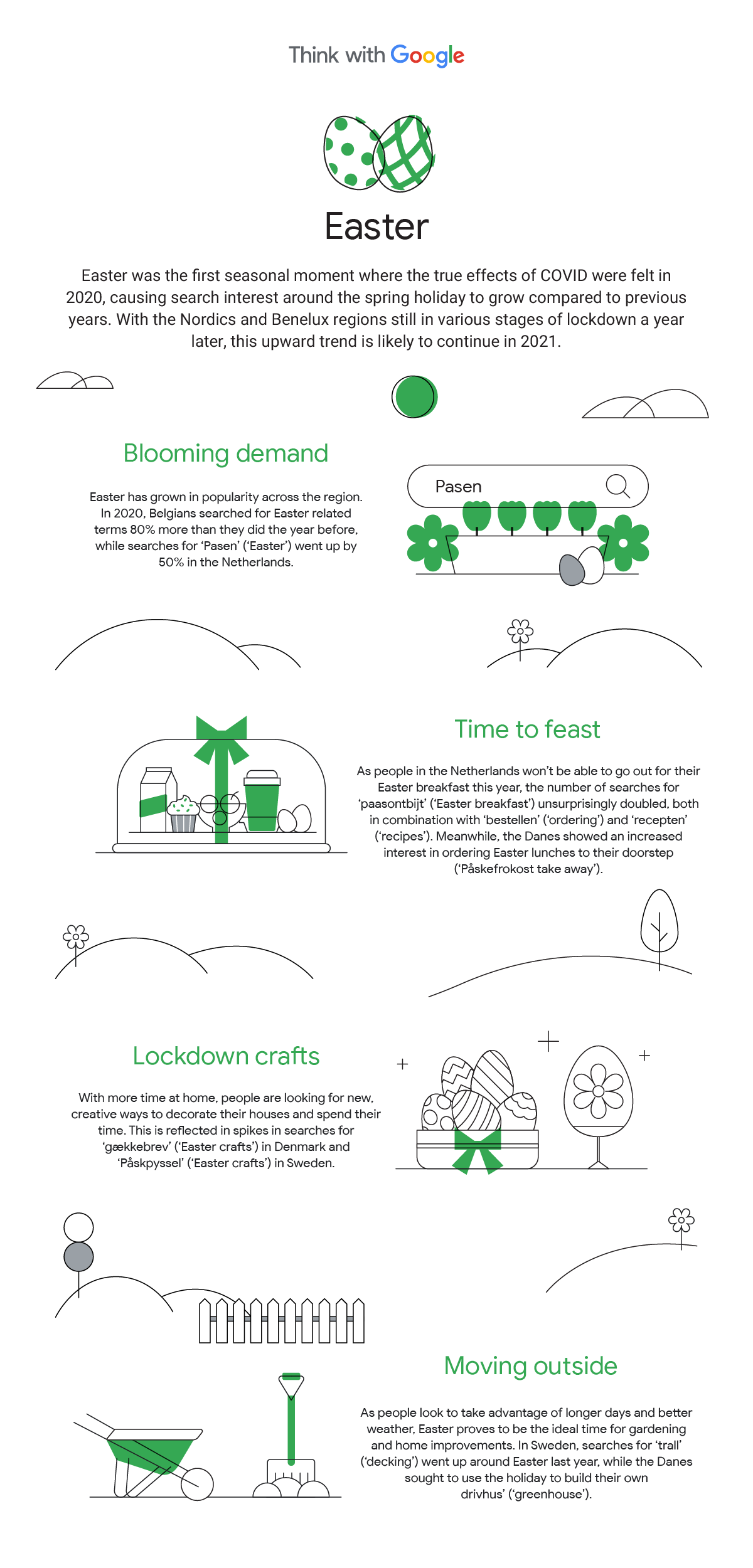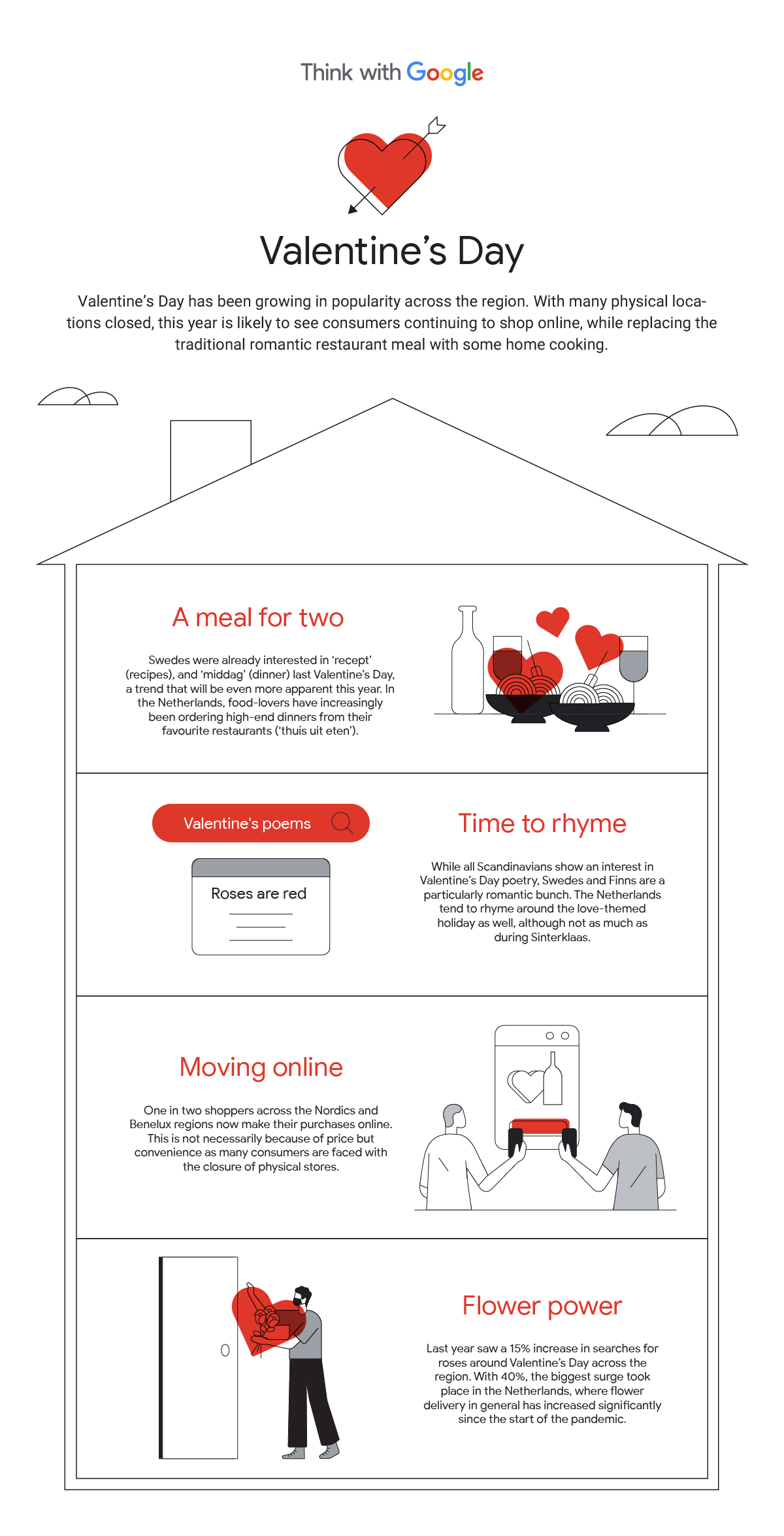 4 last-minute tips to optimise your Easter campaigns

1. Add Easter keywords to your Search campaigns. People search differently in the lead up to seasonal events. Adding seasonal keywords like 'chocolate for Easter' or 'Easter eggs for kids' will make it easier for customers to find you. If you're working with Smart Bidding, consider broad keywords or Dynamic Search Ads to capture all relevant demand.
2. Provide clear and specific information. Update your ad copy to let potential customers know what seasonal deals you're offering, and be sure to emphasise how, where, and when they can get it.
3. Don't let budget limits get in the way of opportunities. Most advertisers run multiple campaigns with set daily budgets. During seasonal peaks, increased demand may mean you miss out on potential customers as you hit your limit early in the day, so consider increasing your daily budget for a higher return. In addition, you can use tools like Rising Retail Categories or Google Trends to stay on top of changing demand.
4. Temporarily adjust your bidding strategy. To be more competitive during this peak period, advertisers can either increase their target cost per conversion (CPA) or lower their target return on ad spend (ROAS).
---
What else should retailers keep in mind this year?
Understand your existing customers and find new ones
It's important that customers know you are there for them, even in difficult circumstances. Make sure to stay updated on local market conditions and tune in to the challenges your customers face. Full-funnel audience solutions can identify shoppers with high purchase intent for each of the moments in our seasonal retail calendar. Optimise this information and expand your customer base by reaching undecided shoppers who are searching for products like yours.
Tell your brand story and plan accordingly
Whether you're a small local business or a multi-channel retailer, it's important to create real value to stand out during key seasonal moments. As consumers are turning online to do their research, video is becoming more important to drive brand awareness. Connect and inspire through excellent creatives, combined with robust demographic and affinity audience strategies. You can capture demand in the weeks and months leading up to the moment by identifying rising searches on Google Trends. And be ready to adjust your plans on a weekly basis as you assess the shifts in consumer behaviour patterns.
Listen intentently and be flexible
As the current situation evolves, it's vital to monitor campaign performance and continually reassess the context and tone of your marketing messages. Be prepared to reinvent your offering for certain moments and adapt to the times to keep customers on your website. Remaining flexible is key in these changing times, to stay connected with customers and support their specific needs during each of these important seasonal moments for retail.
We'll update this 2021 retail marketing calendar with the latest events each quarter. Want to see the full 2020 edition? Save or download below: