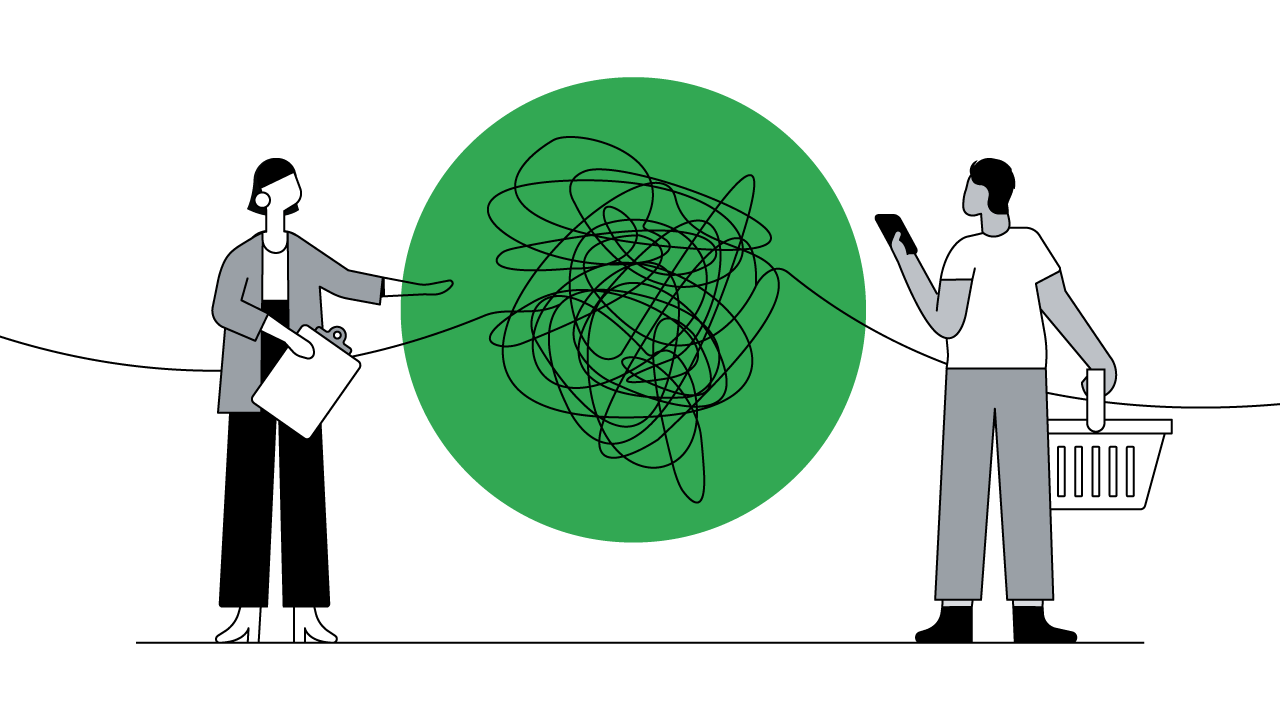 Jonny Protheroe and Sian Davies have been 'decoding' consumer decision-making since 2019. Their latest research reveals where — and how — marketers can experiment and iterate to increase customer confidence and sales in the "messy middle" of the online purchase journey.
The evolution of the internet has changed a lot faster than the way consumers think and make decisions. This means that people's shopping needs keep changing as they try to keep up with the proliferation of choice and cut through the digital noise. In fact, about a third of consumers globally are now spending more time making decisions and considering more brands, stores, and retailers.1
Google and The Behavioural Architects have been working together for several years now to understand how people decide what to buy while they're in the messy middle of their purchase journey. Our first report was published in 2020 — and the findings remain hyper-relevant to this day.
But brands want to understand how they can apply these insights into their own campaigns and content. That's where "Decoding Decisions: Marketing in the messy middle" comes in.2 The new report builds on earlier findings and is the result of three more years of analysis into the behaviours that shape consumer decision-making.
It reveals how behavioural science principles can be applied in real-world marketing scenarios — at scale. And answers some of the biggest questions we've heard since we first began making sense of the messy middle.
How marketers can influence the messy middle
To ensure our research is as helpful and actionable as possible, we've focused our findings on three key areas where marketers have the power to experiment and iterate:
Search: Many people turn to Google Search in their purchase journeys. However, competing against big names with big budgets can be a challenge. Our experiments with Search ads show that smart applications of behavioural science can help even second- and third-ranked brands win a higher proportion of ad clicks.
Content: Brand websites are a valuable asset in the consumer decision-making process. If shoppers don't feel confident about a purchase, they won't click 'buy'. Our research gives practical guidance on how to boost your website content with behavioural science principles to increase both customer confidence and sales.
Points of sale: We discovered that shoppers are more willing to switch their preferred choice of retailer than their preferred choice of product brand, particularly where price is a factor. But our findings suggest that even simple applications of behavioural science can have as big an impact on consumer decision-making as offering a 10% discount.
People were foraging for information long before online shopping, and long before there was an internet. And many of the mental processes used by our ancestors persist today. But what we're looking for and where we're looking for it can shift in an instant.
That's why this report explores the information-seeking behaviours marketers need to identify, understand, and address. This allows them to quickly adapt to new and changing demand — and provide consumers with the products and experiences they seek.
Download "Decoding Decisions: Marketing in the messy middle" to learn how you can apply behavioural science principles in real-world marketing scenarios — at scale.