The Google Media Lab team manages media strategy for all of Google's advertising campaigns. Here they share their findings on effective marketing in the mid-funnel.
Brand and performance marketing teams can traditionally be siloed, separately focusing on the upper-funnel and lower-funnel of the consumer journey. This means the mid-funnel is often overlooked; this is the point when consumers are exploring and evaluating their buying options. At Google, we've also overlooked this crucial part of the consumer journey. But now, we're changing.
Inspired by our research into the "messy middle" of the purchase journey, we ran data analyses that showed we needed to double-down on our mid-funnel marketing to capture more customer demand. We discovered that we could attribute 16X more sales to the previously underused channels in the mid-funnel. And by focusing more marketing efforts on the mid-funnel, we saw an incremental increase in phone sales.
Here's how we did it — and what it means for marketers and their teams.
Using multi-touch attribution to reassess mid-funnel marketing
The Google Media Lab team manages media strategy for all of Google's advertising campaigns, including Google Store, our online retail platform selling devices such as the Google Pixel and Google Nest. While we use a variety of digital marketing channels to reach users, those in the mid-funnel — such as display and video — have often been overlooked in favour of what we've typically considered more cost-effective channels.

The key to shifting our approach was knowing which consumer touchpoints actually drive sales. Last-click attribution, currently in place in many marketing campaigns, tends to undervalue mid-funnel marketing channels. However, advertising channels don't work in silos. We knew it was important to improve our attribution to better allocate our budget.
To understand the value of the mid-funnel, we worked closely with the Google Store marketing team to run in-house data analyses, testing real-world digital advertising campaigns across 14 markets.1 The analytics team built a custom attribution model with Ads Data Hub and then used prospecting tactics to reach audiences that were in the market for smartphones on channels such as Display & Video 360, Google Display Ads, and YouTube. The analysis showed that these tactics play a much bigger role than we initially thought.
We measured the results through a multi-touch attribution analysis and conversion lift studies — and they were eye-opening. The multi-touch attribution analysis showed that these channels could actually be credited with driving 16X more sales compared to the last-click attribution model.2 Furthermore, over the course of the campaign in late 2020, we saw a lift in sales compared to what we would've seen without the use of these mid-funnel tactics. We saw a 12.5% incremental increase in phone sales from people that viewed our mid-funnel display ads.3 And we saw a 31.5% incremental increase in phone sales from users who watched our mid-funnel YouTube ads.4
While results may differ for other campaigns or brands — and it's worth testing for incrementality — the attribution analysis and conversion lift studies showed us that mid-funnel marketing can drive real business impact. It has changed how we think about our marketing budgets, campaigns, teams, and messaging.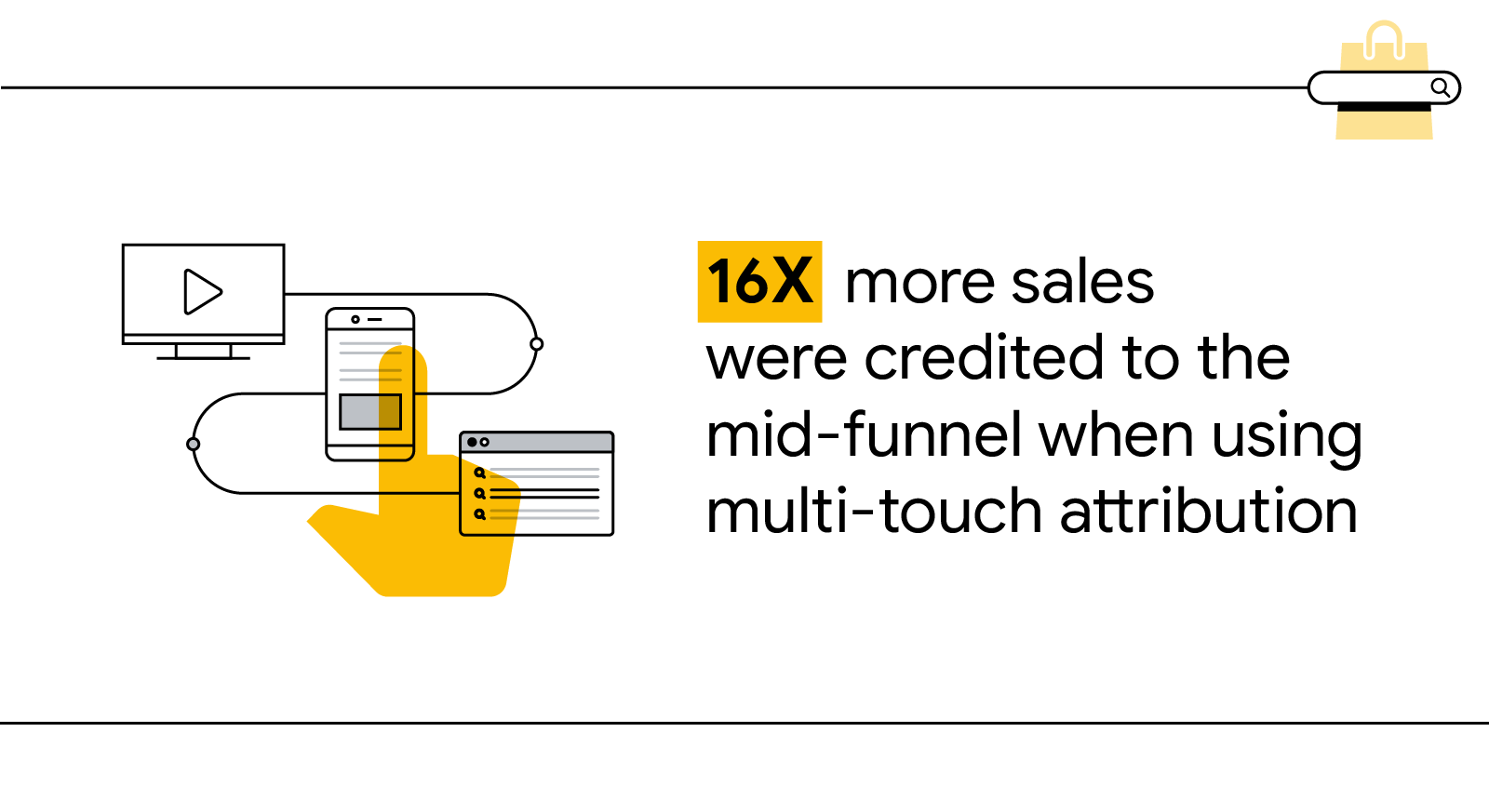 Marketing messaging in the mid-funnel
People are looking to buy smartphones throughout the year; consideration is always happening. And consumers need more help than ever as they explore and evaluate their options in the complex "messy middle" of the purchase journey.
Our marketing previously focused on always-on direct response advertising and bursts of activities around campaigns, honing in on the last stage of the purchase journey. Including the mid-funnel enabled us to be present where it matters; reminding users of the brand and surfacing key product benefits relevant to them. When we shifted our focus to include an always-on mid-funnel strategy, we had to adapt our messaging accordingly.
We prioritised value-led messaging for browsing consumers, creating urgency with offers for people who were ready to buy. Here you can see an example of display ads we used in our mid-funnel marketing tests:
The first display ad encouraged consideration by introducing a new Pixel model to consumers who were researching smartphones. The second ad, which reached audiences ready to buy through remarketing, followed this up with a special offer. These ads are customised to the purchasing phase of the consumer, but they are still fairly generic. We're planning more creative testing in the future.
Ultimately, the research has shown us to look at our marketing campaigns more holistically, rather than silo-ing brand and performance. After running initial tests with Google Store, we're now looking to incorporate these mid-funnel learnings across all our marketing campaigns. And we've taken the research global. We've already done similar tests in markets such as the U.S., Japan, and Australia with positive results, which shows that our research is scalable to other regions.
How to bring brand and performance together in the mid-funnel
Consumers contend with a huge amount of choice and information as they navigate the complex "messy middle" of the online purchase journey, the space where customers are won and lost. By bridging the gap between brand and performance in the mid-funnel, you can be present and helpful when consumers are exploring and evaluating their options. You can provide them with the information they need to make their purchasing decisions.
An always-on mid-funnel strategy also allows you to be more flexible to adapt to changing consumer behaviours throughout the path to purchase — now and in the future.

Here's where to start when bringing brand and performance together:
Break organisational silos. Understanding consumer behaviour and translating it into media planning is where we have found success. Build integrated marketing teams where brand and performance come together to deliver business impact.
Evolve your attribution model. Think about how you can actively move from last-touch to multi-touch attribution to better understand the incremental value of each channel.
Allocate budget to mid-funnel marketing. This allows you to bridge the gap between big brand campaigns and always-on performance advertising.