Google's Murtaza Lukmani is a leading expert on marketing analytics and attribution. He works with large companies across Europe, the Middle East, and Africa to help them improve their operations by updating their attribution strategies.
Everyone has those things they know they should do, but keep putting off — personal or professional tasks that are too big and too daunting. Sometimes, the crucial first step just isn't clear.
For companies, the challenge is the same. In marketing departments, in particular, overhauling a brand's outdated marketing attribution model is one of those tasks that many firms put off.
A large proportion of companies still rely on the last-click attribution model, even though people understand its major limitations in reflecting real-life buying behaviour. It can distort budget allocations and media-buying decisions, leading brands to place far too much budget on channels favoured by the last-click model, while overlooking other channels that can drive incremental results.
We're now at an inflection point: privacy changes and our increasingly digital lifestyles mean it's become a business necessity to overhaul our approach to attribution. Additionally, improved technology and tools make it simpler and more effective to adopt future-proof attribution models.
While various marketing attribution models exist, data-driven attribution can deliver results with precision that other methods lack. Data-driven attribution uses machine learning to decipher how different touchpoints throughout the customer purchase journey impact conversion outcomes, and the model distributes credit accordingly. The model has been available in Google Ads since 2014, but is now being incorporated into the new Google Analytics 4 platform as well. The model works across devices such as smartphones and tablets, and across channels such as Search, social, apps, Display and YouTube. Brands can also now use a relatively small sampling of conversion data to train the system: just 3,000 ad interactions and 300 conversions over the past month is enough to launch successfully. That's a fraction of the data that was previously required, and Google is working to keep reducing these data requirements over the coming months.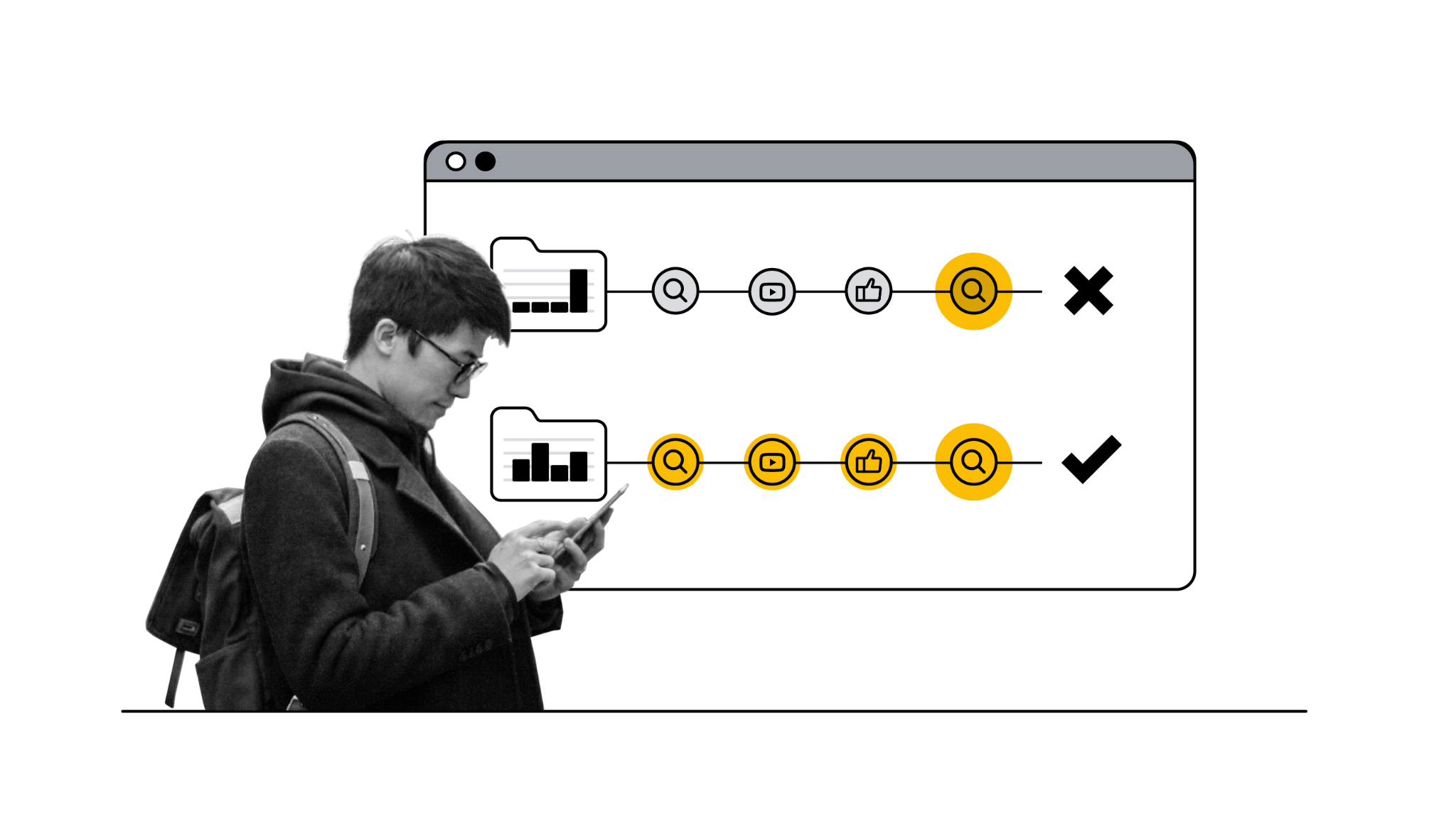 A range of brands across Europe, the Middle East, and Africa have recently begun successfully transitioning to the data-driven attribution model within the Google Ads and Google Analytics platforms. It can seem like a daunting process at first, but these brands are now reaping the rewards. Here are their stories and the lessons they learned along the way:
Geox: Making strides in social integration
Italian footwear firm Geox made great strides this year by bringing together fragmented data sets to gain a better understanding of how each marketing channel contributed to business growth. In particular, the company wanted to understand how paid social campaigns were contributing to sales, and then optimise.
The firm worked with agency Webranking to pull together vast amounts of its own raw social data and fed this into Google's Search Ads 360 platform. The approach to consolidate data, and the subsequent move to use a data-driven attribution model, helped improve reporting and high-level bidding decisions.
Geox was able to see how paid social campaigns contributed to conversions across devices, and then it worked on a cross-promotion strategy: people that saw the paid social campaigns were also shown paid Search ads, and people who saw Search ads were then served paid social posts. This strategy led to a 6% increase in return on ad spend (ROAS). Plus, the streamlined system helped reduce the time spent on campaign management by 30%.
"The social integration provided us with a better picture of cross-channel marketing data impact and allowed us to open up new audiences across Search and social," says Giulio Salvucci, global digital business and innovation director at Geox. "Thanks to this approach, we increased purchase loyalty and reactivation."

Crédit Agricole Italia: Finding new ways to grow
Financial services firm Crédit Agricole Italia had predominantly leaned into advertising on Google Search based on data from a last-click attribution model that showed Search ads drove sales. Meanwhile, the firm was not fully clear about the value of Display ads but wanted to explore options to improve business growth and efficiency. They decided to further investigate the value of Display.
Marco Carola, Crédit Agricole Italia's head of online acquisition, said it was time for the company to evolve its approach. "To continue growing, we needed models that reconstructed the customer journey by assigning the right value to each interaction on Search and Display," he said.
The bank swapped to using a data-driven attribution model and combined its Search and Display campaigns to see how Display affected the entire customer journey. It worked with agency Hearts & Science to turn on Smart Bidding, allowing the company to make real-time bids for online ad spots across Display and Search. The bid prices were set based on target cost per acquisition and the data-driven attribution model results helped continually optimise the bidding strategy.
The results showed Display was engaging customers in the upper funnel of the purchase journey and, ultimately, driving sales. The company saw an 8% increase in overall incremental conversions with an 8% lower cost per lead. Plus, Display conversions were up a stunning 85%. The firm has now fully incorporated Display into its campaigns, and next it's considering adding YouTube into its advertising mix.

It's time to stop putting things off until tomorrow. Brands that mobilise now will gain deeper insights into the consumer purchase journey and reach customers with the right messages at the right times. Plus, the data-driven attribution model is designed to help brands grow and evolve within a privacy-first digital ecosystem. With that in mind, here are three key tips to make the most of data-driven attribution:
1. Set clear goals
Decide on what you want to achieve before selecting a new attribution model. Ask yourself: are you aiming to reach new customers? Drive more sales? Improve your ROAS? Or re-evaluate the efficiency of a specific channel? Your team should set clear targets from the start.
2. Go beyond the reports
The data-driven attribution model provides insights and reports about the customer journey, but you can take it a step further. You can trial new keywords or channels in your campaigns, upgrade your bidding strategies, and assess effectiveness along the way. This attribution model is the base on which you can drive business results and incremental conversions.
3. Test, learn, and scale
Changes in approach don't have to be all or nothing. You can start with pilot tests on a single brand, account, or market to prove value to internal stakeholders. Then, once everyone is comfortable, you can expand your approach knowing your team is behind you.