Anang Pandya is senior director of consulting services at TransUnion, a leading global information and insights company. He is responsible for the implementation of analytics solutions in the U.K. and across Europe, the Middle East, and Africa.
Travel demand can be highly unpredictable. This summer, we've seen a multitude of factors influencing people's travel behaviours, from extreme weather to Taylor Swift's Eras tour.
These fluctuating conditions can make it difficult to measure the true impact of your marketing — and plan budgets accordingly.
Marketing mix modelling (MMM), a statistical analysis technique for measuring the impact of marketing activities on sales, is an essential tool for travel companies to allocate budgets and build out strategies. But the industry comes with unique challenges.
As we hit planning season, here are five ways travel marketers can get the most out of their MMMs.
1. Factor in the seasons
To understand the levers of change, you first need to identify what remains constant. Seasonality and major holidays will always influence travel bookings. After all, Brits don't typically holiday in the Scottish Highlands in winter or go to Thailand during its rainy season.
Marketing mix modelling is an essential tool for travel companies to allocate budgets and build out strategies.
With its strong foundation in statistics and regression analysis, used to indicate which variables will most impact a given scenario, MMM is tailor-made for considering seasonality when forecasting sales — as long as the right data sets are included.
Start with long-term weather, holiday, and tourism trend data from reliable sources, such as the Office of National Statistics or Google Trends, as control variables. MMM can isolate bookings due to seasonal demand from those generated as a result of marketing campaigns, giving you a more accurate view of the incremental impact of your advertising.
You can then use the model to simulate and forecast how many bookings you might expect under a variety of budget scenarios. For example, if you know that seasonal demand for bookings is highest in January, you can allocate budget towards the channels that contribute the highest volume of bookings during that time of year. Once bookings decline, you may then want to optimise your mix towards ROI rather than volume.
2. Keep up with a changing economy
Taking a summer break remains a priority for most British consumers, but with the cost-of-living crisis, many are cutting back their spending on travel. One of the key benefits of MMM is that it can account for macroeconomic factors, such as inflation or currency fluctuations.
Work with your finance team to list the economic factors that affect your business and identify external datasets that would be a good fit for your models. For instance, you may want to include data on unemployment, consumer confidence, or inflation and currency fluctuation.
By including these variables in your model, you can see how economic shifts have impacted bookings in the past and simulate any future changes. This can help you plan and be prepared for a range of different economic scenarios.
3. Stay on top of consumer behaviour
No two travel bookings are the same. There are substantial differences in consumer behaviour by market, time of year, type of vacation, age, and even gender. For example, a pre-pandemic survey showed that U.K. travellers spend nearly a month longer researching travel plans compared to their U.S. counterparts.
But is that gap growing or narrowing? Is the spike in domestic travel we witnessed during the pandemic a one-time occurrence or a sign of things to come?
Incorporating data from institutional sources, such as the European Commission or the World Travel & Tourism Council, can help your MMM stay on top of changing consumer behaviour.
Refresh your models regularly — the sweet spot for travel companies is once a quarter — and add insights on the cost of living, personal credit, and savings from sources such as TransUnion's quarterly Consumer Pulse Study. This will help you get a good read on price sensitivity throughout the customer journey.
4. Don't get turned off by data scarcity
A typical "lookback window" for MMM data is three years. Any analysis in 2023-2024 would cover a period of time that includes the COVID-19 pandemic and 40-year high inflation — hardly a typical stretch for the travel sector.
To smoothen the effect of missing data and outlier periods, start by extending your lookback window to five to seven years. Your model will include both the "old normal" and the "new normal" and give you more levers to work with.
If you're a young company without years of sales and media data under your belt, you might want to consider using measurement techniques with a shorter resolution window, such as attribution and incrementality testing, until you've accumulated enough data to run your first MMM. You can start learning now and build a data roadmap for the future.
5. Make search an integral part of your planning process
Nearly every travel booking begins with a search query. Recently, generic searches for terms such as "flights anywhere" have grown as people become more open to exploring different destinations when booking their trip, and the time people spend from that first search to booking is lengthening.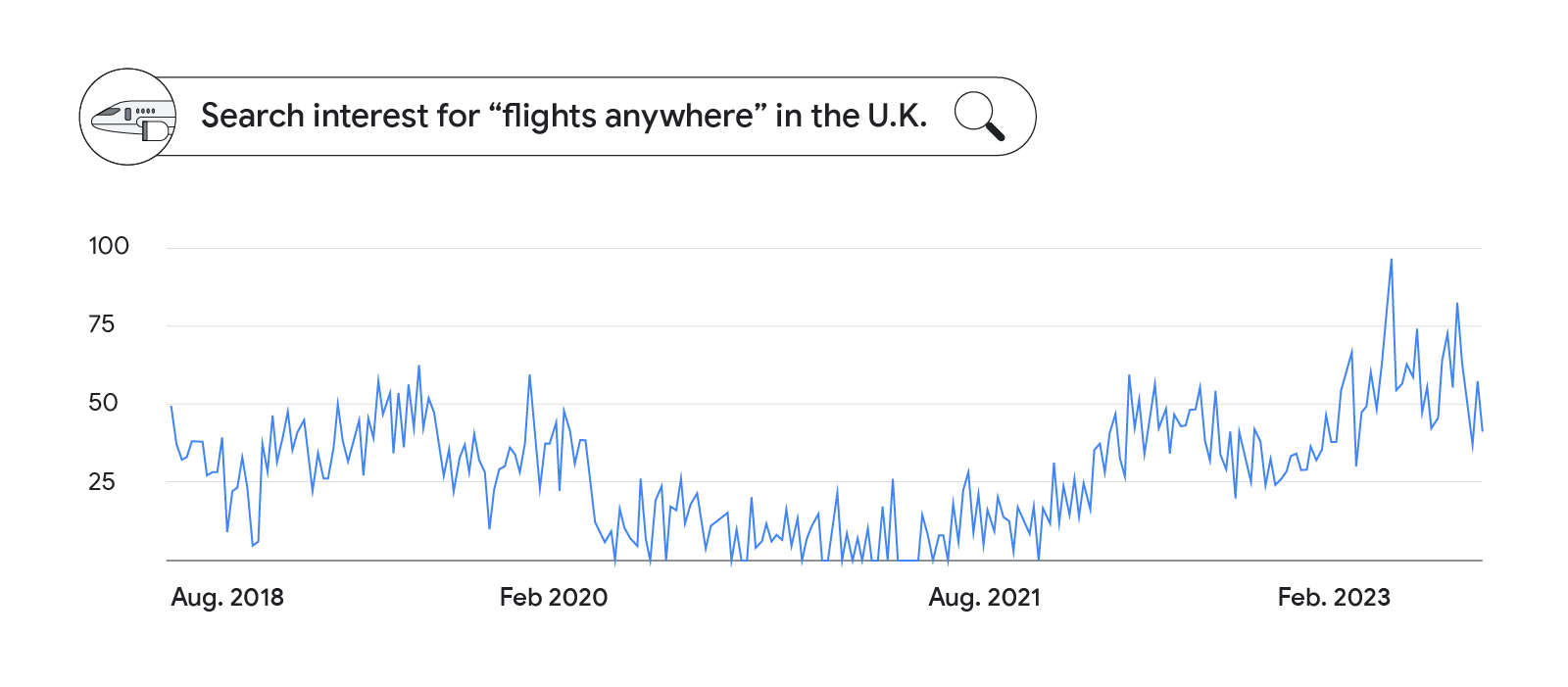 Search plays a critical and evolving role in the customer journey, and brands need to design their MMM to accurately measure its influence in full. A best practice is to include both paid and organic search activity in your model.
Design your MMM to measure branded and generic paid search separately, as they play different roles in the customer journey, with generic search more likely to come early in the path to purchase. Then, use advanced modelling techniques to measure the indirect effect of organic search on bookings, in addition to the direct effect of paid search. This will provide a more holistic view of the incremental impact of search on travel bookings. 
From search behaviours to traveller trends, MMM is an essential tool for travel companies to measure and effectively plan their marketing activities. But it's critical to remember that the insights gained hinge on the freshness, relevance, and accuracy of the data you put in.