People in the U.K. are having a serious case of wanderlust. Not only is a trip or holiday rental the largest purchase British consumers of any age expect to make in the next few months,1 but they're also willing to go anywhere, with search interest for "flights anywhere" now double what it was before the pandemic.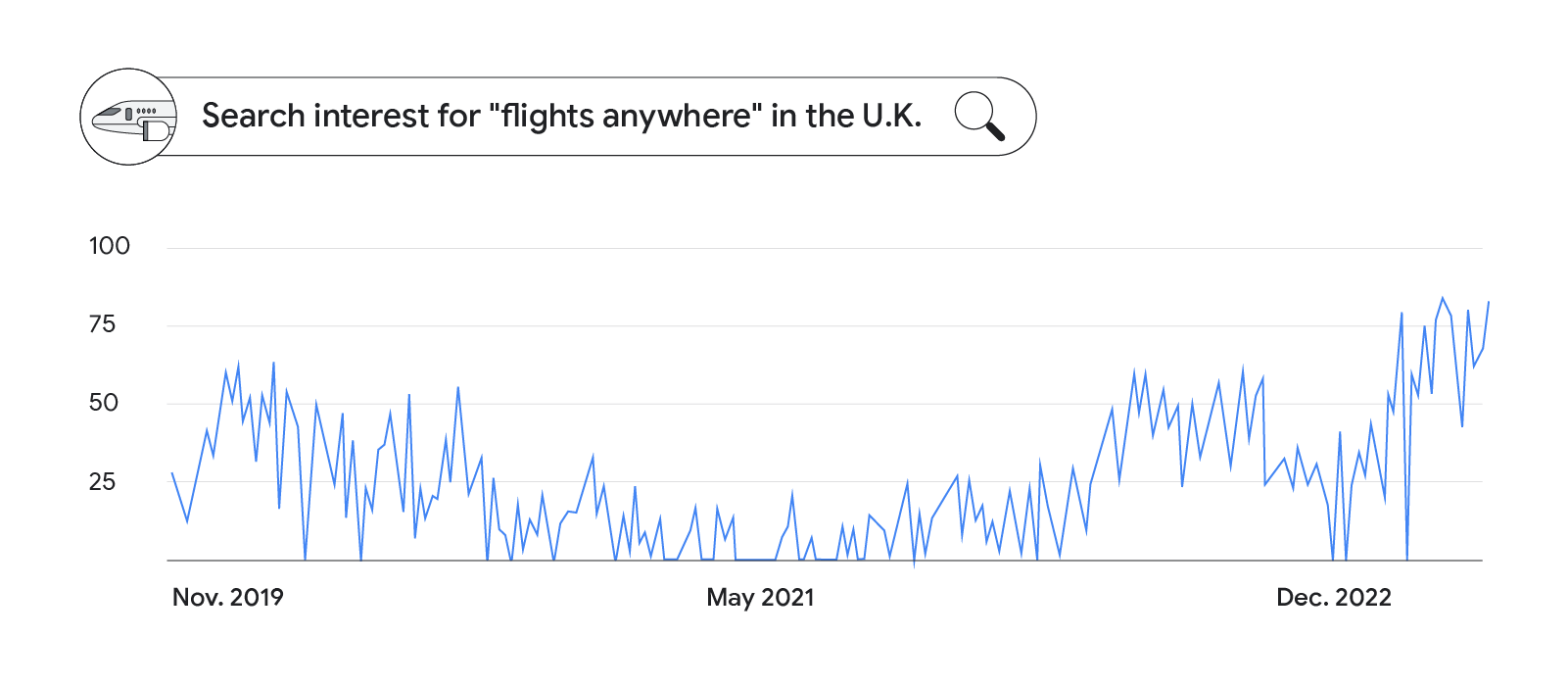 However, with economic challenges prompting many consumers to keep a close eye on their spending, our data suggests travellers are more willing to make compromises. Here are three ways U.K. consumers are adapting the way they plan their travel right now.
1. Value is the starting point
In a recent global Google and Ipsos study, 45% of people looking for travel-related purchases found that the price was higher than they expected.2 While this hasn't dampened their desire to go travelling, it does mean people are seeking out the best possible deals.

Search interest in the U.K. for "cheapest places" in the travel category has significantly increased in the past year. Add this to the "flights anywhere" trend and it suggests price-sensitivity is guiding people's choice of destination.
Price also influences the sort of break U.K. travellers are considering. With increased search interest for terms containing "flights including" and "holiday packages", holidaymakers are looking for ways to control their budgets by going for bundled offerings or all-inclusive deals.
2. (More) planning is part of the adventure
While a rising search interest for terms like "cheap flights to anywhere" reveals people are ready to explore different options when booking their trip, the time spent on research is notable.
With the majority of discovery, planning, and consideration now happening online, the planning journey has become part of the adventure. In fact, people spend nearly three times longer planning, booking, and daydreaming about their trip than they do on the trip itself (74% planning vs. 26% travelling).3
And it's not just flights or hotels U.K. consumers search for online. People plan ahead by seeking information around different elements of their trip, from sim card options to walking tours — often around similar times.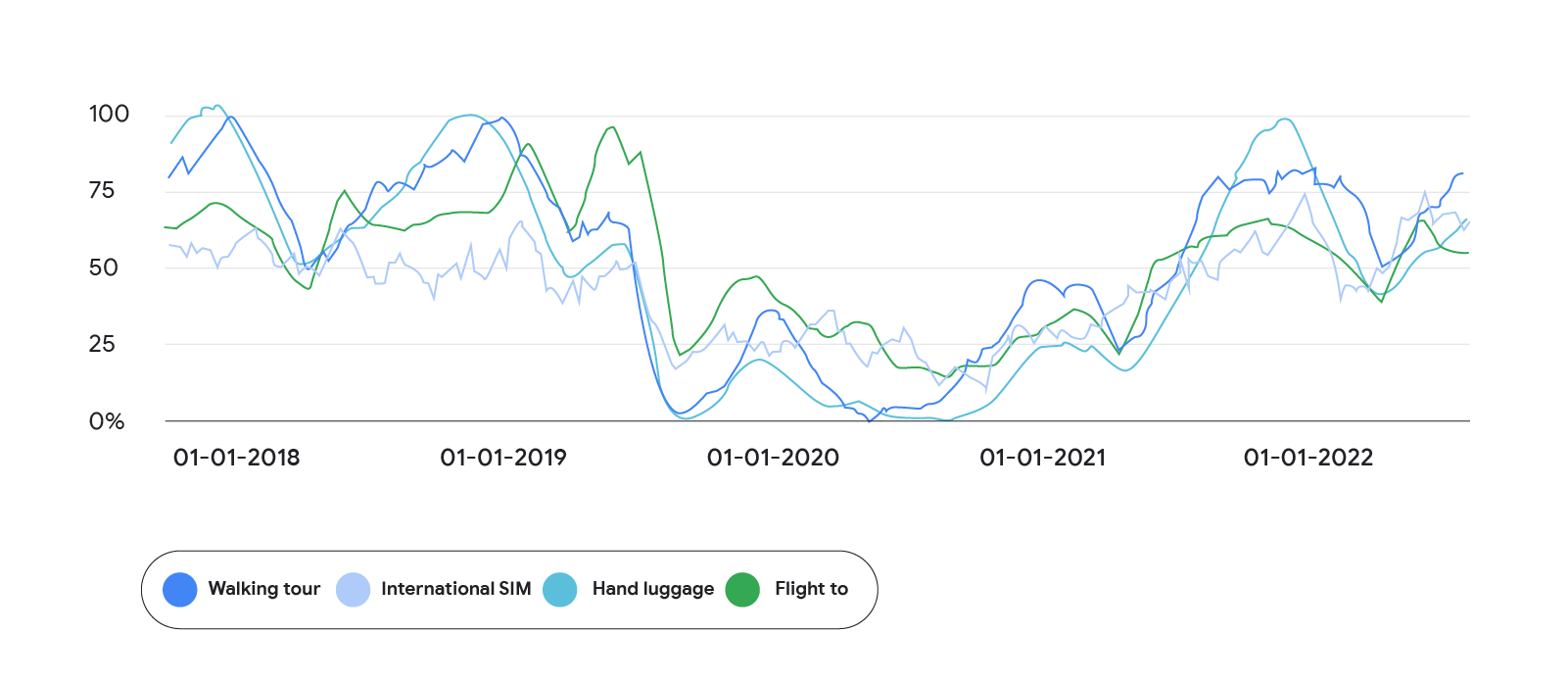 But with the most common modifiers in travel-related planning queries being price ("cheap", "deals", "discount", "offer") and comparison ("best", "compare", "review", "popular"), holidaymakers are clearly determined to leave nothing to chance in their pursuit of value and satisfaction by weighing up all their options.4
3. Priorities are on the move
The last few years have put a lot of pressure on the travel sector, with consumer demands shifting and developing as people navigated restrictions and constant changes. While people are now keen to make up for lost time, they do have to account for certain lifestyle changes and needs triggered by times of disruption.
For example, a 30% uplift in search interest for "solo travel" in the U.K. suggests people are more willing to travel alone as they no longer want to wait for others.
Yet, there's also an increased desire to make new connections and find community, with search interest rising for "small group tours". This trend is visible across age groups, with the over-50s and 60s as likely to hunt for travel tours as Millennials or Gen Zers.

Increased pet ownership in the U.K. has also prompted a surge in search interest for "dog friendly" travel options. And the growing importance of wellness and mental wellbeing has driven interest in "wellness retreats", with people seeking to unwind, reset, and rejuvenate both physically and mentally.
Capturing new demand
As the shape of travel is changing for British consumers, there's an opportunity for marketers to capture new demand by showing up where it matters most and using tools like Travel Insights to stay on top of shifting behaviours.
People are looking for more information to help with planning, budgeting, and flexible options that fit with their lifestyle. Marketers who can meet these needs, with a strong online presence to match, are best placed to stand out and reach their desired destination of business growth in a world of strong competition.