Nostalgia is big business right now. The past is present in music, film, TV, and ads — as this year's Super Bowl spots showed in abundance.
It's not hard to see why nostalgia is so popular. In periods of uncertainty, it can be comforting to look back on a time when things seemed simpler and more predictable. And you didn't need to be there the first time around for a trend or reference to have appeal: 82% of Gen Z watch content in order to feel nostalgic, according to the latest YouTube Culture & Trends Report.
For marketers, nostalgia offers a wealth of shared reference points and shortcuts for impactful feel-good advertising and brand associations. It's often tied to people's personal experiences and memories, and is therefore more likely to reach them on an emotional level.
Nostalgia offers a wealth of shared reference points and shortcuts for impactful feel-good advertising and brand associations.
This is familiar territory for luxury brands, which have long utilised their heritage to cement positioning and drive demand. Taking lessons from a sector so used to bridging the past and present, we explore how marketers of any brand can harness nostalgia to better connect with today's comfort-seeking audiences.
Find meaning in memories
When it comes to fashion, the last five years have consistently shown a growing interest in vintage style in the U.K., with search interest for "70s outfits", "80s outfits", and "90s outfits" all going up.
The same goes for retro gadgets. Both the GameBoy (1989) and Tamagotchi (1996) have seen search interest in the U.K. steadily increase in recent years.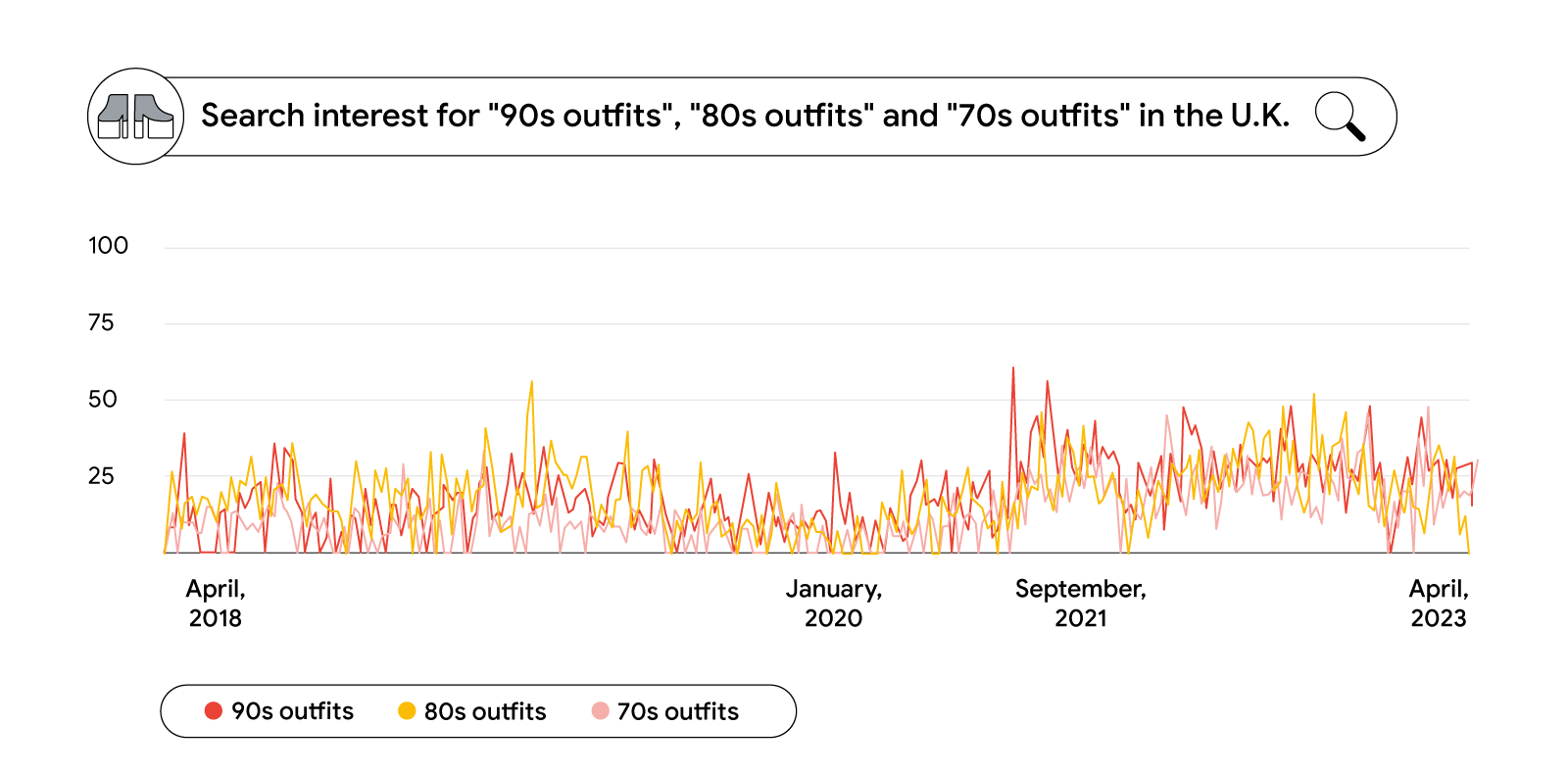 But with so many cultural references to choose from, it's critical for marketers to explore their audience's passion points and identify where this aligns with their brand in a meaningful way.
This is especially true in the luxury sector, where 44% of shoppers cite a strong brand heritage as the main trigger for purchase.1
Many luxury brands have the advantage of being able to draw on their own rich stories and long-standing cultural associations. For example, Chanel has used its YouTube content to provide a nostalgic take on founder Coco Chanel's passions to reaffirm its affinity with literature and music. And Rolex continues to interweave its story with that of classic cinema — a connection underpinned by cameos of the brand's timepieces in notable movies.
Action for marketers
Explore your customers' nostalgic passions and establish where this intersects authentically with your brand. Use Google Trends to get bigger picture insights and combine them with your own first-party data to identify how you can tap into the past in a way that is relevant to your audience.
Be timeless and timely
Throwbacks may be effective in demanding people's immediate attention, but its long-term impact is highly dependent on how well it's executed. And what sets the best brands and campaigns apart is the ability to deliver storytelling that is both timely and timeless.
Consider talent that pushes the boundaries of your visual or brand identity to include existing and emerging icons.
One way to achieve this is by carefully mixing iconic products and nostalgic images with modern-day icons and topics. For example, as part of a refresh of its 185-year-old brand, jewellers Tiffany & Co. enlisted the A-list help of Jay-Z and Beyoncé in a campaign film that takes inspiration from 1961 film "Breakfast at Tiffany's". This mix of familiarity and freshness helped the YouTube video hit over 1 million views and earned it coverage everywhere, from British Vogue to Hypebeast.
For another campaign, the jeweller leaned into the hype surrounding Netflix series "The Queen's Gambit" (which takes place in the 1950s) by featuring lead actress Anya Taylor-Joy as ambassador for their T1 ring, a reinvention of the iconic T ring.
Action for marketers
When using nostalgia marketing, stand out by giving your campaign a modern edge. Consider talent that pushes the boundaries of your visual or brand identity to include existing and emerging icons.
This also offers a chance to reframe or explore iconic products through a contemporary lens, introducing modern perspectives on topics such as identity and inclusivity. This can help engage today's audience who want a brand's values to align with their own.
Take a short view of the past
One thing the past didn't have was myriad channels that brands could use to tell their story and engage audiences.

New media formats and changing viewing habits require brands to rethink how they tell or retell their stories. And right now, with YouTube Shorts averaging more than 50 billion daily views,2 that means delivering engaging short-form video.
For example, luxury fashion house Dior has been using YouTube Shorts to collaborate with a variety of talent, whether it's South Korean skateboarder Viju Kim sporting the brand's latest skate collection, or French actress Anaïs Demoustier fully dressed in Dior couture at Cannes.
But the brand recognises there's equal opportunity for Shorts to feature product-focused content. This is demonstrated by this campaign celebrating Dior's "timeless vintage spirit", which incorporates execution and visual language that is primed for modern audiences.
Action for marketers
Get more from the past with new storytelling formats, such as short-form. With 59% of Gen Z — already the world's largest generation — using short-form video apps to discover things they then watch longer versions of, this can be a powerful tool to introduce people to your brand and bring them deeper into your story.