Alyson Lowe is audience growth manager for British Vogue. Overseeing analytics, social media, video, and editorial strategy, it's her responsibility to drive valuable engagement around every cover launch.
At British Vogue, our print magazine covers are the shop window for everything we do and stand for as a brand. We have 12 opportunities every year to cut through the noise and deliver those big cultural moments that make people stop and pay attention — both online and on the newsstand.
The reveal itself is a finely tuned process, with a huge amount of thought and strategic planning going into every launch. Here, we share how we're using digital, and platforms such as YouTube, to maximise engagement around our covers and drive long-term growth for the brand.
We always start with a conversation about what we want to achieve and build out our digital strategy from there.
A bespoke strategy for every cover reveal
For any British Vogue cover reveal, it's never just a case of sharing an image from the magazine and saying it's on sale on Friday. We've developed a full 360 approach, meticulously planning how we can make each cover drive the greatest impact. For example, our Adele cover — a historic collaboration between American Vogue and British Vogue — and the accompanying British food taste test video on YouTube were a year in the making.
We always start with a conversation about what we want to achieve and build out our digital strategy from there. This means our approach and KPIs are bespoke for every cover and heavily dependent on the talent featured. For Zendaya — an actor who really resonates with a YouTube audience — we might set a target of a million views for the cover video, while for another star we would concentrate on U.K. traffic to the website. You can't hit every audience with every launch — you need a focus.
Action for marketers: Set your goals for the launch right at the beginning. This will help you to avoid being distracted by vanity metrics and instead work towards results that make a tangible difference to the business.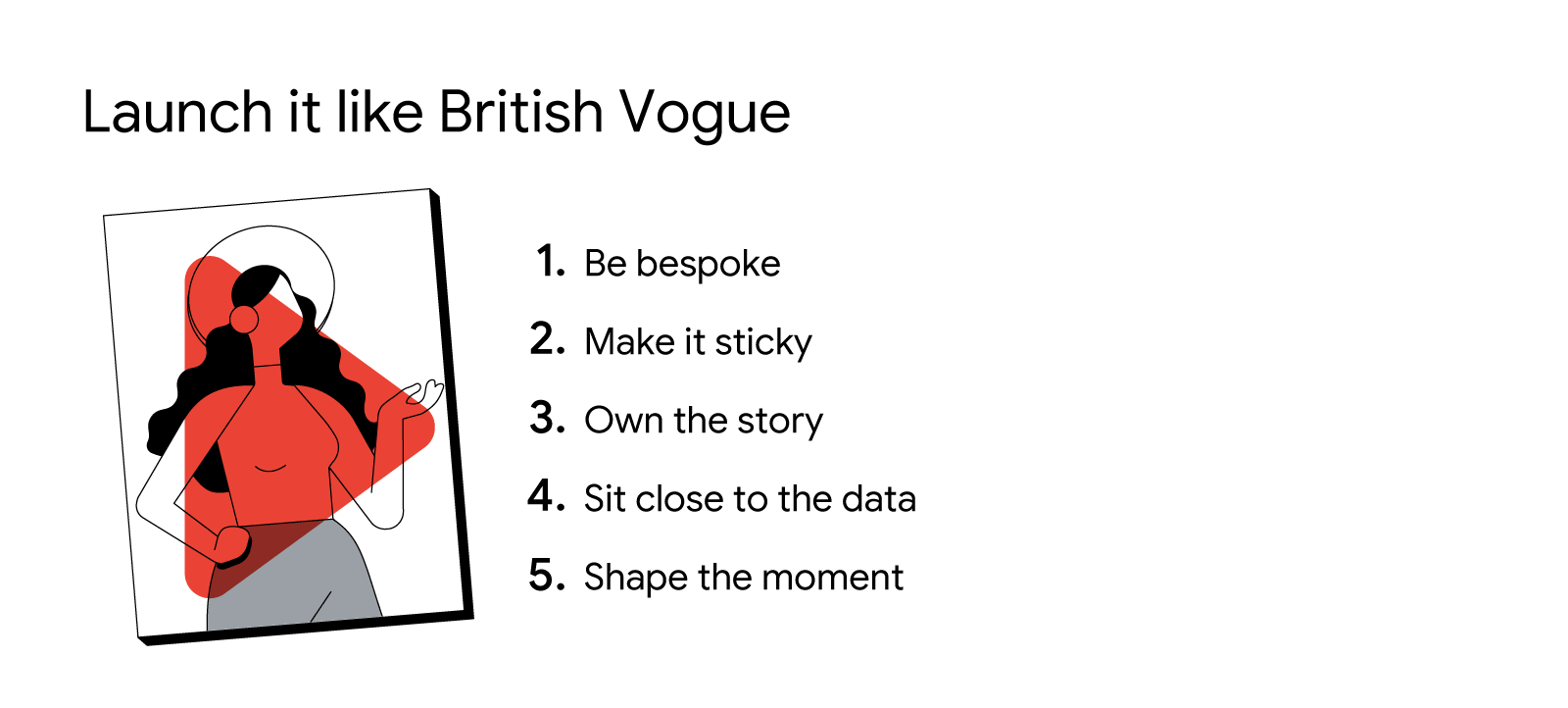 Driving traffic and the conversation
With a well-timed launch and the sheer level of creative detail that goes into every British Vogue cover, we consistently achieve enormous scale. For example, our Billie Eilish cover interview saw a million visits to our website in a day.
This presents a valuable opportunity to build our audience in the long term, but it's not a given. To ensure we're driving more than just a one-off PR buzz, a lot of work goes into making sure people come back.
Here we focus on creating "magic moments", with layers of different content drip-fed across the month, such as woven-in live events and episodes of Vogue Talks — a podcast of our cover interview. It's all about making the experience and reveal as sticky as possible.
It's also critical that we own the conversation by being reactive on digital. If there's a breakout story from a cover — such as when Rihanna's razor-thin eyebrows went viral — we'll re-prioritise and create new content to ensure that people are staying on our channels and we're in control of the narrative.
Action for marketers: Whatever platform or content you're directing people towards during a launch, make sure you're encouraging actions that are beneficial and measurable for your business — such as enticing people to subscribe, sign up to a newsletter, or buy a product. Also, monitor the conversation after launch – should a new conversation spark from your campaign, be ready to jump on it and own that story.
People in the magazine industry worried that building engagement online would cannibalise print sales, but actually, the opposite is true.
Spotting opportunities for growth
We can improve the reach and performance of every cover reveal by sitting close to the data. This allows us to spot emerging trends and gaps where our audience are but that we could lean into more. For example, w​e saw growth and success of helpful masterclass content on YouTube, which drove us to the development of our Vogue Visionaries series. It's important to proactively seek out opportunities for growth and innovation – one area we're planning this year is more short-form videos, specifically YouTube Shorts.
There was a time when people in the magazine industry worried that building engagement online would cannibalise print sales, but actually, the opposite is true. It's a symbiotic relationship where print supports digital and vice versa: our online sales of magazine subscriptions are at their highest around a cover reveal, and our digital engagement also peaks.
Action for marketers: With the right approach, digital activity and offline outcomes can work in tandem. For every launch, mould and shape the moment for what the audience wants on each touchpoint while staying true to your overall brand vision.
Launch it like British Vogue
Be bespoke — Plan ahead and be prepared to adapt your KPIs for every launch.
Make it sticky — Think how you can keep people's attention once you've earned it.
Own the story — Be reactive to drive traffic and shape the conversation.
Sit close to the data — Identify and lean into the gaps where your audience are.
Shape the moment — Play to each channel's strength while creating a cohesive brand.
YouTube and British Vogue have partnered on Vogue Visionaries – built on the shared values of supporting and nurturing creative talent. The series aims to provide inspiration and practical advice to those looking to forge a successful career in the creative industries, with sessions featuring industry leaders and YouTube creators.