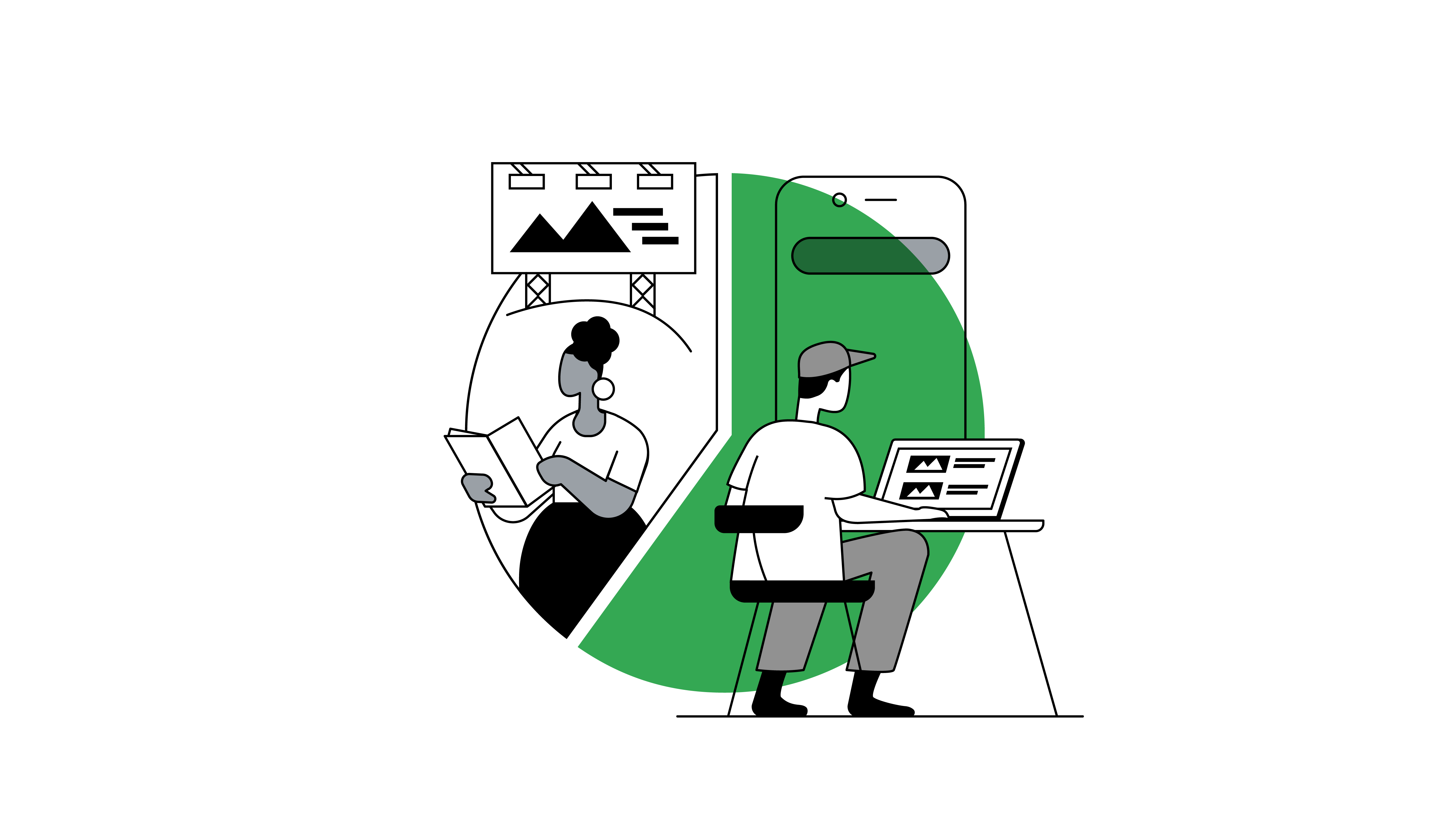 Jonas Christensen and Pablo Perez are Google's two leading retail researchers operating across Europe, the Middle East and Africa.
There's a new way for omnichannel retailers to split their marketing budget. Put 60% into digital marketing and 40% into traditional marketing, according to new research by Analytic Partners, commissioned by Google.1
This seems counter-intuitive, because most retail sales happen in stores. Even though more people are shopping online than ever before, in-store purchases still account for four-fifths of the market in 2022.2 But e-commerce is where the growth is: online retail represents 43% of all retail growth in Western Europe.3
You may also think that digital marketing only drives online sales, but that's not the case. Our research shows that digital marketing, such as paid search, digital display and online video, is still a considerable driver for both online and in-store shopping. But we also found that traditional marketing channels, such as print, TV and radio advertising, had a lesser, but still significant, e-commerce impact.
If traditional marketing can drive e-commerce traffic, and digital marketing can boost in-store footfall, it can be difficult to figure out the right split for marketing spending. How do you maximise customer traffic and drive revenue?
The 60/40 model (or the 50-70/30-50 model)
For the first time, new research we've commissioned at Google, conducted by Analytic Partners, has revealed the optimal split between digital and traditional media, showing the omnichannel impact that different marketing channels can have.
Our findings are based on an analysis of more than 150 major retailers' marketing mix models across Europe, the Middle East, Africa, and the U.S., representing billions of pounds in marketing investment. Our research suggests that retailers should be spending between 50-70% of their marketing budget on digital marketing channels and between 30-50% on traditional marketing. The middle of the road model: a 60/40 split.
Of course, there is no one-size-fits-all breakdown across industries and retailers; the right investment mix needs constant re-evaluation for each retailer's unique situation. Neither is the model a guarantee for success; just like spending any marketing budget, other factors, such as the creative or the target audience, will contribute to a campaign's effectiveness. But this research provides a solid starting point.
To understand how retailers can calculate the ideal split, we need to understand what truly drives online and in-store sales.
The omnichannel challenge
Retailers that have both a strong online presence and a strong foothold in physical stores need to figure out what marketing channels are going to work best for boosting traffic to each.
Our analysis, for instance, shows that e-commerce revenue is 2.75X as dependent on digital marketing channels as traditional marketing channels.4 Driving impact online therefore takes an efficient and effective digital marketing presence.
But the challenge for these retailers is compounded by how sales generated by digital marketing and traditional marketing are captured. Sales generated through channels such as paid search and online video are split relatively evenly across e-commerce and in-store, while sales driven by traditional marketing channels are predominantly captured in-store.
Understanding retail sales driven by marketing, online and in-store

This chart above illustrates how revenue generated through digital marketing is captured fairly evenly both in-store and online, but the majority of revenue generated through traditional marketing is captured in-store. Below is a breakdown of individual marketing channels.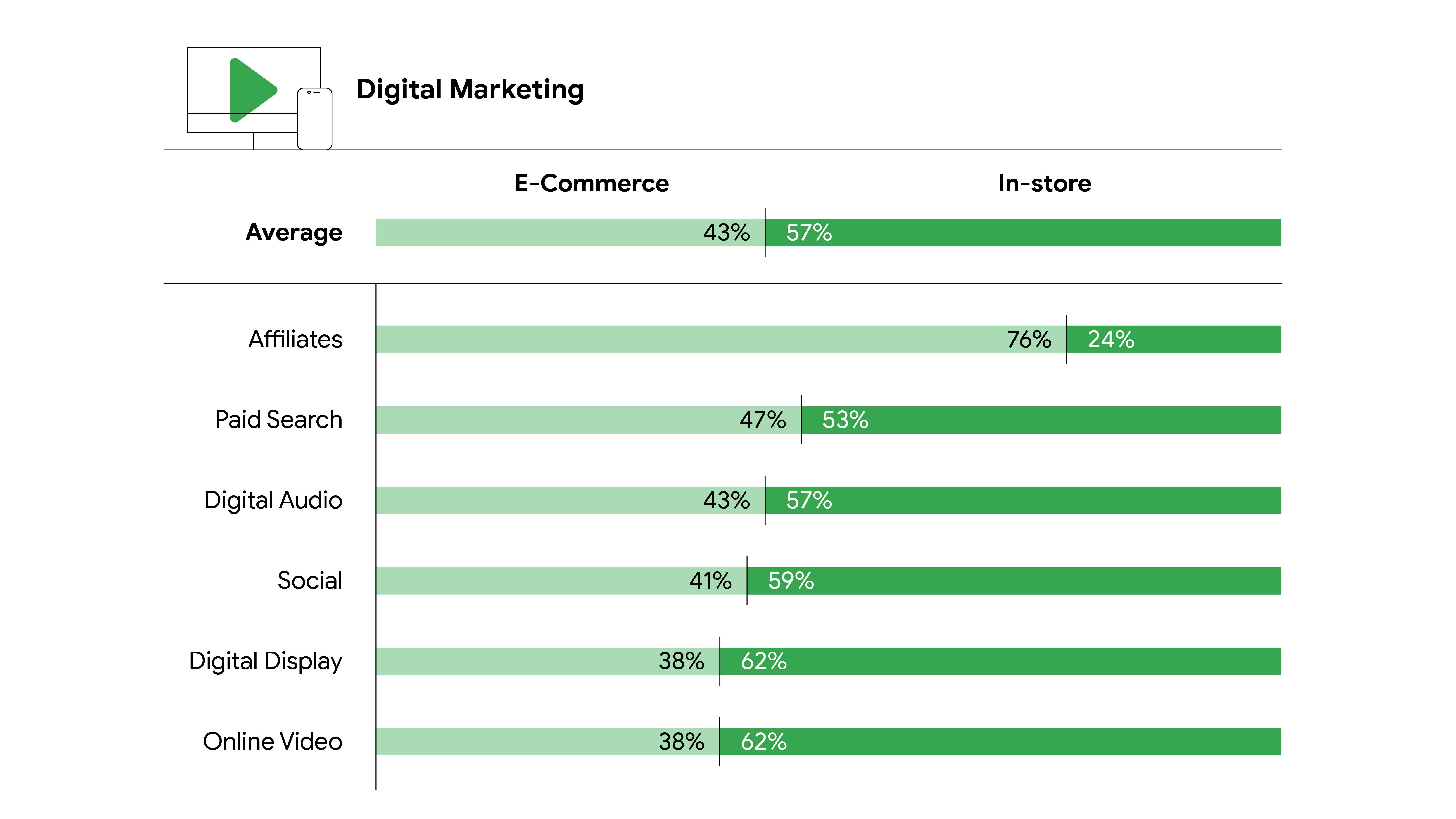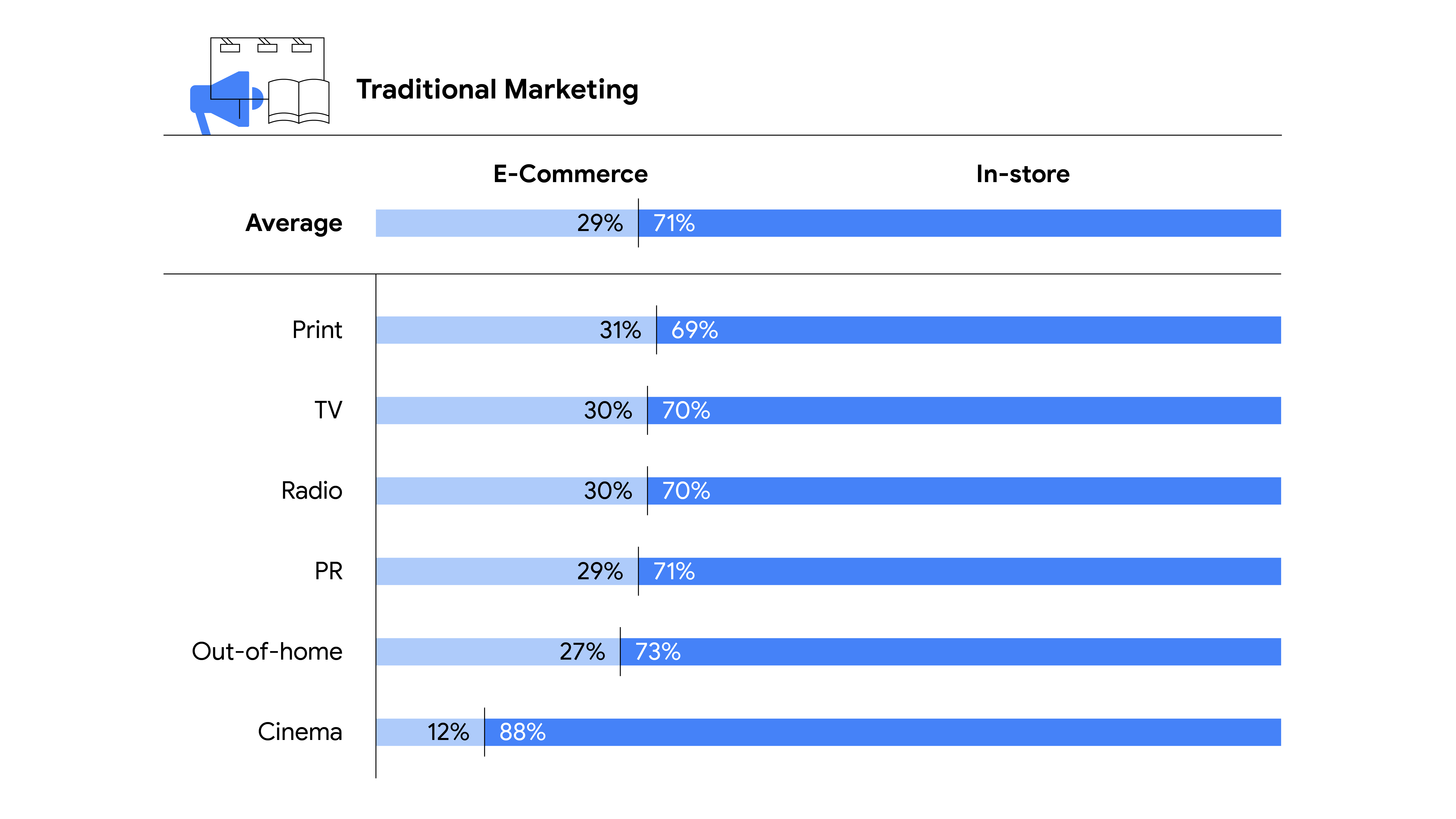 Balancing your retail marketing mix
We've established the importance of digital marketing in driving your omnichannel success. But how can retailers decide how to balance their marketing mix?
Digital marketing in particular is a huge driver for online success; it accounts for 22% of all e-commerce revenue for omnichannel retailers,5 compared to 8% attributed directly to traditional marketing.6 In comparison, in-store sales are equally reliant on digital and traditional marketing channels.
Retailers need to invest wisely in the right channels to capture revenue growth efficiently.
Online revenue is highly reliant on digital marketing

When breaking down different digital marketing activities, their impact is even more evident. For instance, our research shows that online video has a 1.8X higher ability to drive e-commerce sales than the more traditional TV media channel.7
In fact, all digital marketing channels, including social, digital display and paid search, outperform all traditional marketing channels in capturing e-commerce sales.
Finding the optimal route to success
Retailers also want to know which channels will be the most efficient in driving growth. A more cost-effective strategy will help retailers get more value from their marketing investment.
For example, both online video and TV drive ecommerce revenue extremely well, with the former being the most efficient channel.
Online video, for example, has a 8% higher return on investment (ROI) than TV. For online sales in particular, online video is 36% more efficient, with other traditional marketing like out-of-home (OOH), print and radio lagging even further behind.
Digital marketing not only drives in-store and online revenue volume, but it also drives this volume efficiently.
Laying the foundation for your retail marketing strategy
If retailers want to capture e-commerce growth in the near future, they need to incorporate digital marketing into their strategy. This 60/40 model should be a starting point for further testing and optimisation. There is a great opportunity for retailers to refine their strategies so they reach their potential.