Seventy seven per cent of consumers in the United Arab Emirates (UAE) and Saudi Arabia use Google Search as their first touchpoint when looking for information across several categories.1
And with all those searches comes a ton of information. Having so many answers available can be confusing, making it difficult for people to know which to trust. After all, we want to be sure we're making the right choice before clicking 'buy'.
Source: Google/Kantar, UAE, KSA, Emotional Value of Search, n=4000, April 2022–May 2022.
We partnered with Kantar to understand the emotional journey underpinning the shopping experience for people in the Middle East and North Africa (MENA) — and what this means for the brands trying to engage them.
Consumers experience an emotional rollercoaster on the path to purchase
We're all faced with questions every day. These can be serious — like those related to our health and that of the planet — or less serious, like 'where's a good spot to get lunch?' But when it comes to making purchase decisions for products or services, the questions we ask get more numerous and complex.
Our research shows that shoppers in our region experience multiple emotional moments along their path to purchase.
They ask numerous questions — big and small — on the way to their final purchase decision. And, to make that final choice, they want brands to give them answers to help them resolve their emotional tensions.
Let's look at a real-world example from our study:
Laveena is a Gen X (1965–1980) female who suffered from hair loss, which made her anxious. She discussed the issue with family, but their opinions only confused her. This feeling of uncertainty prompted her to seek a solution on Google Search at the start of her purchase journey, in the 'trigger' phase.
One of the key questions Laveena searched was: "Why is this happening?" Entering the 'explore' phase of her purchase journey, at first she felt hopeful when she saw the large number of results online. But as she dove into the multitude of information, she felt confused about which to trust.
The 'evaluate' phase of her purchase journey saw Laveena seeking truth. She veered between 'exploration' and 'evaluation' in a loop known as the 'messy middle'. Here she questioned her findings and resolved her emotional tensions by finding answers on Google Search. This continuous emotional resolution moved her further along the path and closer to a purchase.
Laveena discovered the reason for her hair loss and used Google Search to find hair products that might help. Veering between 'exploration' and 'evaluation' again, she found a shampoo she felt confident would help, purchased it, and exited the loop. Laveena felt relieved, but was still anxious about whether she'd made the right choice. Only after the product was effective was she satisfied.
Brands can move people closer to a purchase decision by doing 3 things
People turn to Google Search because it helps them find clarity. It organises and contextualises information, connects shoppers to diverse resources, provides answers to resolve their emotional tensions, and makes them feel reassured.
But while search helps to provide the information that people need to make a purchase decision, it's up to brands to give consumers the confidence they need to step off the path to purchase and actually buy something.
They can do that in three ways:
1. Build trust by providing clarity
The emotional moments that people experience along the path to purchase are turning points for trust. They are also key opportunities for brands to resolve people's emotional tensions.
Seventy per cent of surveyed consumers agree that trust in purchased brands is important when it comes to making the decision to buy from a specific brand.2 And 91% agree they'd buy from brands who provide trustworthy information.3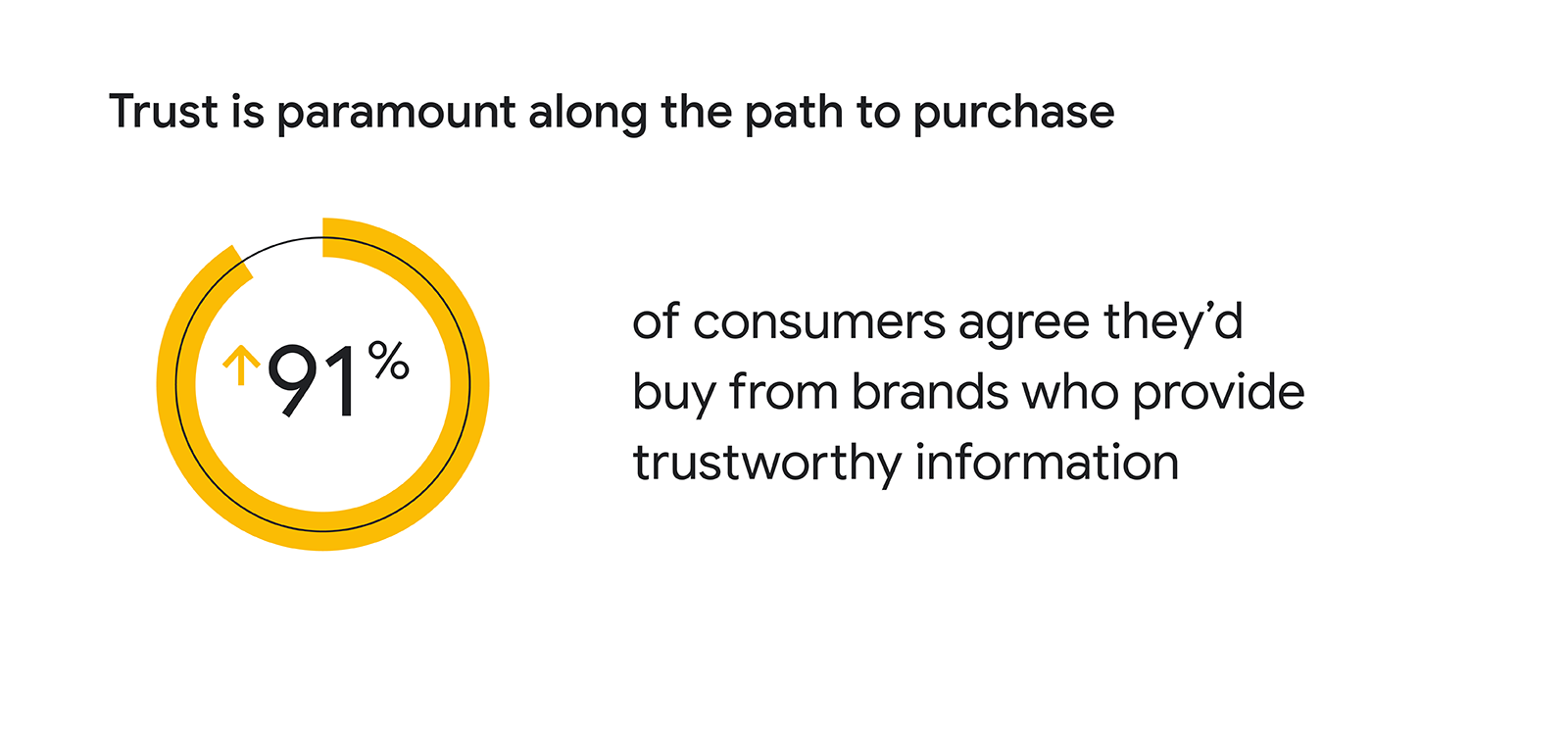 To establish trust, be upfront about your offering and how it's going to solve a person's problem by using concise and accurate information that provides clarity.
2. Be present during people's emotional tensions
Knowing that emotional resolution moves people along the path and ultimately to a purchase, it's important for brands to be present in the moments they need you.
Our research shows that the best place for brands to be present with helpful information that offers emotional resolution is between the 'exploration' and 'evaluation' stages of the purchase journey.4
It's at this point that people are most actively researching. This provides brands with the opportunity to jump in and give consumers the confidence they need to make a decision.
3. Give people confidence to make a decision
Our research shows that 41% of people in MENA find it harder to make a purchase decision today than they did five years ago.5 And that number rises to 44% among Gen Z-ers.6
That's because the multitude of websites, reviews, and other touchpoints that consumers rely on often make them feel more confused. And making a final decision on what to buy hinges on a person feeling confident that they've made the right choice.
Our study found that 91% of people agree that they would purchase from brands that made them feel empowered or confident to make a good decision.
And brands can help people feel that way by reminding them of the benefits of their product or service — and how it will solve their problem.