Born between 1997 and 2012, Generation Z — or Gen Z — currently make up more than a quarter of the global population, and are set to comprise 27% of the workforce by 2025.
In the Middle East and North Africa, Gen Z make up around 16% of the population. That's about 60 million people — or approximately six times the size of the United Arab Emirates' (UAE) population.1
And they're influential, too. When shopping online, 49% of Gen Z social media users in the UAE got their friends involved in the buying stages by sharing pictures and discussing which products to purchase.
That's why it's more important than ever for businesses to understand how to capture Gen Z's attention online. Research by Google and Kantar reveals three ways brands can do that in their video ads:
1. Make them laugh
Watching videos for entertainment is a top priority for 71% of Gen Z in MENA. In fact 81% visit YouTube for that exact reason.2
Comedy skits are particularly in demand, with 35% looking for a laugh.3 Concerts, music, and fashion come in close behind comedy, with regional Gen Zs turning to these topics for entertainment too.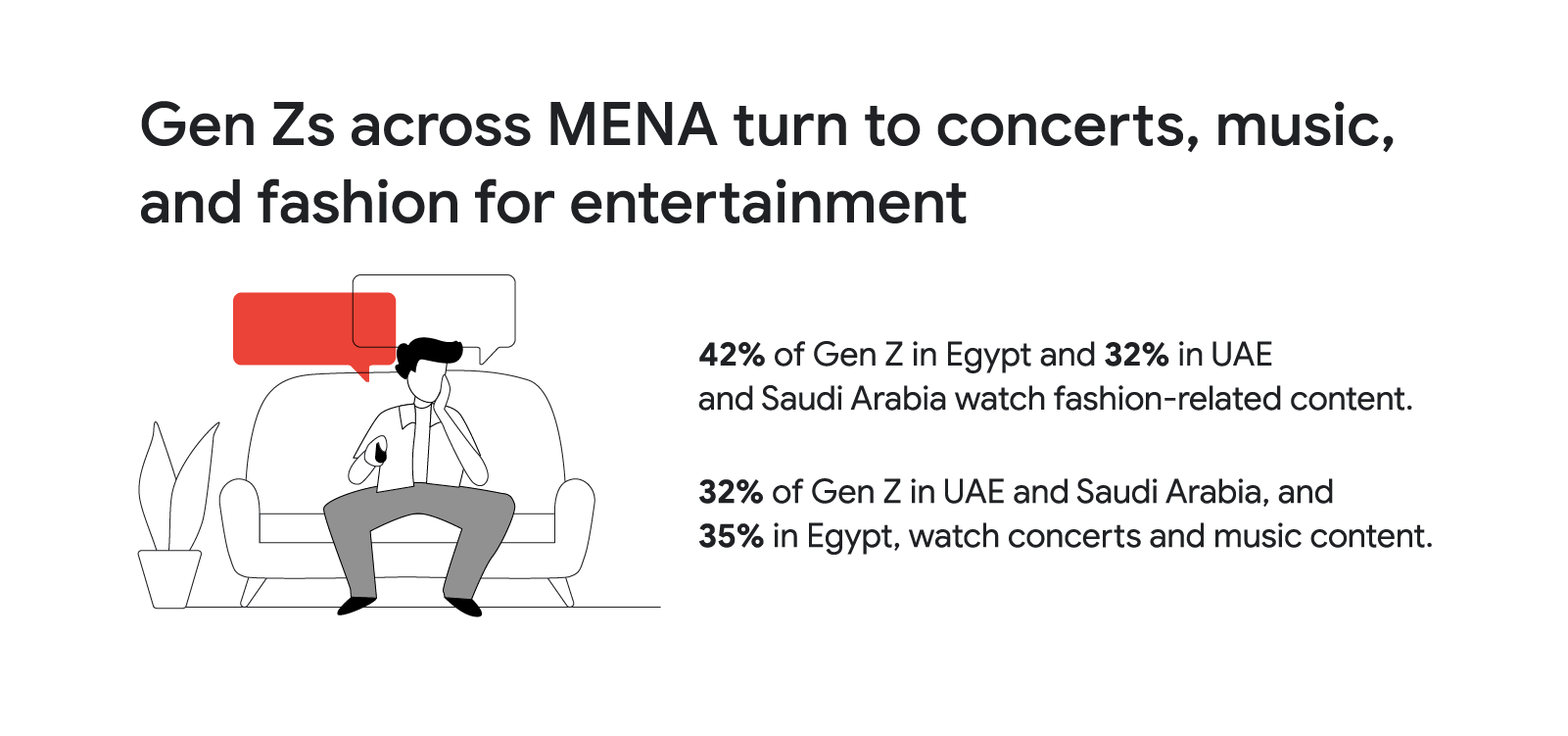 Interestingly, while 42% of Gen Zs in the UAE and Saudi Arabia enjoy travel-related content, that number dips to just 12% in Egypt.4
2. Tap into their passions
Around 66% of Gen Zs in MENA use YouTube "several times a day" to enjoy their favourite things, from listening to music and audio to checking out recipes and finding food inspiration.5
And YouTube is the platform that boasts the highest share of people who visit more than once a day in the region, at 60%.6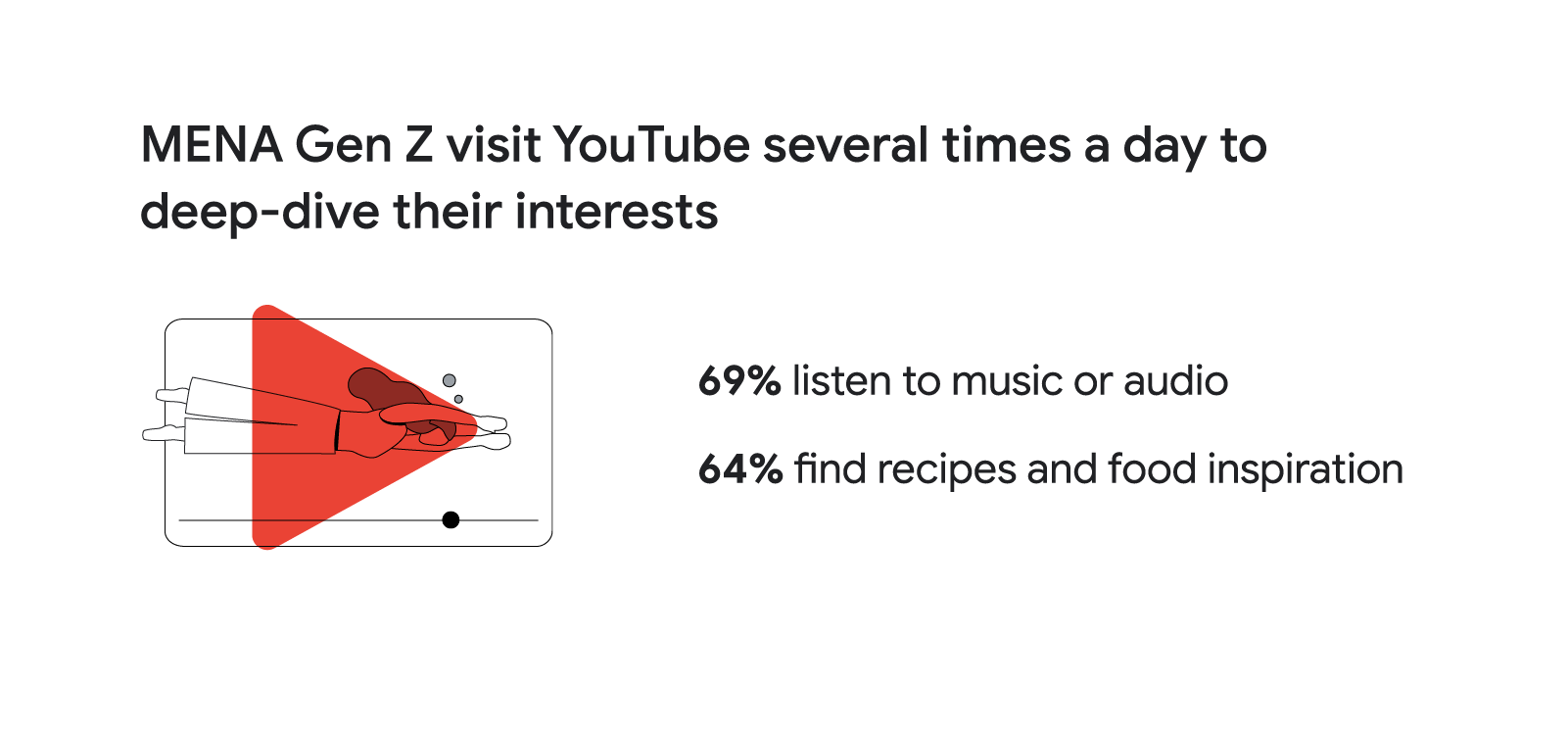 Interestingly, Gen Z engagement on YouTube is active, not passive. That means, instead of watching YouTube to relax, their attention is frequently purposeful and focused. They visit the platform to watch, search for, and find interesting content that suits their interests.7 And these searches actually result in wider marketing footfall.
Fifty-two per cent of Egyptian Gen Z who searched on YouTube shared brand videos with friends, and 54% in the UAE and 47% in Saudi Arabia visited the brand website.8
3. Enable better buying decisions
The modern consumer's shopping journey isn't linear – and the same goes for Gen Z's.
With YouTube being a platform that Gen Zs actively engage with, it comes into play at a later stage of their shopping journey. That means specifically during the evaluation phase or the moment when they're deciding what to buy.9
Sixty-three per cent of Gen Zs in MENA say they relied on YouTube to gather information about recent purchases, with the platform helping them to choose between products and make purchase decisions. And this was especially true when it came to higher investment or riskier buys — for example high-end apparel and jewellery.10
While our research shows that Gen Zs trust YouTube as a reliable source of information, the less communication that's associated with paid ads, the better. Non-sponsored creator content and video reviews performed better than ads across the region, with the only exception being in Egypt, where Gen Zs actively watch ads.11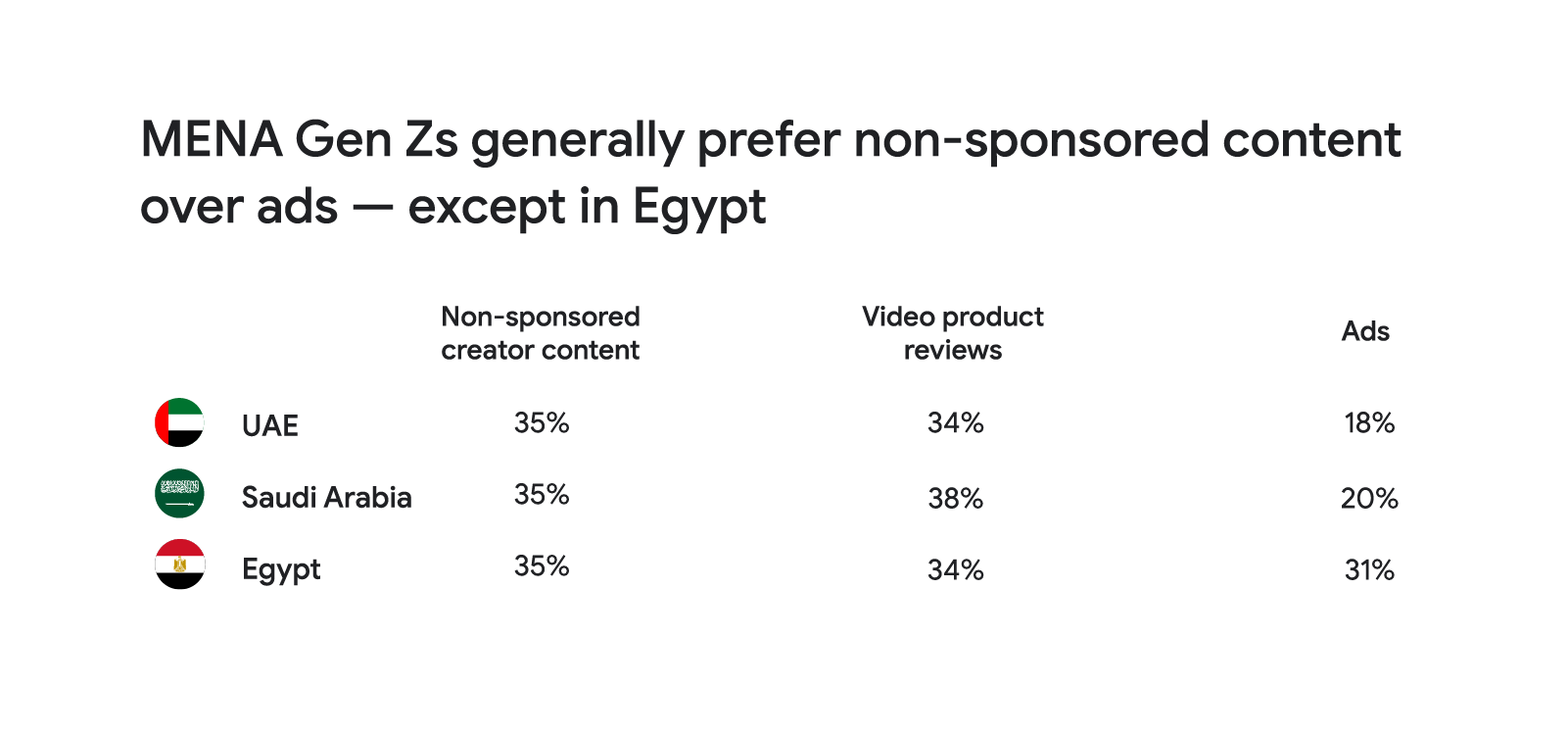 This is one of the reasons why 77% of Gen Zs in the region are subscribed to, or regularly watch, videos by YouTube creators. They view creators as trustworthy and appealing, having authentic content that's interesting and entertaining.
Top marketing tips to capture Gen Z's attention
Keep Gen Z's eyes on your ads by incorporating an element of comedy and entertainment in your videos. And don't forget to get in on trending and snackable content by appearing on Shorts. Our Video Reach and Video View campaigns now include Shorts inventory, making it easier for you to reach Gen Z through short-form content.
Eighty-eight per cent of YouTube viewers in Saudi Arabia agree that YouTube has unique content they can't find anywhere else.12 By leveraging popular content lineups — for example gaming or food — from Google Ads or Display and Video 360, your brand can appear in videos that Gen Z love, meeting this audience where they're most leaned-in.
People trust creators because they speak their language and address their interests with authenticity — both of which help to build more meaningful relationships. To get the best out of the creators you work with, it's important to brief them clearly while still giving them their creative freedom. This should result in assets that feel more authentic, rather than forced or staged. While there's no one-size-fits-all brief, try to avoid long explainers and 'do or don't' lists. Visual and open-ended briefs tailored to the creator are more likely to get the best results.