Roya Zeitoune oversees YouTube's Culture and Trends team for Europe, the Middle East, and Africa. Earnest Pettie leads global research for YouTube's Culture and Trends Insights team.
A football match lasts 90 minutes. But the build-up and post-match analysis can last for hours – or even days – with supporters, such as this group of Manchester United fans, gaining more than 500,000 views when they come together to sift through events.
There are 171 episodes of American drama series Vampire Diaries. But for millions, that's not enough. Fans want more. This becomes clear when you see that this 2.5 hour video dissecting the show has been viewed about 9 million times, with YouTube creator Jenny Nicholson going deep in her analysis.
And since the role-playing video game Elden Ring was released in February, fans have released countless videos, such as gameplay walkthroughs. Together, views of Elden Ring content hit 3 billion in 60 days.1
It's an intriguing paradox that in the age of supposedly shorter attention spans and bite-size content, a new 2022 Ipsos survey of thousands of Gen Z respondents shows that people from this generation are more willing than ever to indulge in hours-long video content covering topics close to their hearts. Whatever people love, they want more of it.
Let's follow suit and deep-dive into the content that Gen Z viewers are loving right now.
'Fan culture' content is king
We are now in the era of the "professional" fan. There is a healthy appetite for more in-depth exploration of topics such as film, TV, and sports, which has been enabled in part by the rise of YouTube and podcasts. These allow for fan-centric creators to share thoughts and ideas at length with an increasingly captive audience: 61% of Gen Z would describe themselves as a "really big" or "super fan" of someone or something.2
These fan channels have become central to the entertainment experience. They allow people to explore their passions, no matter how unique: 60% of Gen Z have used YouTube to find more content about a show or movie they just watched.3
The channels also allow fans to connect with other like-minded people when they find these creators. Nearly three-fifths of people said they discovered creators making content about a topic they didn't know other people cared about,4 using the comments section to start lively debates.
And when people find a community of like-minded people, they stick around.
The rise of video essays
The long-form phenomenon doesn't stop at fan culture. Video essays – typically running 25 minutes to an hour long – are also gaining in popularity. In video essays, creators talk at length about topics ranging from history and science to fashion and philosophy.
"We've seen a consistent rise over the last three years of people searching for video essays on YouTube," said Nicolas Szmidt, a Google expert in YouTube culture. "The topic is surging now as people are clamouring for more in-depth information about subjects they are passionate about."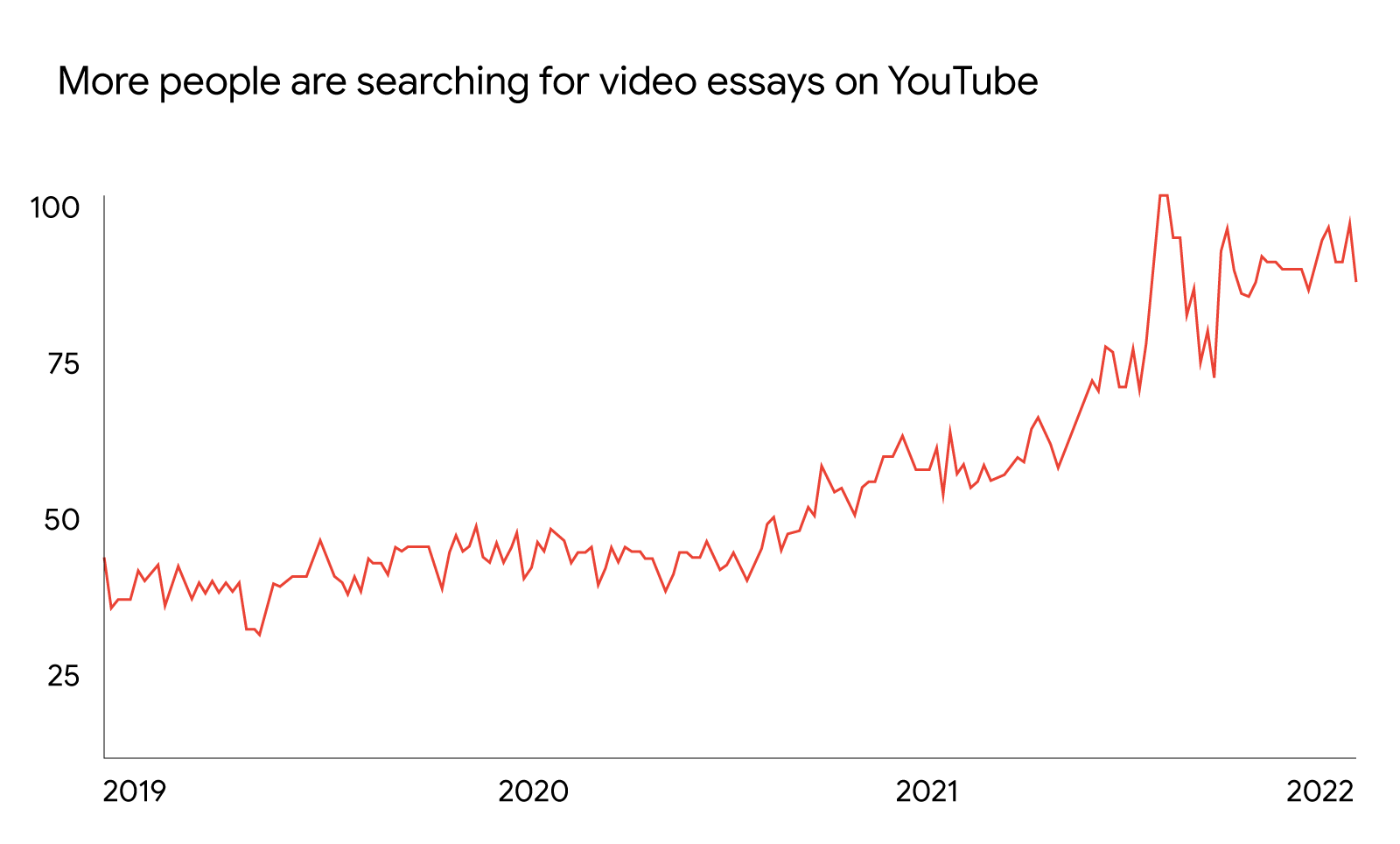 These essays often help build loyal audiences: creators have found that including long-form videos in their content mix leads to greater viewer engagement with their channel.
Video essays give more space for the creator to tell the full story from all angles. The advances in – and the accessibility of – video editing technology means that the production values are often surprisingly high quality too.
Advertisers are also embracing longer formats to tell stories and engage with viewers. More than 80% of ads that won at least a Silver Lion at Cannes in 2020–2021 had run times of 60 seconds or more.
Discovering long-form with short-form
Of course, we know viewers aren't solely searching for lengthy videos to binge. They also love watching short-form videos. In many instances, the simple act of watching short videos leads Gen Z to delve into more extensive videos with deeper insights, explanations, and analysis. Our latest research shows that 59% of Gen Z watch longer versions of videos that they discover on short-form video apps.5
Marketers seeking to capture Gen Z viewers should understand that this group wants a deep, personalised experience that's relevant to them.
Don't be afraid to veer away from generalist content and delve into a specialist area, ensuring your brand is present around credible expert voices on YouTube. You'll be surprised at how large, dedicated audiences in specialist areas can grow.
Gen Z know what their passions are — they just want to find out more about them, and they will spend their time to explore.