When consumer behaviour changes in significant ways, it's often on Search that we see the first signs. This year, as inflation has risen in the U.K., we have seen a marked shift in people's online habits — many of them manifesting in real-world purchase decisions.
For example, as energy prices have increased, people have explored more cost-effective ways to cook. Search interest in "air fryer" is up as much as 642% on 2021, with high street sales to match.
Below, we'll explore three recent shifts in online behaviours that illustrate how consumers have sought to take control in key areas when it comes to budget and spend.
Taking control of outgoings
In times of economic uncertainty, consumers often adjust their behaviours. Changing search interest indicates that people have looked for ways to manage their outgoings more efficiently.
Across categories, search interest suggests that when faced with rising costs, people have been proactive in exploring efficiencies.
In the U.K., we've seen an increased interest in cancelling memberships and subscriptions, with search interest for "cancel membership"' up from 2021.
This is particularly evident when it comes to food. Over the past 12 months, we've seen search interest rise for "cheap recipes", "batch cooking" and apps that can help tackle both increased costs and food waste, such as "Too Good to Go". These shifts are reflected in people's offline spending too, with discount supermarkets increasing their share of the U.K. market.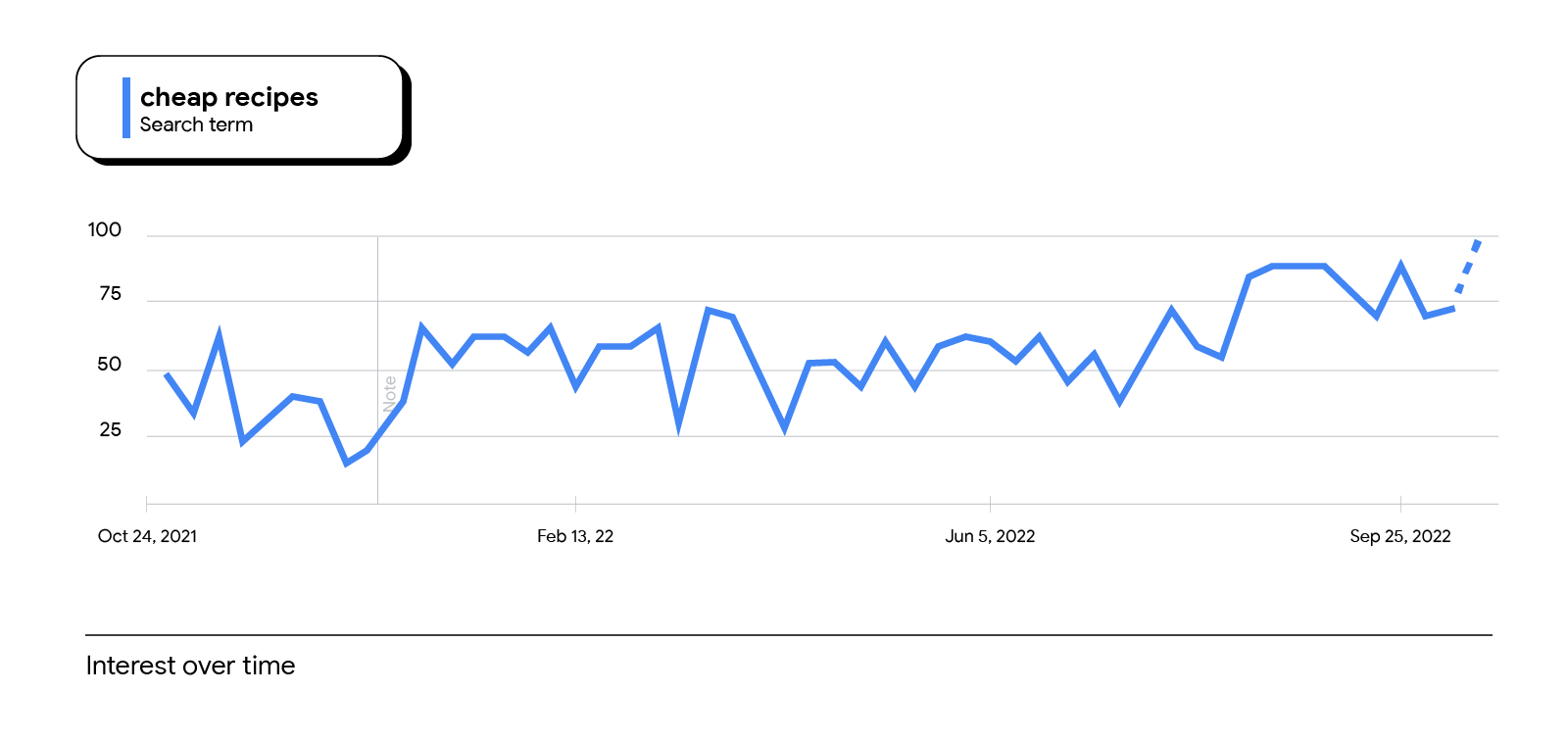 We've also seen more consumers focus on products and technology that help save energy in the home. Search interest for both "smart radiator" and "smart thermostat" are up on 2021, while there has also been a significant rise in search interest for "energy saving tips" as people look to see where they can cut back on household outgoings.
Across categories as diverse as food and energy, search interest suggests that when faced with rising costs, people have been proactive in exploring efficiencies, both in terms of quick wins and investing in technology that delivers longer-term savings.
Managing access to finances
As well as controlling their outgoings, search trends indicate that people are paying more attention to their financial set-up. According to the search data, one prominent approach has been to explore extra credit or deferred payments, with interest for "best credit card" rising over the past 12 months.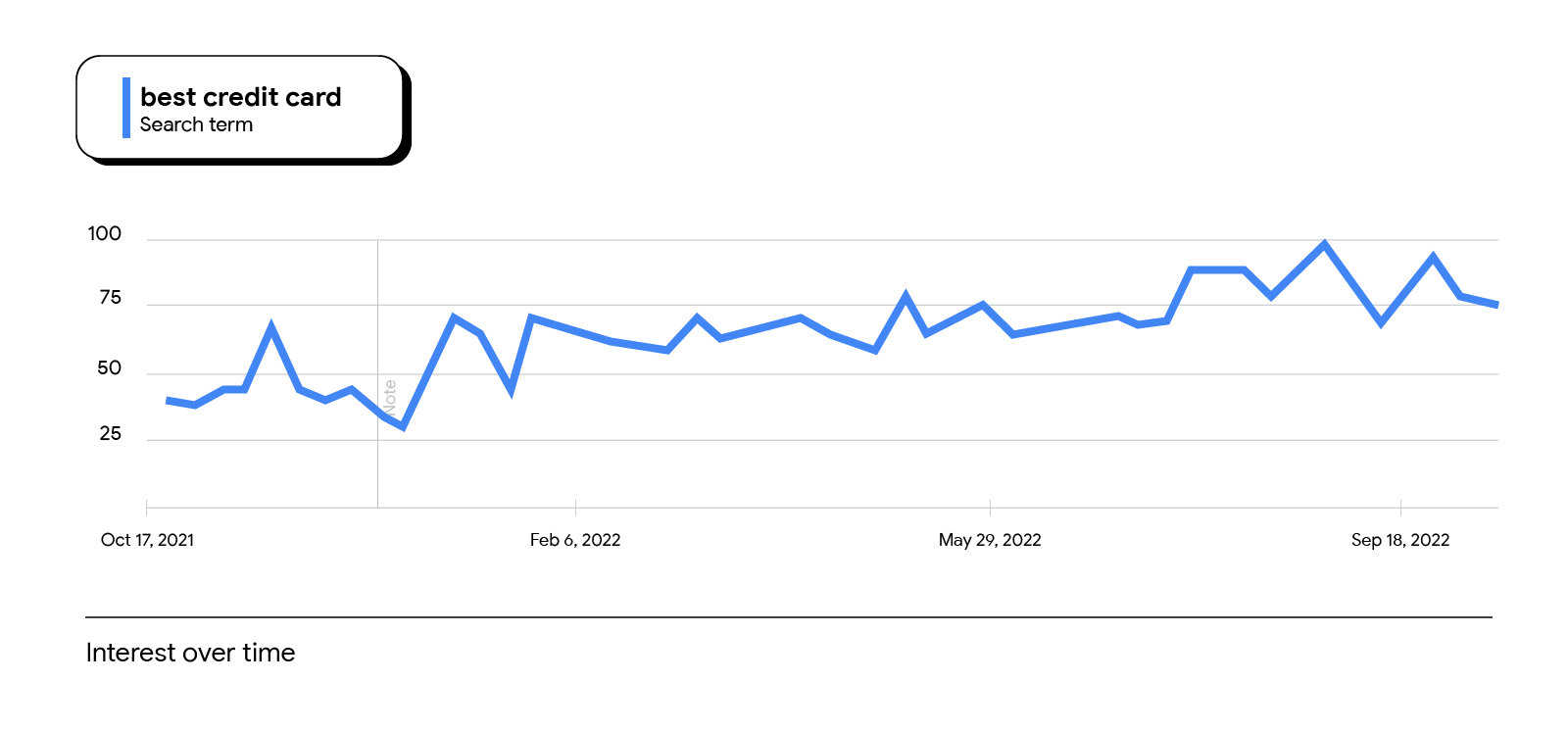 Over the past three months, we've also seen a rise in search interest for "best easy access savings account" and ''budgeting app'', as people seek to get more from the cash they have.
Exploring options for work and income is another notable trend, with search interest for "side hustle ideas" up 3.5X year-on-year (YoY) in the U.K. This is one indication that, as bills rise, workers are finding ways to monetise their hobbies or top up their income. Uber, the ride-hailing and delivery operator, reported a record number of people on its books, up 31% on last year.
Where "value" meets "values"
As people look for better value options in response to inflation, their actions may have a positive impact on other trends. We know consumers are increasingly focused on sustainability and a drive for value may lead them to make choices that are better for the environment too.
This is perhaps most immediately visible in cost savings on energy and other utilities. But it also extends to categories such as fashion and tech.
When it comes to mobile phones, refurbished is the new "new", with YoY growth in search interest for second-hand deals above that of new devices. Resale is also big news in the fashion sector, with major brands such as Marks & Spencer investing in schemes for hiring out capsule wardrobes to shoppers.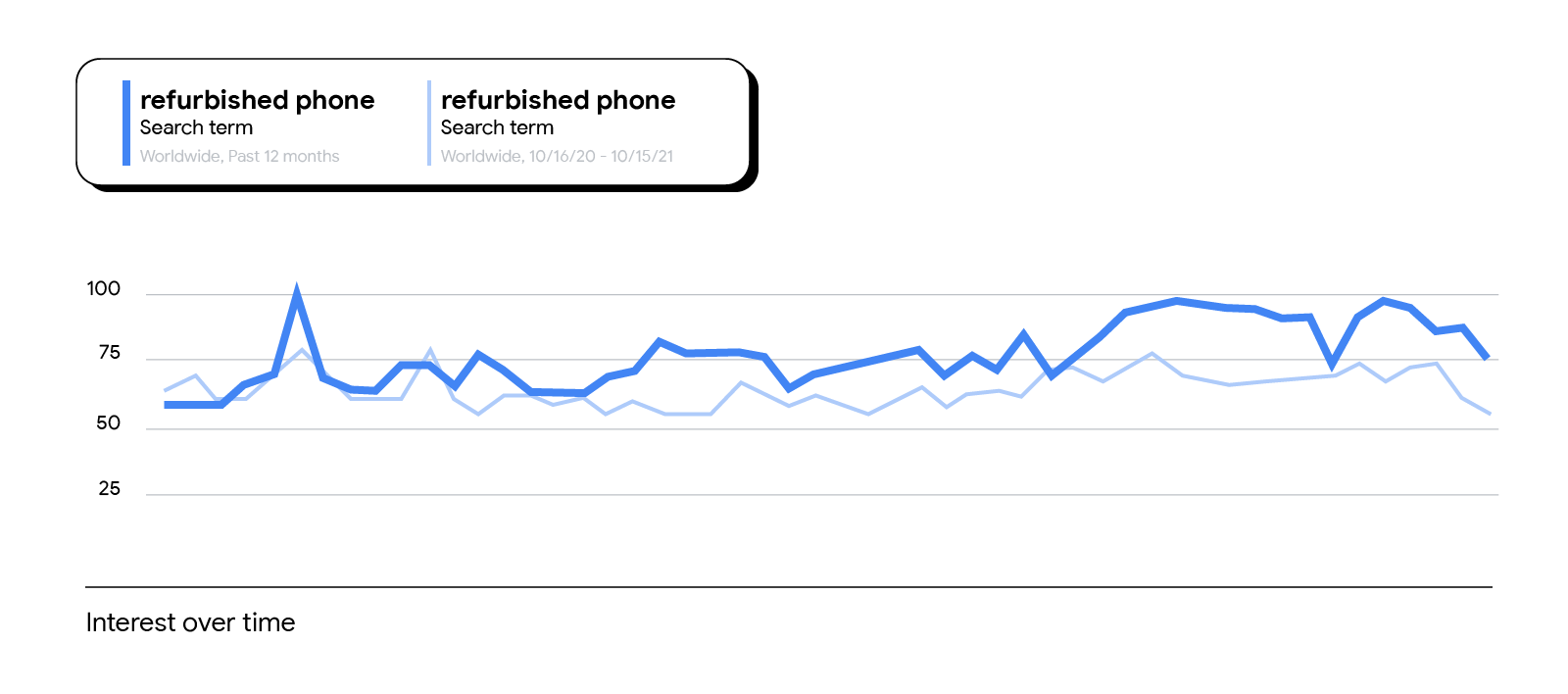 This points to an interesting area for businesses and marketers to explore: pockets of growth that also minimise our impact on the environment.
What comes next: Actions for marketers
The picture for the foreseeable future may be challenging, but as search data indicates, people will look to businesses and brands to help them control what's controllable.
Marketers are typically the owners and drivers of consumer insights, and now more than ever, they will be required to share these across the business. Such data will be crucial in informing how a greater focus on value can run through everything from messaging and creative to product positioning.
Here are three actions to help you prepare:
Increase your focus on consumer insights. People change as their environment does, but using sources such as Google Trends and first-party data can help you meet people's shifting needs.
Consider how you position products or services. Try to help consumers by focusing on value or values and ensure your messaging is sensitive to their economic realities.
Use automation to optimise your marketing mix and capture in-market demand. Keep reviewing your media mix to drive efficiency and effectiveness while capturing shifting demand with the automated tools available.