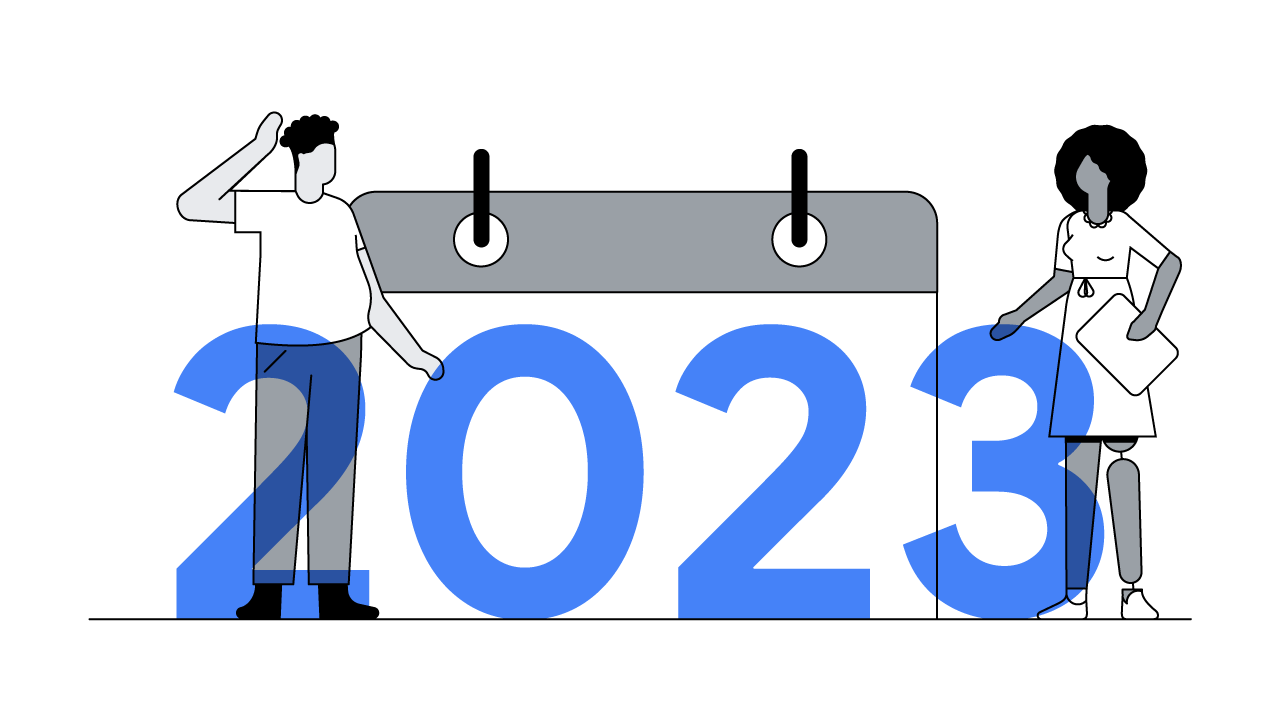 Click-through to read the latest edition of this article: Top digital marketing trends and predictions for 2024.
There's no doubt that 2023 will be a year of sharpening our focus.
The challenges and disruptions brought on by the pandemic, geopolitical tensions, and economic uncertainty will make it a year like no other.
However, businesses cannot press pause on 2023 planning to wait and see how things will unfold. To continue to grow — and survive — business leaders need to put strategies in place now. And marketing has a major role to play.
To help your business find clarity amidst uncertainty and move forward with confidence, I asked Google leaders to share their top marketing trends and predictions for 2023. I hope their insights will help guide you as we head into the new year.
More inclusive media planning

The advertising industry has had a lot of focus on more inclusive representation in creative over the past few years. This work now needs to extend to media planning too. It's not just important for people to see and hear people like them but, crucially, to experience this in environments that are familiar to them.
However, inadvertent bias can get in the way of inclusive media planning. For marketers to truly engage and connect with diverse audiences, they need to address this bias and embrace the breadth of content their audiences consume.
This year, we saw advertisers like Domino's and Diageo critically assess their media placement choices and act to broaden the moments they showed up in to better connect with their entire audience. They did this by lifting keyword and topic exclusions that contained potential bias and by proactively investing in hand-picked authoritative voices and publishers.
In 2023, brands should carry out an audit of their media plan. Assess whether the mix of channels and publishers reaches the breadth of intended audience and review for potential biases in keyword and topic exclusions. Additionally, consider what affirmative action can be taken to authentically support underrepresented voices and communities.
Advertising with a purpose

People have been prioritising sustainability and they want brands to help them make sustainable choices more manageable. They also expect organisations to have an impact on society more than ever before and align promises with actions. In response, we're seeing brands shift from purely looking at minimising their own environmental impact to focusing on a greater purpose. They are taking a more active role to highlight important causes and inspire action.
Cat food brand Sheba, for example, is on a mission to save the world's fish — and they used an innovative ad campaign to do so. The team launched the world's largest programme to restore coral reefs by making videos about the work they're doing and using advertising revenue from YouTube to help fund the campaign.
For other brands, their purpose is their raison d'être. French company Back Market tapped into the mantra of "reuse, reduce, recycle" as a response to the amount of e-waste in society. They created a circular economy with their online marketplace for refurbished tech devices to reduce the sector's environmental footprint. Their ads cleverly convey this purpose.
However, avoid "purpose-washing" when aligning advertising with a purpose. A commitment to causes must be authentic, long-term, and supported by actions beyond words.
Privacy and peace of mind

Businesses need to differentiate themselves in 2023 as they compete in an uncertain market. They'll need to prove their values to keep and gain customers. And with people managing more of their day-to-day lives online than ever before, online privacy has never been more important.
Last year, we surveyed over 7,000 Europeans and we found that when brands respect privacy, their ads perform better. This year, we dug even deeper: we asked 20,000 people about the consequences of good and bad privacy experiences.
We found that privacy experiences impact user trust. But we were surprised to learn just how damaging a bad privacy experience online can be. Consumers view bad privacy experiences as almost as damaging as a theft of their data. It's enough to make 43% of them switch to another brand.1
Online experiences need to be delivered with the privacy people deserve, by brands they can trust. In 2023, ensure you're providing customers with everything they need to be — and feel — in control of their data. When people lack control over their data, they become sceptical of digital marketing. Provide accessible and understandable tools that customers can use to manage their privacy, whenever they want.
It's Gen Z's world (we're just living in it)

Gen Z is the first generation to have fully grown up with the internet — and the way they navigate and interact online keeps evolving. The most relevant platforms for this generation today are those that are dynamic and highly visual, meeting their ever-changing needs in new and innovative ways. Gen Z expresses where — and how — they want to engage by showing up where it matters to them most.
That's why our latest campaign aimed at Gen Z promoted a new way to search what you see. "Find that thing" was a celebration of visual search, giving this visual-forward audience a way to find the indescribable items they are looking for by using Google Lens. We created different videos born from Gen Z trends — from fashion (cowboy boots) to interests (rollerblades) to artists (Aitch) — tailored to specific social platforms.
In 2023, do not try to bring Gen Z audiences into your world, but meet them in theirs. Understand their unmet needs, prioritise relevance and authenticity over homogenous singularity, and embrace the diverse, visual worlds they inhabit.
Augmented reality experiences

The pandemic saw a surge in online shopping. This made it even more important — and expected — for brands to be innovative in offline environments. In 2023, the customer experience provided in-store should add unique value. It's all about encouraging physical footfall alongside online shopping.
Augmented reality (AR) and other immersive experiences have become key to achieving this. And the rise in use of AR technology means consumer demand for immersive experiences will become even more mainstream in 2023. In fact, more than a third of Gen Z are predicted to be shopping with AR by 2025.
Some brands have already trialled AR campaigns. Miss Dior encouraged shoppers to use Google Lens in-store to create an AR garden of blossoming flowers. And Burberry celebrated their Olympia collection with a pop-up at Harrods where people could use their smartphone to bring a statue of Greek goddess Elpis to life. These experiences do not have to be limited to stores. ARCore Geospatial API allows brands to make the world their canvas by anchoring creative content to real locations.
Start creating and testing immersive experiences with smartphones today. And you will be one step ahead when emerging AR hardware, such as glasses, reaches more widespread adoption.
Snackable, short-form videos

Viewing habits are diversifying as people move seamlessly between screens and video lengths — with different needs and expectations for each. Many creators are innovating with shorter form, 'snackable' content to meet the needs of these viewers. And they're seeing immense success. In fact, YouTube Shorts now has 1.5 billion monthly active users and sees more than 30 billion daily views,2 making it a big area of opportunity for advertisers.
Learn from the creators leading the way. These individuals are blazing the trail, creating fresh ways to approach each video format to authentically connect with their audiences. It's important to leverage storytelling best practices to create highly engaging short-form video content. For example, videos should jump straight into the action. With only 10 to 60 seconds of available ad time, there's no need to set up a premise or establish a storyline with lots of extra context.
Brands don't have to reinvent the wheel to use this newer video format. We're currently experimenting with a machine learning tool that reformats landscape videos into square or vertical formats based on how someone is watching YouTube. It's already available for App campaigns, with Video action and Performance Max coming in 2023.