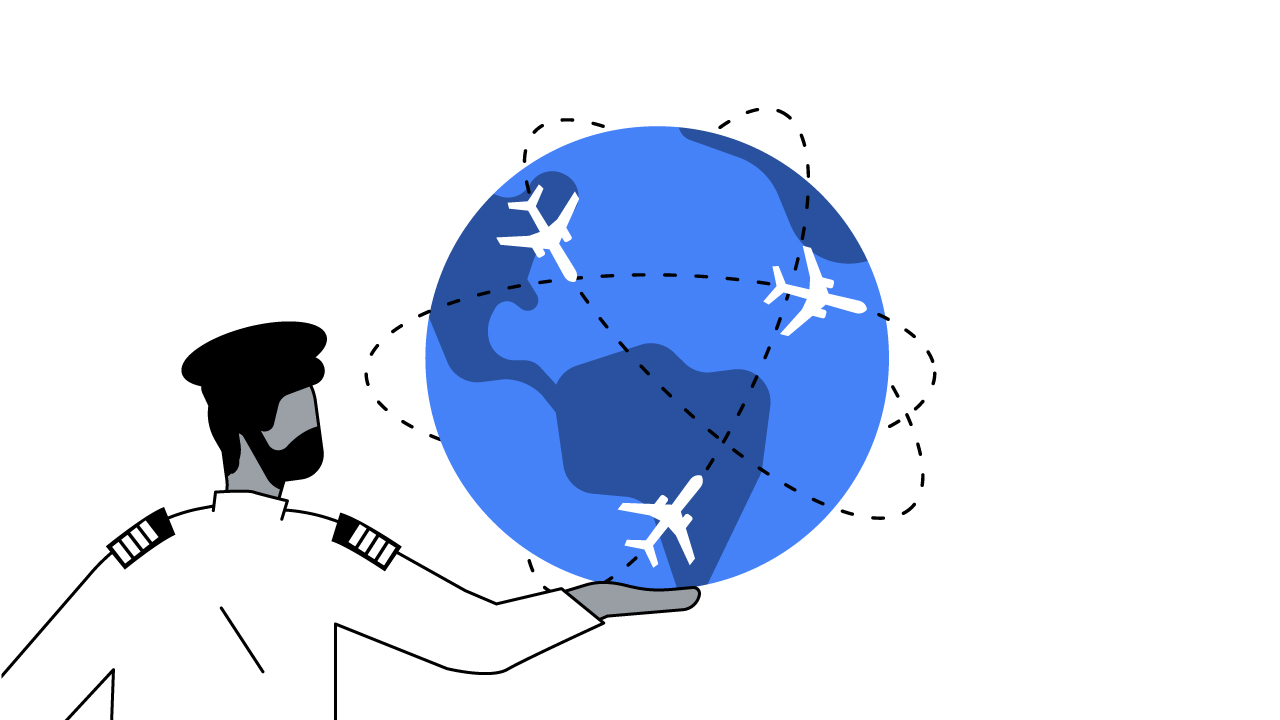 Ioannis Grylos is the owner of Sky Express. The Greek airline, founded in 2005, operates across 34 destinations in Greece, making it one of the biggest domestic players in the country. It also recently expanded internationally, with services in nine other countries. Grylos, a versatile businessman, also runs tourism and logistics companies.
The year 2020 was the worst on record for the airline industry, according to the International Air Transport Association. And the recovery has been turbulent.
The latest Eurocontrol data shows that only three European airlines (out of the top 40) managed to recover last year and beat their 2019 traffic. I am proud that our very own Sky Express is among these three airlines. And while we took various steps to achieve this result, among the most crucial moves was expanding our digital advertising strategy.
Using Travel Insights to find 'secret' demand
To grow our business, we looked to expand our network by flying passengers not only within Greece but also internationally. This meant we needed to upgrade our digital marketing strategy to reach new international travellers.
With Travel Insights we could keep track of not only historical demand, but also how this demand was changing.
To achieve this goal we partnered with digital advertising agency, Mediacube, during the summer holidays — a peak season for airline travel. We used the Travel Insights with Google tool to gauge client interest in air travel in different countries. It helped us monitor and review recent travel search data and compare trends in selected countries.
We started with week-by-week tracking of search interest in flight bookings from one of the biggest markets, the U.S., towards specific Greek regions. We already knew from our own data that Athens was a popular destination for U.S. visitors — and with the Travel Insights tool we could keep track of not only historical demand, but also how this demand was changing over time.
We combined our data with these travel insights to predict if — and which — local Greek destinations would see an increase in interest. We could see which places were the most searched for in the last week and compared that with earlier weeks.
We kept a close eye on any destination seeing a growth in interest for more than two consecutive weeks. By tracking these changes over a longer period of time, we could focus our advertising campaigns on the most popular destinations, rather than a whole country.
We had to carefully prioritise and discover 'secret' demand.
We then took the same approach to uncover travel interest from other countries, such as the U.K., France, Germany, and Italy. Of course there are a lot of potential locations we could fly to and from, so we had to carefully prioritise and discover 'secret' demand. By this, we mean destinations that weren't already well-known amongst our competitors, but were showing decent search volumes and the fastest-growing interest.
This work led to an expansion of our digital advertising strategy and helped us reach new international customers. Below is an example of an upper-funnel ad that we used for people in the U.K.:
Identifying international booking behaviours
Analysing Google's Travel Insights helped us uncover not only the nations' preferred destinations, but we were also able to see the difference in booking behaviours.
For example, we learned that people in the U.S. are early bookers and are more likely to arrange their summer holidays in Greece between mid-March and mid-April. Travellers from the U.K. book their trips later. The data also showed us that German visitors are the biggest outliers, booking their tickets the earliest. Meanwhile, people from Italy and France tend to book their flights at the last minute.
Below is an example of a mid-funnel video ad we used in the U.K., designed to attract people who were looking to combine work with a sunny holiday:
Using travel insights and booking behaviours to inform campaigns
After we unlocked travel interest and demand from different markets using the Travel Insights tool, we created advertising campaigns using the Google bidding strategy: Maximise Conversion Value.

This strategy uses machine learning to automatically optimise our bids and show ads more, or less, frequently based on people's search behaviours. For these campaigns, the Maximise Conversion Value bidding strategy helped us identify potential customers that were closest to booking a trip and it ensured we surfaced our ads to those individuals.
Below is an example of some of the Search ads we used in the U.S., showing the 'before' and 'after' versions: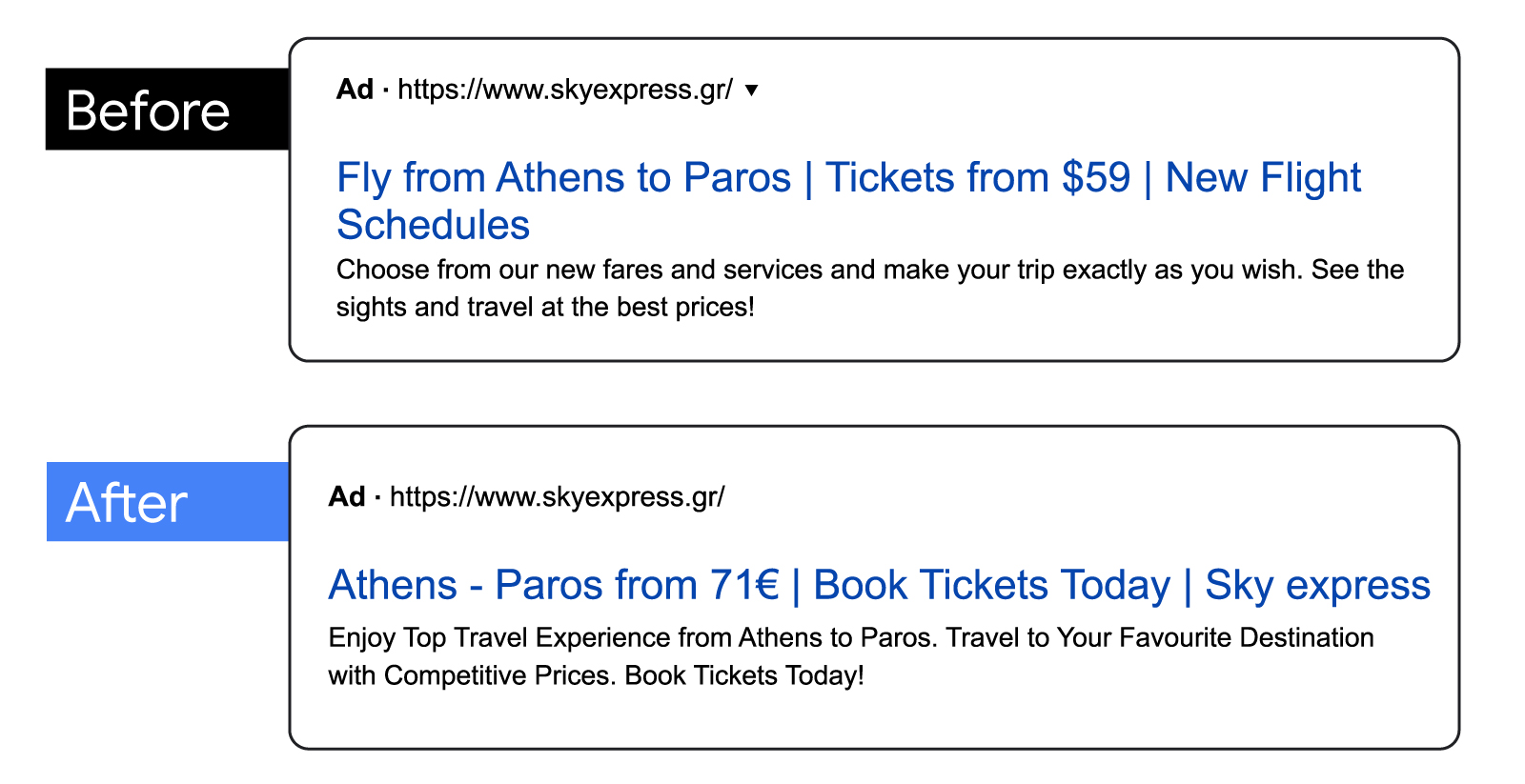 By switching to Maximise Conversion Value and making tweaks to our Search ad copy, our "after" ad achieved nearly 2.5X conversions compared to the "before" ad. This showed us the importance of changing our bidding approach. Additionally, we saw the benefits of repeating clear calls-to-action in both the headline and description.
Our work with Mediacube, combined with other marketing efforts, helped us increase our ticket sales significantly. In 2021, we nearly doubled our bookings compared to pre-pandemic levels in 2019. And bookings from Google paid channels more than tripled during that period.
"We found a goldmine of untapped demand and opportunity when we added the Travel Insights tool into our digital ad strategy for Sky Express," says Konstantinos Skianis, founder and managing partner at Mediacube. "The results were so indisputable that they led to an overall change of how we, as an agency, approach our Google Ads strategy for international growth."
Improving our data for summer 2022
We are looking forward to the next stage in our digital advertising journey. For this year's summer holiday season we developed an even deeper partnership with Google so we can see more up-to-date insights about travel.
We're still analysing search interest on a weekly basis, but this time we have access to more immediate data than that from the Travel Insights tool (which showcases data with a 7-day delay).
With this upgrade, we expect to further refine our marketing efforts and continue growing our sales in 2022 — and beyond.