Think about the last thing you typed into Google Search. Your query was probably pretty detailed as you described exactly what you were looking for. And you're not alone in adding this level of context. Searches have become much more complex and nuanced over the years as people use more specific language to navigate the vast library of the world's digital information.
This growing trend to use specific language in Search can help provide clarity and direction to brands during economic uncertainty. People's needs can be unpredictable amidst change, which means marketers can no longer just rely on historic data and projections as they plan for 2023. The key to stay on top is to look at people's intent and, crucially, spot this early.

Search insights can be invaluable indicators of what's happening in the moment — and help brands improve their outcomes during times of uncertainty.
How people search now
People have always used Search to understand new terminologies and current affairs, such as the rising cost of living. But it's the terms they search for around these topics that change over time.
A search phrase is usually made up of two parts. One is the topic and the other the context-setter, describing what people want to know about a topic. We call these descriptive words "modifiers". They help people navigate information more easily.

For advertisers, modifiers can provide powerful insight into rapidly changing consumer needs. They provide clarity about people's feelings and emotions around a topic and can signal intent — an early indicator of changing demand.
In practice, this means that at first people may search for the definition of a new word entering their vocabulary, such as "inflation meaning". As time progresses, searches around this topic will go deeper as people add additional words to learn something specific.
Where a rise or drop in search interest for the main topic reveals a broader change over time, modifiers add nuance and provide context about what's on people's minds right now.
Here is an example of this evolution in the U.K. when looking at the topic of "sustainability":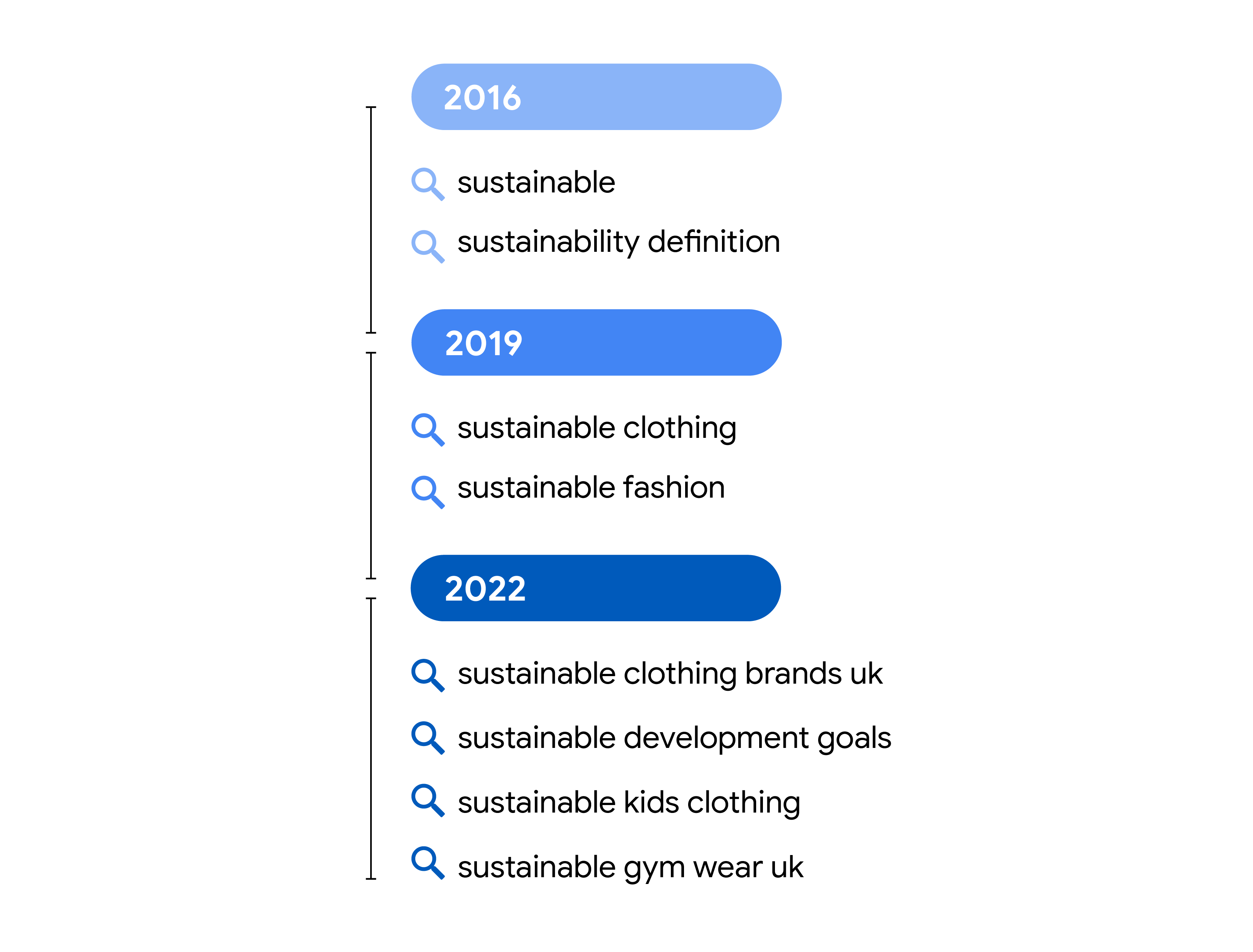 Planning for changing expectations around big marketing moments
As consumers gear up for the upcoming holiday shopping season, it's important to realise that modifiers can vary greatly, depending on the product or category. This is useful for planning purposes — especially as the current economic climate means spending behaviours and consumer expectations may be different this year.
People use modifiers in the exploration phase of their shopping journeys when they're doing research, comparing products, and defining their budgets. They often do this by searching for product characteristics (such as colour, shape, or location) and by describing themselves.
Instead of a one-size-fits-all approach, brands have the opportunity to help consumers find exactly the product that taps into their individual needs and preferences.
This image shows the changes in what people have searched for related to "wedding dresses" in the U.K.: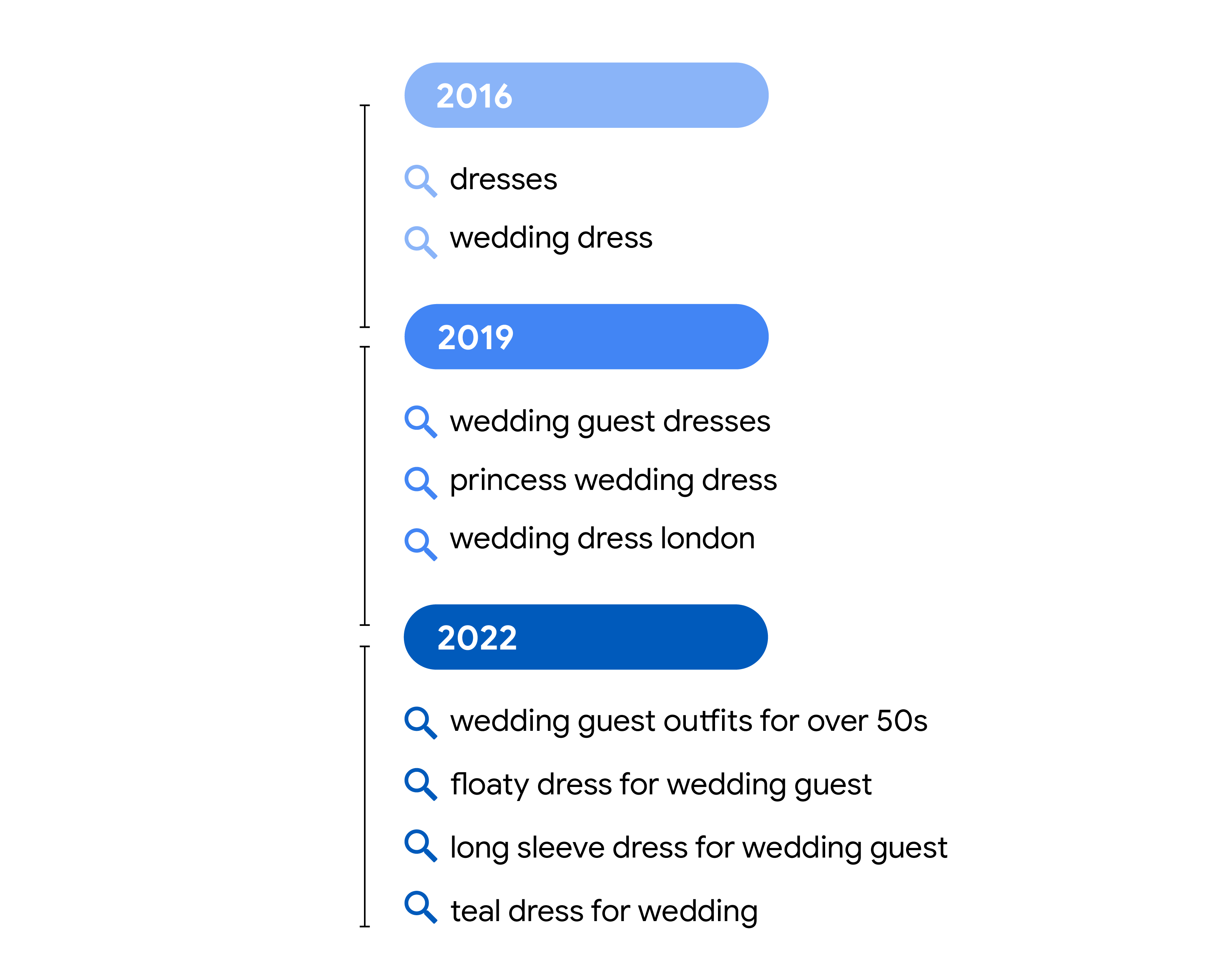 How search insights can help marketers in uncertain times
Search insights can help you stay close to what your consumers need and adjust campaigns accordingly. The Insights page in Google Ads helps businesses monitor and respond to changes by providing curated, real-time search insights. The automated tool shows trending search terms related to the keywords you're monitoring so you can see new demand as it emerges.
Within Google Trends you can see how search interest evolves over a longer period — as it can take time for intent to turn into demand. When looking at search interest for a topic or product category in Google Trends it may sometimes seem like growth has stagnated and there isn't any new demand. However, when you get more specific and look at changing modifiers people are using, you can spot their shifting interests and demands. In other words: you'll find early customer intent.
Together, the Insights page and Google Trends give marketers access to insights that can help them show up where, when, and how people are searching — even amidst change and uncertainty.