Inflation in Sub-Saharan Africa is at a two-decade high. Consumers have responded by prioritising savings, delaying big purchases, and making use of deals. Interestingly, however, they are willing to pay a little bit more if they can clearly see the value.
New research reveals the three key areas African consumers prioritise when making a purchase decision.
1. Shoppers in Africa are willing to pay for value
African consumers want affordable prices but value is also important. More than 40% of them completely agree that they are making budgeting and financial savings a priority because of rising inflation across Ghana, Kenya, Nigeria, and South Africa.1 In addition, more than 40% of South African shoppers say value for money is the single most important factor to them when shopping.
But value can mean different things to different people and it doesn't necessarily mean 'cheap'. It can also be about providing additional benefits, for example, through loyalty programmes.
Seventy-three percent of South Africans subscribe to loyalty programmes and, on average, they're signed up to more than nine different ones. The hunger for value is driving this high rate of subscriptions and, in turn, influencing where consumers will shop.
African brands may be wondering about the cost of launching and maintaining such programmes. The good news is that, across markets, more shoppers prefer paid loyalty programmes than free ones.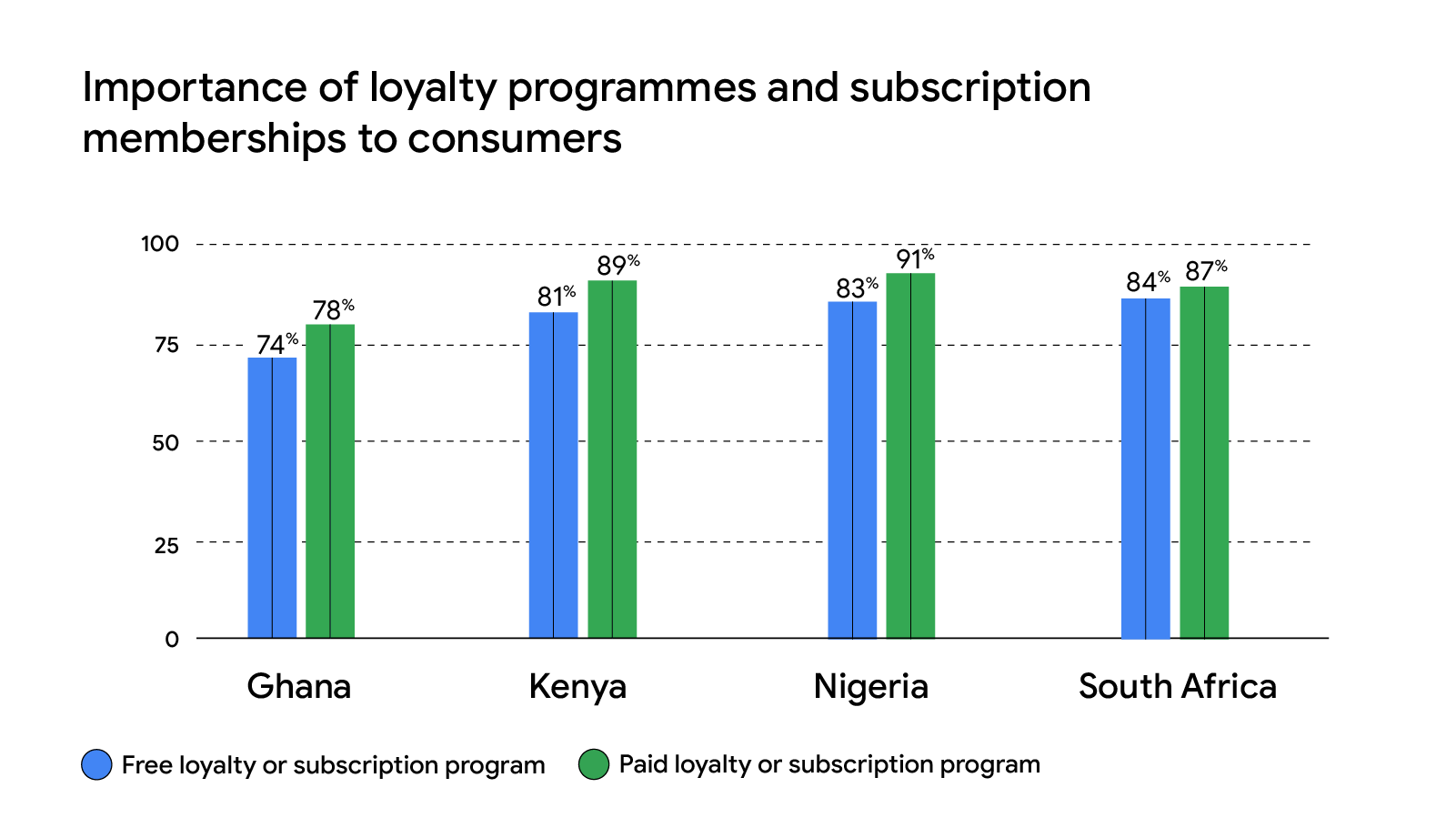 Takeaway: Demonstrate value
It's not enough to be the most affordable. African consumers need to know that they're getting value. Be clear on what value you're offering over your competitors and consider leaning into loyalty programmes to take things even further.
2. African consumers browse with intention
It may be easy to assume that window shopping is an aimless activity. But consumers in the surveyed countries said they spend at least a third of their time browsing for something they actively want to buy as opposed to browsing just for fun.2
And when they want something, the research also shows they pretty much want it right away, mainly within a week or even that very same day: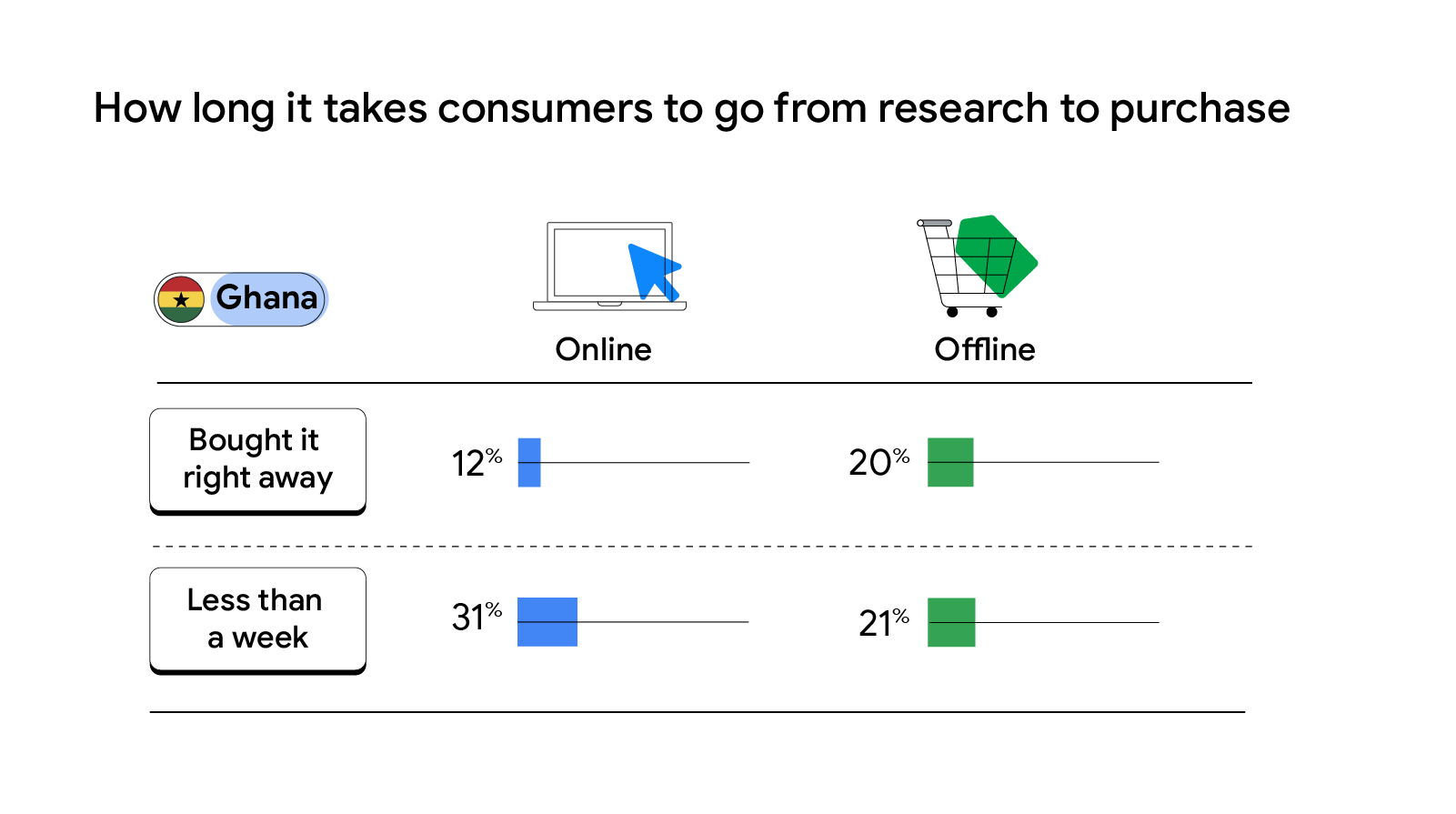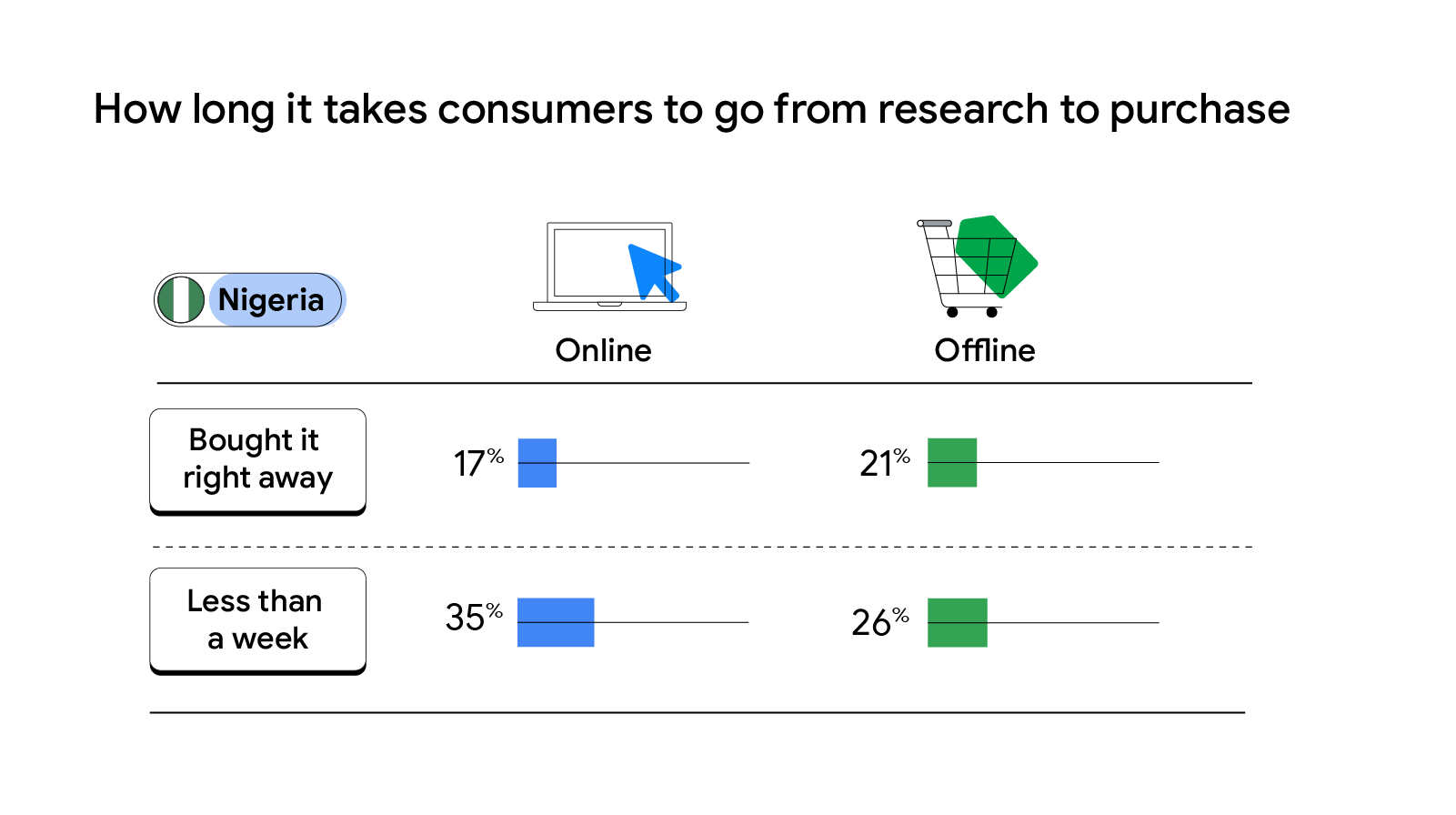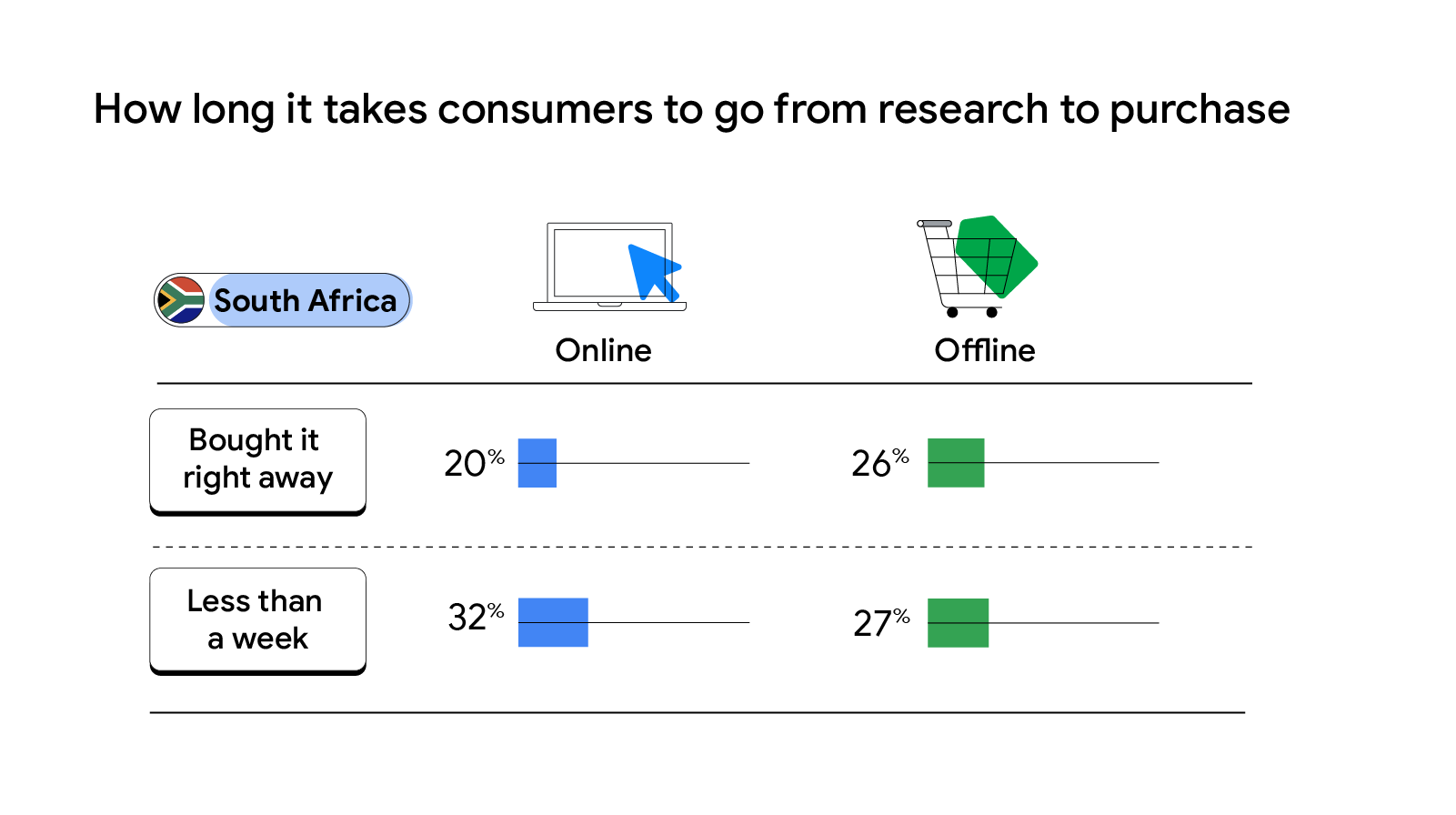 Search can also tell us a lot about consumer intent. A search phrase is usually made up of two parts: the topic and the context-setter. The latter describes what people want to know about a topic and we call this the "modifier".
Consumers in Ghana and South Africa typically use modifiers that point to the need for inspiration. They know the product category they intend to buy from but need some help narrowing their options down. They use modifiers such as "ideas" and "for" to help with this.
Meanwhile, those in Kenya and Nigeria generally use interaction modifiers that relate to the ease of the shopping experience. Think of terms such as "near me" and "delivery".
Takeaway: Stay close to consumer intent
The time between research and purchase is generally quite brief for the African consumer. Stay on top of consumer intent to make sure you're surfacing top priorities during the consideration phase on the shopping journey.
3. Pain points cause African shoppers to switch brands
As crucially important as understanding value and consumer intent is, there's one more piece of the puzzle that needs to be addressed in tandem: eliminating pain points.
The best loyalty programme and intent-based marketing is easily let down by barriers that consumers won't tolerate. Make no mistake, this is mission critical.
More than 40% of consumers in the surveyed countries made a purchase from a new retailer in the past year.

While some consumers reported price as a pain point, most reasons for trying a new brand were based on availability, quality, and convenience. These all point to final stage purchase decision-making.
Work in this area needs to be done in tandem with the value and intent-based work to give consumers a clear and holistic reason to choose your offering over another.
Takeaway: Eliminate pain points
Once you've won a shopper's consideration, you want to make sure that your brand is the preferred option. Assess your shopping experience end-to-end and ensure that it's as seamless an experience as possible.
Despite the challenges of the current climate, it's encouraging to see that consumers are willing to pay a little more for clear value. By following the African consumer's top three requests, you can make your brand stand out.