Google's Pablo Pérez is a leading researcher covering the retail industry with 15-years of experience. He works on research that spans Europe, the Middle East, and Africa.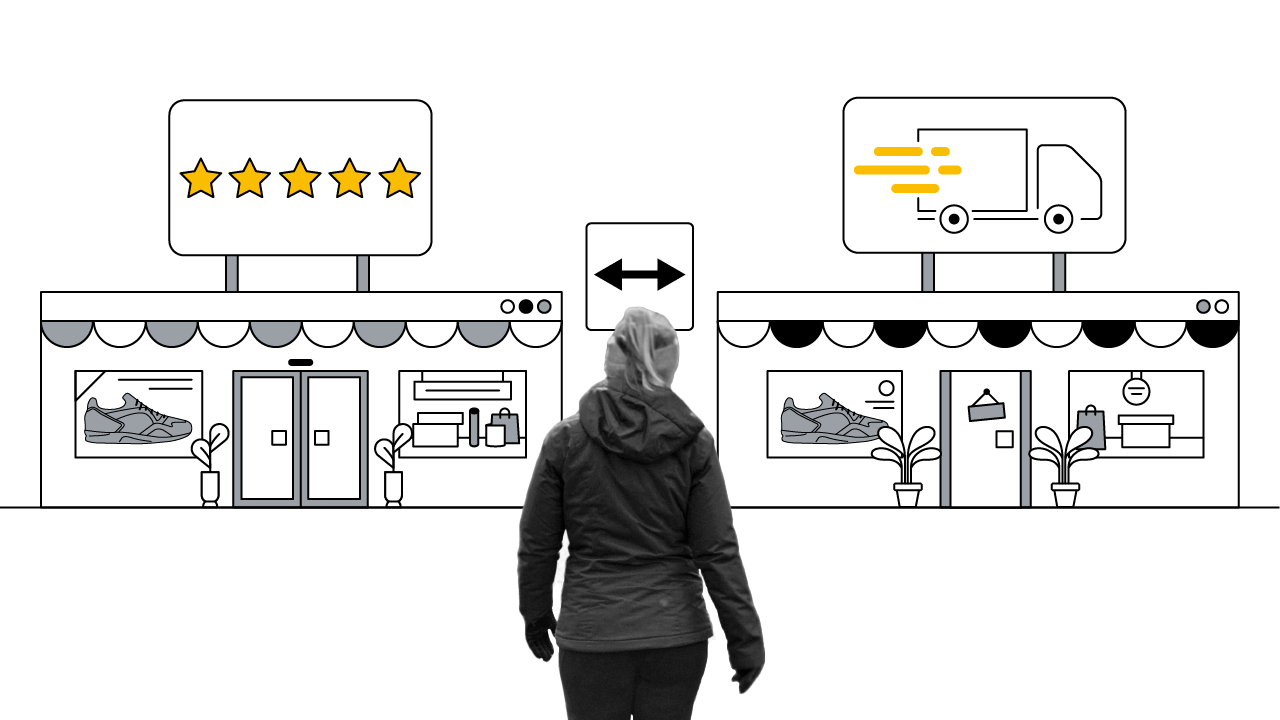 Since turning 40 I have taken up running. (This isn't a traditional way to explain my latest big retail research project, but bear with me for a moment.) Like most people, I started with a Google search to find the best shoes for me. Then the moment came: which retailer website should I use for my purchase? There were plenty of options, which made me start wondering how people come to a purchase decision.
I tend to buy a range of products from different retailers depending on factors such as availability, price, store reviews, and delivery speed.
Sometimes I have a strong preference for a particular brand, but I can be fickle when it comes to retailers. I swap easily between stores.
My latest retail research, which simulated 120,000 shopping scenarios with 1,000 people, shows that I'm not alone. The research demonstrated that people can become quite focused on buying a specific product, but are very open to swapping between retailers to make their final purchase. For instance, when presented with their preferred and second choice products, only 25% of consumers were willing to switch to their second choice. A much higher share of people – 47% – were willing to switch to their second choice retailer.1
This finding has opened up a huge world of opportunities to understand how retailers can ensure they stand out from competitors and secure sales from well-informed customers. I delved deep to discover specific strategies to capture people's attention and get people to click 'buy'. Here are the research highlights:
Discounts are good. But retailers can do so much more
Retail is a very competitive environment. Pricing often becomes an obsession for retailers contending with the rising cost of living and high inflation. But pricing is just one of the elements of the marketing mix.
My behavioural science research into people's purchasing decisions has shown that retailers can effectively attract customer attention and sales with a range of alternative strategies, other than discounts. Powerful behavioural principles include:

Social proof: Good customer reviews, such as 5 star ratings, can be very persuasive to secure sales, as we tend to trust our peers. My research found that this is the most powerful principle to counteract discounting.
Reducing delivery friction: By showcasing fast next-day delivery, store collection or free returns in online ads, consumers can be more confident in their purchase decisions.
The power of "free": Offering a free gift with purchase, free accessories or servicing, is always an attractive proposition. Seeing the word "free" has a disproportionate impact on people's behaviour.
Authority bias: Reviews from experts or authority figures lends extra credibility to a particular product or store. For example, if you see a brand or retailer has won an industry award, that could sway your purchase decision.
Key features: By showing customers short descriptions of key product specifications, a retailer can simplify purchase decisions, as well as save customers time. For example, it can be helpful to state that a laptop has a category-leading 12+ hour battery life, or that pet food contains 100% natural ingredients. In behavioural science, this is known as "category heuristics".
Ultimately, my research has shown that simply communicating the benefits of buying from your store using these behavioural science principles can have roughly the same power as a product discount.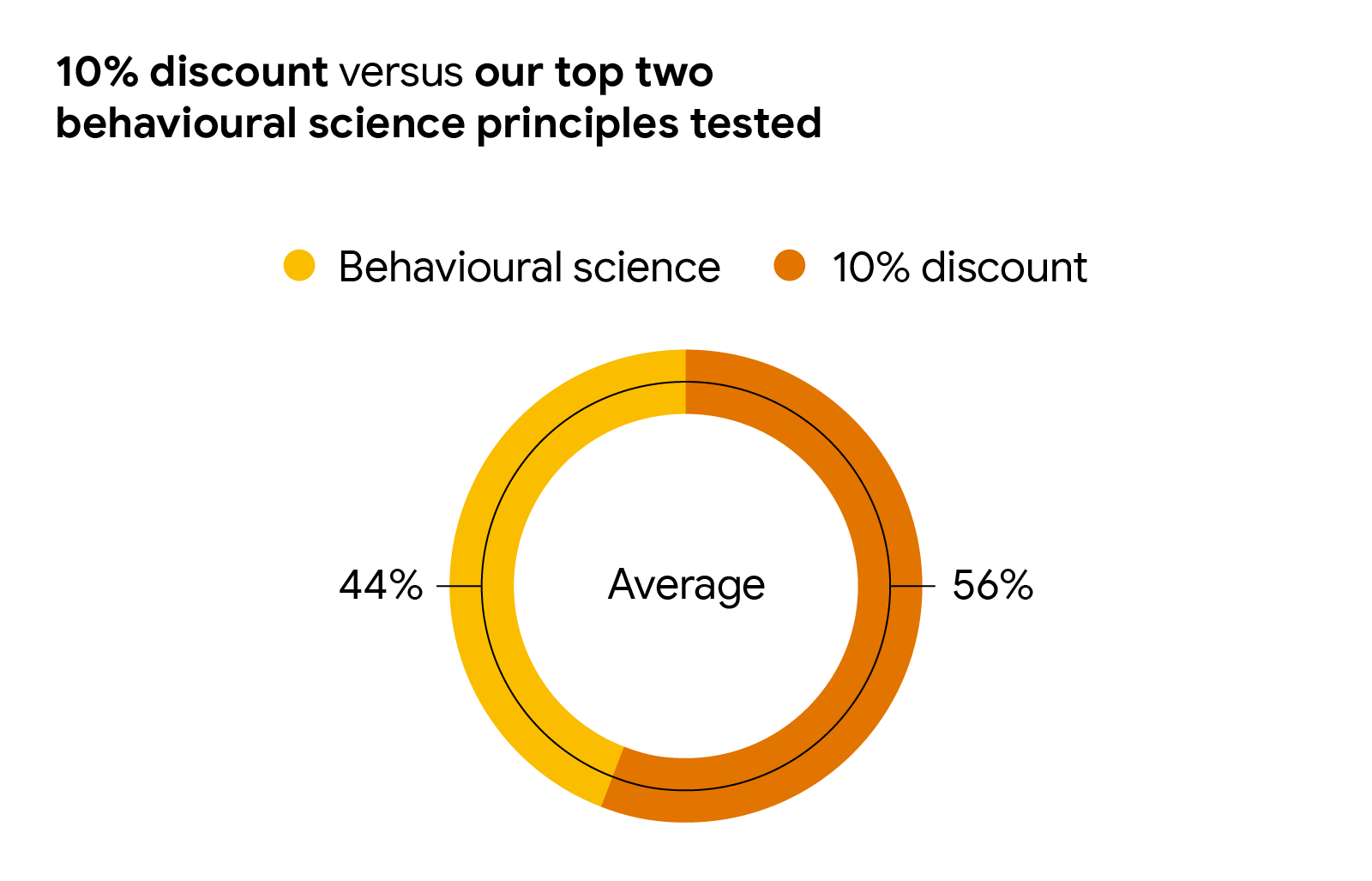 How to make your retail marketing strategy work harder
For retailers, having an ad at the top of Google Search is a great start to get noticed and drive sales. But retailers need to go a step further by optimising search ads with the consumer journey in mind, to highlight what customers care about.
Check out how this ad can be supercharged using my new behavioural science research: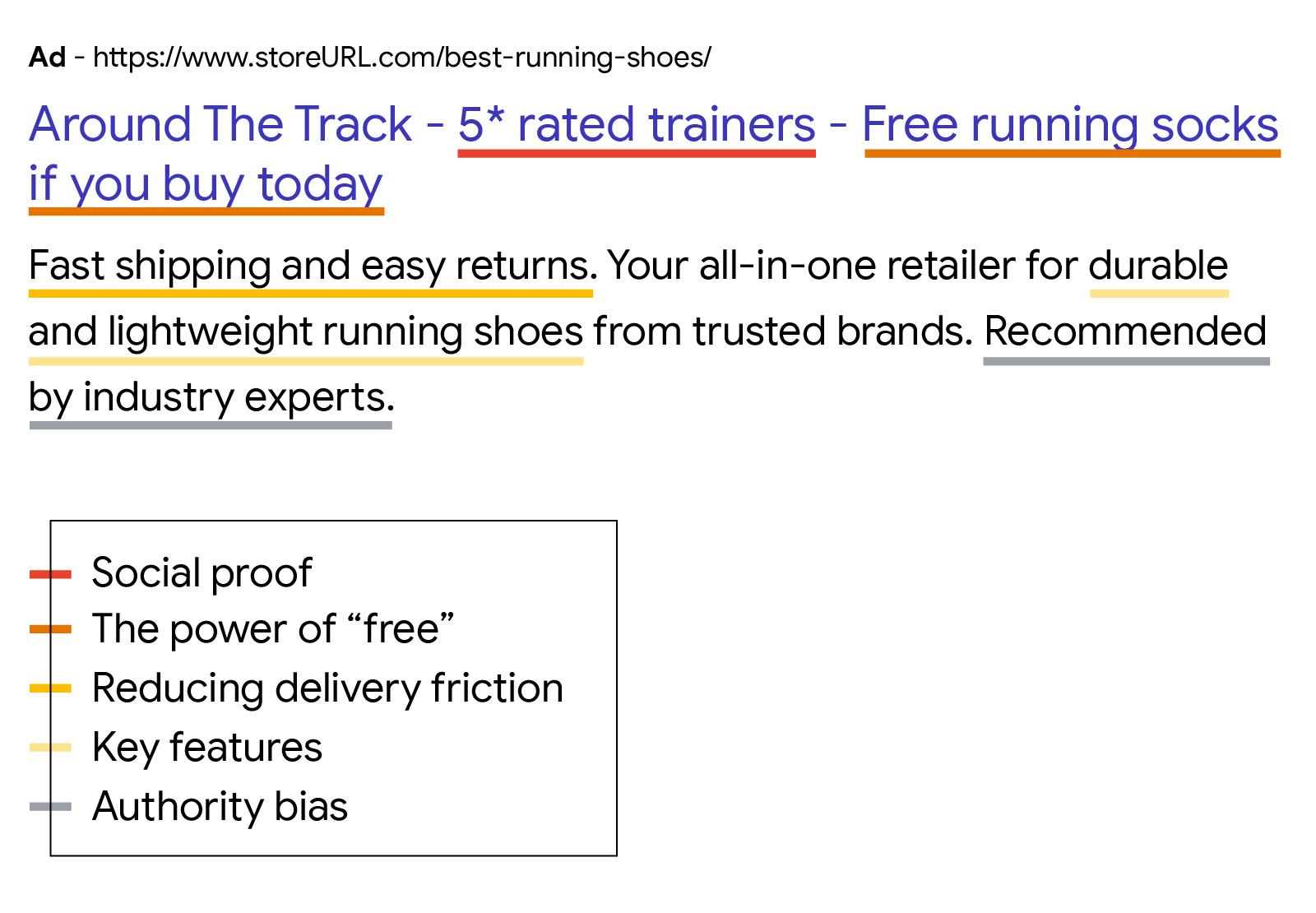 This fictional running shoe retailer hits all the marks, including all five strategies to highlight key areas for customers. In comparison, their fictional competitor is focusing only on its discount, not adding any further context or information for the consumer. For me, the first ad really went the extra mile!
Ensure your brand is in the running
For retailers, communication is key. We've proven that customers are more loyal to their preferred products, so retailers need to respond by conveying their key advantages clearly. With the right, compelling message in place, retailers will have a head start over their competitors. And using Google's AI-powered tools can help retailers optimise further, showing up in front of the right consumers at the right moments with the right messages, to ensure your online campaigns achieve maximum impact.