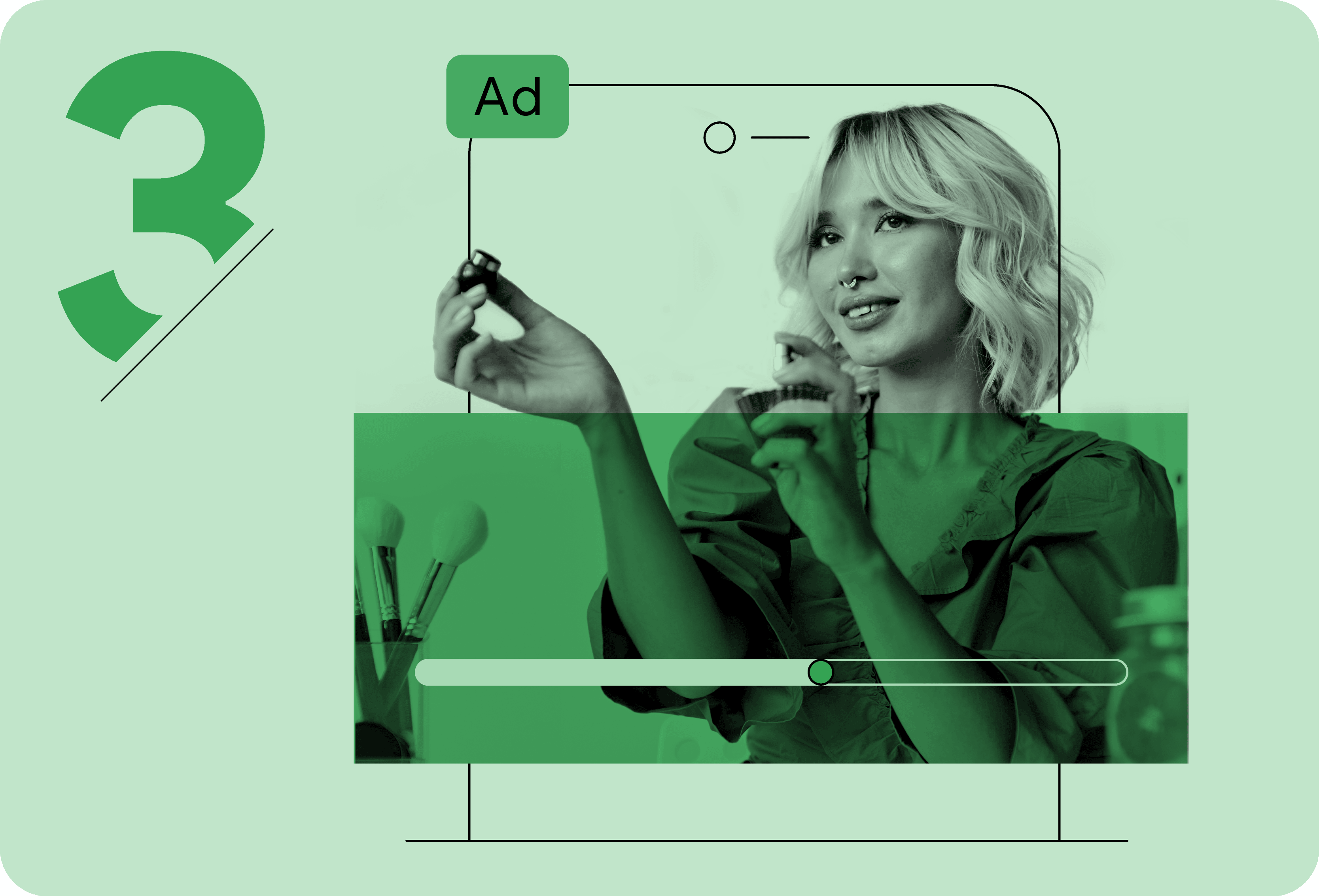 The global retail e-commerce growth rate for 2023 is forecast at 10.4%, marking a 0.7 percentage point increase from 2022's growth rate.1
With global e-commerce forecasted to continue to grow this year, cutting through a crowded marketplace to drive conversions remains essential for retailers. This requires a deep understanding of customer needs, along with a plan to meet them where they are online to quickly and clearly communicate the benefits of your products.
Stay agile and engage people across channels
The power of Google's AI can help you reach shoppers who are moving across an ever-growing number of channels, while also staying aware of their quickly changing needs.
Performance Max campaigns
Together, AI-powered Search and Performance Max campaigns are the "ads power pairing" that will help you find more valuable customers and multiply your conversions across Google's full range of advertising channels.2
With Performance Max, you can access all of Google's ad inventory — Search, YouTube, Display, Discover, Gmail, and Maps — all in one campaign. If you already use an e-commerce platform like Shopify, WooCommerce, or PrestaShop, you can easily sync your products and run Performance Max campaigns directly from your e-commerce platform.

L'Oréal Vietnam used Performance Max to achieve a 4.1X higher return on ad spend (ROAS) and a 13X higher conversion rate compared to its November Smart Shopping campaigns, reaching a 4.4X ROAS for the entire December campaign.
"Performance Max contributed 40% of ad traffic to our online store and helped us achieve 4X higher return on ad spend for our 12.12 campaign. We now use it as an always-on performance driver and we especially lean into it during the mega sale season," says Linh Nguyen, marketing manager, L'Oréal Vietnam.
Tap into your app to forge deeper customer relationships
Offering features like self-checkouts and reward programs, apps help drive customer loyalty by improving shopping experiences. In fact, 87% of retailers agree that their app users are more loyal and have a higher lifetime value than nonusers.3
Web to App Connect
For customers who already have your app, Web to App Connect creates a seamless web-to-app experience by directing them to the right in-app content to complete purchases quickly. We launched this one-stop destination to help you establish deep linking, in-app conversion measurement, and bidding that improve the customer experience and optimise your campaign performance. On average, Web to App Connect delivers a 2X higher conversion rate for clicks that land on your app versus your mobile website.4 Web to App Connect will be available in the coming months, and you can express interest in being a part of the beta today.

Fashion retailer Boohoo implemented Web to App Connect to provide a more unified user experience for its customers, achieving a 25% increase in revenue, a conversion rate 5.5X higher when driving users to the Boohoo app versus its mobile website, an 83% lower cost of conversion than web, and a 33% higher ROAS.
App campaigns
Your mobile app is a critical lever that can help you better connect with your customers and increase lifetime value. App campaigns help promote your app across Google's largest properties, all from a single campaign. Share your business goals — whether they involve driving app installs or reengaging existing customers — and App campaigns will help you find and engage these customers.
Differentiate your business to build trust and value
Brands that reinforce meaningful product value will find it easier to attract new and existing customers. Specifically, surveyed shoppers in the UK say the quality of an item (41%) and deals/promotions (45%) are the most helpful things brands can communicate as they consider items to buy.5
Here's how to use Google to differentiate your product listings and showcase your distinct retailer and product benefits.
Merchant differentiation
As shoppers search for deals, draw attention to your ads and free listings on the Shopping tab by adding information about promotions and sale price. Show customers you can ship quickly and with reliable fulfillment experiences by setting up free and fast shipping and return and refund options. And in select countries, add regional pricing and availability to show products or pricing that vary by customer location.
Merchant Center insights
Understand market trends and your competitive landscape with the competitive visibility report. Additionally, make inventory decisions and prioritise which products to show in your advertising campaigns with the best sellers report. Use the Reporting API to ingest and analyse the data from these and other Merchant Center reports at scale.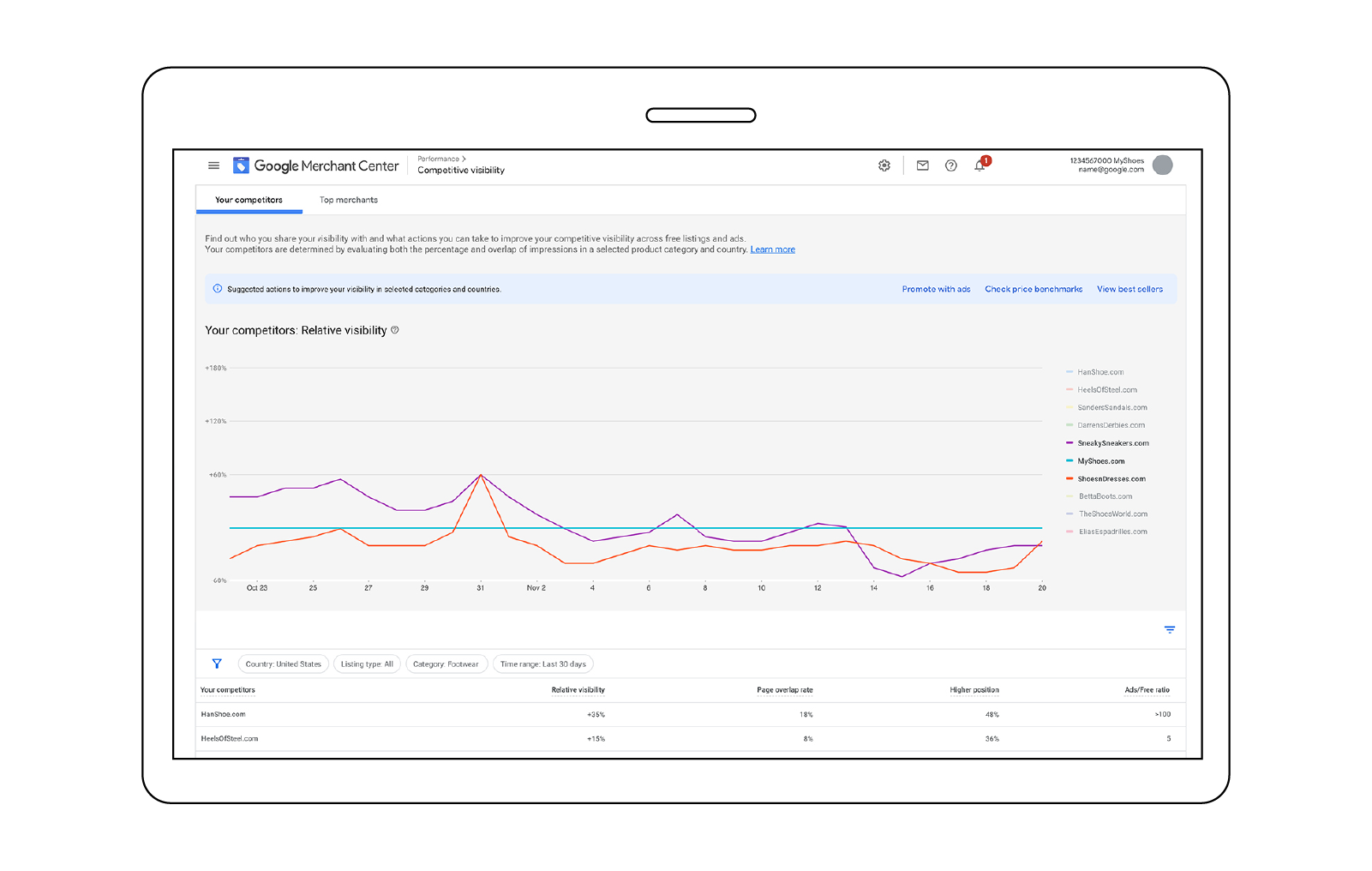 Insights & reporting tools
The Insights page helps you identify trends in your market and understand your performance. Insights are integrated with recommendations and an optimisation score for personalised suggestions on how to improve your campaigns. By reviewing the Product Insights column in the Products tab, you can understand which offer-level improvements you can make to get the most of the inventory you are submitting for Shopping ads and Performance Max campaigns.