Each year during global Pride Month, we see brands around the world use this moment to celebrate the LGBTQ+ community.
At around 5-10% of the population in APAC (not to mention the estimated "hidden" population), the LGBTQ+ community is a growing segment that needs to be heard — with an annual global spending power estimated to be worth $3.7 trillion.
Search data shows us that interest in topics related to LGBTQ+ are seeing sustained growth throughout the year, not just during Pride Month. Although Search continues to be a helpful resource for people to find answers and understanding, this also reveals an opportunity for brands to think about their more long-term engagement with the LGBTQ+ community. In fact, brands that only show up during Pride Month without a more long-term commitment to support the community can risk looking disingenuous.
Search trend in APAC countries shows us sustained, systematic interest in LGBTQ+ queries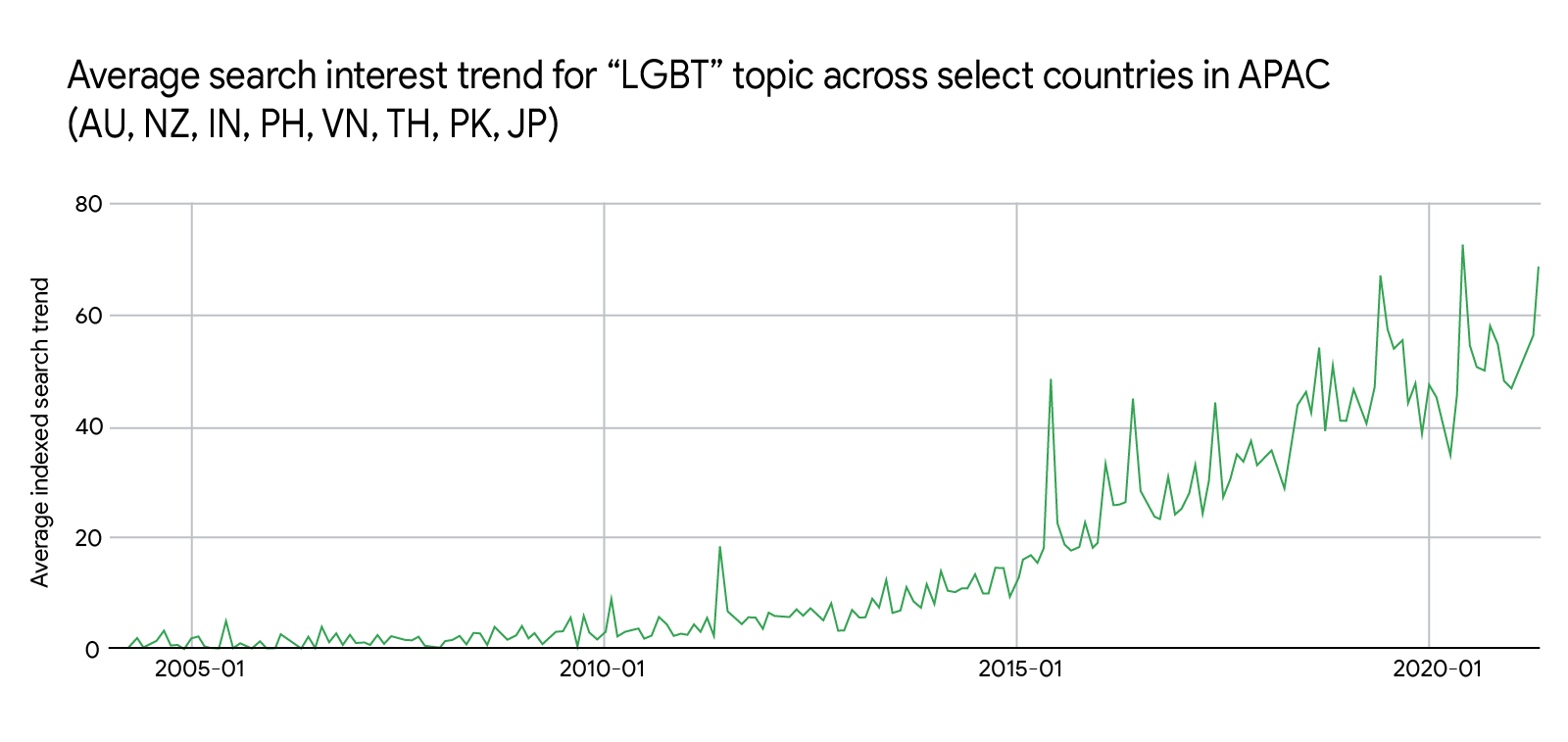 By looking at our search data and talking with LGBTQ+ communities, we discovered unique insights to help brands stay connected and relevant in their communication throughout the year while also helping to move the dial on equal and realistic representation of LGBTQ+ audiences in APAC.
Searches uncover a hidden demand for knowledge and understanding
Often when we look at search trends, we see evidence of online interest in the physical world too. For example, rises in search interest for bubble tea tend to coincide with long queues outside Gong Cha. But there are other times when search can reveal the more hidden or private needs of people, even on topics that society might not yet outwardly accept or acknowledge.
Search data shows us that people are looking to understand or connect with others who might share similar experiences as they do within the LGBTQ+ community. We also see a wider audience outside the community looking for ways to better understand and offer support.
For example, we found that meaning-defining questions are on the rise. Search interest for "what is LGBTQ?" has spiked by over 450% over the past 12 months in Malaysia, whereas "what is sexual identity?" reached a more than five-year high in the Philippines — and an all-time high globally in November 2020.
In Japan, "LGBT と は 意味" ("What does LGBT mean?") more than doubled over the past 12 months and reached an all-time high in October 2020.
In Australia, search interest for "gender dysphoria" surged to an all-time high in May 2020, whereas "what does pansexual mean?" rose by 130% over the past 12 months.
For some people, the way they're using Search to look for answers has helped them learn more about themselves and their identity.
Voices from the LGBTQ+ communities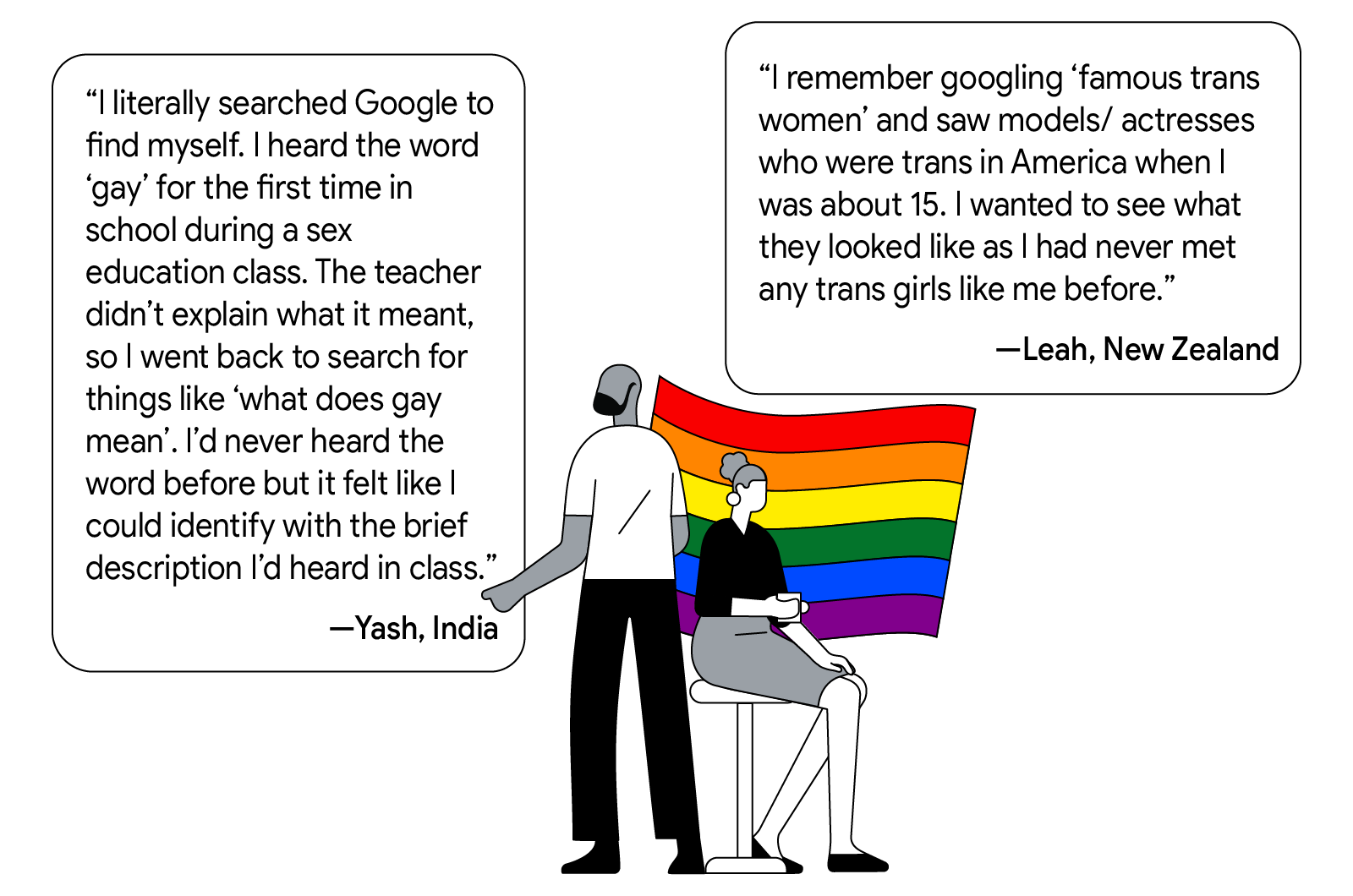 With people actively searching for ways to feel understood, brands that show a positive and authentic portrayal of diversity can help people feel included and better understand their own experiences. At the same time, this offers exposure to role models who may be harder to find. It's about using your brand to uncover what already exists and offer your brand as a platform for this message, rather than trying to artificially create or force-fit a narrative.
For example, Bhima Jewelry's "Pure as love" campaign tells the true story of a proud trans woman who was able to become her true self thanks to the support of her family. The story is told with such simplicity, sensitivity and positivity, while the comments on the video reflect how grateful people are to see a brand telling a story that truly reflects the world they feel they belong to.
By providing a platform that gives an authentic voice to more LGBTQ+ role models, not only do you normalize and inspire acceptance of others through stories, you can also create a safe space for people to have an open dialogue and share their experiences.
For example, in a small act of understanding, ANZ Bank chose to focus on how many people in the LGBTQ+ community feel hesitant holding hands with their partner in public. The 2018 "#HoldTight" campaign showed how people often felt tense and scared — deciding it was sometimes easier to let go of their partner's hand. By choosing to make this a mainstream conversation, ANZ Bank showed how brands and industries can be unexpected champions for change.
"Incredible. Tears. So many people will have never had to understand this awful feeling portrayed so incredibly perfectly in this video." — Paul, YouTube commenter
Searches uncover a desire for belonging, support and courage
Something unique about the online space is that it isn't bound by the same geographic cultures and laws people experience in the offline world. Although this can sometimes be abused, it does have the potential to offer a more universal space of connection, community and acceptance for LGBTQ+ communities around the world, it also opens up a more expansive pool of experiences that can provide inspiration and courage to people across physical borders.
Many from the LGBTQ+ community have difficulties in finding places to belong in societies where cultural norms or laws don't allow them to be who they feel comfortable being. So instead, they turn to Search to find places where they can feel accepted, safe and included.
Over the past 12 months, the top trending LGBTQ+-related search queries include: "LGBT-friendly vacation destinations" (Taiwan), "LGBT counseling near me" (Australia), "LGBT clothing Australia," "LGBT friendly GP" and "Indian LGBT movies."
We also see both people within the LGBTQ+ community and their allies searching for information about how to navigate their experiences as well as how to provide and receive the support they need.
Search interest for "LGBT ally" has been at its highest in the Philippines, whereas search queries relating to being an ally for the LGBTQ+ community peaked in Japan in the past 12 months — the highest it's been over the last five years.
Voices from the LGBTQ+ communities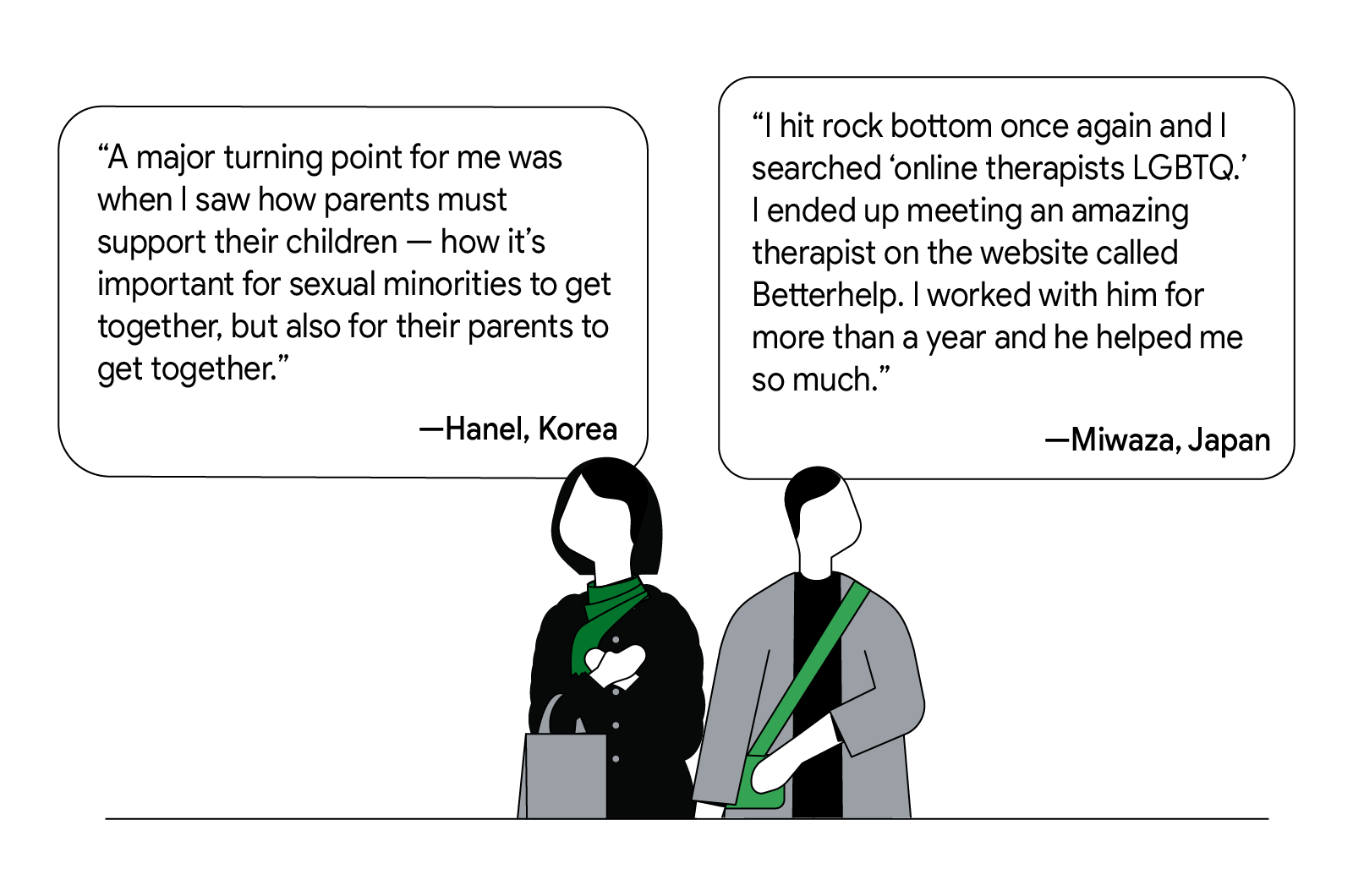 One of the biggest rising trends we see is that people are looking for examples of others' experiences to help give them the courage they need to face their own. In the past 12 months, search interest for "coming out" has been the highest in Taiwan, whereas in 2020, Australians turned to Search for questions such as "how to come out" more than any other year on record.
Voices from the LGBTQ+ communities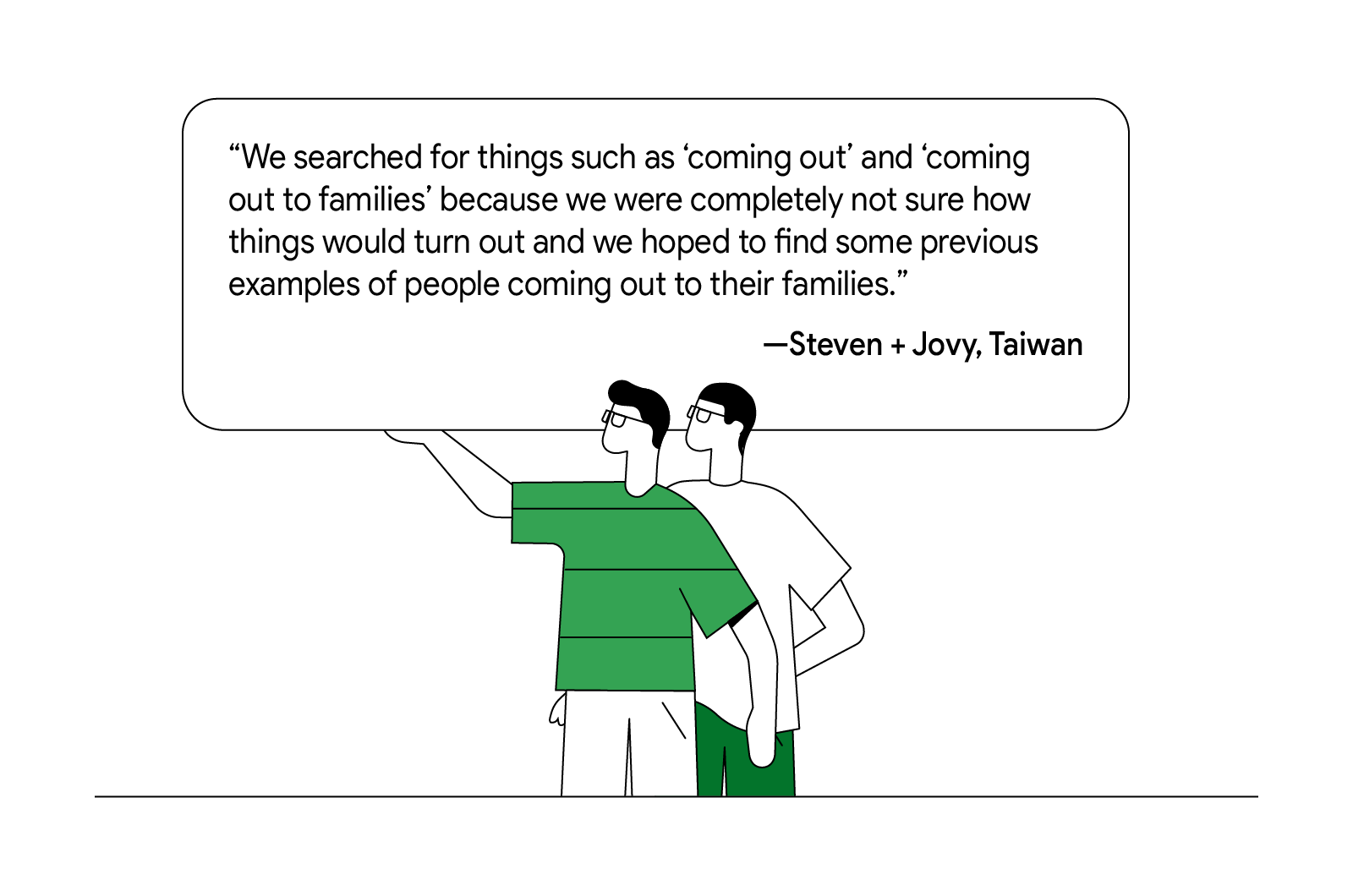 Don't look at Pride Month as a seasonal moment
Just as people often say, "every day should be Mother's Day," Pride Month is an opportunity for brands to celebrate and support the LGBTQ+ community — but this support should be evident and tangible throughout the rest of the year as well.
Although it's true that diversity, equity and inclusion initiatives make good business sense — and good marketing sense — these initiatives need to be integrated into your core values and basic understanding of your customers and not treated as a marketing campaign.
Consider how you can use your brand and platform to show your support and normalize inclusivity in all your products and services throughout the year. Making your stance clear in your communications can make sure everyone can feel safe and welcome, both online and offline. A simple action every brand can take is adding "LGBTQ+-friendly" and "Transgender Safe Space" attributes on Google My Business. Another one is to include LGBTQ+ people in your campaigns without making their presence the key message — like Tinder did when they chose to use a gay relationship in their "Boo/#SwipeStories" campaign.
"Yasss Tinder! Love this! Representation of all relationships!!"
While supporting Pride is more of a must-do than a consideration, ensure that whatever actions you choose to take are authentic, long-term and become an always-on part of your brand values and communication plan.