Southeast Asia's (SEA) digital economy is poised for growth. But to reach new heights, it must double down on the path to profitable growth that it's been on over the past year.
Amid the global macroeconomic challenges, businesses have taken a sustainable, self-sufficient approach to growth. This has helped the region reach new heights: It is set to hit $100 billion revenue in 2023, growing 1.7X as fast as gross merchandise value over the past two years.1
The remarkable result confirms that profitable growth is the right course for SEA to navigate and realize the full potential of the region's digital decade. This is especially so as private funding dips to a six-year low, and investors look to both deliver returns and put money into profitable opportunities.2
The milestone revenue also speaks to SEA's resilience and potential for growth. With internet penetration at between 70% and 80%,3 and expanding, the ease of access to digital services will encourage consumption among the region's increasingly wealthy and urbanized population.
Since profitable growth is a priority, businesses need to improve their unit economics. The latest e-Conomy SEA 2023 report by Google, Temasek, and Bain finds that an important way to boost this metric and monetize a business is by optimizing one's engagement with high value users.
Here, we share key insights from our in-depth survey about these users across six SEA markets — Indonesia, Malaysia, Philippines, Singapore, Thailand, Vietnam, and marketing strategies you can use to better engage them for profitable growth.
High value users: Who they are, why they matter
As the top 30% of online spenders, high value users account for more than 70% of the markets' total digital economy spend. In addition, nearly half of them plan to increase their online spending in the coming year,4 making them a clear priority for marketers focused on driving profitable growth.
High value users in six SEA markets are:

High value users are also more diverse than we might think. Although 52% of them are affluent, the rest are mostly middle income. And they don't all live in metro cities; nearly a quarter of high value customers dwell in non-metro cities.5
The diverse pool of high value users means they're among your audience, regardless of which demographic of customers you cater to. So you hold in your hands the keys to monetization, since these users spend 6.5X as much as regular consumers online.6
Here are two strategic ways you can unlock profitable growth, guided by insights about these users.
Retain high value users by meeting their expectations
A key finding from our survey is that with high value users, brands must be prepared to shape up or ship out. The reason: 49% of these customers will start looking for shopping alternatives the moment a digital platform does not meet their expectations.7

Here's what these users expect — they look for benefits beyond the sticker price. For instance, they sign up for e-commerce and online grocery platforms and continue using them because of the value they receive, such as convenience.
They also prioritize strong after-sales support. In all seven of the verticals we surveyed, including e-commerce, groceries, transport, and food delivery, high value users gave the lowest satisfaction scores for post-purchase services like returns and refunds, warranty, and loyalty rewards.8
Tip for marketers: Give high value users reasons to keep coming back to you by improving your post-purchase support, from delivery and pickups to returns and refunds.
For instance, you can reduce delivery friction by letting them choose the best way for them to receive their purchases. You can enable free and fast shipping annotations on your Shopping ads, Buy on Google listings, and free product listings. You can also implement pickup later for Shopping ads to enable in-store collection.
Clearly communicating your return and refund policies in your Shopping ads and free listings can also power a confidence shift in high value users and move them to complete their purchases with you. When remarketing to them, remind them of these value-added features to encourage repurchase.
Raise high value users' spending by reinforcing motivations
Another important survey finding about high value users is that they're willing to pay for more, and also spend more overall. This means you can unlock greater monetization, and the opportunity for profitable growth is sizable.
High value users say they're willing to pay up to 53% more on average for features such as high quality e-commerce and food delivery products, exclusive perks for transport services, strong brand reputation in the groceries vertical, and strong data privacy in investments.9
They're also willing to spend 39% more on average across the seven verticals if their barriers to online spending are removed. The verticals with the biggest uplifts in spending potential will come from groceries, gaming, e-commerce, and food delivery.10
If high value users' barriers to online spending are removed, they're willing to spend more in these verticals: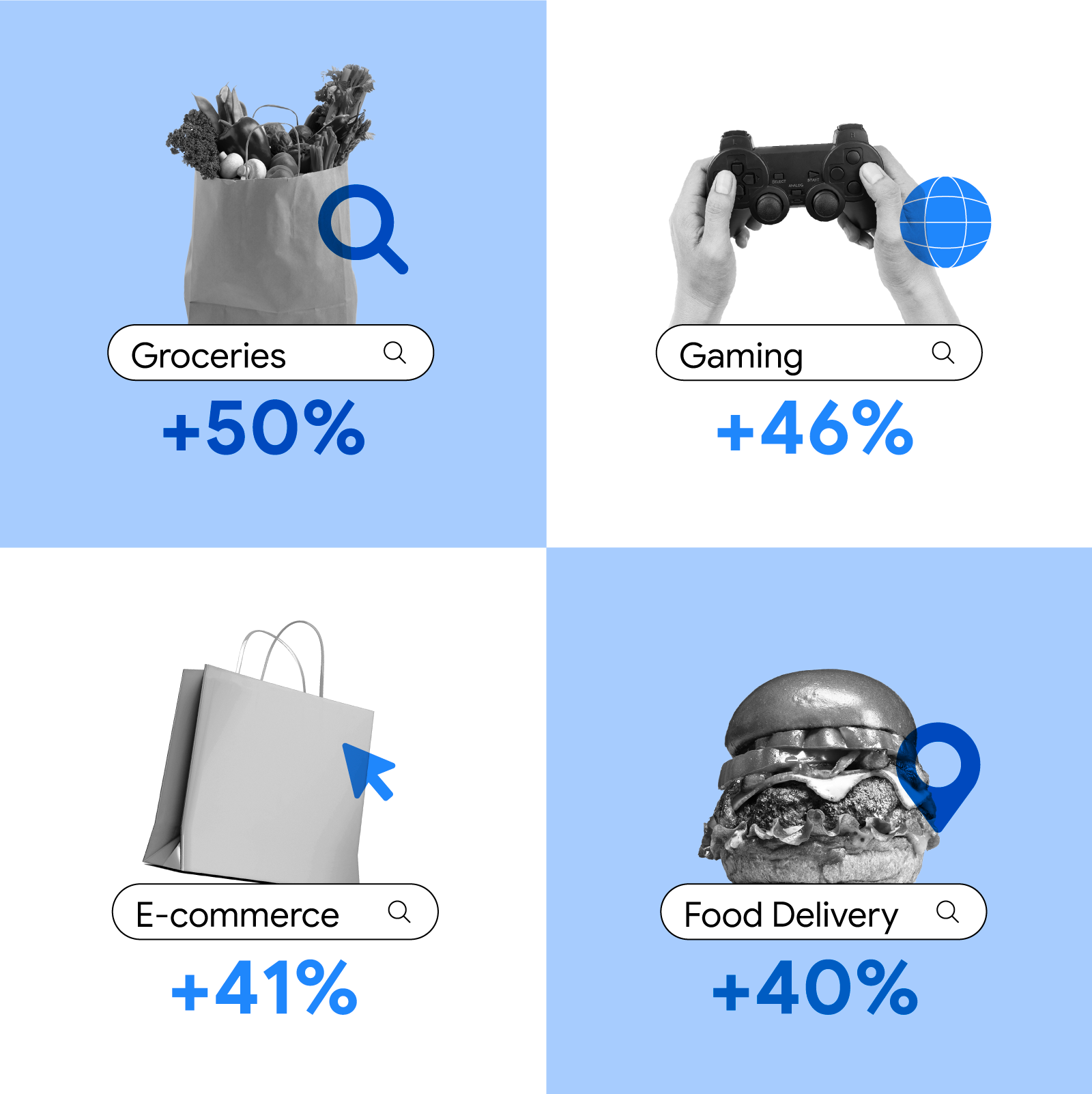 As for barriers to spending, 16% of high value users who do not yet spend online for one or more of the seven verticals will start spending if the digital platform or app is easy to use. Separately, 15% of them will do so if more products or services are available on platforms or apps.11
Other barriers that hold high value users back from spending more include the presence of minimum and/or high fees, hidden charges, particularly in travel services, and long wait times for transport and delivery services.
Tip for marketers: Besides removing the barriers to greater online spending and having features that drive spending, you should also promote these features to high value users. This provides them with confidence cues, signals that shape their trust in your brand and make them decide to pay for more and spend more overall with you.
One such success story is Lazada. To establish itself as the leading fashion and beauty brand, it used Search ads and Performance Max for its 6.6 sales campaign this year. The pair of AI-powered ad solutions showed customers how its huge assortment of products would leave them spoiled for choice and endlessly inspired, besides enjoying fast, free delivery, exclusive discounts, and stackable deals.
It also used a mix of other high impact ad formats like skippable in-stream ads, bumper ads, and Discovery ads to drive awareness and consideration of its attractive offerings. The result: 23% more orders and 16% more buyers.
SEA's digital economy is well-positioned on the path to profitable growth and engaging high value users is crucial to achieving this. By meeting their expectations and fueling their motivation to spend, you'll be able to unlock fresh opportunities for profitable growth in this dynamic region.
Contributors: Yan Gen Lee, Principal Analytical Consultant, Retail; Stephan Wu, Industry Analytical Head, Digital Natives; Deborah Ko, Research Manager, Consumer and Market Insights; Esther Fang, Product Marketing Manager; Alma Cuevas, Researcher