Falling smartphone prices, cheaper data plans and an increase in local-language and mobile-first content have powered a phenomenal explosion in the number of internet users in India. In the last four years alone, India's internet population has almost doubled to 430M.  
However, the number of internet users who conduct digital transactions online is still relatively low: only one in five shop online, one in six book travel packages online and even fewer pay for video and music streaming services.
To better understand the potential for digital transactions in India, a research study, "Digital Consumer Spending in India: A $100B Opportunity," was conducted with Nielsen and the Boston Consulting Group (BCG). The results show that today's $40B will leap to $100B, nearly tripling by 2020. Read on as we share our key findings and discuss how brands can play an integral role this tremendous growth (full report available below).
1) The majority of internet users in India aren't spending online yet
Online Shopping Adoption in India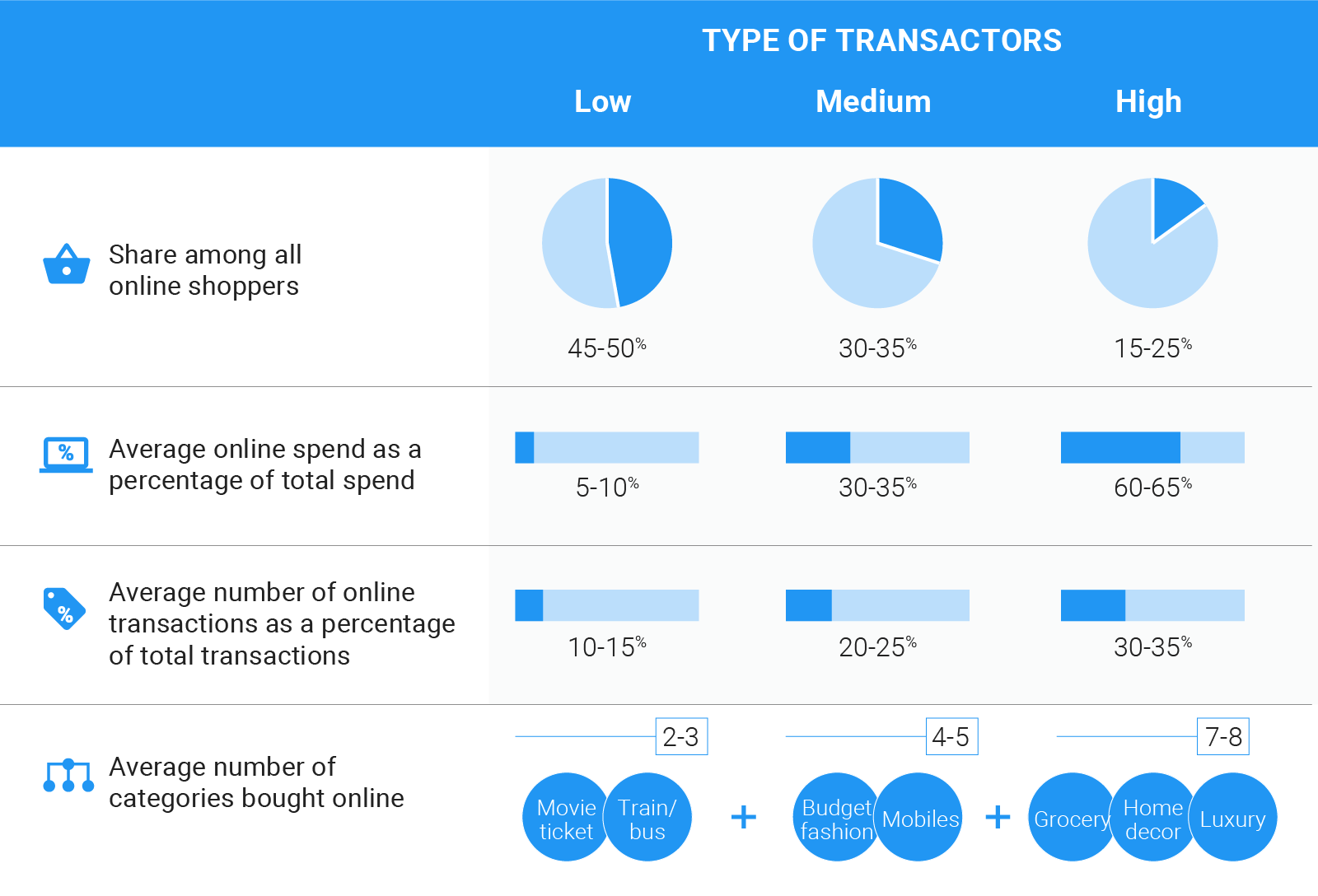 Currently, 75-80% of internet users in India do not spend online yet. They make purchases either occasionally, spend limited time online, or do not spend a significant part from their overall wallet at all.
By 2020, however, with further improved infrastructure and greater digital maturity, online transactions in categories such as e-commerce for apparel, electronics, durables, and food and groceries are likely to drive rapid growth, inching us closer to the $100B opportunity.
2) Emerging consumer segments soon will become the key drivers
The Changing Demographics of India's Online Shoppers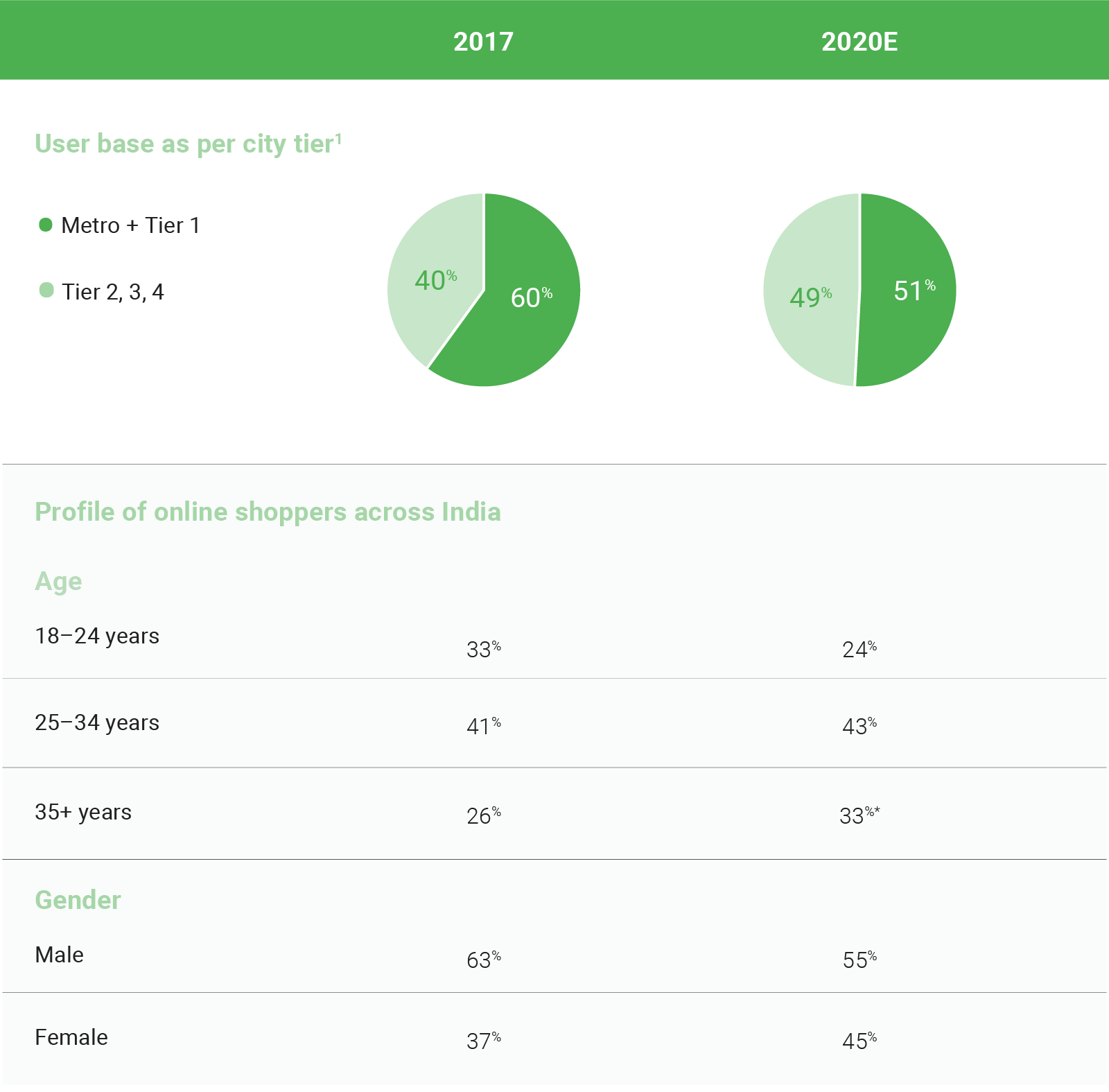 In addition to today's typically male, millennial and metropolitan users, the demographic profile of online spenders will undergo a major shift in the next few years. According to estimates, there will be 2.5X as many women shoppers and approximately 3X as many older (35+ years old) shoppers as there are today. And with the steady increase in the share of search queries in India's non-tier-1 cities, smaller markets will be hopping on the bandwagon and contributing close to 50% of the online shopper base by 2020.
With this imminent growth at arm's length, marketers need to refresh their offerings in terms of price, delivery, and return policies in order to gain their fair share of the market.
3) As Indian buyers evolve, brands must evolve with them
The 2020 opportunity provides significant headroom for growth, with a large number of consumers continually entering the shopping funnel through different pathways and at different stages.
Brands can best leverage this immense opportunity for exponential gain if they understand non-buyers' journeys as they move from awareness to first purchase to eventual regular online shopping.
Digital spending in India is on the cusp of a tidal wave, with the total volume of digital transactions expected to surpass $100B by 2020 - a mere two years from now. While we have seen enthusiastic adoption of new forms of digital payments in recent years, there's also lots more that brands can do in the ramp up:
Frequent shoppers:
Create unique offerings such as exclusive or bespoke services 
Communicate in a personal and contextually relevant manner
Occasional shoppers:
Move beyond focusing on discounts and provide faster, easier delivery through innovative models and global best practices
Ensure that after-sales service excellence and retention through loyalty programs
Non-buyers:
Build confidence in digital by creating "touch and feel" experiences through physical stores, experience centers and pop ups 
Ensure an easy-to-use platform and guide new customers along the purchase pathway
This report highlights some next steps that brands can take based on consumer demands, trends and needs in order to accelerate digital spending online. Download a summary of our key findings or the full research report now.