More than two years into the pandemic, it still isn't easy to tell the difference between a passing trend and a paradigm shift. As we settle into new rhythms, marketers have to figure out which changes are here to stay so they can invest in the right strategies and tools to build resilience for the long haul.
There's perhaps no one better suited to answer that question than digital agency leaders, who've seen enough rising and falling trends over the years to know which ones to pay attention to. Agencies are in a unique position to help their clients transform trends into strategic marketing opportunities for long-term success.
We've laid out four top marketing trends to watch and how Premier Partner Award-winning Australian and New Zealand agencies have responded to them to help their clients evolve and thrive.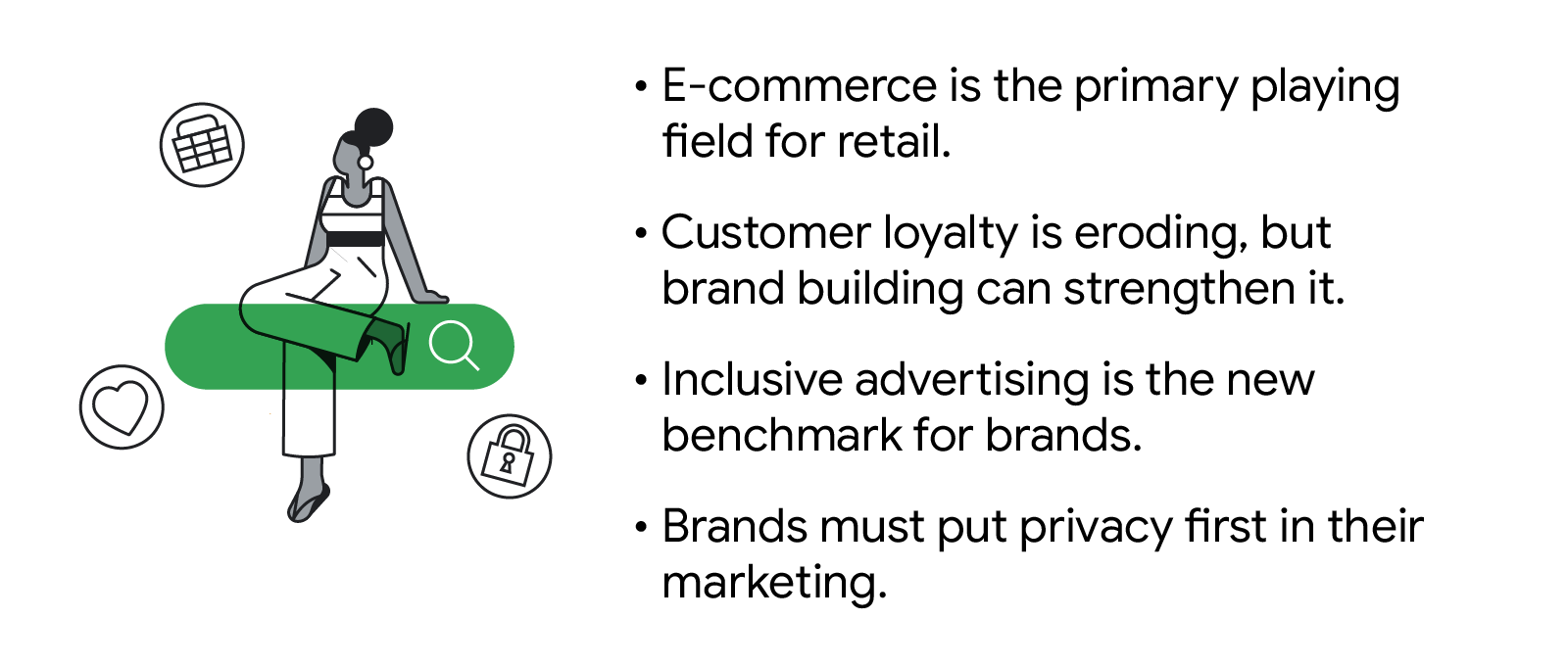 E-commerce is the primary playing field for retail
One of the pandemic's biggest retail trends has been the massive shift to digital-first shopping journeys — and there are no signs of online shoppers slowing down. For two consecutive years, over 80% of Australian adults have shopped, banked, and accessed their news online.1
While e-commerce has become a prerequisite for competing in today's retail landscape, it's often a confusing and challenging space for new-to-digital brands to navigate. So how can agencies help clients get ahead in a crowded race?
Digital marketing agency and e-commerce expert Overdose helped Seed Heritage, a brand within Australia's largest speciality fashion retailer, Brandbank Group, go from almost completely offline to a strategic digital powerhouse.
Vincent Corneille, digital marketing director of APAC at Overdose, says the agency started by launching an integrated digital strategy across multiple channels to get Seed up to speed on e-commerce. The team expanded their channel mix to include YouTube ads that complemented their social strategy.
The multichannel approach had great results. During a tumultuous 2020, Australian sales increased by 53% year over year, and digital return on ad spend hit 18X. Since 2020, Seed has kept up its momentum with a 40% increase in revenue.
"E-commerce is absolutely here to stay," says Corneille. "I think one of the most interesting trends over the last couple years was the adoption of e-commerce for people who hadn't shopped online before. So it's been great to see people across diverse backgrounds get a lot more comfortable with online shopping."
Overdose was the Online Sales Premier Partner of the Year as well as the Account Team Premier Partner of the Year for 2021.

Customer loyalty is eroding, but brand building can strengthen it
In the vast online marketplace, it's become a lot harder for brands to stand out — even to existing customers. People today like to shop around. Thirty-seven percent of Aussies said they bought from at least one new brand in the past month.2
The challenge for agencies is to help their clients make real and lasting connections with customers over brief digital touchpoints. Brand building on YouTube is a great place to do that, according to Emily Isle, chief digital officer at MBM NZ.
MBM NZ teamed up with Serato, a New Zealand DJ and music production software company, to help grow a strong global active user base of aspiring and professional beat makers.
To test out the best way to increase brand searches, MBM turned to YouTube, a natural home for Serato's audience. "Brand searches are a strong sign of awareness," says Isle, "so we asked — how well does YouTube drive brand searches and ultimately, downstream acquisition for Serato?"
After controlling for YouTube campaigns' effect on product awareness for Serato in the US market, the MBM team quickly realised how well YouTube could get the word out. YouTube campaigns lifted branded search from exposed audiences by 50%, while those unexposed groups saw a 17% decline in the same period — an incremental impact of 67 percentage points of lift.
MBM NZ was the Brand Awareness Premier Partner of the Year for 2021.

Inclusive advertising is the new benchmark for brands
Today's consumers seek out brands with values that align with their own. And given an abundance of choice, consumers can be picky, with 60% of Gen Zers admitting they'd happily go elsewhere if brands don't meet their demands.3
So, how can agencies make sure their clients understand how to market to purpose-driven consumers? For Sparro, it comes down to helping clients embrace inclusive advertising strategies, focused on purpose and representation, while still delivering high-quality placements to deliver great results for the client.
To do this, Sparro leveraged a range of media channels. However, the team focused on YouTube with a recent retail client. "We first followed the ABCDs of YouTube-first creative. We also ensured our ads were accessible with captions and clear language that would resonate and be understood by a wide range of users," says Sarah Arvela, ​​Sparro's retail and growth lead.
Then, the team doubled down on their targeting strategy to help avoid confirmation bias. When building out their audience, Sparro not only used presumed top-performing audiences but also added smaller audiences that hadn't yet been tested and used "fallback" ad groups with lower bids that reach a wider group of users.
Of this strategy, Arvela says, "When it comes to the work, we have a responsibility to avoid individual confirmation bias. The last thing we want is to reinforce our expectations of what will work and focus narrowly on that. Instead, we practise humility and self-awareness, testing, retesting, and taking learnings of what works and what doesn't with equal importance."
For Sparro, this approach not only drives incredible platform metrics, but also robust uplift on brand markers. The client saw view rates of up to 75% across YouTube for this campaign, as well as 2X likelihood of customers searching for the brand name and a 51% increase in revenue compared to the previous period.
"We find using data to learn new things about who our customers are is so much more rewarding than using it to validate our existing beliefs," says Arvela.
Sparro was the Diversity Equity & Inclusion Premier Partner of the Year for 2021.

Brands must put privacy first in their marketing
As consumers interact with businesses on more devices and more platforms, they've voiced concerns over how their data is being used.
Brands have listened to their call, upping their commitment to protecting customer privacy by investing in first-party data, the data that people voluntarily share with brands through things like sign-ups and subscriptions. That creates a clear value exchange between brands and customers by giving people a good reason for sharing their data, like tailored online experiences or personalised offerings.
That's why privacy-forward marketing isn't just a necessary, ethical step for brands. It's also effective marketing. Brands using first-party data for key marketing functions achieved up to a 2.9X revenue lift and a 1.5X increase in cost savings.4
Privacy-forward marketing isn't just a necessary, ethical step for brands. It's also effective marketing.
Atomic 212° helped Australian brand Mortgage Choice build a first-party data strategy to get more quality leads.
Benjamin Xu, data and analytics client lead at Atomic 212°, says the team tailored a Search campaign to the client's priority geographical markets, using tailored copy and automated ad messaging to support each stage of the purchasing funnel.
The team achieved this by using data on the average settlement values in New South Wales and Victoria to apply budget increases to states that had higher settlement values. This helped Mortgage Choice improve the value of their book of settlements, delivering a 52% increase in book value year over year with a smaller budget, performing well past the target 5%.
Atomic 212° was the Lead Generation Premier Partner of the Year as well as the Generate Leads Premier Partner of the Year for 2021.

In the fast-moving, ever-changing world of digital marketing, it can be difficult for agencies to help clients solve dynamic challenges while navigating uncharted territory.
These agencies' success stands as proof that achieving great results often means helping clients embrace trends as opportunities. But it's not a shot in the dark: Using industry-tested digital tools and lessons from leaders who've been there as inspiration paves the way for long-term success.
Check out the Premier Partner Awards to learn more about our winners and the program.