Today, digital marketing is a given but the question remains, how? On our quest to find out, we spoke to 300 executives across APAC to learn from "Digital Leaders" (those who actively use digital marketing and have seen positive results) and "Digital Learners" (those who have seen a low level of success). Here are our top five learnings on how to take digital by the reins.
1. Put digital at the core
Of the Digital Leaders we spoke to, 94% agree that digital is at the top of their strategic agendas. And while only 18% of Learners indicated they fully integrated digital into their overall business strategies, 55% of Leaders said it was vital to do so.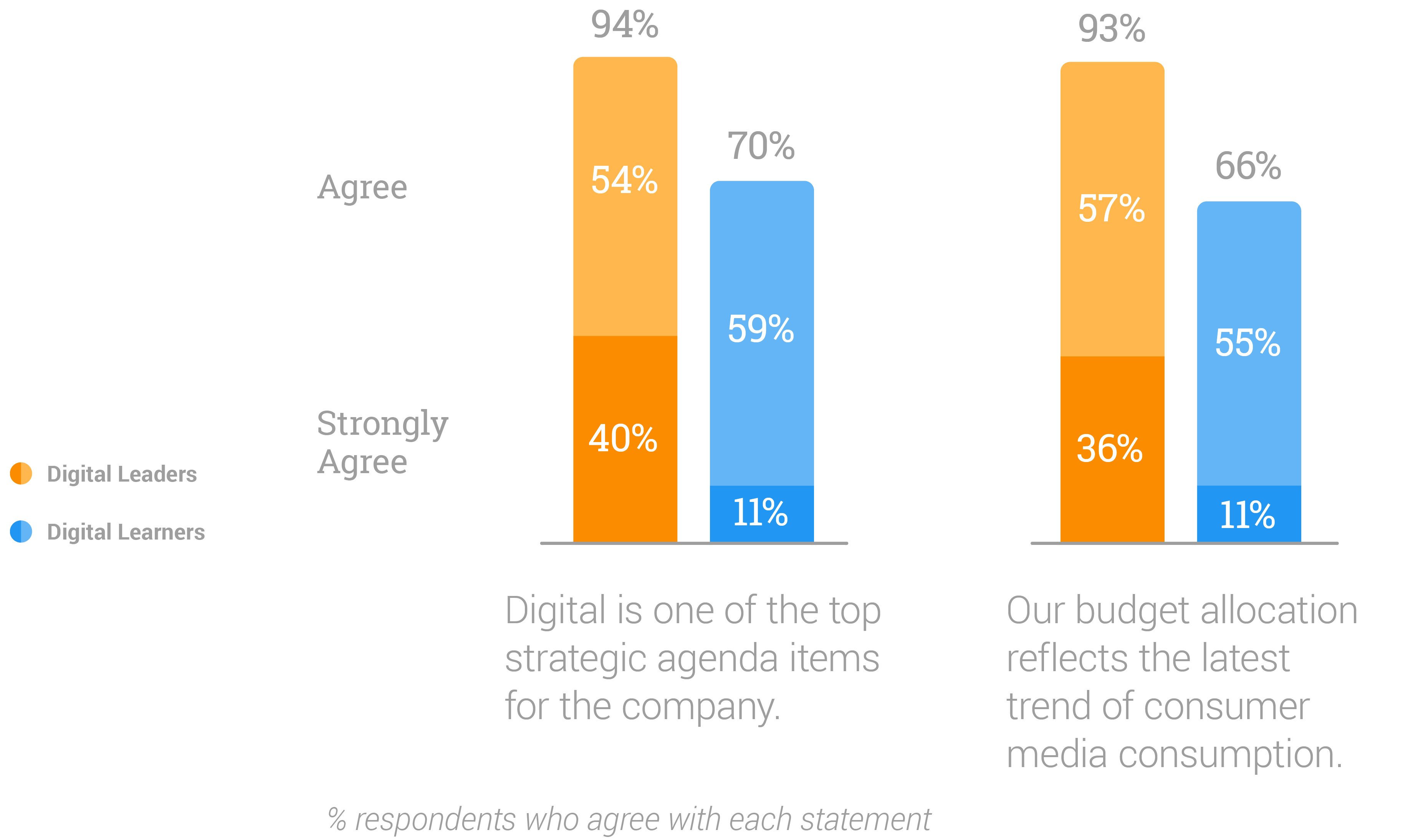 Digital Leaders also establish clarity on their goals for digital and have set KPIs to reach their goals: 92% of Leaders indicated their organizations have clear digital marketing goals, while only 69% of Learners said the same.
Even companies that are deeply steeped in traditional cultures, such as engineering or manufacturing, aren't immune from today's evolved marketing mix. For these businesses, shifting an entire organization toward digital will be challenging, but many of their executives agree that positioning digital marketing as a corporate level strategy over the next three to five years is manageable.
2. Dedicate resources to digital
Most Digital Leaders have restructured their organizations in some way to place digital at the forefront. For many (82%), it started with building a dedicated digital team either inside or outside of their own marketing teams. Initially, a separate team can help kick-start your digital efforts but in the long run, digital should be fully integrated into the marketing team. It's most ideal if all marketers have digital skills and are able to plan and execute digital as part of the overall marketing plan.
Leaders train their digital teams to ensure they are up to speed on the latest trends and best practices. Many even said they were training their employees on a national or a global scale. As a result, they have confidence in their teams' abilities to plan and execute digital marketing strategies successfully.
Another capability they found useful was cross-category communication among the digital teams to encourage the sharing of best practices, thus allowing teams to benefit from each other's learnings.
3. Find the right partners
Ninety-three percent of Leaders said they work with media or creative agencies that have been instrumental in developing their digital marketing strategies. The key takeaway: You don't have to solve every digital challenge on your own.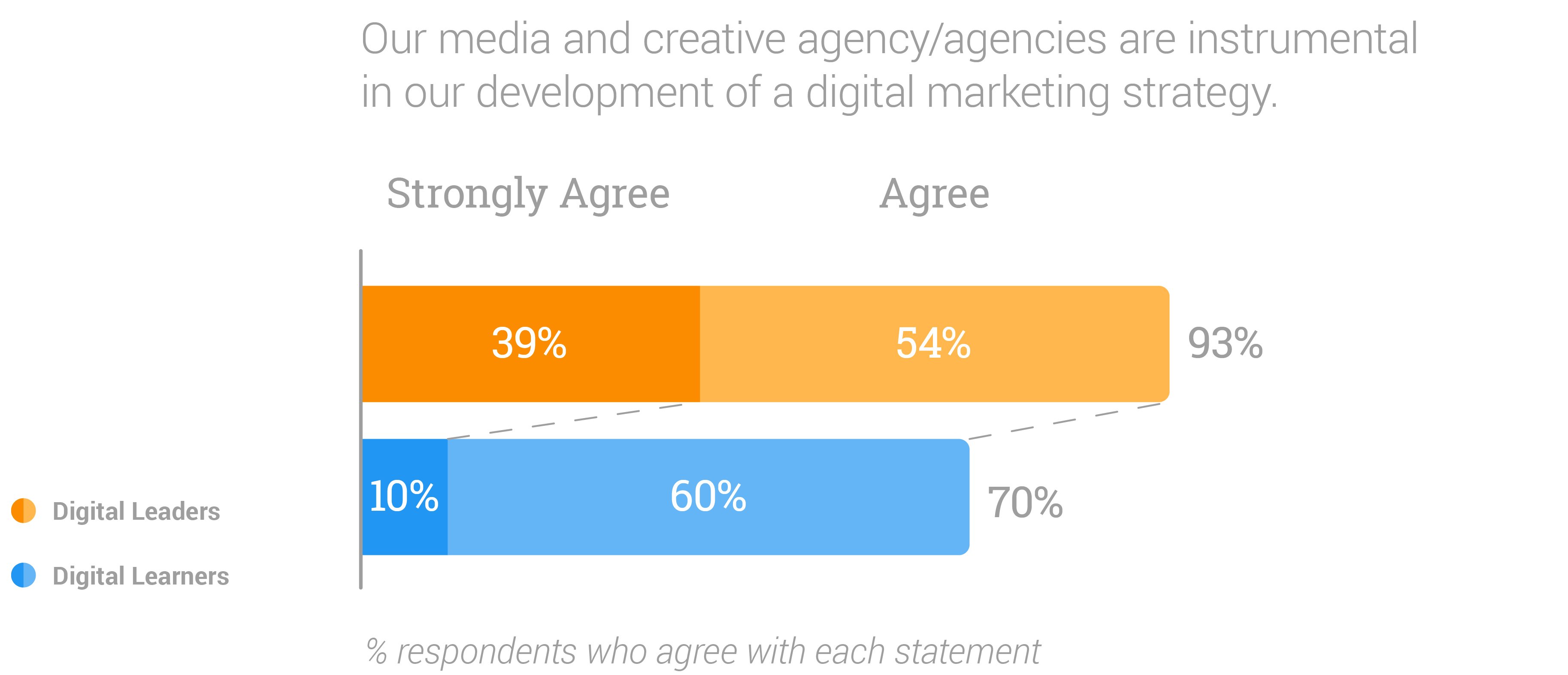 4. Measure and optimize
Better performance starts with better measurement. Sixty-two percent of Leaders said they use "rigorous" measurement tools to track the ROI of all their campaigns. They also measure more, employing 7.3 different metrics on average while Learners only track an average of 2.3. From social to website analytics, understanding exactly how people are interacting with your brand can be instrumental when it comes to building your next campaign or strategy.

It's easy to get lost when focusing on cost or acquisition numbers, but keep your eyes on the prize: the bottom line. Sixty-nine percent of Leaders told us they measured revenue uplift, while only 33% of Digital Learners said the same.
5. Encourage innovation
Create a culture that supports risk-taking, including providing incentives to champion digital heroes. Of the Leaders surveyed, 91% said their organization supported risk-taking and the testing of new marketing tactics.
Providing ongoing skill training is great, but Leaders also find ways to reward employees who take digital risks and find new ways of approaching a problem. Notably, 78% of Leaders have an incentive system in place, while only 42% of Learners do.

Digital marketing success doesn't happen overnight, and taking the first steps to embrace it can often be the hardest part of the journey. Keeping in mind these takeaways from Digital Leaders will hopefully encourage you to take those first steps—and set you on the path to success.
Methodology
The survey was conducted from May to June 2014. We spoke to 348 senior executives from companies in four major APAC countries: China, Japan, Australia, and Singapore. The executives included CEOs, CMOs, CFOs, presidents and vice presidents, directors, and heads of departments. The industries represented ranged from manufacturing and financial services to food services and utilities. Each company had at least 100 employees and the majority had 1,000 employees or more. All of the executives had an understanding of their company's marketing strategy, with direct or indirect responsibility for marketing decisions. Each took an online survey with questions about their organization's use of digital and online media in marketing, advertising, and internal communications.