Over the years, diversity, equality, and inclusion (D.E.I.) have become topics of much discussion. As they should — it's an important , healthy, and much-needed conversation, especially since the gap between what the advertising industry believes it's producing and the public's perception of those ads remains wide.
When it comes to gender representation in ads, 83% of APAC marketers believe they're doing a good job avoiding gender stereotypes, while 63% of people think that advertising still condones gender stereotypes. This perception gap has led me to ask what we can do to get everyone on the same page.
Last year, Google partnered with the Geena Davis Institute to understand the state of gender representation in ads. Using Google technology and the Institute's expertise, we reviewed over 2.7 million ads on YouTube that spanned from June 1, 2015 to March 31, 2019 across 51 markets. We then carved out the APAC data to see how our region fared, and uncovered some interesting learnings in the process.
Macro trends: Things are not as they seem
One finding was that gender representation in ads was not necessarily in line with broader socioeconomic gender gaps, especially when considering metrics such as access to education or healthcare. For example, India, faced with a history of gender inequality and ranking 112th (out of 153 countries) in the World Economic Forum's (WEF) Gender Gap 2020 report, sees women on screen in advertisements about 41% of the time, not far from Australia, at 42%, despite the latter ranking much higher at 44th in the same WEF report.
Meanwhile, South East Asia boasted some of the most gender-equal advertising industries globally, with Thailand and the Philippines home to the highest female representation across the region, and around the world. (Interestingly, according to the WEF report, women in the Philippines currently outnumber men in senior and leadership roles as well as in professional and technical professions — they're one of only four countries in the world to achieve this feat.)
Female character's screen time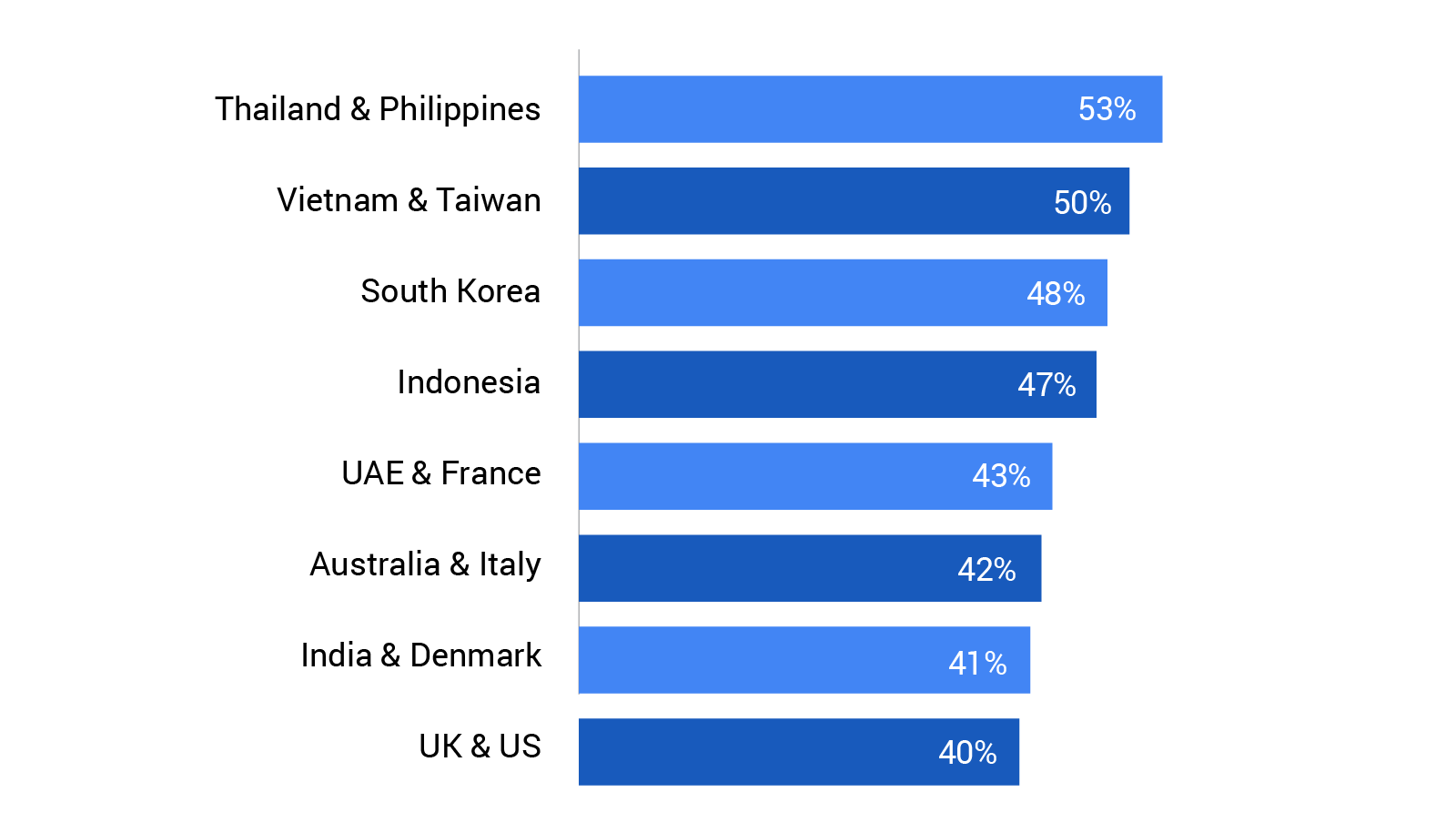 According to the Geena Davis Institute, many factors need to be taken into consideration when evaluating gender representation, including the amount of time women vs. men are seen or heard on-screen, how they are represented when they do occupy the screen, and broader implications such as the family and social status of the characters and how they interact.
For instance, in Filipino and Thai ads, women speak about 51% and 50% of the time respectively, while New Zealand has women speaking 35% of the time. Australia and Japan do only slightly better in that respect at 38%, while India is the lowest of all at 34% (despite women occupying 41% of on-screen time).
Armed with this data, it became obvious that as marketers we have our work cut out for us. With troves of new users coming online daily, women fast becoming key household decision-makers, and the lines between rural and urban blurring, it's more important than ever to ensure we are creating products — and content — that resonate with everyone.
Prioritizing diversity from the inside out
At Google, we try to build awareness about equality and inclusion at every level — from our global CMO to across the entire organization.
We introduced a set of D.E.I. policies and relentlessly push ourselves on this front. A particularly good learning experience was this Google App campaign we created in Thailand. At first glance, it's an ad like any other: a young couple is faced with a challenge, and they go about solving their problem with a satisfying result. But we could have done better by being more deliberate in our consideration of the gender roles and how each was portrayed. The woman should have been more confident and been an active part of the solution — something we only saw in hindsight.
Fortunately, out of each challenge or adversity is a lesson to be learned. The next time around, we anchored the concept, design, and execution of our campaign in our D.E.I. values by making gender central to our conversations — and the outcome is a work that I'm very proud of.
Through our Google Pay campaign, we challenged India's gender norms and perceptions. The payments market, mainly dominated by male users, presented us with the opportunity to break a long-standing association between men and economic access. As a brand, we wanted to equalize the skew, so we created a series of short films, each inspired by strong women in history whose confidence and achievements would debunk any misconceptions of the sexes and how they handle their money.
To maintain a D.E.I. mindset across our work, here are some of the key guiding principles that we hold closest to heart:
The makeup of your team matters
Empower diverse voices on the team throughout the entire creative process — a seat at the table isn't enough. What one person sees and experiences may be different from another so everyone should feel safe to speak freely. Keep in mind that an important component of your work group are your extended teams: the agencies and vendors you choose to work with. And, remember that everyone comes with a set of unconscious biases, which trainings can help offset.

Know who's missing
Zoom out and think holistically. You don't have to include everyone all the time but your work should represent the world you live in and the diversity of users in that world.

Make these principles an ongoing process
Consider and apply the ideas behind D.E.I. early, often, and for every project. Informed and intentional creative decision-making is an active commitment — it cannot merely be a checkbox at the end.
Given the reach that advertising offers, marketers need to appreciate the diversity around us and remember to conscientiously and continuously replace assumptions and stereotypes with consideration and care. With a concerted effort toward more diverse, equal, and inclusive ad campaigns, we hold the power — and the responsibility — to create positive change.