To keep up with the rapidly changing consumer landscape, marketers in many APAC organizations are working with partner agencies to evolve their marketing strategies. Here, leading agency Publicis shares its best practices for helping clients experiment to achieve results, create impactful change in media strategies, and build trust.
The consumer landscape has been evolving over the past two years and brands want to be faster and more agile in adapting to market changes. As they plan next steps to transform their marketing strategies, however, some may feel like they're in unfamiliar territory. The good news is: they don't have to go it alone.
An agency-client relationship allows brands to lean into an agency's expertise, scale, and diverse capabilities. Many agencies possess a breadth of industry and sector expertise because of their work with various clients. Not least, they offer connections to build an ecosystem for marketing experiments.
Publicis Groupe is no stranger to bringing our experimentation know-how to client partnerships. We've helped clients achieve performance gains and make impactful changes in their media strategy. This has made us their trusted partner for growth.
With the right mindset, partners, and ecosystem for experimentation, any agency can help its clients develop a media strategy that drives results. Here are three experimentation best practices that agencies can adopt:
1. Experiment for the right reasons
At Publicis, experimentation starts with the right mindset. We value it, but we don't experiment for experiment's sake. Nor do we experiment for fame or fanfare.
Our objective is always to deliver creative solutions for challenges our clients face, while also driving business results.
With the changing consumer landscape over the past two years, we've learned we need to be in an "always-on, beta mode." This mode of constant, rapid learning enables us to continually deliver creative solutions for challenges our clients face, while also driving business results. We have a robust process in place to nurture this learning mindset across our organization. Our "Make it" model guides teams to spot key opportunities and upcoming trends. This empowers teams to come up with recommendations that we proactively present to clients, which encourages clients to embrace an experimental mindset with us.
To deliver integrated strategies, we first "Make it right." We identify growth challenges and get to know our audiences. Next, we "Make it magic" by creating ideas and experiences that are well-connected in our end-to-end plan. This helps us identify who and what we need to solve client challenges. Finally, we "Make it work." We assemble amplification plans and activation for learning, optimization, and measurement. When all these things come together, we are able to help our clients unlock growth.
We've found it can be a good thing when the consumer landscape changes because it creates an opportunity for us to introduce clients to marketing campaign experiments. Take, for instance, Hong Kong's mandated restaurant closures due to COVID-19. With the loss in revenue from walk-ins, Pizza Hut needed a new media strategy to drive online orders. So they partnered with one of our agencies, Publicis Media, to test new digital media solutions on YouTube.
The team at Publicis Media led a YouTube campaign to help Pizza Hut maximize its ad budget and measure the effectiveness of its ads. Besides branding, they activated the TrueView for Action campaign to convert YouTube ad views to online orders. These ads featured prominent call-to-action messaging and headline text overlays. People who saw the YouTube ads clicked on them, driving direct traffic to Pizza Hut.
The campaign was well-timed, too. The team at Publicis Media picked key times during the Premier League football season to serve Pizza Hut's ads to a pumped-up audience. The investment in video reaped substantial business results for the pizza chain, which saw a 51% reduction in cost per action and a 118% rise in incremental return on ad spend.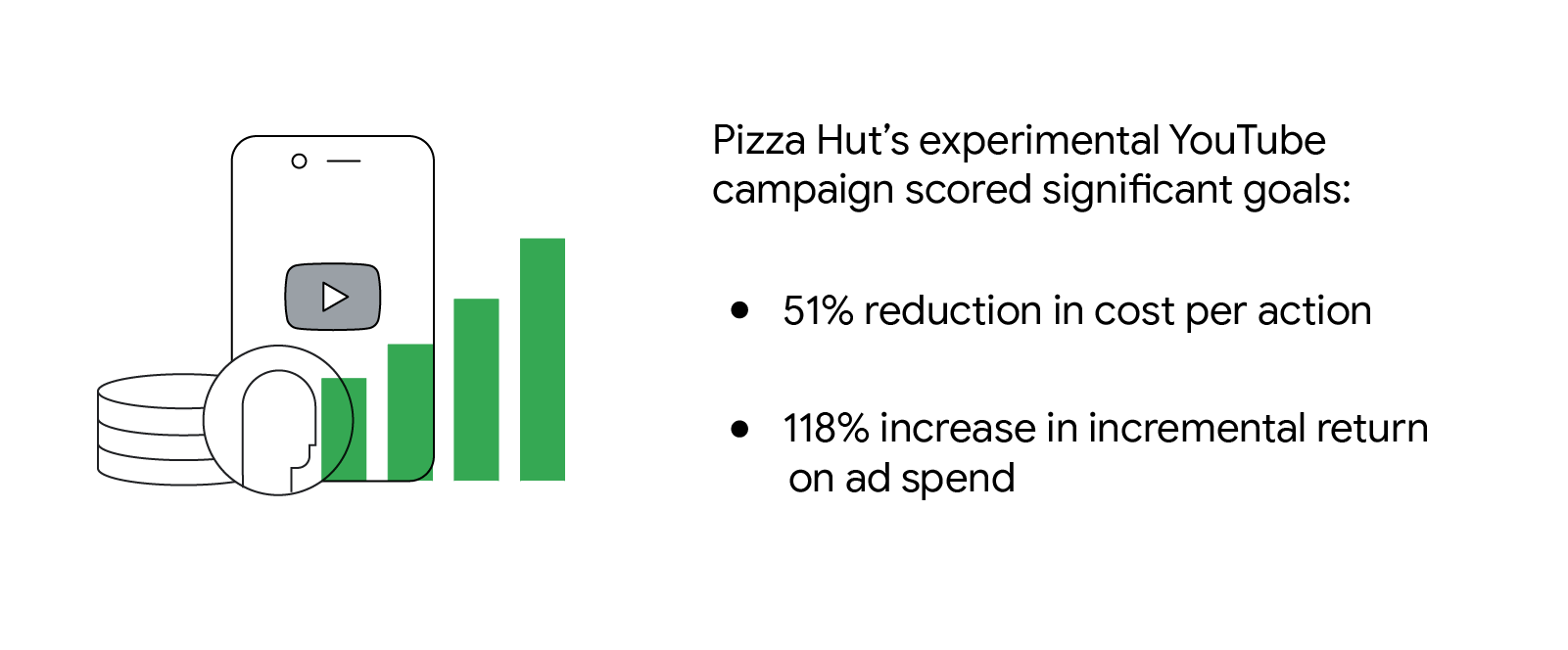 2. Build on client trust and the right partnerships
As marketers, we know data and technology are integral to experimentation. Smart data feeds brands with real-time information about their consumers, while technology enables them to scale and deliver communications effectively. But brands can rely on agencies to do more than help them use data and technology to test new marketing strategies.
Agencies can help brands make bold campaign moves when there is trust.
A strong agency-client relationship makes it easy to identify the right technology, solutions, and strategic partners to put any marketing experiment into action. And the shared trust empowers agencies to help brands make bold campaign moves.
When Nestlé Milo Vietnam relaunched its Milo junior pack in a smaller size at a lower price, it wanted to market the product in Vietnam's rural areas. The brand's challenge was maximizing reach with the right audience while maintaining cost efficiency on a limited budget.
Its agency, Publicis Media, could have developed a marketing strategy around TV because the channel is a dominant form of mass media in Vietnam. Instead, the team took a calculated risk and experimented with a digital-first strategy, knowing that rural Vietnam's population was becoming increasingly digital.
This was Publicis Media's hypothesis: given the audience's appetite for digital media, it could tap into its partnership with Google to reach the right audience through a YouTube campaign.
No doubt, the client knew Publicis Media had the expertise to roll out a digital-only approach in Vietnam. But a bold campaign move like that called for trust. And Nestlé Milo Vietnam fully trusted Publicis Media because the agency-client relationship was strong.
Publicis Media used powerful planning tools such as YouTube Reach Planner to build a geo-based campaign for Nestlé Milo Vietnam and successfully reached 2.36 million people, or 70% of the brand's audience in rural Vietnam.
Nestlé Milo Vietnam's partnership reaped results

"It was a very intensive, practical, and useful experiment with direct impact on business and strategy to push Milo junior in the remote areas. Engaging with the right consumer segmentation with relevant messages helped us maximize creative impact. This experiment demonstrated clearly how Google intelligence can contribute to business strategy and result," said Uyen Le, senior marketing manager at Nestlé Milo Vietnam.
3. Create a platform that promotes sharing and learning
Building experimentation capabilities agency-wide is key to scaling marketing experiments and their impact on business results for brands.

The artificial intelligence platform Marcel puts knowledge and information at everyone's fingertips. It provides easy access to successful case studies and best-in-class practices. When everyone has equal access to knowledge, it motivates them to share, learn, and collaborate across roles and ranks. This openness also fosters an experimental mindset. Not least, teams can easily share success stories with clients for reference as they build new campaigns.
"Marcel breaks down internal silos to unleash the potential of all our people. Everyone across Publicis has access to state-of-the-art learning modules and can be part of communities to connect, inform, and inspire each other. This creates unparalleled collaboration across markets and enables sharing and reapplication of best practices with agility," said Sapna Nemani, chief product and solutions officer, Publicis Groupe APAC.
Given their extensive industry knowledge and marketing expertise, agencies can be a key resource for brands that are keen to innovate. But a strong agency-client relationship is crucial. Brands that trust their agencies will be more open to marketing experiments. To encourage brands to experiment, agencies need to walk the talk by having the right mindset and the right partners, as well as an infrastructure that supports sharing, learning, and collaboration.