Sapna Chadha is VP of Marketing for India and Southeast Asia. Here she shares the actions Google took to improve online safety for people in India, including how her team used simple but impactful messaging and strategic partnerships to reach and educate active internet users.
Having started my career in financial services and worked around the world, I've come across various stories of online fraud.
From job offers that sound too good to be true to fake lotteries promising irresistible rewards if personal information is shared, fraud preys on people's deepest desires and leaves them emotionally and financially devastated.
That's why Google as an organization is committed to building digital platforms and products that endeavor to keep people safe online, and empowering them to protect themselves.
This year, we've taken several steps to enhance cybersecurity awareness for people in India, which ranks among the top five countries with victims of cyber fraud. This includes making it much harder for bad actors to circumvent security, and helping developers hone their cybersecurity skills.
We'd have a 700-million-strong force maintaining online safety if we equip all internet users in India with cybersecurity knowledge.
Of the steps we've taken, I see our work in educating users about online safety, through marketing, as having the potential to drive immense impact because the number of internet users is growing rapidly; in rural India that number has increased by 45% since 2019. If all active internet users in India are equipped with the knowledge and skill to protect themselves online, we'd have a 700-million-strong force helping to make the online experience a safe one for all.
It's in this spirit that I share the marketing lessons my team learned from educating people about online safety, which sparked 45,000 social conversations around the topic and a net positive sentiment of 93%. We hope to inspire more leaders across the public, private, and non-profit sectors to join us, because when it comes to building a safe online experience for all, it takes the global village.
Drive real-world change with a simple, strong call to action
In marketing online safety and educating users on how to avoid online fraud, we sought to simplify the complex topic of cybersecurity into an easy-to-understand message, with a strong call to action that will help them build safe habits online. We did this in four steps.
4 steps we took to build our online safety campaign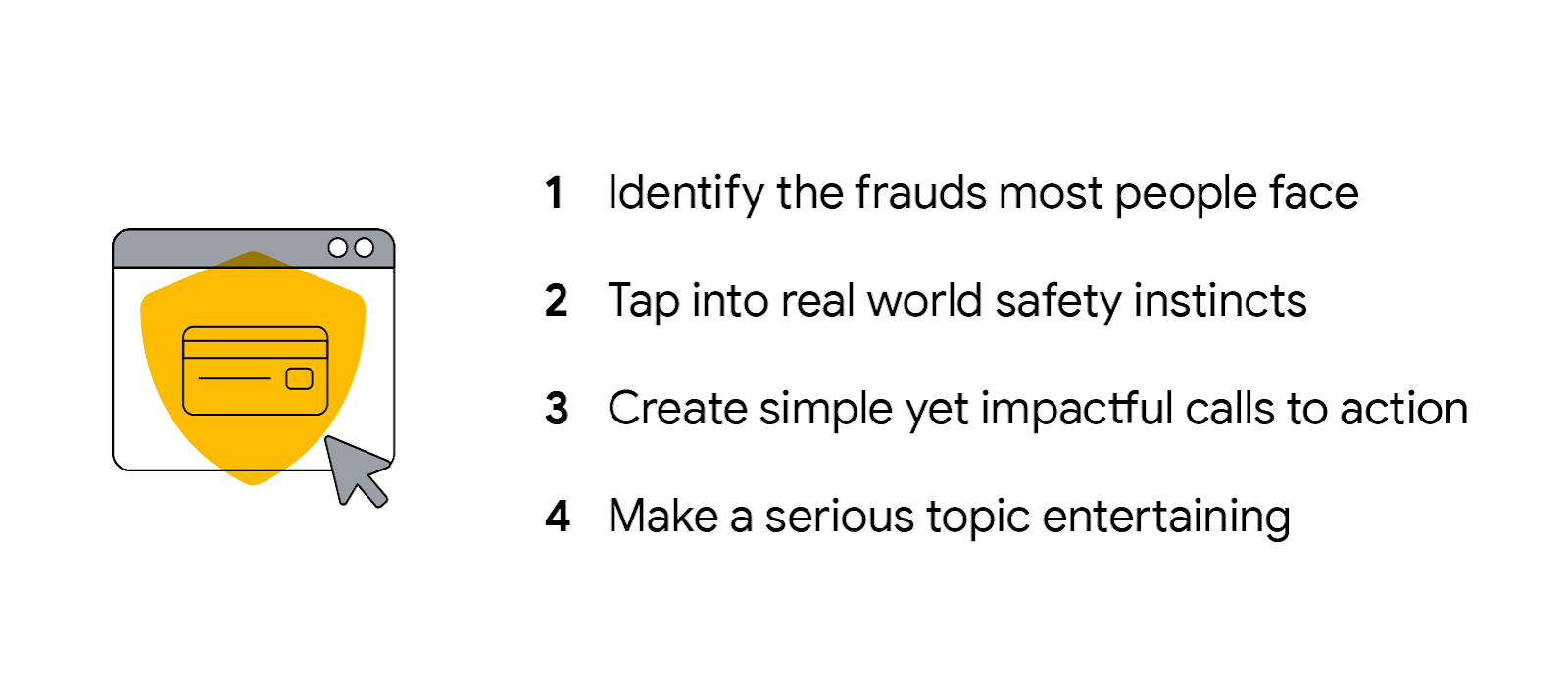 Identify the frauds most people face
Working with our Trust and Safety team, we identified the most common types of online fraud in India, which we want to help people avoid through education. These range from home loans to online lottery and electric bill fraud. In the last instance, for example, a victim might receive a fraudulent message asking them to share their bank details to pay outstanding bills, or risk losing electricity in their house.
Tap into real world safety instincts
To help people form safe habits online, we examined how people instinctively respond to danger in the real world, and we used that mindset to inform our message for online safety. We found that people are used to staying two steps ahead in real life to mitigate risk. For example, they'll pump the brakes as they approach a sharp turn. So we made "Raho Do Kadam Aagey" our campaign message to nudge people to stay two steps ahead online.
Create simple yet impactful calls to action
We then examined the user journey and found that people fall victim to online fraud by unknowingly clicking links and sharing confidential banking details. This led us to come up with a straightforward call to action for people to prevent online fraud: Never click on an unknown link and never share your bank details.
Make a serious topic entertaining
To bring the message to life, we joined hands with trusted celebrities to spotlight the most common online frauds in India that we'd earlier identified. Using a series of tongue-in-cheek videos, we made the serious topic of online fraud prevention entertaining, and showed people how to avoid online fraud in simple ways.
One video in the series, for example, features famed actor Neena Gupta asking viewers to click on a link to apply for an interest-free home loan. The plot twist comes when she reveals that she was role-playing how bad actors use persuasive ways to make people fall for online fraud, and that viewers should never click on an unknown link or share their bank details. The video was a hit, amassing over 3.7 million views.
Mobilize partners to build a safe online experience for all
For the message of online safety to fully unleash its power and shift the tide against harmful online activity across India, a concerted effort is required. So we mobilized partners from various industries to join hands in marketing online safety and creating a safe online experience for all.
We received support from India's Ministry of Electronics and Information Technology and the Government's Digital India initiative. We also found like-minded partners among India's leading financial services and telecommunications companies: Airtel, Axis Bank, HDFC Bank, ICICI Bank, Kotak Mahindra Bank, and SBI.
The partners' extensive network of digital channels, including websites, mobile apps, SMS, and ATMs, enabled us to scale the "Raho Do Kadam Aagey" campaign across India and meet people at critical touchpoints and moments to prevent online fraud.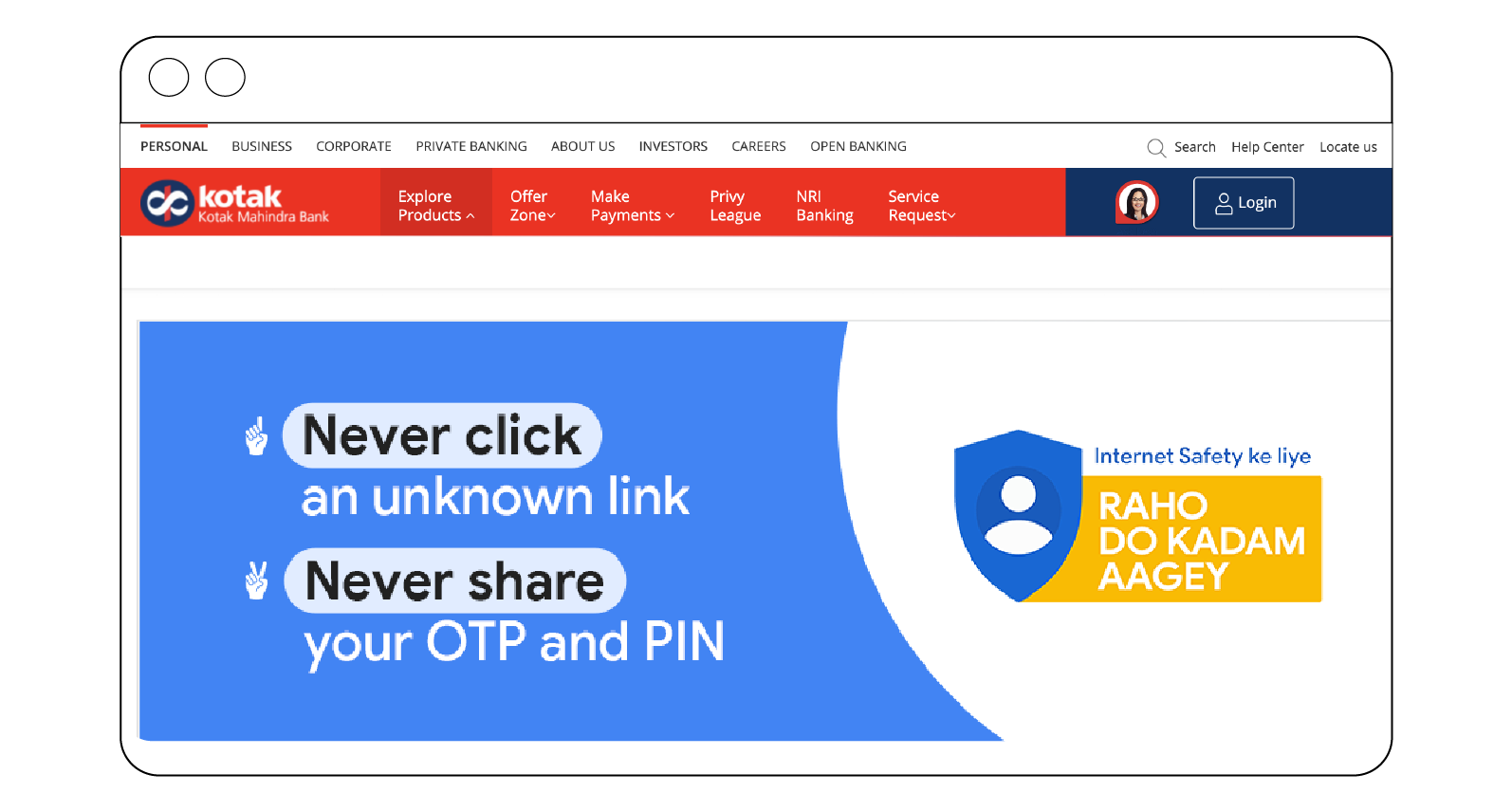 Kotak Mahindra Bank's Joint President of Marketing and Partnerships (consumer, commercial and wealth business) Elizabeth Venkataraman said the bank was "glad to combat online fraud together, and across India" by joining in the campaign because it helped them "educate consumers about safe banking practices to follow and how to avoid online fraud."
Another partner, telco Airtel, helped to raise awareness against unsafe links sent via text messages by using its SMS platform for good. It issued a message to all its subscribers, reminding them to stay two steps ahead in online safety, and to never click on unknown links or share personal banking details.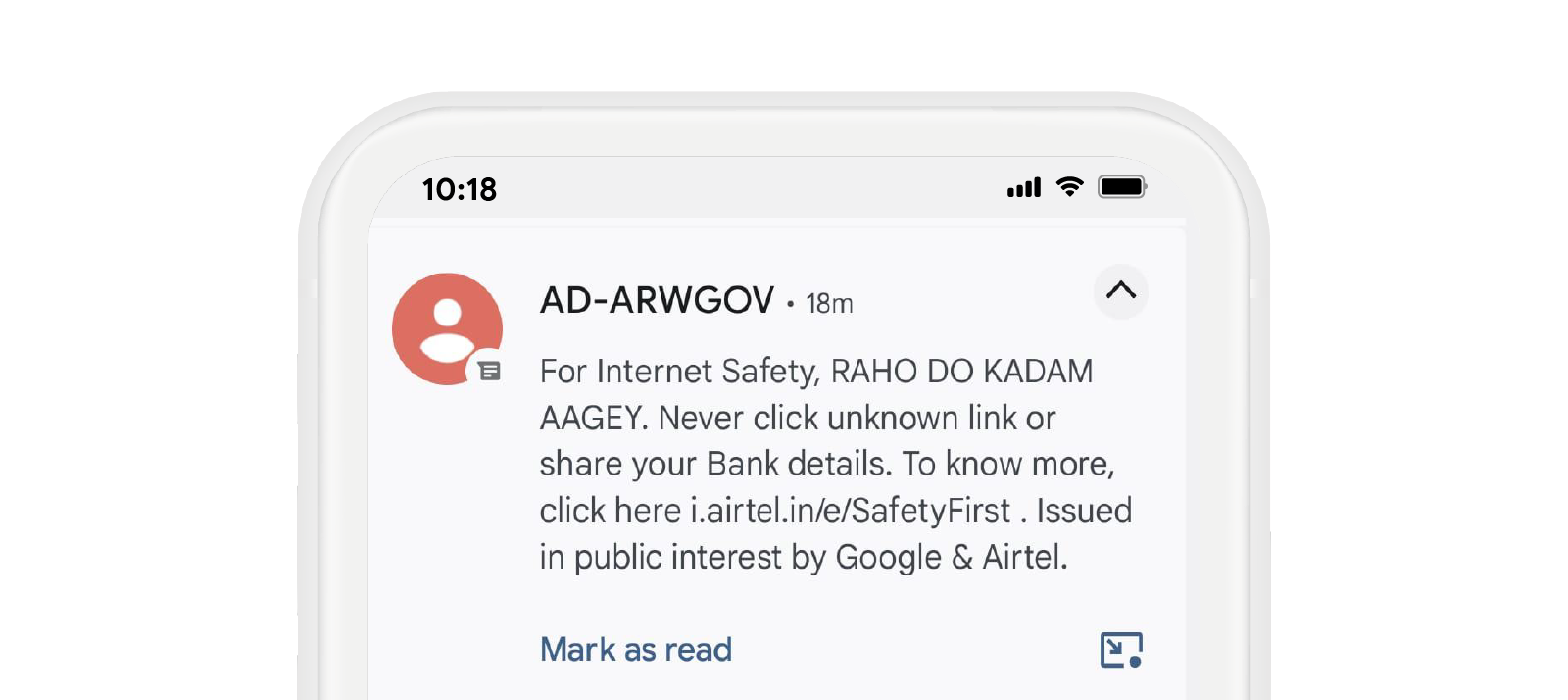 While we're off to a strong start in building online safety in India, we know that creating a safe online experience for everyone is a lasting endeavor, and to go far, we need to go together. So we hope more industry players will join us in raising cybersecurity awareness among internet users and be part of the monumental effort to build a 700-million-strong — and growing — force that will help create a safer internet for all.