For a country where most retail still relies on customers walking into stores to browse and purchase, mandatory lockdowns in Pakistan pushed people online for their regular shopping. This shift empowered more businesses, big and small, to take the leap into e-commerce.
Pakistan is going through a major generational shift, so we're digging into three factors making a difference for retailers going through digital transformation: a credible website, a customer-centric supply chain, and targeting audiences at the most relevant points of their purchase journey.
Here, we explore how Beechtree, a high-street clothing brand, focused on these three insights to successfully turn its business around during the challenges of 2020.
While the Pakistani economy has steadily been moving online, a large part of the consumer's retail experience still relies on brick and mortar shops. That is, until the government-imposed lockdown from COVID-19. Since then, retail foot traffic dropped to an all-time low — down 70% on the previous month's baseline.1 When spring came without its usual crowd of shoppers, retailers scrambled to adapt to this new normal.
The retail industry, despite these challenges, continued to bloom , as consumers shifted their attention online. Since then, the conversion of offline to online consumers has continued to multiply.
Consumers shifting online from offline

This creates a golden opportunity for retailers to move online and meet consumer needs. Beechtree, a clothing retailer owned by HKB, was quick to jump on this chance, swapping its hopes of physical expansion to a digital transformation strategy involving the following three key insights it learned from Google and its partner agency, Shopistan.
1. Ensure your website is fast, informative and accurate
Without the benefit of tactile senses to determine the authenticity of a product, it's only natural to place more importance on our experience using the product's website. 81% of Pakistani consumers research a product extensively before purchase, so more and more, the website is beginning to replace the physical store.2 Fast loading times, extensive product information, providing shopping recommendations, and the ability to know the availability of goods in real time affects the online shopping experience and can make the difference between conversion and abandonment. When it comes to page loading time, seconds count:

Beechtree moved its website to multi-node hosting, which allows functions to run separately on different parts (or nodes) of a server and adds more nodes as needed. Its website loading speeds improved by up to 30%, even in high traffic.
The team also made clever use of Google Optimize for A/B testing to find the most popular products to promote in each region. Setting up separate landing pages for Islamabad and Karachi, they increased conversion rate by 17% focusing on luxury clothing in Islamabad, and by 7% focusing on casual clothing in Karachi. They then used the opportunity of having their stores closed to the public to stockpile popular inventory for each region to ensure on-time deliveries.
Having your own website not only helps you reach your online audience, it helps you understand them better. It is a fantastic first step for gathering first-party data to better serve your customers, without engaging expensive third-party agencies or analysts. This enables you to enhance your strategy and identify trends to reach more customers and improve conversion rates, as customers value getting recommendations and a clear overview of the choices available to them.
Steps you can take to ensure a better website
Assess your website. Look out for loading times, mobile responsiveness and the ease of navigating. Google's Test My Site tool can act as a useful starting point.
Understand your customer. From your website, collect consumer journey data to segment your audience. Then, test how you can serve each segment more relevant products.
Update your inventory. Match the availability of your online products with actual inventory by clearly marking items as "sold out" and providing estimated delivery times for what's in stock. This helps you improve customer satisfaction by managing delivery expectations.
Using a combination of first-party data and available inventory can also be used to make relevant recommendations to customers.
2. Develop a customer-centric supply chain strategy
Today, digitally savvy consumers have high expectations of delivery times when buying online. On Pakistan's leading e-commerce marketplace, Daraz, the overall sales of Fast-Moving Consumer Goods (FMCG) products doubled in March 2020 and these numbers are only expected to increase. From Google Trends data, we see a huge 150% increase in searches for "same-day delivery" and a 138% increase in the search term "near me".3
This, however, is a challenge that Pakistani retailers struggle to live up to. 94% of freight traffic is reliant on roads that are not well-equipped for speedy deliveries.4 According to the 2018 Logistics Performance Index report, Pakistan came in at 122 out of 160 countries.5
With logistics being a stumbling block, Beechtree shifted inventory from its warehouse to its 25 closed stores across the country, following customer behaviour carefully to understand which products to stockpile at which store. It also made sure that online and offline inventory matched by working with Shopistan to track available items in each location. The results?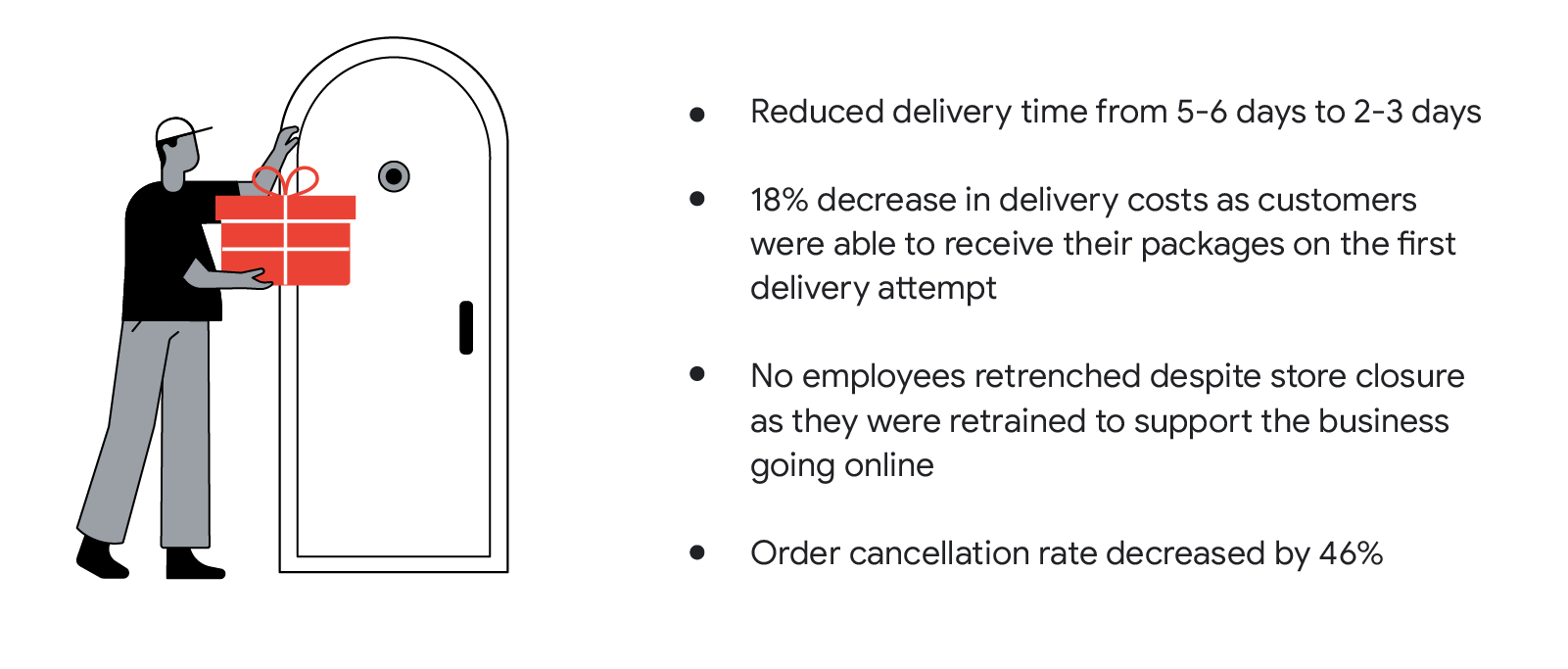 Steps you can take to develop a customer-centric strategy
Automate your inventory tracking system to automatically match online and offline stock availability.
Partner with reliable logistics companies who can help manage inventory and provide the last mile of service with on-time delivery to customers.
Work with multiple logistics partners to ensure that customers will always receive deliveries on time.
Train your staff to manage your e-commerce site and get them up-to-speed on order-management or customer relationship software to help keep things running smoothly online.
3. Connect with your customer at different stages of their purchase journey
81% of the 87 million connected Pakistani consumers research a product extensively before purchase,6 with 55% of them using Google Search and YouTube.7 This translates to a highly savvy consumer, who businesses can reach at any point of their online journey.
In Beechtree's case, the team tagged their entire website flow to track visitors' actions. With this data, they used Google Ads remarketing tags such as "product viewers" and "shopping intent" to generate dynamic product-level data with advanced audience segmentation. They then used these segments to create their own unique customer purchasing funnel below.
For customers in the awareness Stage, the Beechtree team used a three-step strategy:
Smart Display using automated bidding, targeting, and ad creation to help entice customers with low advertising costs.
Google Search Ads to increase the volume of traffic to their site and visibility of their brand and products.
Google Smart Shopping campaigns to automate their campaigns across Search and Display, testing different combinations of the image and text to reach audiences at the relevant "Shopping Intent" stage of their journey with the best possible ad.
For customers who had previously visited the website, Beechtree's approach was:
Focus on Google Search to serve custom ads using remarketing lists.
Implement Display ads for retargeting, so Beechtree could stay top-of-mind as customers browse the internet.
Re-engage with customers on YouTube by using a combination of TrueView and static ads.
For customers already in the Conversion stage of the journey, Beechtree used Dynamic Retargeting on Google Search and Display ads to reach customers who had previously shown interest in a product or had abandoned their cart at checkout.
With this full-funnel strategy, Beechtree was able to track the performance of each specific campaign using a specific attribution model in tracking conversion data. The results:

Steps you can take to connect better with your audience
Be discoverable. Be present when a consumer expresses interest in your products. Appearing at the top of search results can be critical in gaining new customers.
Acquire new customers. Engage with potential customers who are interested in the products you sell. These customers are actively looking for products to buy across YouTube, and Google Display Network. You can target your ideal customer using audience insights.
Increase customer loyalty. Retain your highest-value customers across YouTube, Search and shopping networks by using remarketing tools like customer match lists to turn past shoppers into loyal customers.
In reality, nothing is linear in the process of transitioning your physical retail store into a booming e-commerce business. Yet, it is a change we must all learn to embrace as customers are increasingly turning to online channels to purchase, and this will only increase going forward. So, get going and start building an amazing website, tweak to a customer-centric supply chain strategy, and use every opportunity of the purchasing funnel to connect with your customers. With these strategies, you'll be in a good place to start turning your business around.
Contributors: Amna Asim, Agency Account Strategist, Google Customer Solutions, South Asian Frontier; Shiraz Abdullah Mahmood, Marketing Specialist, South Asian Frontier