Marc Cavaliere is an airline industry veteran with nearly 40 years of experience. He joined regional South Pacific airline Fiji Airways in 2017 as chief commercial officer. Here, Cavaliere reflects on the major changes revolutionizing the airline and travel industry—and the opportunities that lie ahead, especially in APAC.
APAC's travel industry is changing fast, with more and more consumers turning to digital to plan and book their flights. From 2016 to 2017, online travel sales in APAC increased more than 22% to reach $214 billion.1 By 2020, the APAC region will account for 40.2% in total online travel sales globally, far surpassing North America (27.6%) and Western Europe (20.2%).2
Across nearly 40 years of experience, I've witnessed the evolution of the airline industry and its response to shifting consumer behavior over the years. The way people book flights and travel is constantly changing, and I'm more hopeful than ever about the future of our industry. Below are three ways my fellow travel industry peers can harness the power of data and technology to deliver the best, most relevant digital experiences to APAC travelers.
1. Understand the modern traveler's customer journey
To succeed in today's fragmented digital landscape, airlines need to understand their customers and how to reach them. Airlines have to understand who they are and who their customer is and then allow those two base points to determine which channels are going to work best for them in the airline industry. For example, you can't be a carrier that sells exotic travel and not work with travel agents. Harking back to my days at South African Airways, when we're talking about selling South African or African experiences to people in Canada, America, and parts of Europe, it was viewed as very complex, foreign distant travel. While it became more accessible to people over the years, it was still one that raised a lot of questions and had a lot of complexity to it, so travel agents and tour operators were a very integral part of that channel.
On the other hand, in Johannesburg, where more of the traffic was either South African business travelers traveling around Southern Africa or going to Europe or the U.S. or domestic travelers, travel was of a different nature to them, and they were much more comfortable booking directly online and working one-on-one with the airline through the websites and direct channels. So that's just an example where airlines have to be very sensitive to who their customers are, what their needs are, and what the best channels are to reach them.
"We've seen a very encouraging shift in APAC countries—more so than some other regions—in terms of consumers willing to do more direct interactions with us."
At Fiji Airways, we've seen a very encouraging shift in APAC countries—more so than some other regions—in terms of consumers willing to do more direct interactions with us. Japan is an excellent example. Traditionally, the transaction format for leisure travel in Japan involved working with tour operators and travel agencies. We're re-entering Japan after a 10-year absence, and we're seeing that, while traditional partners are still very important, there's also a very rapidly emerging behavior where young Japanese travelers research more online on their own and buy directly. They follow us on social channels more actively and use that to influence their purchases.
One of the common characteristics among a lot of APAC countries is that they're very switched on as far as being engaged with technology and development. Overall, we see APAC using more smartphones and tablets and relying more on digital than other countries. It's a unique characteristic within the region that sets it apart from other parts of the world we deal with. One good example is how Philippines Airlines saw this change in how people looked for flights and quickly innovated to capture demand and sales.
Another example in APAC countries is how travelers use different platforms for different purposes. We have to recognize and be able to work with different payment systems and gateways—all quite different from conventional credit card payment systems.
2. Use data and technology to reach consumers
The two big drivers that have not only allowed the airlines to grow but also the travel market to open up are data and the advancement of technology. These two elements coming together has heralded in the tremendous changes that we've seen in air travel over the last few decades. By putting data behind our ads, we're now able to—better than any other time in aviation history and for the benefit of the customer—serve up an offer to the customer that is almost tailored to their unique interests or requirements. Some offers will work and some you'll just toss aside, but digital allows us to do that with a lot greater speed and efficiency. We don't have to wait for a month to measure what kind of results our ads have brought in. We can tell pretty quickly and just keep testing and incorporating or redirecting.
At Fiji Airways, we're doing a number of things to reach APAC consumers where they spend their time—on digital. We're getting ready to release a new mobile app, and we're in the design phase of a new website. We're also automating certain services and features, such as notifying customers of new travel opportunities. And perhaps most importantly, we're using new software technologies to deliver offers and upgrades to consumers based on what they're searching for. 
3. Work with best-in-class digital partners
You also have to remain current with how the market is changing and how it wants to do business. We've seen the changes in different offerings, systems, and programs in the last two or three years, with an increasing percentage of our travelers taking to new technologies and new channels that are being offered. We have to be very attuned to what the market wants. In our case, that means paying attention to a number of different markets that want different things according to how they like to do business in their respective parts of the world.
We've been working with digital partners such as Google to better understand best practices in the digital space. Data-driven attribution (DDA) is a good example of how we're able to learn to work smarter. It allows us to gain greater exposure but at the same time reduce our unit cost. We can put offers out through our digital channels and quickly measure exposure and conversion rates, allowing us to determine what is or isn't working and then optimize on the fly.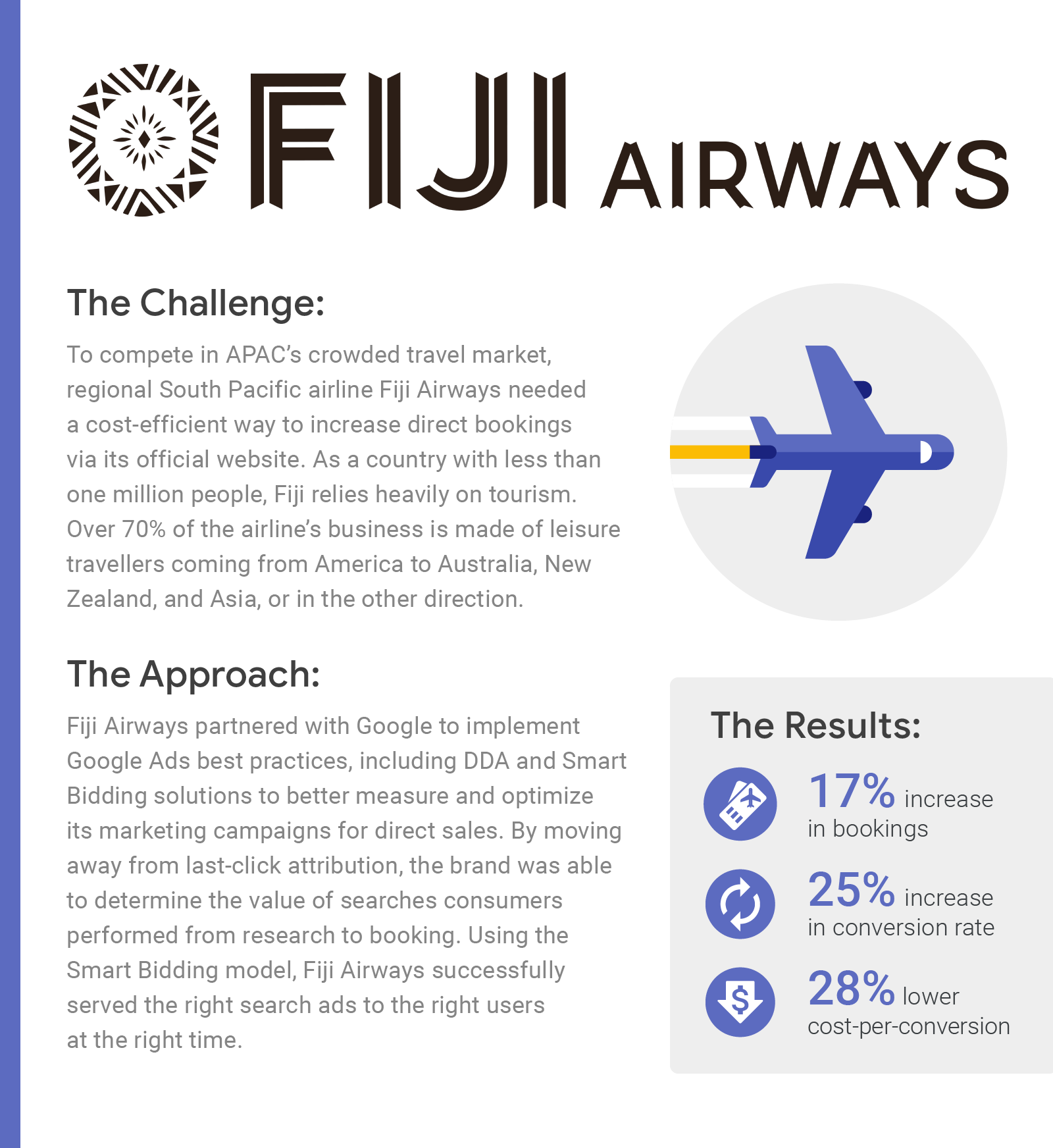 Testing + experimentation = the key to success
Our key learning is that you have to make sure that you're constantly relevant in the market by reaching your target audience with the things they're interested in. If you're not relevant, then you're just a commodity service that gets lumped in with everyone else. It makes it very difficult to differentiate who you are, what your product is, what your destination is, and why you deserve their business over all the other competitors. Relevance is key to success and longevity.