COVID-19 has led many brands around the world to rethink their online presence, and as more people go digital to keep their offline passions alive, marketing teams are looking for new ways to capture the attention of audiences who are shifting to new online platforms.
For brands that relied heavily on offline campaigns before COVID-19, such as product stalls at concerts or live events in malls, live streaming has seemed like a reliable alternative. But holding a live stream to simply "be online" will not create a significant impact. Instead, brands should implement a live stream strategy that looks to generate more than just "digital-facetime."
Here, we recommend three live stream best practices from Google that brands are currently adopting that can lead to higher attendance, and more valuable audience engagement before, during, and after the event.
1. Build momentum before you go live
Help people discover your event by running a teaser campaign before a live stream to help new and existing users know when and why they should be tuning in.
During Indonesia's large scale social restrictions (LSSR), telecommunications provider Indosat Ooredoo needed to find an alternative way to continue their #Collabonation campaign, which they previously held in shopping malls around the country.
The brand decided to conduct six live stream events to continue engaging with their target audience but needed to ensure they could generate enough excitement and awareness in the lead-up to each stream.
Featured Quotes
To build excitement, we ran teaser campaigns three days before the live stream with video discovery ads and YouTube Masthead that promoted the celebrities and musical acts taking part in the upcoming stream. This helped generate awareness among new audiences, and contributed significantly to our total views through the #Collabonation live stream series.
To drive even more momentum, a six-second bumper ad would reappear after a user was exposed to a teaser ad and then searched for the #Collabonation hashtag on YouTube. As a result, the brand gained more than 700,000 views on these bumper ads across the six-day live stream event.
2. Amplify engagement and participation during the event
Don't let all that pre-event hype go to waste. You can amplify reach and keep people engaged during the live stream by running YouTube campaigns even as the live stream is happening. This will remind users of the ongoing live stream and continue to drive new users to the show.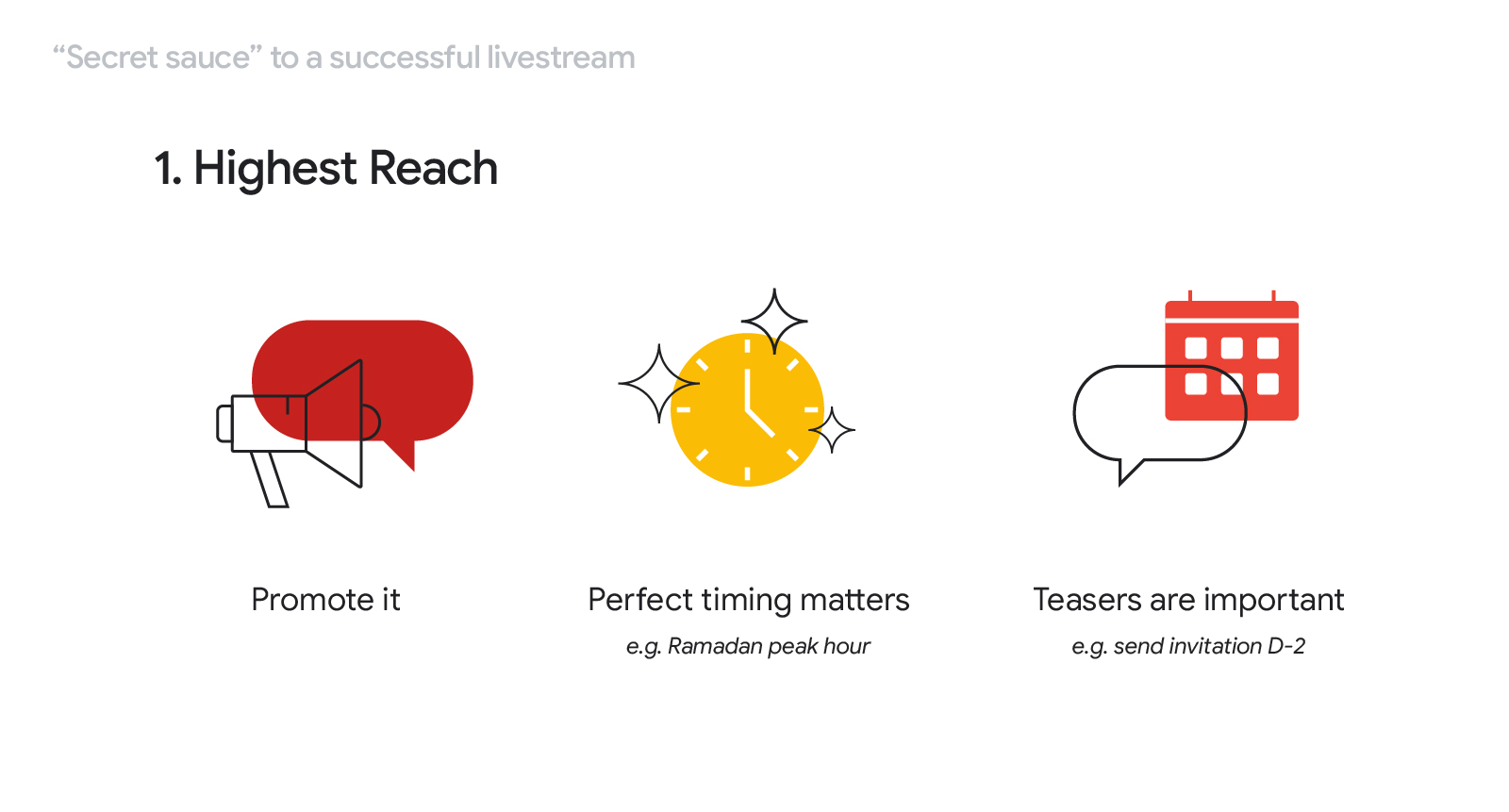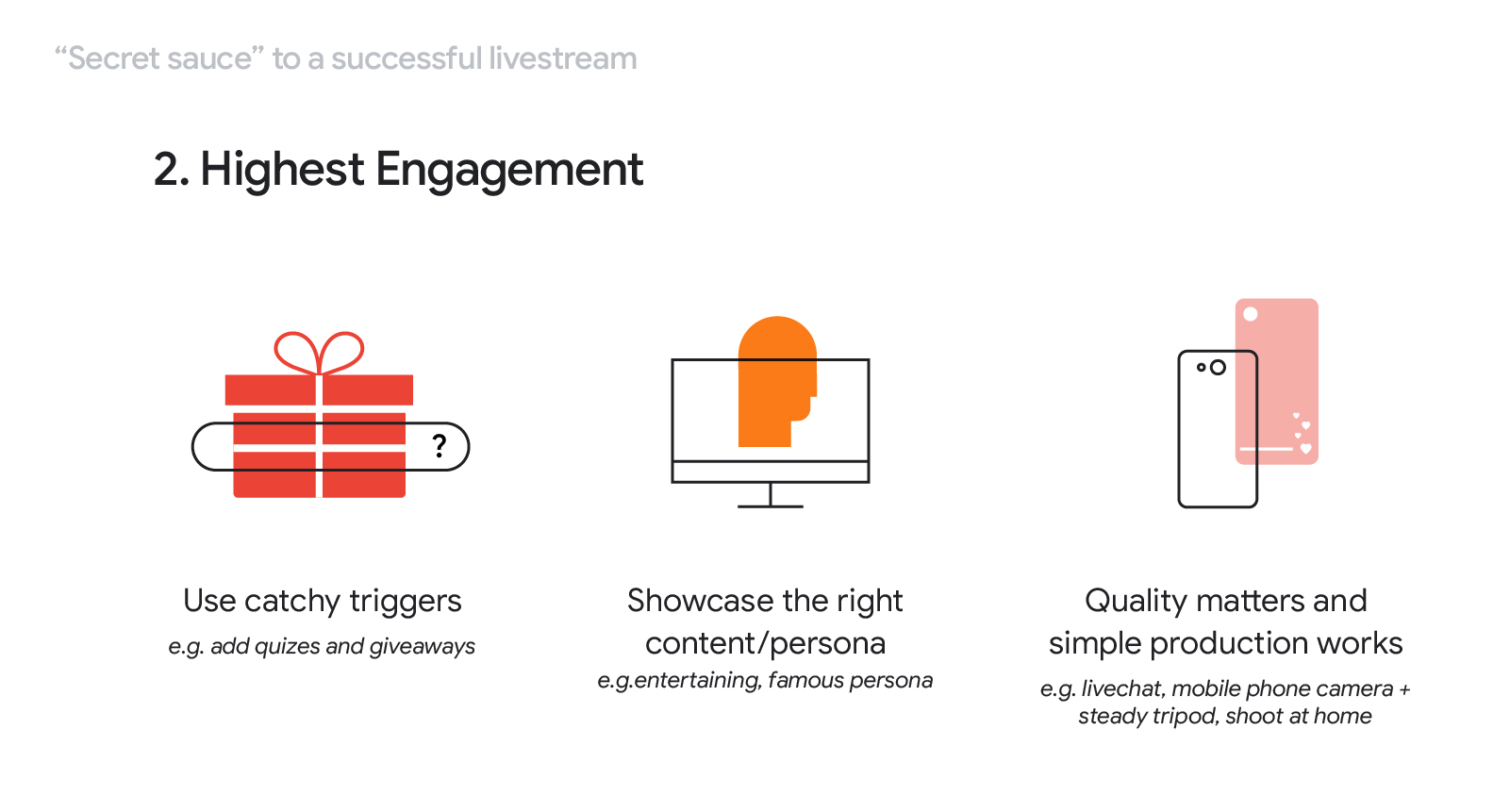 Earlier this year, COVID-19 restrictions pushed Samsung to rethink how the brand could stay top-of-mind during Ramadan. The brand decided to run a "pre-iftar" live stream event during the early evening when friends and family would normally gather to break fast together. The live stream could help people who can't be with each other to still feel connected and celebrate.
To generate maximum traffic during the event, Samsung ran a YouTube Masthead during the live stream to encourage more viewers to join, even after the stream had started. The Masthead included an interactive quiz, people's responses were published on live chat, which contributed to the huge engagement of 30,000 live chat participants.
Samsung continuously reminded viewers to click links to their website via the live chat, their video description, and had the featured artists on camera talk about the highlights of Samsung phones and remind viewers to check out the website that led to over 500,000 views during the two-hour stream.
Featured Quotes
The highest traffic that's come to our website page was during and after the live stream. Promoting our live stream on YouTube Masthead was not only effective in raising awareness of our campaign but also impactful in driving a lot of traffic to our campaign page.
3. Don't let the conversation end when the live stream does
After a successful live stream event, continue engaging with your audience to sustain awareness and consideration and ensure your brand stays top-of-mind.
When the offline launch of one of their latest smartphones was cut short by COVID-19, realme decided to go digital and opted for a live stream event that included a giveaway as part of the promotion to increase traffic during the stream.
However, realme knew that for their live stream to be a success, they would need to cut through the noise of pandemic news and other technology brands moving online to sustain the conversation with their audience.
Traffic to realme's website increased by 50% during the live streaming as a result of strong hype developed from the teaser phase, and the product launch pack sold out after the stream ended, so the brand was keen to continue this engagement with its audience.
Post their launch-day live stream, realme were able to continue to engage audience attention for an additional two weeks using a combination of clip highlights from the stream to promote as bumper ads, as well as capturing engaged audiences on remarketing lists to use for future brand engagements.
Featured Quotes
After the live stream ended, we used TrueView discovery ads and TrueView instream to increase consideration by continuing to highlight product features, while bumper ads were used to keep our new products top-of-mind, especially for people that had joined the live stream. View rate of the TrueView instream campaigns we ran after the live stream reached 40-50%, double the view rate from before the live stream, which was a reflection of high consideration from customers.
Live streams can work for brands as more than just ticking a live event box. They can drive high engagement and results when properly planned and organized. With more and more brands coming online, marketers need to be intentional about how they plan their live streams and make sure that they are engaging with their consumers before, during, and after the stream ends.
Contributors: Abraham Hutagalung, Industry Manager, Tech; Bimo Harfiandi, Industry Manager, Telco; Celina Hidajat, Marketing Specialist; Stephanie Elizabeth, Account Manager, Tech