Today's brands and marketers have found themselves navigating new, unprecedented challenges — and it's happening across three stages: crisis, stabilisation, and revitalisation. Here, Paul Sinkinson, managing director at Analytic Partners, reveals crucial data from March and April and details what brands can do to set themselves on the right path.
Now more than ever, it's important for brands and marketers to have access to practical advice and accurate information. At Analytic Partners, we're committed to helping you thrive — even in these challenging times when ad budgets are being slashed left and right. That's why we combined recent insights from Australia and historical data from ROI Genome, our adaptive database of more than 22,000 case studies from around the world, to help you better manage your ad spend during this period of volatility.
Presented at Think with Google's latest virtual brekkie event, these findings reveal how marketers should be thinking about their media mix and where to direct their spending to drive short- and long-term gains. Learn how to invest to slingshot your brand out of recession and into recovery with these five key takeaways.
1. Defend some budget to enable your brand to have presence in the market
When markets are shocked, everyone knows ad budgets are first to go. If you have to cut your budget, make sure it's not reduced to zero. According to the Journal of Advertising Research, cutting back on advertising during a recession can hurt sales during and after the recession.1 We've also seen that it takes twice as long — or a huge amount of ad spend — for brands to get back to full health after going completely dark.2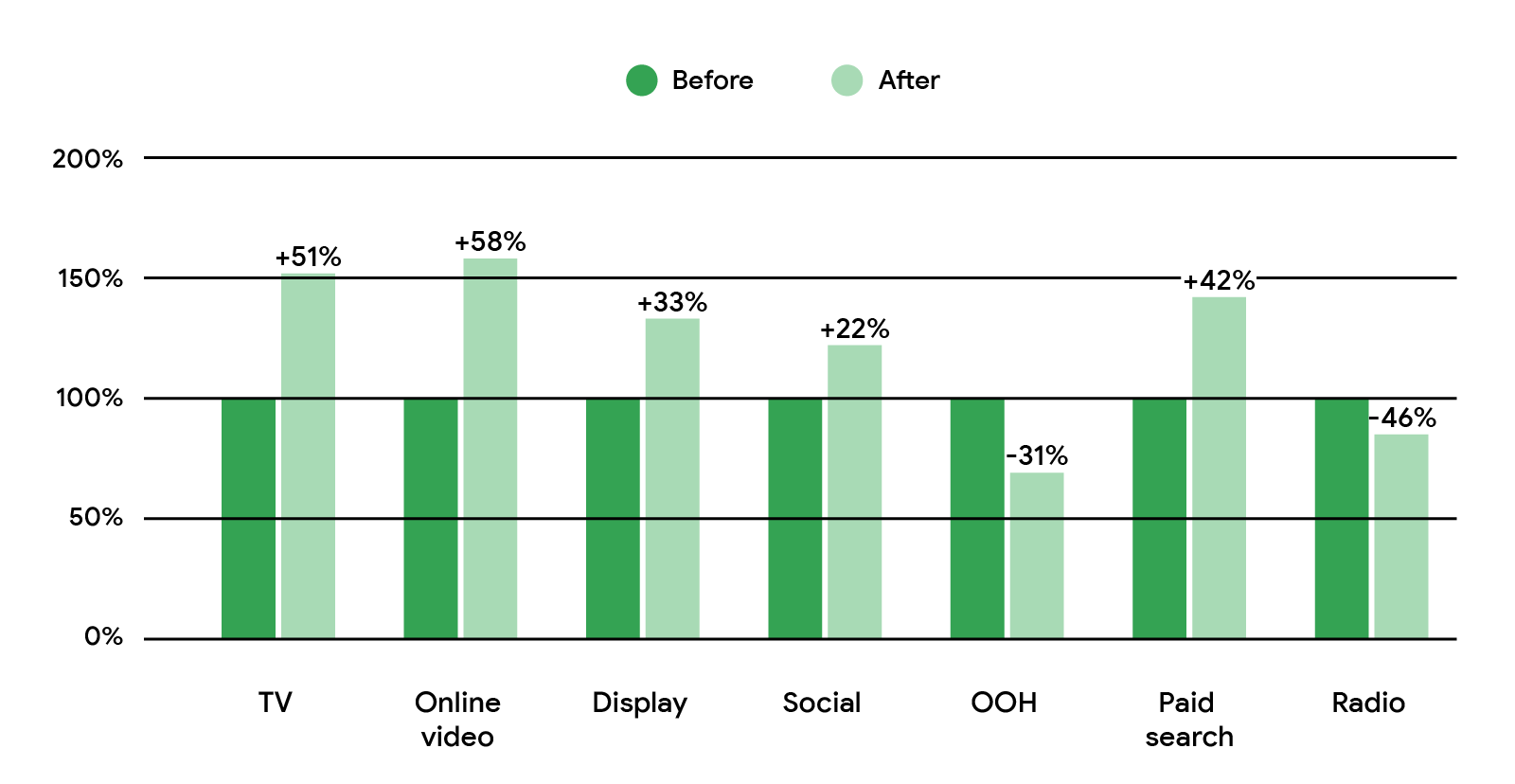 My advice is to focus on defending at least some of your budget so you have a presence in the market and don't have to spend more during recovery just to get back to where you were. We've seen strong increases in ROIs from digital channels since the pandemic hit.3 Why? Not only are more eyes on screens but advertisers have left the market, leaving more bonus spots up for grabs at reduced costs. According to ROI genome, media consumed at home increases effectiveness by as much as 58%,4 so it's more important than ever to invest where people are spending their time.
2. Repurpose your creative for long-term investment
When planning how to spend a limited budget, approach it as a long-term investment. Rather than leading with opportunistic product or promotional messages, lead with brand messages. Across our database, we see brand outperform product or promo messaging 80% of the time.5 And you don't need to make a new piece of creative to further water down your budget — the brand messages that you have had in the past are still going to work now.
Moving pictures have consistently been shown to deliver strong results, regardless of the screen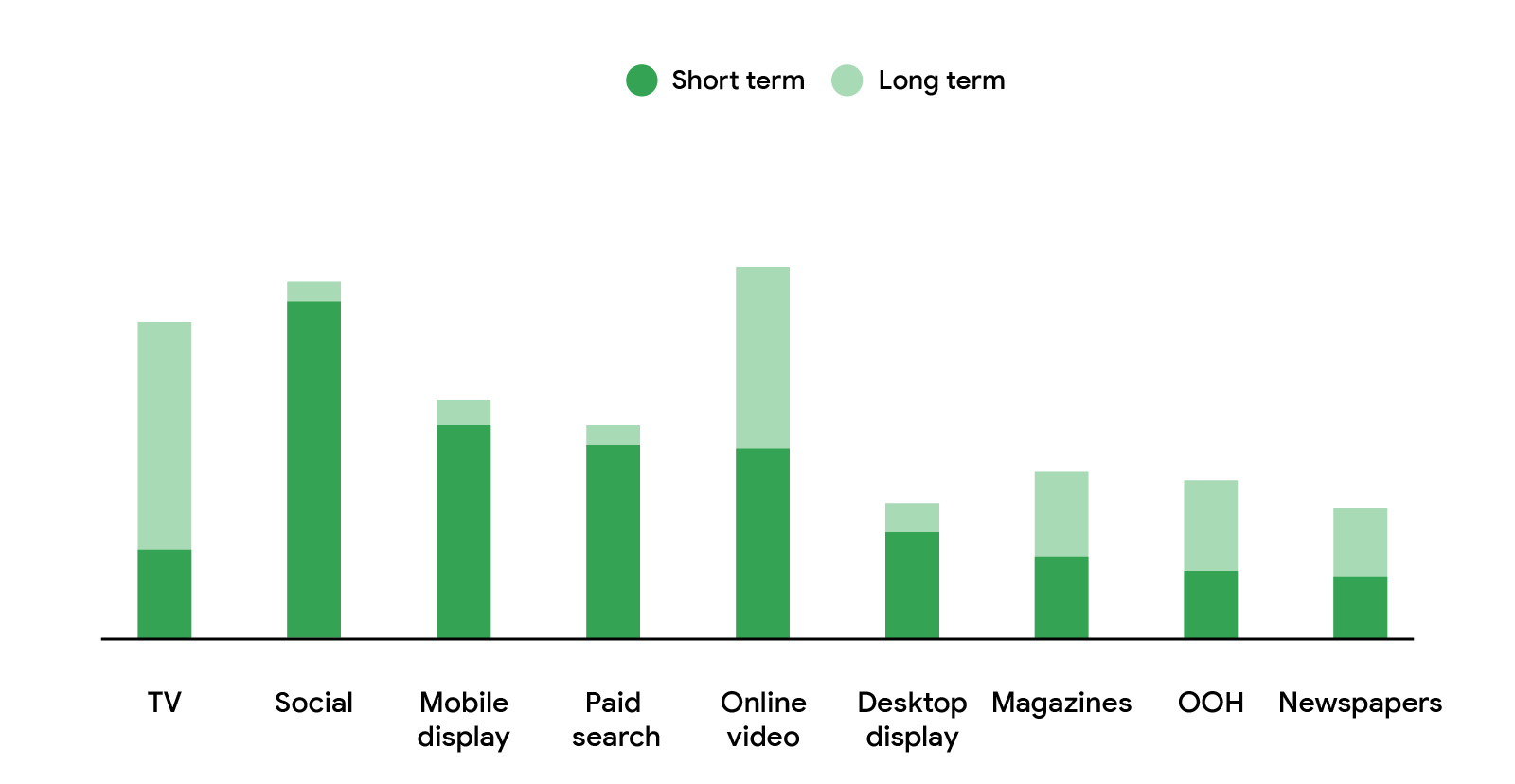 When you're looking at where to air these brand campaigns, look to channels that have demonstrated a clear ability to deliver long-term ROI: TV and online video.6 These channels have other long-term benefits, because you can easily reuse or repurpose your video creative for different screens. Being fit for purpose (e.g., more engaging story arcs, tighter framed shots, increased movement) can increase ROI by as much as 300%.7
3. Experiment and refine your marketing to ensure you have a competitive advantage
With your marketing spend locked in higher performing channels, the next step should be about trying to make those media investments work harder for you. How? Try experimenting and refining your marketing now to have an advantage when things start ramping back up, particularly on digital.
At this point, we know what makes a great TV ad. Digital hasn't been around as long, so we're still learning how to make great digital campaigns. That means that there is a huge advantage to those who experiment. Experiment with everything from your media mix to the amount of branding on your creative to executional elements like audience, location, and duration of the campaign. We've found that fostering a test-and-learn culture has the single biggest impact on future ROI.8
4. Be omnichannel — and take advantage of media synergies
The pressure for brands and marketers to move to an omnichannel approach is greater than ever.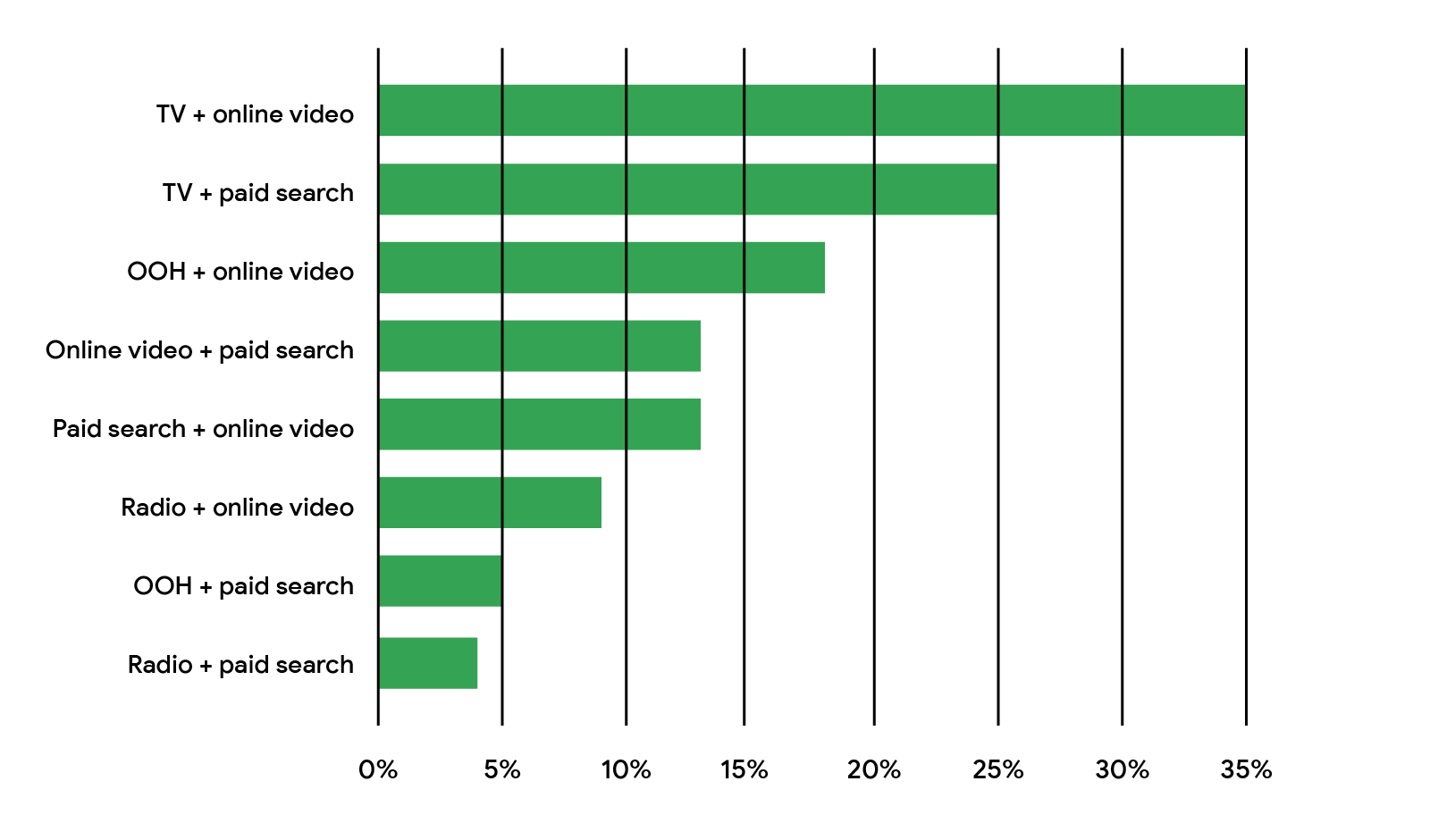 Synergy is key. We measured the synergies of media channels and found that ROIs for both TV and online video are 35% higher when they're strategically integrated,9 and we're seeing 25% ROIs when combining TV with paid search.10
The returns on Search more than double by shifting to online fulfillment

An omnichannel approach has other perks too. We found that returns on paid search more than doubled when brands shifted to online fulfillment.11 We also found that highly researched products deliver higher Search ROIs than lesser researched products,12 and a lot of people are searching right now.
5. Invest in the highest performing media channels
The high-performing channels of the past — TV, online video, social, and paid search — are performing even better now. Invest in these proven channels, monitor performance, continuously optimise your media mix, and adjust your ad spend accordingly. If you're investing in other media, ensure the amount you're spending makes sense.
Revitalisation and recovery
As we move from a period of crisis to a period of stabilisation, restrictions are starting to ease and supply chains are returning to normal. But we're not out of the woods yet. With revitalisation and recovery on the horizon, brands still have to be smart about their media strategies to weather the remaining storm. Defend your budgets and invest in an omnichannel strategy that will help you get the most out of your creative and meet your short- and long-term goals.