In less than 24 months since the launch of its YouTube channel, India's ChuChu TV has amassed close to 2B views and 2M subscriptions. Its unique take on content, coupled with specific optimization and engagement techniques, have positioned it as the top children's entertainment channel in Asia-Pacific.
GOALS
Build a successful entertainment and learning resource for kids on YouTube
Build a loyal, engaged audience
Grow views, subscribers, and watch time
APPROACH
Found its niche in a crowded category with fresh content, and unique characters, music, and visuals
Optimized videos for YouTube and monitored results in real time
Built fan engagement by encouraging fan submissions to its Facebook page while responding to comments in real time
RESULTS
Approximately 2B views and 2M subscriptions to the channel in less than two years
Channel averaged 200M views per month
One video earned more than 300M views, two videos earned more than 100M views, and nine videos earned more than 50M views
Inspired by his daughter and her love of nursery rhymes, Vinoth Chandar founded ChuChu TV with the hope of reimagining children's entertainment in India. After only a few days, its first video began gaining traction and garnered thousands of views. ChuChu TV decided to harness this buzz and immediately began building out its YouTube channel. Shortly, in less than 24 months, ChuChu TV has become one of APAC's most-watched YouTube channels.
Finding your YouTube niche
In the world of children's entertainment, nursery rhymes occupy an extremely competitive space. A quick Google search for "Humpty Dumpty" yields approximately 263,000 video results on YouTube, and among them, only 43 have more than a million views. So how could ChuChu TV ensure its Humpty Dumpty video was the one viewers would click? It developed a comprehensive YouTube content strategy that focused on quality and positivity:
Positive messaging
Content differentiation is key, but when it comes to classic nursery rhymes that have been around for eons, it's difficult to innovate. ChuChu TV acknowledged the dark undertones that many nursery rhymes possess and consciously decided to turn them on their heads to reflect positivity.
Take Humpty Dumpty, for example. ChuChu TV revisited the nursery rhyme and expanded on it: In ChuChu TV's version, Humpty gets back up, learns a lesson from his mistake, and moves forward with confidence. This unique spin helped the brand stand out from its competitors in a highly commoditized category.
Optimizing YouTube content
ChuChu TV optimizes its YouTube content by using appropriate titles, tags, and content descriptions. The overarching implementation of tagging has also helped it gain even more search traffic over time on YouTube.
Metadata tagging in titles, tags and description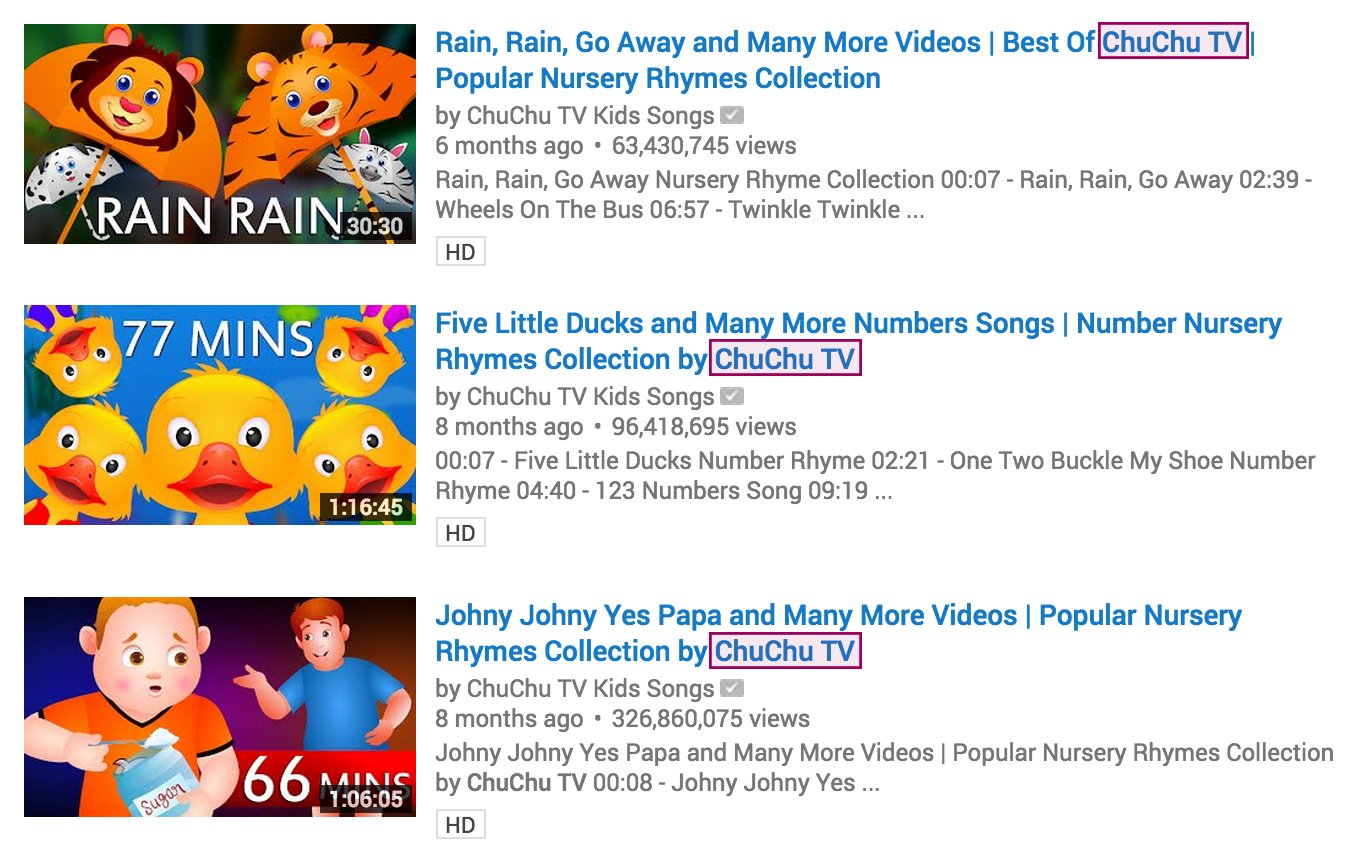 Search Traffic on YouTube

Much of ChuChu TV's traffic comes from the use of end cards that suggest additional YouTube videos from the channel once a video finishes. This is not an automatic algorithm at work but rather a customizable edit screen that appears at the end of the video.
Compilation videos (similar videos grouped together in one single video) also work well on the channel. In fact, eight of the top ten videos on ChuChu TV are compilation videos, and three-fourths of the channel's overall views come from compilation videos. Initially, the company was skeptical about compilation videos, but it followed YouTube post-optimization suggestions released in Q3 of 2014. The addition of compilations resulted in an 86% growth in views and a 105% increase in watch time over a three-month period.
ChuChu TV Subscriber Growth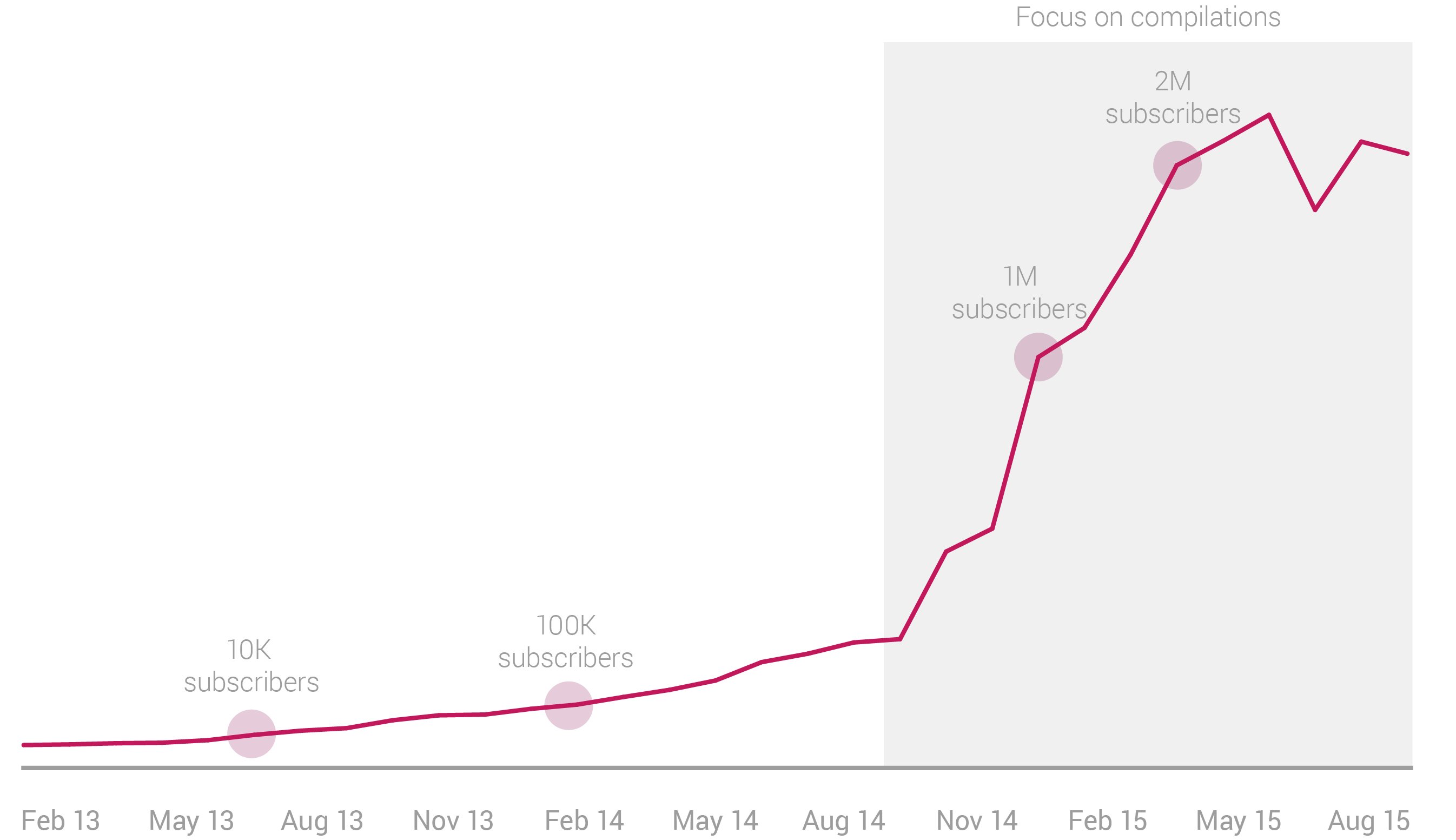 Engagement with the YouTube audience
Its demographic may be children, but the brand realized it also needed to engage parents in order to grow. To do so, the brand set up a Facebook page and invited fans to submit their own clips to be showcased on the channel page. With this call to action, the submissions rolled in and sharing across social networks increased by 3X over the next two quarters. In addition to encouraging user-generated content, ChuChu TV also made sure to respond to all YouTube/Facebook comments in a timely manner. This helped the brand earn the loyalty of its viewers.
Quality video content is key
ChuChu TV takes risks by riffing off original rhymes and providing fresh twists on classic melodies. The music is catchy and fast-paced, and the videos incorporate fun and colorful animations. ChuChu TV also "remixed" a few nursery rhymes to increase its appeal to kids. A "Party Mashup Mix" video was recently added to the channel to capitalize on its peppy music.
ChuChu TV's unique characters were created with real kids in mind, and they've all been integrated into the channel's videos. Going forward, the brand will invest in developing and building original characters that are better integrated with licensing and merchandising.
The evolution of ChuChu TV's YouTube content
ChuChu TV is now working on original content, a new series called "Animal Songs for Children." "Blue Whale" is one of the first stories in the series. The brand also plans to launch a new channel targeted at children between the ages of 4 to 6. It's important for ChuChu TV to stay connected with this group even as they age out of the standard nursery rhyme demographic. They're familiar with ChuChu TV and have grown up with its videos, so the brand hopes to continue to provide valuable entertainment to them as they grow older.
ChuChu TV is committed to YouTube and has invested heavily in the platform. By the end of 2015, the brand plans to double its staff and open up employment opportunities to animators across India.