When Mindvalley needed to reinvigorate its video strategy, the creative team decided to take a few pages from the YouTube creators' handbook. Using TrueView for Action, Mindvalley was able to give viewers quick tastes of their full courses and clear direction to the brand's website through enticing pre-roll ads, which ultimately helped drive a 500% growth in the brand's YouTube channel subscribers in one year.
Mindvalley is an education technology company that specializes in producing some of the world's top trainings for peak human performance. More than three million students around the world — mainly in the U.S. and the EU — connect to the Mindvalley campus via apps and webinars to take online courses from leading authors and teachers. Compelling video content is Mindvalley's bread and butter, but when it comes to marketing, YouTube has typically taken a backseat to search and Smart Display Campaigns. That's because the brand's earliest efforts on YouTube helped boost metrics like awareness, but didn't lead to many sales or course sign-ups.
When Mindvalley first tried advertising its live webinars on YouTube — thinking viewers would be more likely to subscribe or buy more video content — the resulting sales and sign-ups were disappointing. Promoting time- and date-specific webinars gave viewers limited options for exploring more courses, and the brand's creative didn't give them a meaningful preview of the full content. To drive sales and subscriptions, the company knew it needed to completely rethink its video strategy.
Mindvalley's creative team didn't have to look far to find inspiration. After seeing consistently high completion rates on their most popular YouTube videos, they realized they already had the foundation for a new marketing approach: creating and curating great content. To build an engaged community of subscribers, the team embraced the mindset of a YouTube creator and tapped into the TrueView for Action format to develop a series of teaser ads, offering viewers a small taste of the full courses. The new format unlocked Mindvalley's ability to give viewers clear direction throughout and at the end of each video, and it ultimately helped drive more than 400K subscriptions in a year's time.
Inspiring action by thinking like a creator
Mindvalley started by developing new creative that featured different authors and instructors combined with snippets from their full courses. Then, the brand used TrueView for Action with target CPA bidding — driven by Google's machine learning — to consistently serve the ads throughout the year.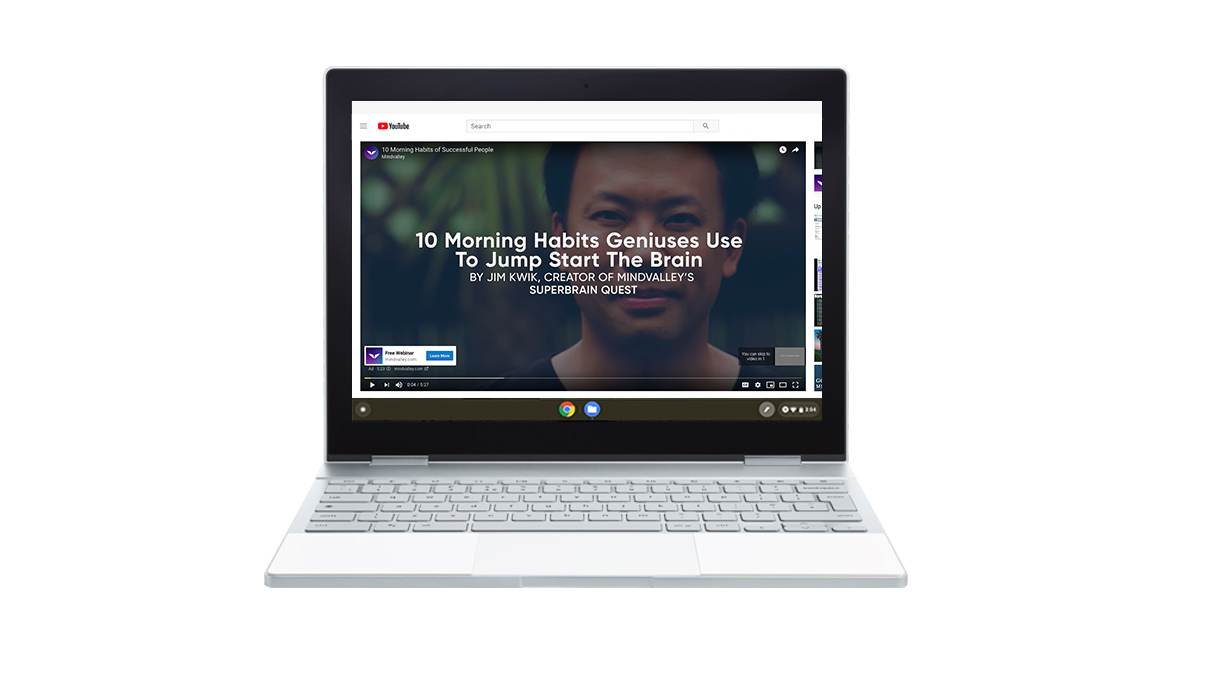 The brand used a variety of techniques for its new creative to grab viewers' attention in a skippable environment, including:
breaking the fourth wall to introduce a topic;
using large, bold text to highlight key points;
featuring the Mindvalley logo on each video; and
prompting users to take action with a strong CTA.
With the combination of the platform's feature and Mindvalley's new creator-like approach, it wasn't long before its results on YouTube made a full turnaround.
TrueView for Action keeps viewers coming back for more
Within a month of launching its campaigns, Mindvalley's average ROAS reached 110%, amounting to a 10% profit across the board. The brand also grew its YouTube channel subscribers by 500% in just one year and has added more than 200K since. Keeping with its culture of experimentation, Mindvalley has continually tweaked its approach to promoting new content on YouTube. Recently, the brand has been using varying video lengths on different audience segments, specifically 15-30 second teaser ads to test the impact of cross-selling.
Wayne Liew, Mindvalley's head of advertising, was thrilled with the new opportunities his team uncovered. "This campaign helped us realize that video can influence people in more ways than we originally thought. We're already reaching millions of people with great content — now we can inspire them to visit our website, sign up for courses, and continue their personal development in those moments without interrupting their viewing experience."