The COVID-19 pandemic has had a profound effect on our relationship with beauty. For one, the lack of social occasions to dress up for and the rise of mask-wearing have changed the cosmetics that people demand — color cosmetics are temporarily out, while bold eye looks and long-wear makeup are in.
Social distancing measures have also made an impact in the buying rituals of beauty shoppers. Traditionally, people would head in-store to test products before making a purchase. The fun experience of trying out colors and textures to suit unique skin types and tones cannot be replaced.
Or so you'd think.
How AR is changing the face of beauty shopping
Digital has long been changing the face of the beauty industry, and at L'Oréal, we haven't missed the advances in augmented reality (AR). Combined with the accessibility of channels like YouTube, shoppers now have an easy way to explore beauty products from the comfort of home.
This trend coincides with the massive growth of e-commerce. According to the e-Conomy SEA Report 2020, shoppers in Southeast Asia (SEA), stuck at home with nothing to do, have gone online. In 2020, new online shoppers generated over one-third of all SEA online commerce.1 In Thailand alone, e-commerce grew by 81% from US$5 billion in gross merchandise value in 2019 to US$9 billion in 2020.2 In a promising sign for beauty brands, 25% of new digital users in Thailand bought beauty products online for the first time as a result of COVID-19.3

The desire for beauty products is still there, but the demand landscape and marketing platforms have changed. To engage customers where they are and take the Thai beauty industry to another level, L'Oréal Thailand had to get a little creative. We adopted a new ads format, YouTube's AR Beauty Try-On solution, for our subsidiary brand Maybelline Super Stay Matte Ink product line — a first in Thailand and one of the pioneers in the wider Southeast Asia region.
What L'Oréal did: Right creatives, right tech, right time
1. Bring the fun of trying on beauty products to mobile
Shoppers still need to explore beauty products like they did pre-pandemic.4 Walking into stores to try out cosmetics has always been a fun and indelible part of the shopping journey. Besides the necessity of determining the right shade and tone to suit specific skin types, customers simply love experimenting with new looks in stores.
Lockdown measures and hygiene concerns were roadblocks to this treasured in-store experience. But now that customers are spending more time shopping on mobile devices, we set out to provide a comparable online makeup try-on experience.
Maybelline Thailand created a fun and snappy one-minute video creative called Eatproof to showcase its Super Stay Matte Ink range's selling points. This was accompanied by the virtual try-on feature: Using just the YouTube mobile app, shoppers could learn all about the product and try up to 12 shades of lipstick in real time.
2. Create a smooth journey from awareness to purchase
To take viewers smoothly from the video to the virtual try-on, the YouTube AR Beauty Try-On function included a call-to-action (CTA) overlay to encourage users to tap the AR try-on button. Virtually testing the 12 shades of Maybelline Super Stay Matte Ink was as easy as swiping through an AR color carousel.
Shopping online should be as easy as (or easier than) walking up to an in-store cashier and making a purchase. With the YouTube AR Beauty Try-On ad, shoppers could make the transition from ad to purchase with just a few clicks. When users were ready to purchase, there was a clear CTA to "shop now," directing shoppers to a specific product page on our e-commerce partner Lazada's website.
3. Increase traffic through the right channels at the right time
To increase conversion and reach sales targets, Maybelline Thailand needed massive reach.YouTube CPM Masthead was a fantastic tool that placed our video creative prominently in the YouTube Home feed across devices. With that in our arsenal, we reached 50% of women aged 18 to 44 across Thailand, with 30% of those users engaging with the AR try-on function — figures 3X higher than the average global engagement numbers generated by similar L'Oréal lipstick YouTube AR Try-On ads.
This was complemented by the use of TrueView Discovery, which helped position our video for relevant customers, catching them while they explored YouTube for videos they love to watch.
Maybelline Thailand was the first in Thailand and among the first in SEA to capitalize on YouTube's AR Beauty Try-On solution. The results were validating: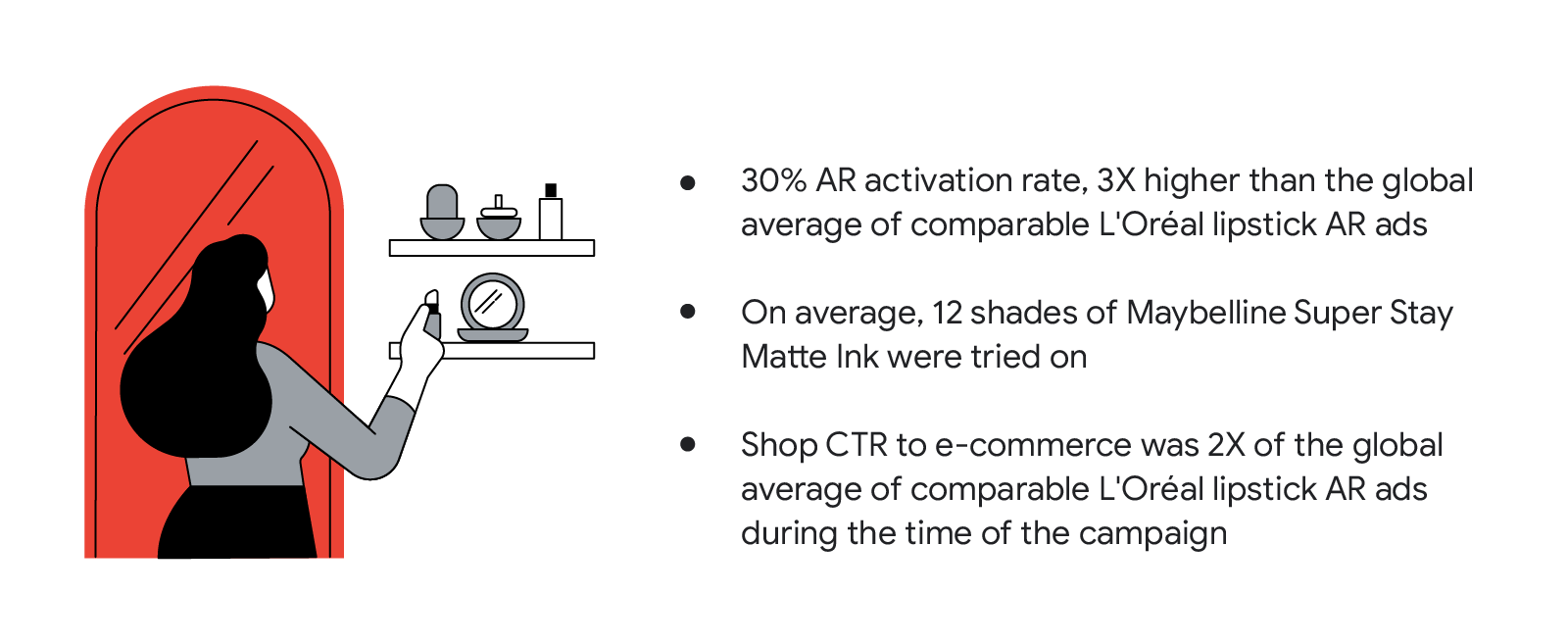 A little creativity goes a long way
Maybelline Thailand's campaign used a tried-and-true YouTube recipe of the right audience, the right creative, and the right time. However, it's amazing what a slight tweak on a one-minute video — integrating YouTube-powered AR — did to increase online conversions.
The lesson here is for brands to think outside the box. The box itself is changing: Google's Year in Search 2020 report found customers are increasingly bringing their "whole selves" to brands. The pandemic has placed incredible time pressure on people while upending traditional roles and routines. With new digital users in Thailand buying beauty products online for the first time as a result of COVID-19, e-commerce is fast becoming the purchase channel of choice for many consumers. These trends signal people's desire for efficiency and for brands that speak to their core needs.
Beauty brands like Maybelline now have to engage shoppers beyond their identities as "beauty buyers." That means exploring innovations in other industries that can boost expectations in the world of cosmetics and personal care. And that means helping customers optimize their time by meeting them on the platforms they're on and with the technologies that serve them.
In a world where extra hygiene concerns and e-commerce are new norms, the future of beauty is virtual and touchless. L'Oréal Thailand may have been ahead of its time, but brands still have the opportunity to get customers on board with new and better experiences.