Sapna Chadha, VP of Marketing, India and Southeast Asia, shares new insights about what matters to audiences and creators in this article. The findings have been introduced at Brandcast events in the region about the future of video and marketing.
Brands navigating complex business environments and uncertainty in these times are taking a close look at how they use marketing, including video content, to maximize their budgets, boost brand awareness, and drive sales results.
Some might choose to hedge their bets by having their content on as many platforms as possible, but trying to be everywhere — except where it matters — is unlikely to drive real value for brands or their bottom lines.
As marketers looking to make wise trade-offs and find a video platform that truly matters to business growth, knowing what resonates with our audiences on a platform can help us make decisions that count.
The definition of good content and the platform at the heart of it
High production values, sleek video quality, and mass appeal — these might be what some brands see as defining good content, but when we asked viewers what matters to them, they surprised us with their answers.
Across APAC, viewers in markets such as Australia,1 India,2 Japan,3 Taiwan,4 and Thailand5 are less likely to describe "good content" as coming from an established production company or studio, or created to appeal to a large audience. Instead, their definition of good content has certain qualities in common: relevance, intellectual and sensorial stimulation, and emotional resonance.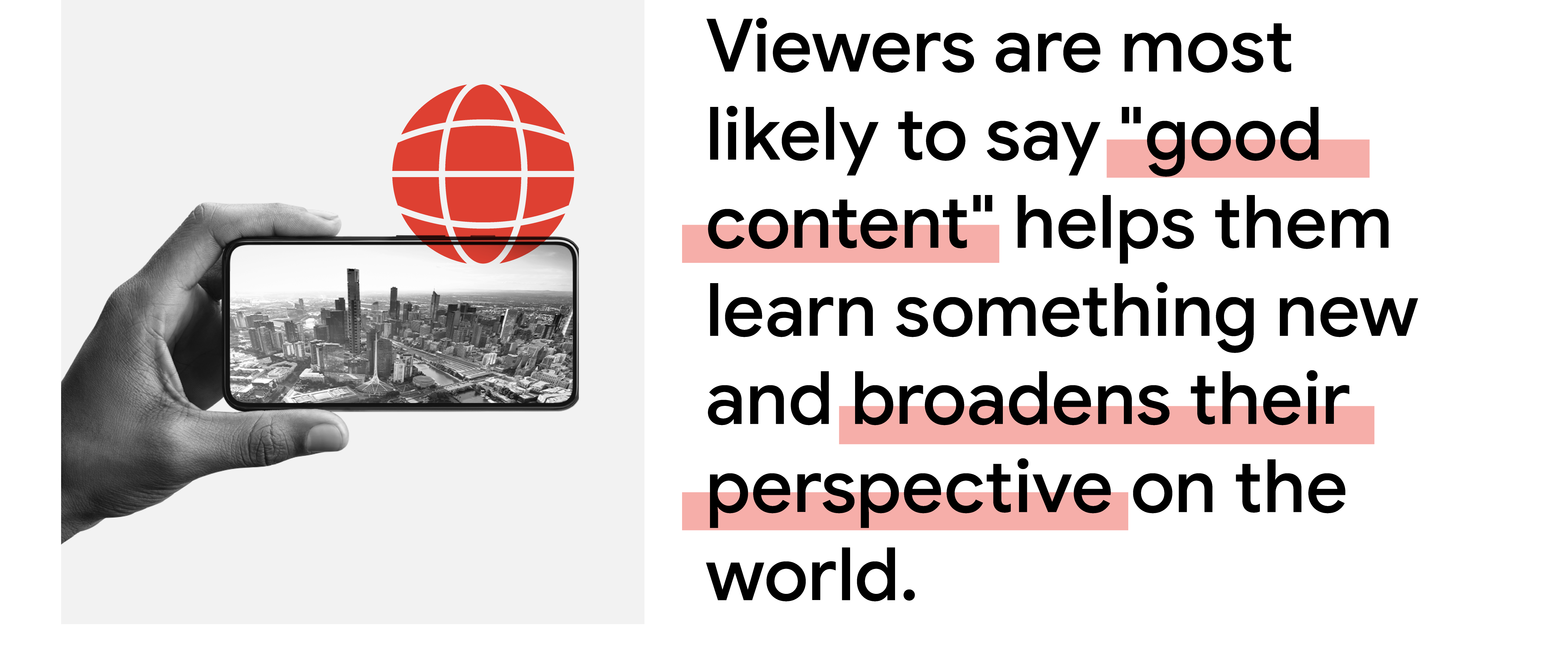 And the platform at the heart of good content today is YouTube, say audiences. More than 90% of viewers polled in APAC markets such as Hong Kong,6 Indonesia,7 Korea,8 and Taiwan9 say they can find good content on YouTube significantly more than the competitor average. Viewers in APAC, including Australia,10 India,11 Korea,12 and Thailand13 also say YouTube is No. 1 in delivering intellectually stimulating and relevant content.
The platform that matters to viewers
With viewers in APAC, including Australia,14 Korea,15 and Thailand16 saying YouTube has the most diverse content, and that it's the No. 1 place for them to go deep with what they love, it's no surprise the platform draws more than 2 billion people globally every month.17
Click on the dropdown to find out how many people YouTube reaches in markets across the region:








Notably, many say they turn to YouTube as their first platform of choice for good content. And more than 80% of viewers in Hong Kong,18 Malaysia,19 Indonesia,20 Taiwan,21 and Korea22 say that one year from now, YouTube will be the first place they go to when they want to watch something.
It's also the platform that speaks to viewers' myriad needs and moods throughout the day, whether they're bonding with family and friends over live-stream events on Connected TV or enjoying a light-hearted moment watching comedies on Shorts, which draws 30 billion views a day, up 4X from a year ago.23
Given how much the platform matters to viewers, and the deep level of video engagement that viewers have with YouTube content across formats and devices, creators have found the platform to be the one that matters most when it comes to developing closer relationships with audiences.
The platform that matters to creators
Sydney Morgan, a beauty creator with 3.39 million subscribers on YouTube, is among the many creators who say the platform is critical because it enables them to build deep connections with viewers.

The deep connection creators have with viewers on YouTube has fueled subscriber growth across APAC. In India, for instance, more than 5,300 channels have over 1 million subscribers, which is an increase of 42% year over year.24
YouTube also matters to creators because its creative ecosystem supports them in turning their passions into businesses or careers that pay a steady, meaningful income. Indeed, over 80% of creators in Indonesia and Korea agree that YouTube provides them with an opportunity to create content and earn money that they wouldn't have received from traditional media.25
The platform that matters to culture
The coming together of viewers and creators on YouTube has made the platform critical to culture. They form communities around shared interests on the platform, and their exchanges shape cultural conversations and norms. One example is the platform's role in building up K-pop fandom.
K-pop fans and creators have produced all kinds of Korean music-related content on YouTube, from videos about how to start a K-pop fan channel to fancam videos that are edited by fans and spotlight a particular member in a K-pop group.

The platform that matters to brands
Being at the heart of good content that matters to culture, creators, and viewers, YouTube offers clear wins for brands. It enables them to develop authentic brand content, on their own or in partnership with creators, to reach the right audience, drive awareness, and increase sales.
Its suite of creative offerings also means brands can tap it for marketing campaigns that not only reach people but resonate with them, too. The platform's broad appeal further helps brands widen their campaigns to connect with audiences who access content solely online, and whom a TV-only campaign wouldn't reach. It's no surprise, then, that the audience reached on YouTube is incremental to TV.
Click on the dropdown to find out YouTube's incremental reach in markets across APAC:








Beyond enjoying massive reach, campaigns on YouTube enable brands to significantly raise awareness of their products.

Furthermore, it helps brands win consideration among viewers across APAC. In markets such as India,26 Korea,27 and Thailand,28 for instance, viewers say advertising in YouTube videos makes them more likely to consider a brand or product, and it is the No. 1 video platform that helps them decide what to purchase.
Ultimately, YouTube marketing campaigns enable brands to increase their sales. According to another study we commissioned through Nielsen, nearly 84% of YouTube campaigns have led to growth in offline sales. Of these, the campaigns registered an average 5.1% rise in offline sales, while the average return on ad spend was greater than 1.29
Binggrae, a decades-old South Korean beverage company, is one brand on YouTube that recognizes how the platform matters to culture, people, and businesses.
The company launched its YouTube channel "Hello Danji" to connect with people through fun, culturally relevant content that features its popular banana-flavored milk. Not only was the heritage brand able to reach Gen Zers, viewers engaged with the brand by sharing comments, fan art, and fan videos through the platform. A campaign it ran on the channel in 2021 attracted 59,300 subscribers and 43,448 average views per video.
When brands face pressure on their bottom lines, it's critical for them to be on a platform that truly matters — YouTube.