Online retailers are in the spotlight to keep up with rapid consumer demand for products and services in our 'new normal'. Since the beginning of March, search queries for 'online shopping' rose 38% across MENA. Some consumers are veterans of online shopping, but many are new to discovering which sites have the specific items they want. So the pressure is on for e-commerce sites to not only sell inventory and generate revenue, but also to support, inform, and reassure customers along the way.
Namshi, a leading fashion e-tailer in the Middle East, focused on the start of a new consumer's journey looking for a generic item: like 'blue jeans' or 'black dress'. As the coronavirus pandemic unfolded, Namshi wanted to devise a plan to stand out from the crowd online, connect with new shoppers, and encourage quality visits.
Focus on the consumer
Namshi's top goals were to acquire new customers, increase basket size to boost revenue, and drive quality visits while managing their costs. They turned to their data to understand where they could be more efficient.
"Namshi is a data-driven organisation. All our decisions regarding performance marketing budgets and allocation are based purely on numbers," explains Ahmed Osman, the pay-per-click lead at Namshi. "We believe in seizing opportunities and testing new advertising solutions to achieve maximum efficiency."
Their data showed that their key customer segment was the '20-something, fashion-trend lover'. Namshi wanted to cut through the noise by trying something new to engage with this audience during the pandemic.
In March of this year, Namshi was one of the first companies in MENA to test a new advertising product called Showcase Shopping ads. If someone searches for a generic term such as 'dress', the Showcase Shopping ad will appear with a variety of dresses, instead of one or two options). This drives more engagement and encourages quality sessions by directing customers to category pages on the brand's website.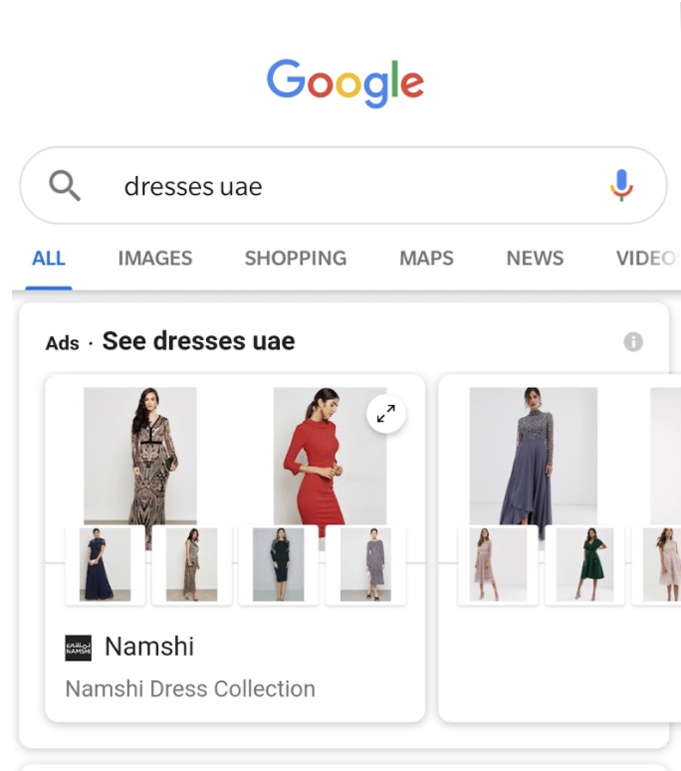 Showcase Shopping ads provide results for generic fashion queries and allow advertisers to capture demand from the very start of a consumer's purchase journey.
"Landing on a category page increases users' average time per session and leads to more micro-conversions (product views, add to cart, etc.)," says Dalia Chartouny, industry manager for retail and e-commerce, Google MENA. "It's a good strategy to adopt with new users who haven't yet made up their minds about what they want to purchase and want to consider different options."
Meet needs at a critical time
Throughout the campaign, Namshi focused on key categories with high query volume to capture evolving demand in the dynamic market during lockdown. As a result, the percentage of new customer purchases increased by 56% compared to that of other shopping formats. And the engagement percentage, which means the pages viewed per session rose by 81% versus that of other shopping ad formats. The brand's willingness to take a risk by trying a new product, rather than adopting a conservative approach, allowed them to engage with new users.
"This was part of a larger strategy to attract customers at the beginning of their shopping journey by highlighting multiple products under a category when the pandemic hit," says Arun Santhosh, search specialist at Namshi. "The willingness to test a new product helped us meet consumer needs and stay connected during an uncertain period."
Moving forward, Namshi's marketing team plans to create a separate campaign for Showcase Shopping ads with more granular audience profiling across more categories. In addition, the ads will be used as an 'always on' format, rather than during peak seasonal moments, to meet ongoing consumer demand throughout the year. This also allows them to use the ad format as a source of data to identify trending products. In tune with evolving consumer needs, Namshi plans to scale Showcase Shopping ads once the format is available in all MENA markets.
Key takeaways
By appealing to users at the early stages of their shopping journey, consumer needs are met at the consideration stage through a display of all product collections. Generic terms make up a large percentage of search queries, so a brand's presence at the early stages of shopping research will be rewarding. This drives quality sessions.
Take inspiration from Google Trends search insights that show consumers are adapting to a 'new normal' with a growing interest in online retail. Taking cues from consumers and meeting their needs before they have fully defined them is a great way to attract new users and retain loyal ones.