Hossam Hassan is Bayer's regional category manager for allergy and pain in the Middle East. He leads short- and long-term strategy and transformation for allergy, pain, cough, cold, sinus, and flu.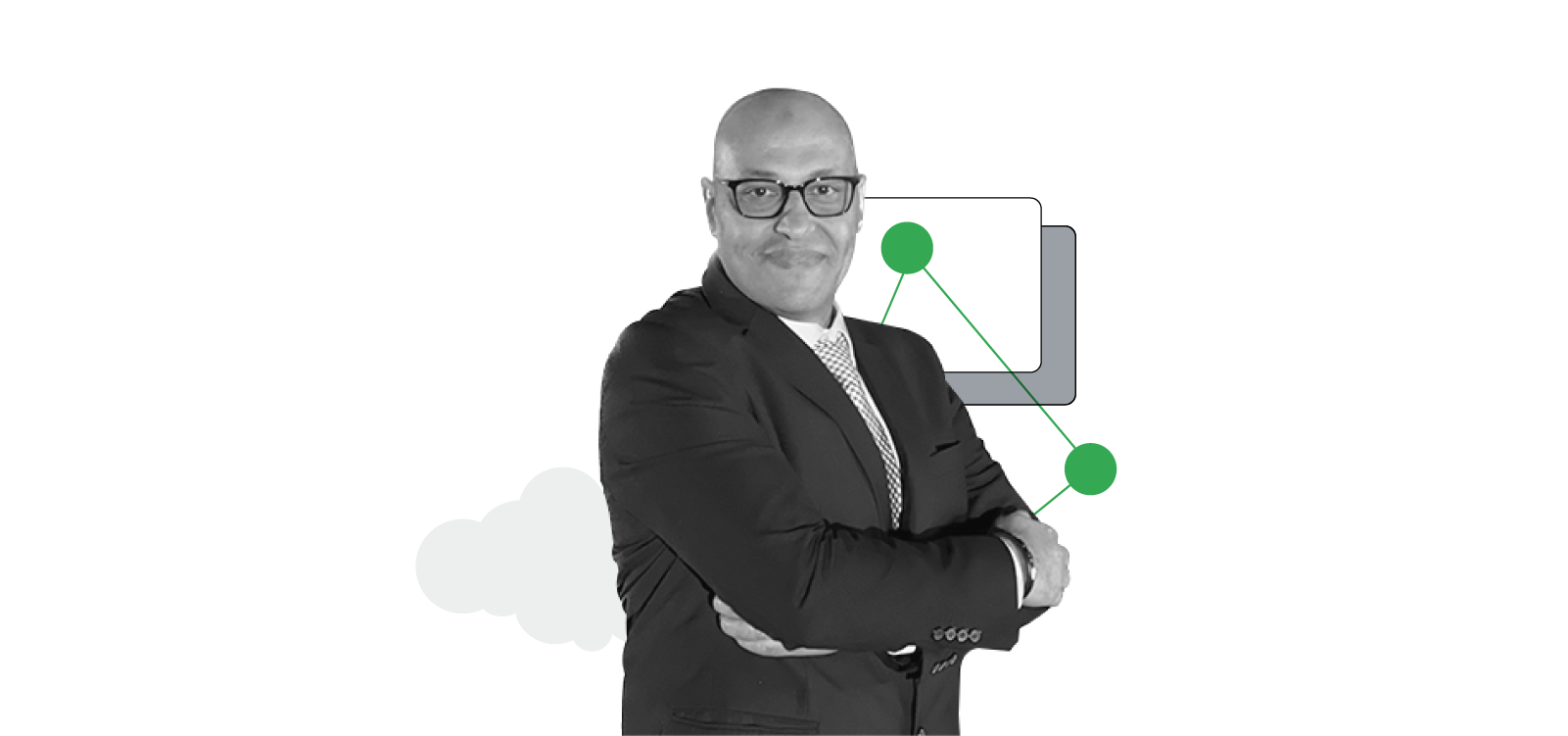 Air pollution is a growing problem around the world that can have a significant impact on people's health and well-being.
According to the World Health Organisation, the most health-harmful pollutants are fine particulate matter, tiny particles in the air that reduce visibility and can penetrate deep into lung passageways.
In Cairo, the concentration of fine particulate matter can be about 12X higher than the limit the World Health Organisation recommends. And as many as two million Egyptians seek medical treatment for respiratory problems related to poor air quality every year.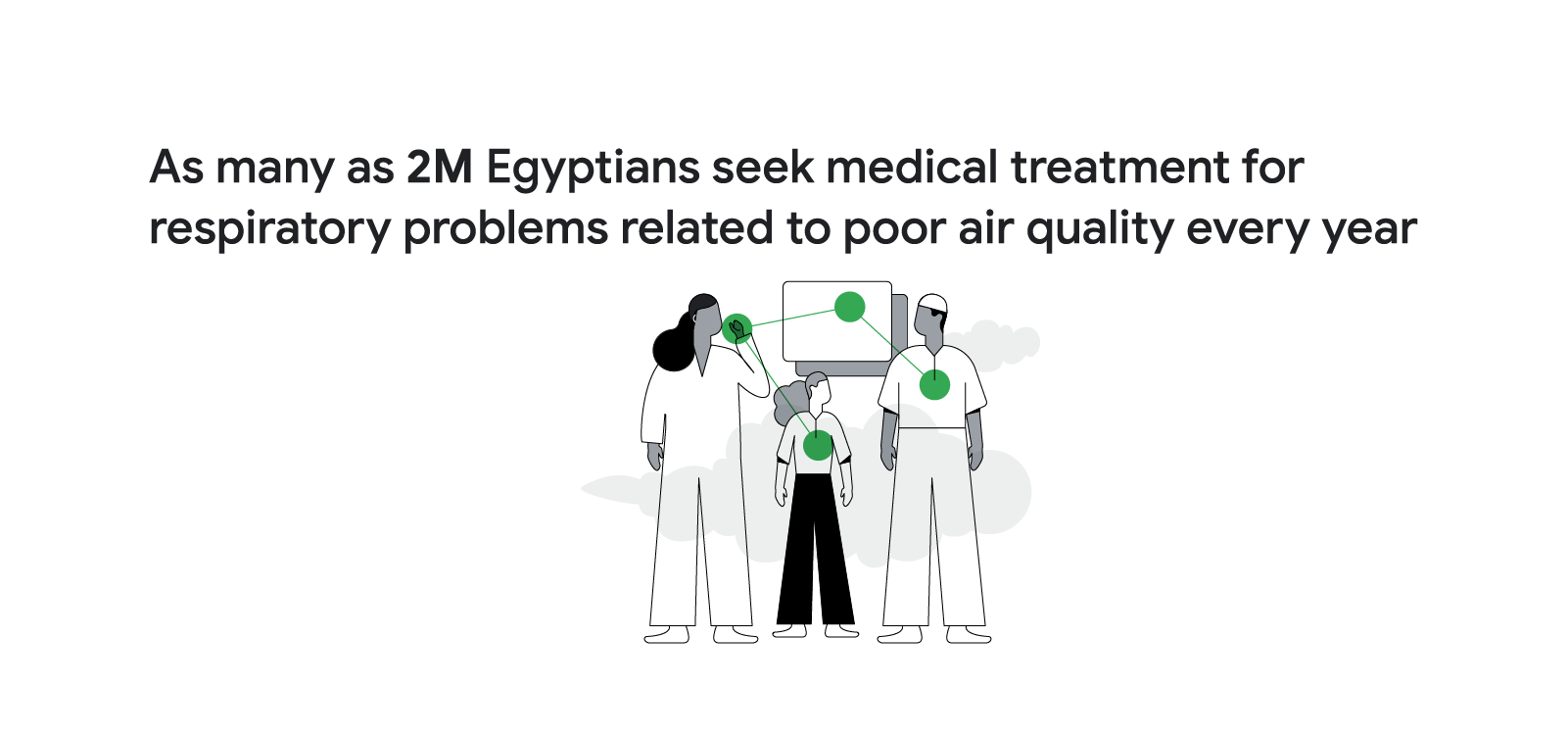 For our latest campaign for Claritine — an over-the-counter medicine used to relieve allergy symptoms — we wanted to make Egyptians aware of air pollution levels in their area, while also informing them that Claritine could help manage related allergies.
This approach was based on our strong belief in the power of precision marketing, which means to pair data and relationship-building to reach our ideal customers.
Precision marketing in practice: How we used pollution data to personalise display ads
Based on our own research, we already knew that the three regions we wanted to reach — Cairo, Giza, and Alexandria — tend to have high pollution levels.
We worked with media agency EssenceMediacom, as well as media performance specialists GroupM Nexus, to design a set of dynamic display ads specifically for those three locations. Each ad creative featured background visuals of that particular region, with a pollution index showing predicted levels of pollution there based on historical data.
We sourced historical pollution data by activating the OpenWeatherMap application programming interface (API) in our campaign . This open-source, machine-learning-based numerical weather model programmatically fetches weather information and adjusts bids accordingly in a matter of minutes.
To increase accuracy, the data and technology team at GroupM Nexus helped us integrate historical pollution data from Ambee — a climate and environment data intelligence provider we regularly work with on campaigns — into OpenWeatherMap.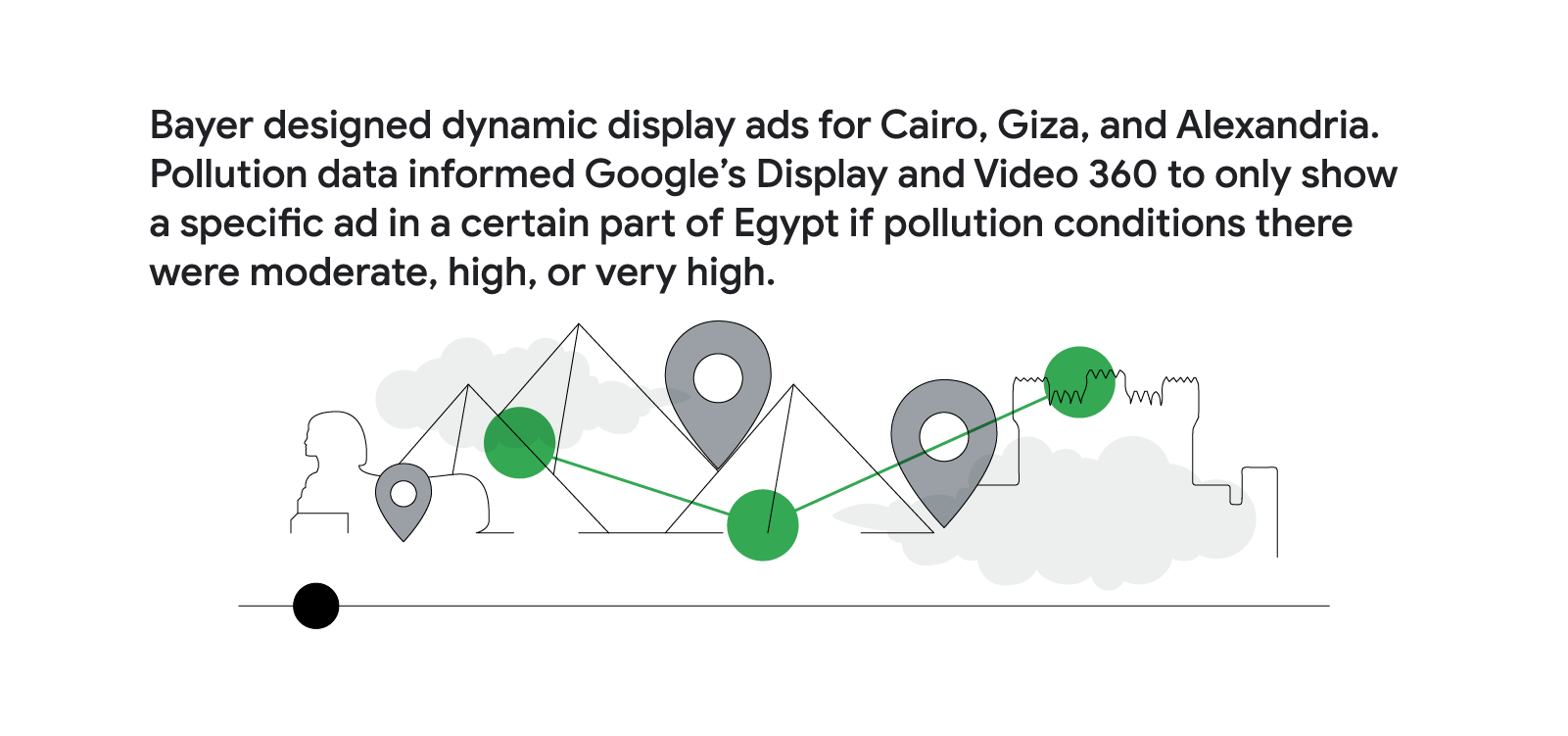 The combined data informed Display and Video 360 (DV360) — Google's programmatic solution for running media on display and video — to only show a particular display ad in a certain part of Egypt if pollution conditions there were moderate, high, or very high. Each ad creative was then personalised accordingly.
For example, if a person was in Alexandria and the predicted pollution level there was high, they'd see a display ad with background photos of Alexandria and the relevant pollution index level.
If, on the other hand, pollution conditions were below those levels, our ads were automatically switched off.
Take a look at this display ad that ran in Cairo, for instance:
This approach helped us ensure that only Egyptians who might be experiencing pollution-related allergies — and who would therefore likely benefit from using Claritine — would see our ads.
While visuals and pollution information automatically changed from region to region based on location and pollution data, the Arabic messaging and call to action remained the same across ads.
The copy reminded people how pollution can impact the severity of their allergies, with Claritine able to ease symptoms and provide comfort. And the call to action encouraged people to click for Claritine delivery.
Sales results that are nothing to sneeze at
Our two-month long campaign performed exceptionally well, helping us drive an impressive 59% increase in sales in Egypt.
The campaign click-through rate was more than double that of our standard campaigns. We also saw a 13% uplift of ad viewability — how likely it was that a person actually saw an ad — compared to standard display campaigns.
On top of that, month-on-month search interest for "كلاريتين" ("Claritine" in Arabic) grew 40% in Egypt during the campaign. And year-on-year increase for the same search term rose by 15%.
Learnings to share: Data is key
Ambee does not currently have live weather data available for Egypt as the country is not yet a key market for them. This means we had to base our campaign on historical data and forecasts. While the historical data — which spanned five years — was effective, it did result in back and forth between various stakeholders to make sure the information we were sharing was correct. This added to the time it took to get our campaign off the ground.
If you're looking to do a weather-based campaign for your own brand, opt for real-time data from an established weather API service or other data provider, if it's available.
Otherwise collaborate with an organisation that can provide historical weather data, such as OpenWeatherMap or Ambee, and be prepared to work with your team to quality check the output. Going into this level of detail will help ensure you're showcasing ads that are more relevant to people at a time that's most helpful to them.
We'll be activating another Egyptian campaign in September and are hoping that Ambee will have real-time data by then. We're excited to see if there will be any major differences in the campaign's success using real-time data versus historical data.