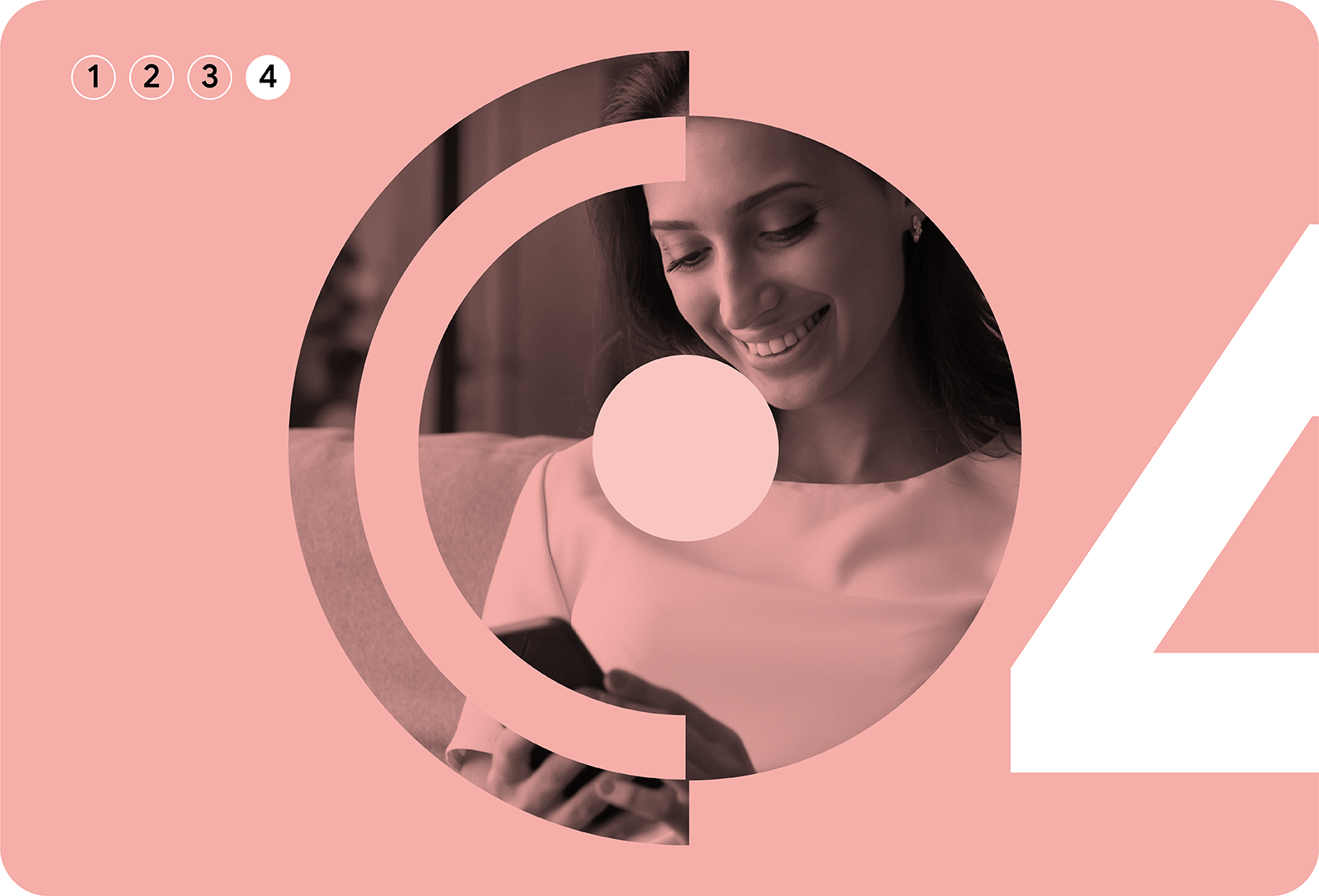 49%. That's how many consumers say they will likely become a repeat buyer after a personalised shopping experience with a retailer.1
The best way for any brand — retailer or otherwise — to nail down a personalised experience is by creating advertising that's relevant and useful to consumers. And then showing it to them at the perfect time.
This is where Google Ads' audiences come in.
The majority of marketers know to take keywords into account for their campaigns, which helps to show ads based on what people are searching for. But many underestimate the importance of audience targeting, which shows people ads based on who they are and what they're interested in.
There are a variety of audiences available in Google Ads. The ones you choose should be based on the consumers you want to reach, and when you want to reach them.
In this guide we'll focus on three key audience 'buckets' that all digital marketers can benefit from:
Google audience segments
Your data segments
Custom audiences
1. Google audience segments
Google audience segments are quick and easy to incorporate into your next campaign and will help you share your personalised creatives with the right people. Marketers have access to these pre-defined audience categories in Audience manager in Google Ads.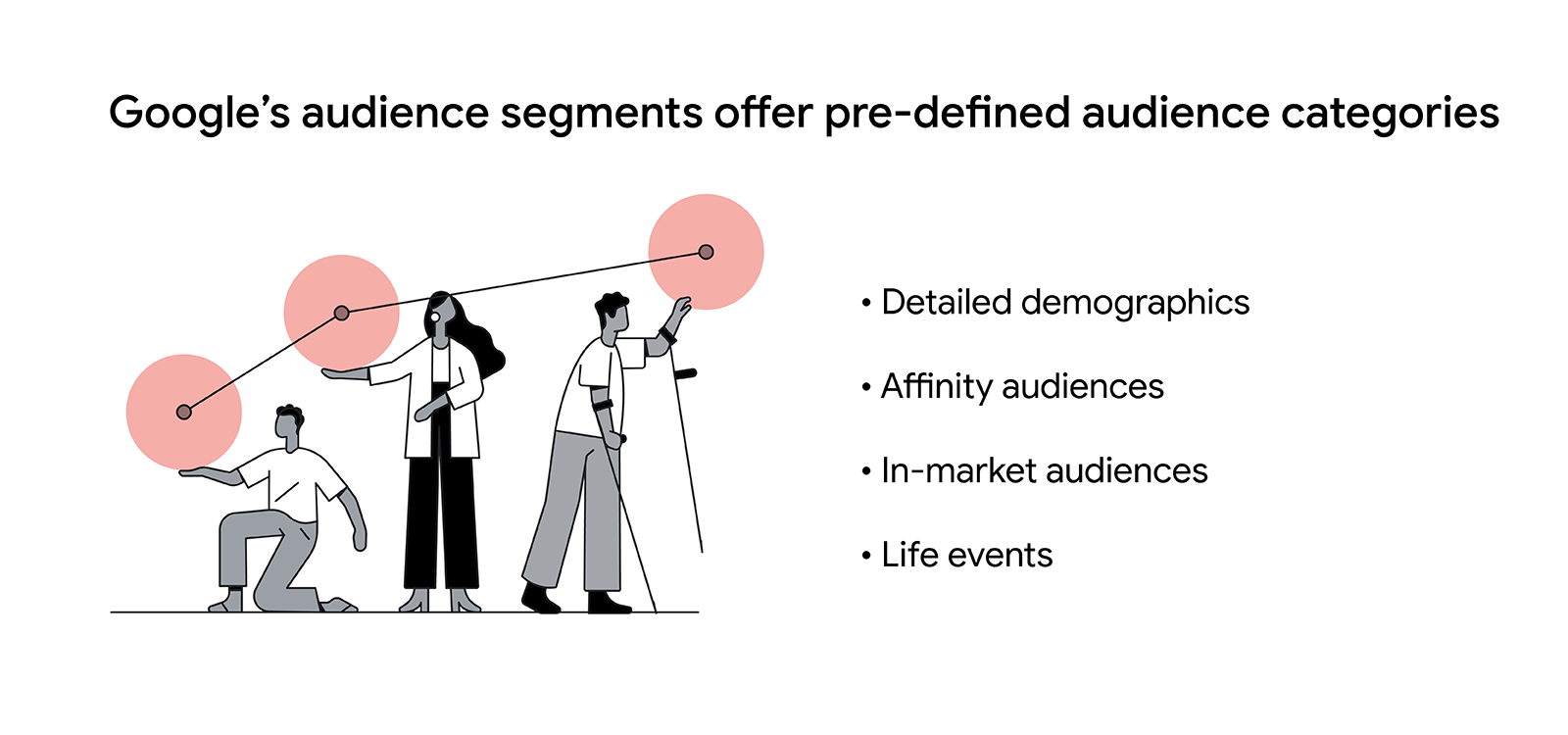 Detailed demographics

Detailed demographics is an audience type that moves beyond basic consumer insights like gender, age, or parental status. Instead, it allows you to understand who your customers are based on their life and career stages. For example, it could indicate whether someone is married, or if they rent or own a home.
This audience type is a good way to narrow down your reach. This might sound counter-intuitive, but preventing customers from outside your chosen demographics from seeing your ads can help you reach only your ideal consumer. This also means your budget isn't spent on people who are likely not interested in your products. For example, if you run a clothing brand for kids, detailed demographics can help you ensure that only parents see your ads.
Affinity audiences
These broader audiences help you reach people based on their passions, interests, and hobbies. Examples of affinity audiences might be "sports fans" or "luxury travellers".
Because people's broader interests generally remain the same for long periods of time, affinity audiences are beneficial for building brand awareness and driving consideration. For example, if you're a food brand marketing organic baby food, you could use affinity audiences to get your ad in front of "new parents" who are also "passionate about the environment".
In-market audiences
Using in-market audiences, your brand can reach people on third-party websites — meaning websites related to a product or service like yours — apps, and Google platforms based on their activity there.
It allows you to reach consumers actively researching products or services and considering buying something like what your company offers.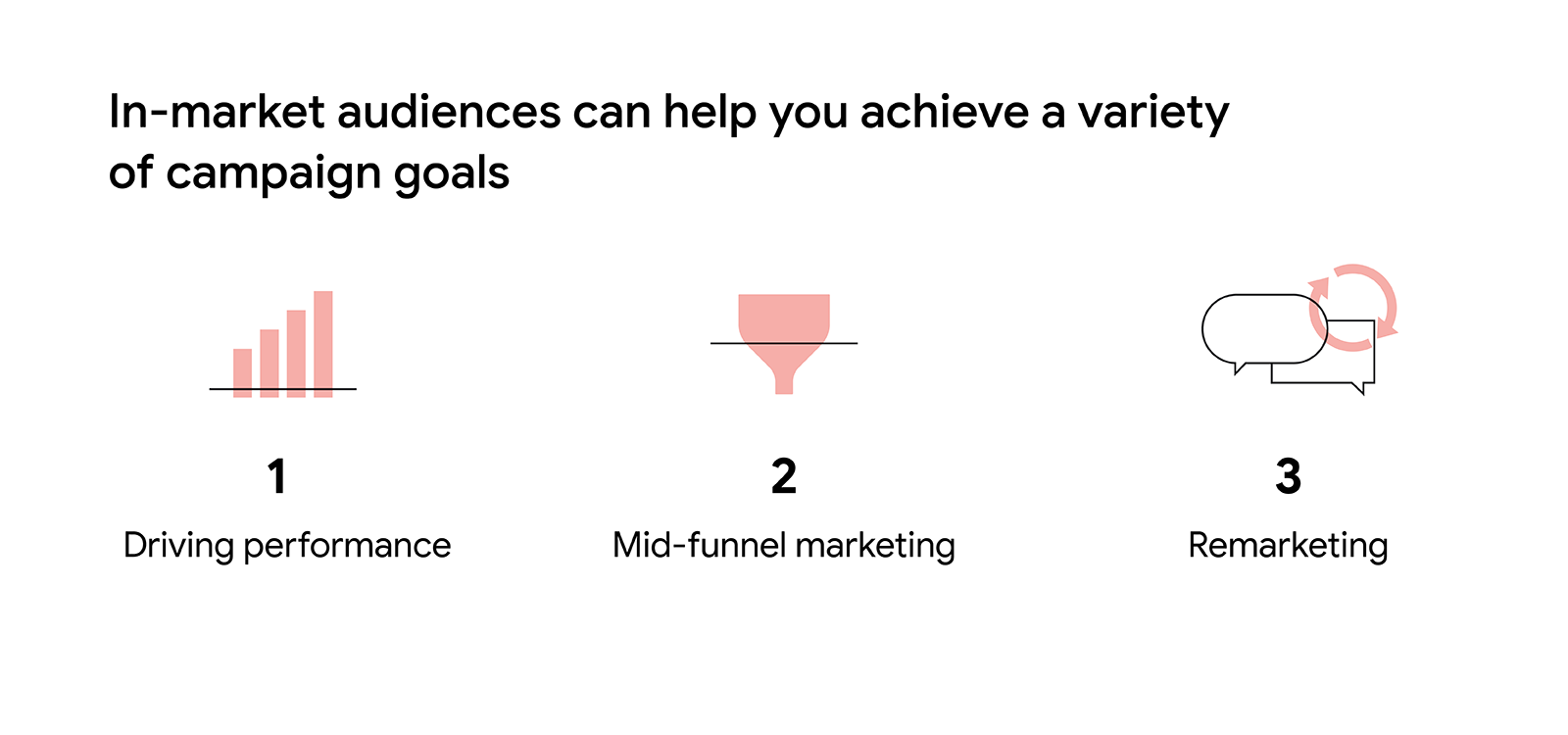 People generally move in and out of in-market audience categories based on changing needs and shopping behaviours. This makes in-market audiences good for brand awareness and driving consideration among people who are almost ready to buy.
In-market audiences can help you achieve a variety of campaign goals, including:
Driving performance
Reach potential customers looking to buy in the near future using action-driven messaging that encourages a purchase. You might even be able to get them to buy sooner by communicating the right offer effectively.
Mid-funnel marketing
Get a brand-savvy message in front of people more likely to buy your product or service, but who might not be aware of your company.
Remarketing
Remarketing ads are great for reengaging consumers who have already visited your site or app. For example, enticing them to come back if they haven't visited for a while. And remarketing ads can also reach potential new consumers that display similar interests and needs to your existing customers. Remarketing to existing customers and new ones with similar interests can help you increase total conversions.
Life events
The life events audience does what it says on the box: it reaches people currently going through — or about to go through — a big life change. Think getting married, having a baby, moving, graduating, or even bringing a new pet home. To capture this audience's attention, your ad creative should acknowledge and tap into that consumer's life experience.
2. Your data segments
Your data segments include collections of website visitors or app users gathered with snippets of code added to your site or app. Your data segments can help you understand who your customers are, and what actions they did, or didn't, take when they engaged in the past. Having this information at hand will help you more effectively reach them with personalised messaging in the future.
For example, if you know that someone visited your homepage a few weeks ago during a sale, you could encourage them to come back with an ad alerting them to new deals. Or, if you see that a person abandoned their cart on your app, you could prompt them to "buy now" by offering them free shipping.
You can also use your data segments with Google Ads' Customer Match. This marketing tool uses online and offline data to remarket to consumers who have already visited your site or app. And it also shows ads to people with similar interests and needs as your existing customers.
Let's say you created a remarketing list of people who bought hiking boots from your sporting goods site in the past. Customer Match can identify that people on this list tend to search for "hiking training" and "buy lightweight hiking shoes" before coming to your site to buy something. Based on this information, the tool can share your ads with those existing customers. Additionally, it can find other people showing similar search behaviours and show them your ads too.
3. Custom segments
Custom segments use AI technology to automatically help you reach the audiences that best fit the needs of your campaign. They do this by using relevant keywords that people search with, as well as website URLs and apps they visit often.
For example, rather than reaching only the broader "sports fans" affinity audience — based on people's general passions, interests, and hobbies — a Dubai-based athletic wear company may want to specifically reach cyclists in their city. The company can use custom segments to define this audience by:
Entering relevant keywords showing search interests like "one-day cycle race in dubai", "cyclist in dubai", or "cycling tracks near me".
Using website URLs showcasing cycling-related content, think cycling equipment, sports nutrition information, training schedules, and more.
Adding apps in the health and fitness category that an avid cyclist may be interested in.
Personalisation helps you deliver more relevant ads
Personalisation can help your brand reach the right people, at the right time, across different touchpoints.
At its most simple it involves using first-party data to understand your consumers' broader locations, interests, and brand interactions to create more relevant ads based on that information.
But it could also mean diving deeper into the details. On the one hand, that might be understanding what your consumers are specifically searching for and then delivering ads that answer their needs. On the other hand, it could be using your rich pool of data to understand what your consumers aren't communicating and using that information to deliver a personalised message that's even more meaningful.
Explore the guide