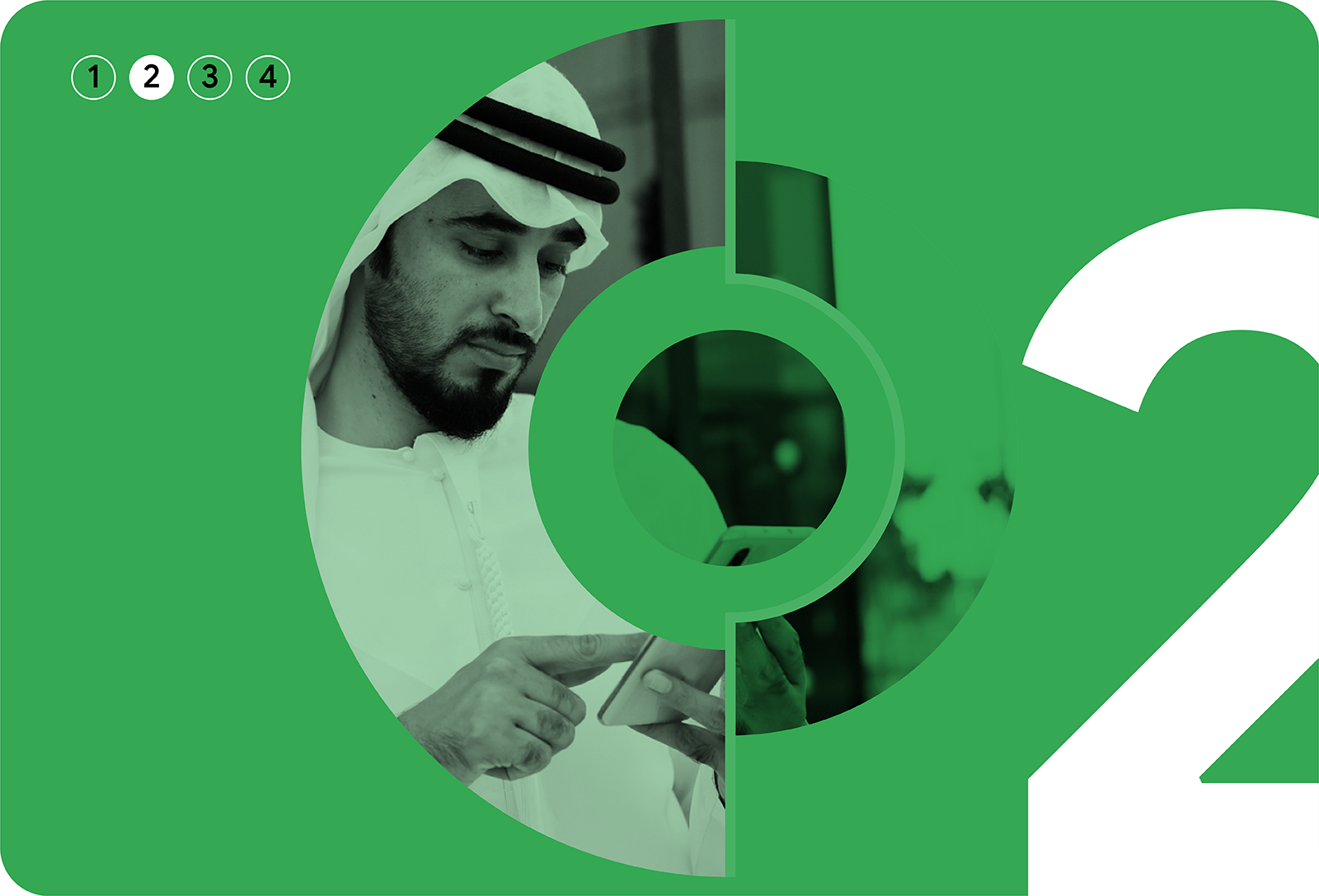 Amidst inflation and the rising cost of living around the world, 52% of people expect companies to offer an even better experience to stand out.1
This makes knowing your customer more important than ever, so you can give them the content, products, and services they want — and expect.
But consumers can sense rushed and insincere personalised marketing and experiences from a mile away. For personalisation to be successful, it needs to be considered, genuine, and make people's lives easier.
You can get all three right by clearly defining audience personas.
Building personas on a foundation of data
Personas are defined audience profiles built using real data. They represent groups of similar people in your audience, helping you understand your customers and what their motivations, aspirations, and needs are.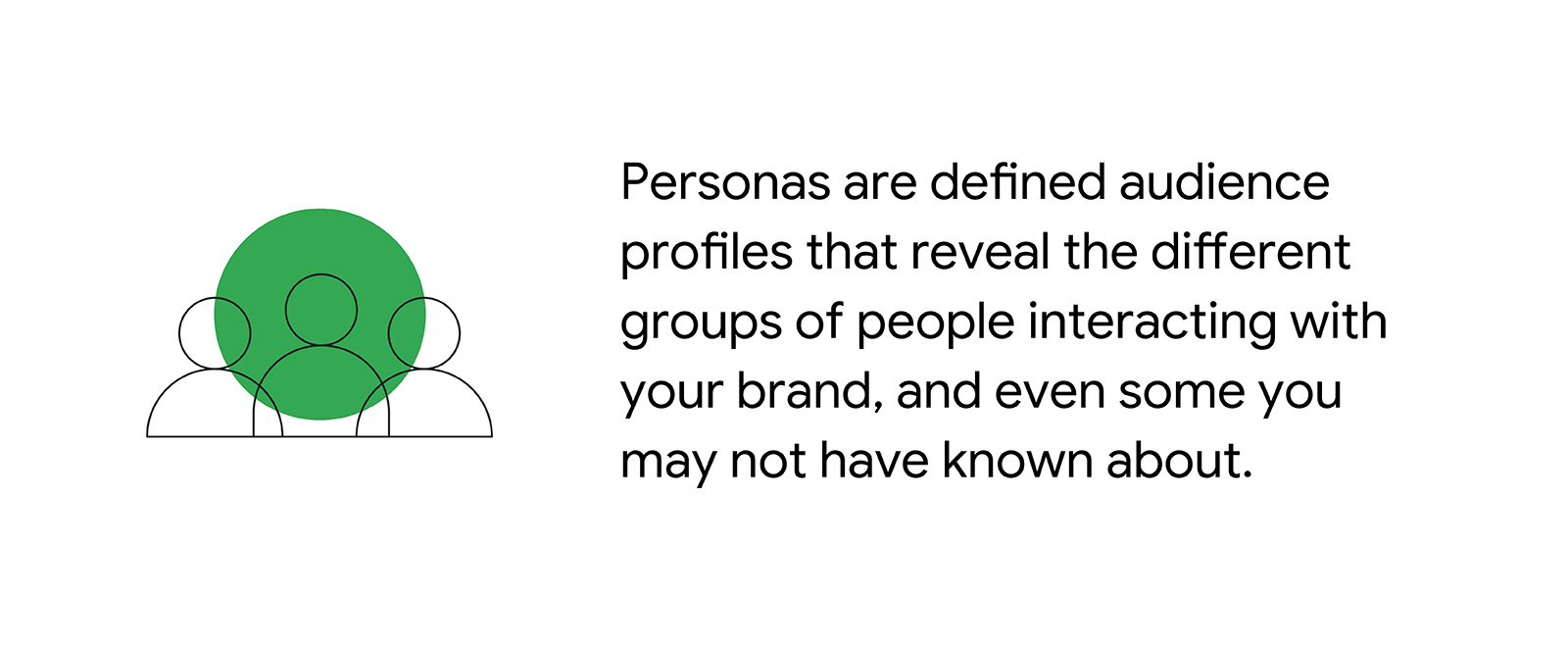 How first-party data can help define personas
First-party data is information that your customers willingly give you because they trust your brand and see a clear value exchange. It contains signals, or pieces of information, that provide context about a person and their circumstances.
Signals could, for example, be searches people have made or information about how the weather affects their location — and therefore them.
There are three types of signals you can use to help you define personas: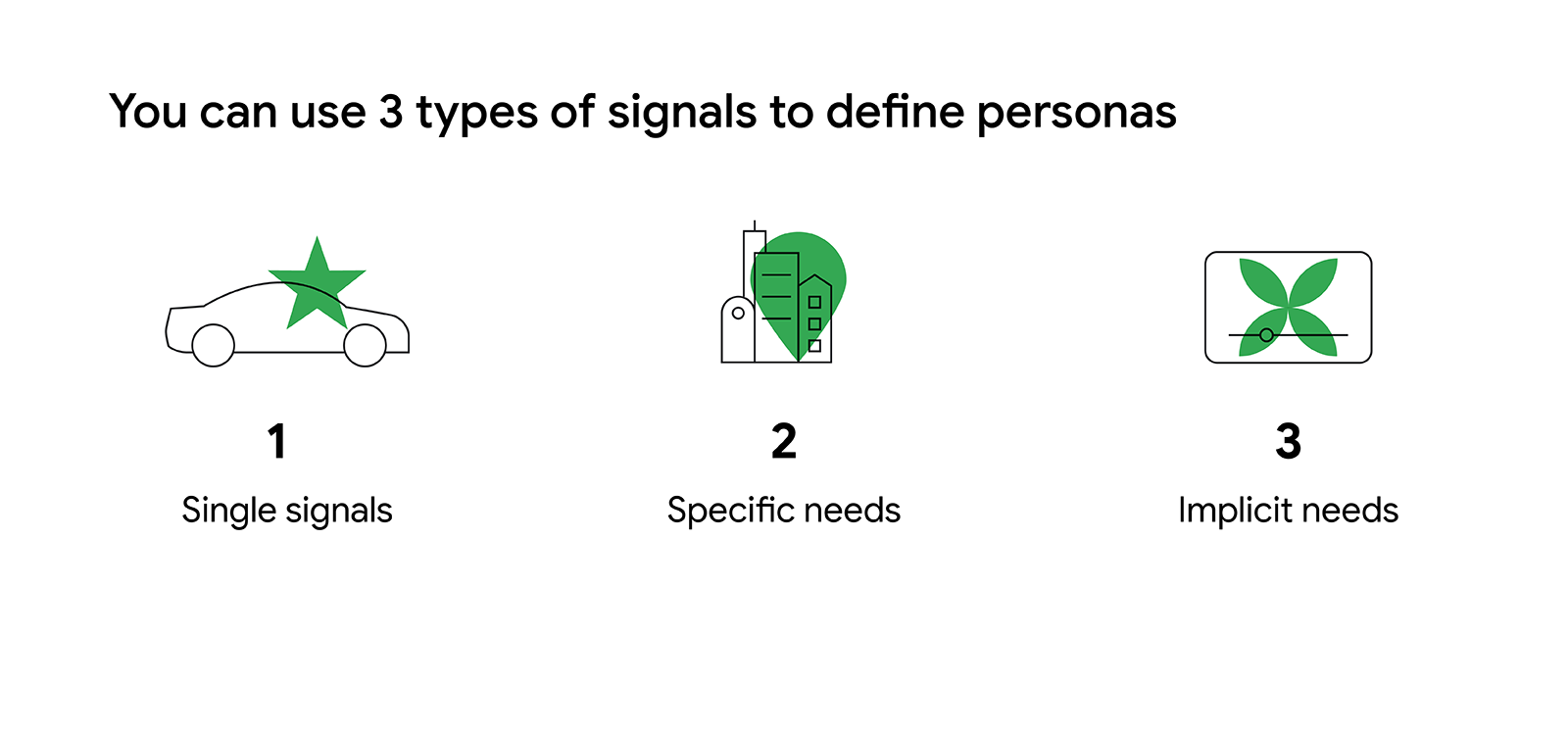 1. Single signals
Single signals include broader data inputs about someone's characteristics, behaviours, and demographic. Take affinity audiences, for example. This is information about people who show a broader affinity, or liking, for your product or service through their online behaviour, such as auto enthusiasts or sports fans.
2. Specific needs
Specific needs are less broad and more specific signals. For example, searches that reveal what consumers are looking for at certain moments. This might be when they're booking their next staycation, searching for an apartment to rent, or browsing for the perfect party dress.
3. Implicit needs
People don't always directly communicate what they want. This can make it difficult for advertisers to understand people's implicit needs — those needs that are implied but not directly stated — using data signals alone. Here's an example: if someone reads blogs about veganism, we can assume they'd prefer products that are animal-free, even if they haven't directly said so.
When brands understand consumers' implicit needs, they can deliver a personalised message that's more meaningful.
Mapping personas
Persona mapping is a creative visualisation exercise that your team can do to gather and organise different audience information. Persona mapping looks something like a mind map, with its main purpose being to narrow down what you know about a person.
This information can help you and your team better understand the people interacting with your brand so you can develop more personalised content and experiences for them.
Let's look at a fictional example of a persona map: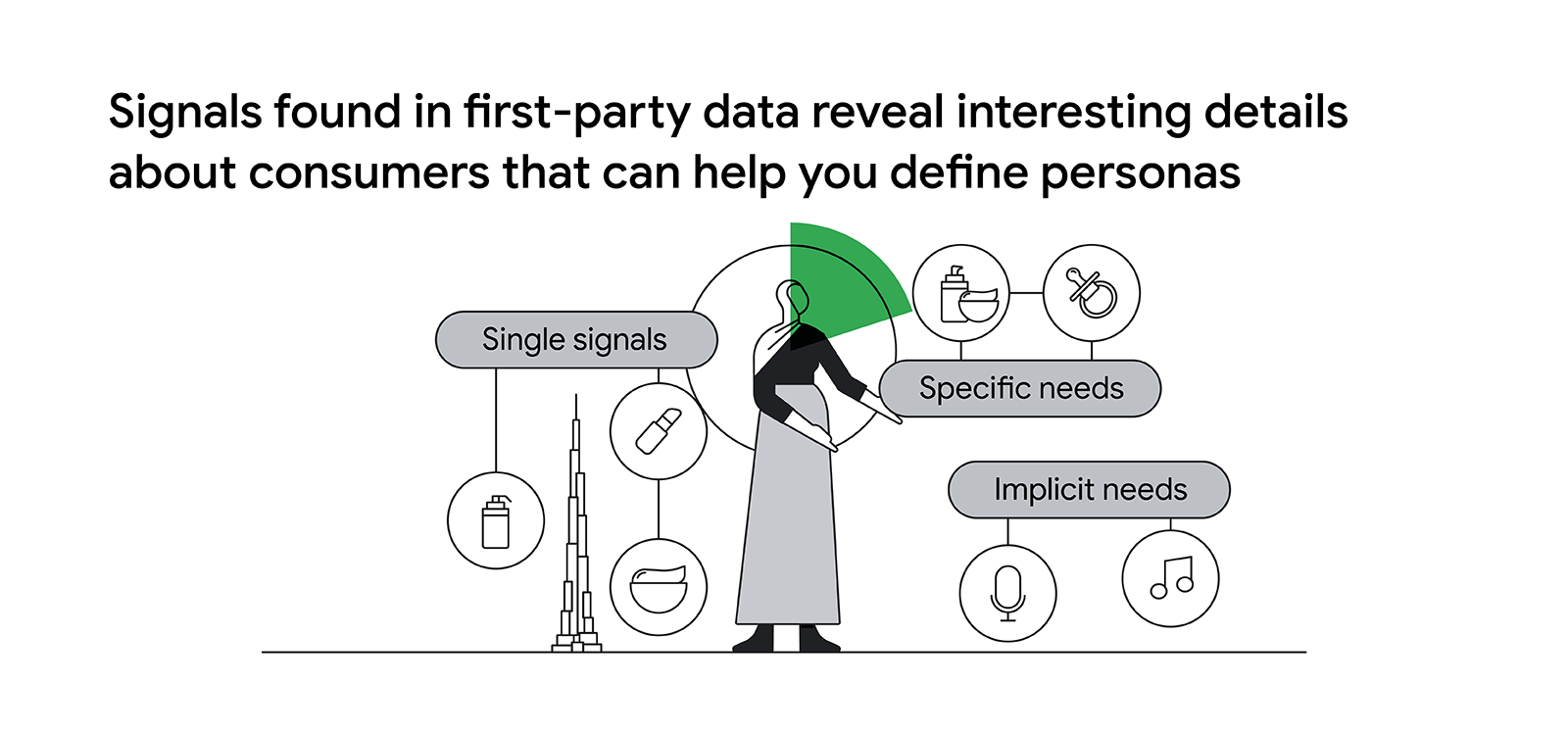 Biscuit Inc. is a fictional consumer packaged goods (CPG) brand that's just completed their first-party data audit.
Their data reveals that Nour is a regular customer who likes to shop both online and in their physical store.
Nour often searches for baby and beauty products on sale, she watches Arabic hip-hop videos, and she reads sustainability blogs.
Interpreting these signals in a deeper way gives Biscuit Inc. even more detailed information about Nour.
Single signals
Based on her location and regular beauty and baby product searches, they know she lives in Dubai, is an existing customer, and a new mom.
Specific needs
Nour regularly searches for beauty and baby products that are on sale. That means she's likely in the market for both and is a value shopper.
Implicit needs
Nour enjoys reading sustainability blogs and watches Arabic hip-hop videos. This tells the brand she probably prefers products that don't harm the environment. And she's also likely to be influenced by the product choices of well-known Arabic hip-hop artists.
Using personas to personalise marketing communications
Marketing teams that are just starting out on their personalisation journey and don't have much data at hand will start by creating less complex personas — and therefore simpler personalisation — than brands with a richer data pool available to them.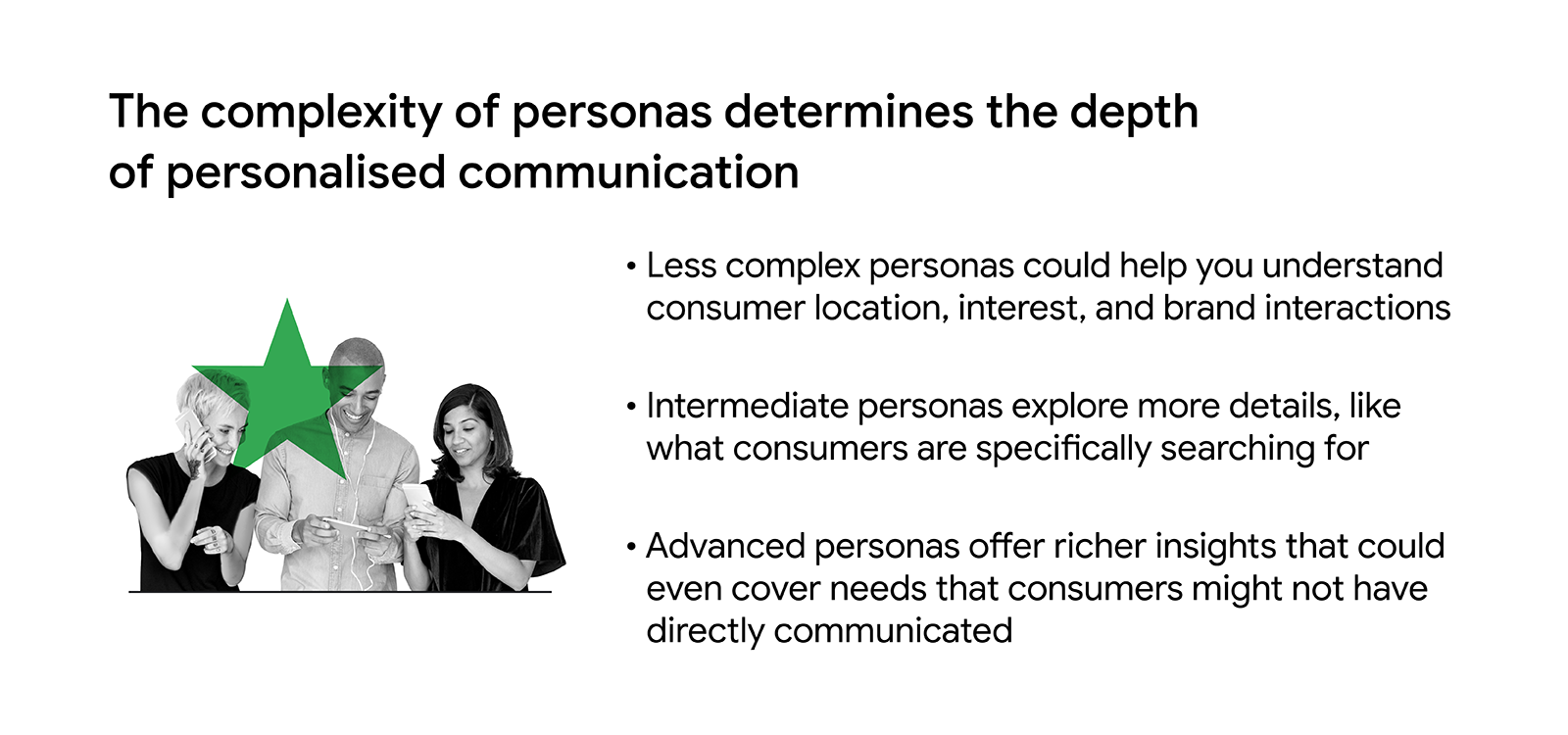 Let's look at some examples of how personas can influence marketing personalisation based on their complexity:
(Re)engage customers with data from less complex personas
If your team is new to personalisation, they'll probably start by using more easily definable data — think single signals and specific needs — to develop personas.
In that context, personas can reveal things such as where your customers are in the world, how they interact with your business, and what their interests and habits are.
This information can help you personalise your messaging to match their interests and activity. For example, enticing them to visit again if they haven't engaged in a while, or promoting a service that's available only in their area.
Encourage action by using personas with intermediate depth
If you have more detailed data at hand, such as the type of products and price points that someone regularly searches for, you can dive right into personalised messaging to encourage your customer to act.
Let's say your defined persona was built using specific needs that show that customers in Dubai are in the market to buy a smartphone during sales season. You might develop a display ad showcasing the smartphones you have on sale, with action-driven messaging encouraging shoppers to "buy now" in that city.
Create meaningful communication with advanced personas
If a rich data pool has helped you develop well-defined personas, you can use them to lean more into consumers' implicit needs. This allows you to create more meaningful personalised communication, tapping into needs people might not have directly communicated.
Imagine that, during your persona-defining exercise, you identified that your consumers in Beirut regularly read blogs about day-to-day money management. You could assume they are looking to reduce their spending, and share more relevant ads around discounts and deals.
Determine the best ad creative format and campaign type
Using first-party data signals to define personas and deliver more relevant communication to your audience is an important step on your personalisation journey. But if your ad creative falls short, all your efforts will have been for nothing.
In chapter three of our personalisation guide, we'll show you how to determine what creative format and campaign type is best for your brand.