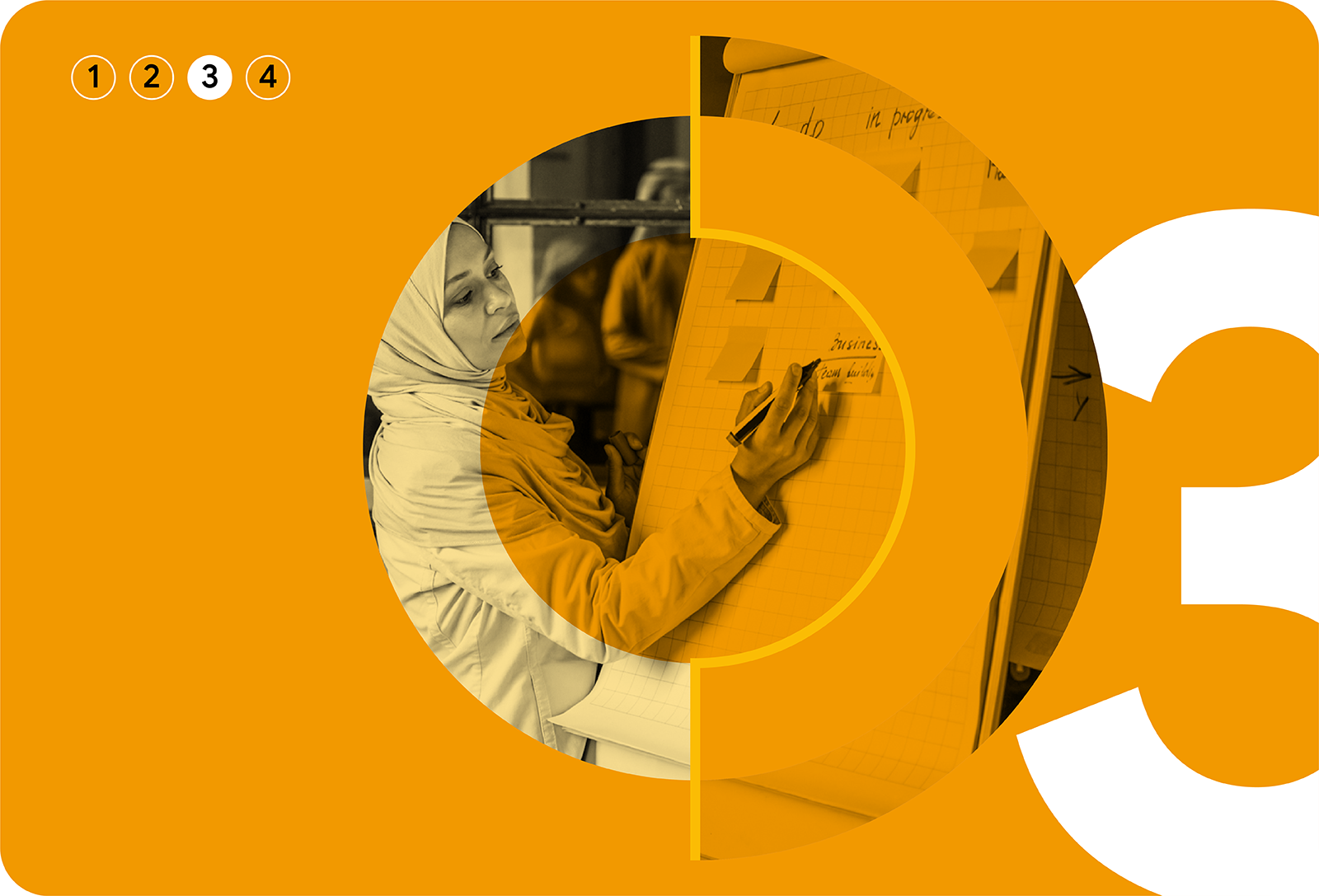 People expect advertising to be relevant and personalised to them. In fact, 65% of consumers say they will stay loyal if a company offers a more personalised experience.1 And people in the Middle East and North Africa are no exception.
While first-party data and audience personas are vital to the creation of an impactful personalisation campaign, they won't mean anything if your advertising creative falls short.
Which is why impactful creatives are a big part of providing personalised marketing. Copy, logo placement, photography, and a call-to-action need to work together to create relevant messaging that captures people's attention — and encourages them to act.
But producing personalised advertising creative can vary from simple to complex. The trick is knowing which suits your brand — and campaign — best.
Choose your marketing creative format based on objective
To get the most out of your creatives, and understand which format to use, you need to align your ads with your marketing objective.
Driving website leads
Responsive Search Ads (RSAs) can be a good fit if your main objective is to drive leads. They allow you to create ads that automatically adapt their content to more closely match potential customers' search terms, therefore showing them more relevant messages.
You can create a Responsive Search Ad by going into Google Ads. Choose the campaign you want to create the ad for and the ad group you want to add it to. Then insert the relevant URLs you want to direct people to and add multiple headlines and descriptions. The most impactful headlines are concise and memorable, with each one saying something different. Include your brand name, product, relevant keywords, benefits, and a call-to-action in your headline and descriptions, and remember to write your copy in a way that's not repetitive.
With all this in place, Google Ads will automatically test out different ad combinations to understand which performs best. You can also improve performance with extensions, such as location, price, callouts, image, and more. They tailor responsive search ad copy to your customers' more specific queries.
Learn more about how Responsive Search Ads work in the video below:
Re-engagement, awareness, and conversion
If you're looking to re-engage people you know have seen your ads before, visual Display ads are great. Images are crucial to the creation of an impactful display ad. Use high-quality visuals in the right size, and avoid collages and digital composite images, which use two or more photos to create one image. Intead, make your product the star of the show. Ensure your ads are easy to understand and keep them from looking repetitive by avoiding logos, text, and buttons overlaid on the top of your visual.
If you want to drive brand awareness and conversion, consider Video campaigns. There are four guiding principles you can follow to create more impactful video ads. These are the ABCDs (Attention, Branding, Connection, Direction). On average, these ABCDs deliver a 30% lift in short-term sales likelihood, and a 17% lift in long-term brand contribution.2
Dynamic creative optimisation can design your ads at scale
Relying on manual design for display and video ads might work for smaller campaigns, but larger campaigns will benefit from dynamic creative optimisation (DCO). This display ad technology creates personalised ads based on data about the person viewing the ad.
Google's Ads Creative Studio is an example of a DCO platform. Simply tell it what elements of an advertising creative — for example sound, image, or superimposed text — you want to set as 'swappable' and the platform will create hundreds or thousands of versions from a single display or video ad. And the ads can be customised for different audiences, locations, languages, or contexts.
For example, if you're a travel website, you might make a rule to change the text overlay on your video creative based on whether your audience is seeking cold-weather destinations or sunny vacations.
Ads Creative Studio offers a common workflow across display and video ads, and shares projects to all Google media platforms, such as Google Ads, Display and Video 360, and Campaign Manager 360. This facilitates collaboration between creative and media teams by making it easier for them to design and customise ads, upload and test them, and store and organise them — all on one platform.
Dynamic creative optimisation success story
With a goal to encourage engagement, telecom company Etisalat UAE collaborated with Google and creative partner Ad-lib to design a DCO campaign. Using AI-powered technology, they developed 3,600 dynamic creatives from six raw photos in just seven days.
Take a look at how their templates were built:
To ensure their ads reached their ideal audience, Etisalat UAE used Google Signals to segment consumers by location and interest. In this case "sports fans".
Based on data around future football matches, advertising creative automatically showcased upcoming sports events days ahead of kick off. Messaging encouraged consumers to consider Etisalat UAE's eLife TV product, which included sports channels they could watch the matches on.
Etisalat UAE's personalised DCO campaign saw a 3.5X increase in lead generation. Click-through rate also rose by 54% in just two months, with a 20% drop in cost per lead.
App installs and engagement
App campaigns can do the heavy lifting if you're trying to encourage pre-registration of your app on Android devices, app installs, and engagement across Google properties.
They use AI-powered technology to collate your text ideas, automatically combining them with images, videos, and other assets from your app store's listing. They then create several ad combinations, optimising them to help users find you.
Learn more about how app campaigns work in the video below.
Run creative on repeat — but not for too long
For your message to really cement itself in people's minds, your advertising creative should be seen multiple times. This repetition boosts recall, trust, and — eventually — preference, but that takes time.
Based on our experience working on campaigns in the past, we've seen that it can take three months to gather momentum around a single campaign, especially for a lesser-known brand taking their product to market for the first time. And that time frame could extend to six months, or even a year, depending on objective and campaign complexity.
More popular brands, or those with simpler products or services tied to a specific time frame, may call for shorter campaigns. For example, a well-known brand advertising a limited-time sale, or concert and event promoters.
To make a measurable impact, digital marketing — like traditional marketing — takes frequency of ad impressions, or the number of times your ad is featured, into account. But too much of the same ad isn't good either. If your creative or message runs too long and too often, people are more likely to stop paying attention to it.
Get your creatives in front of the perfect audience
While designing impactful ad creative that captures and maintains people's interest is crucial to success, getting those ads in front of the right people is just as important.
In chapter 4 of this personalisation guide, we'll talk about how to find your ideal consumers using one of the most underestimated marketing tools: Google audiences.