The International Rescue Committee (IRC) is a non-governmental organisation providing humanitarian aid, relief, and development. Emily Martin, associate director at the IRC, shares the organisation's strategy to increase donations by building a cross-channel, full-funnel approach to digital marketing.
As digital fundraisers for the International Rescue Committee, an organisation that has addressed the plight of refugees for almost 90 years, we have built a proven track record of effectively connecting donor support to families impacted by the world's worst humanitarian crises. With the funds we raise from a pool of global donors, the IRC delivers lasting impact by providing health care, helping children learn, empowering individuals and communities to become self-reliant, and always seeking to address the inequalities facing women and girls.
These efforts can only come to life through sustained growth in donations, even as the number of families in need grows each year. In fact, in 2021, the IRC and our partners reached over 31.5 million people in countries affected by crisis. While the challenge is tall, we remain optimistic and steadfast in our mission.
We spotted a fresh opportunity in 2022 to revisit our digital marketing approach and increase donations. We reimagined our strategy in three key ways, resulting in over 42% growth in new donors compared with our control groups. Here's how we did it.

1. Build a full-funnel strategy to complement lower-funnel efforts
Our donor acquisition efforts have historically focused on lower-funnel objectives. To generate awareness, consideration, and conversions throughout the donor journey, we needed to build a full-funnel strategy.
At first, our team felt hesitant to expand our strategy. For many years, direct-response Search campaigns have successfully supported our goal of finding donors who were ready to contribute. But we knew that growing awareness on digital channels would be important to building the next generation of donors. We wanted to share deeper, heartfelt stories of how a global force of donors could impact families in need in real ways.
Our team learned that brands running both direct-response and brand-video ad campaigns saw brand campaigns driving 28% of conversion assists.1 So we turned to YouTube to unlock rich, new storytelling formats and connect with donors in ways that would complement our Search campaigns.
We used Video reach campaigns to spread our emergency messaging, resulting in over 7 million views, 57 million impressions, and a 90% relative lift in brand search. Our YouTube approach helped create awareness and intent for new potential donors to open their wallets.
2. Scale performance campaigns across channels
The fresh, full-funnel approach detailed above helped us see how multiple campaigns can come together to create a whole greater than the sum of its parts. To scale performance further, we then needed to think about being more present for "ready to donate" consumers wherever they are across channels. Costs and competition were high in our lower-funnel Search campaigns, and we were finding it hard to identify additional conversions at an efficient ROI. To unlock more affordable conversions, we wanted to explore how we could expand our performance campaigns beyond Search by looking at cross-channel opportunities to increase donations sustainably.
After nurturing the top of the funnel with Video reach campaigns, we then added Video action and Performance Max campaigns to enrich the middle to lower funnel. Instead of stand-alone Search campaigns, we successfully scaled performance campaigns across more channels. With Performance Max specifically, we were able to tap into Google's full range of ad channels — YouTube, Display, Search, Discovery, and Gmail — from a single campaign.
This strategy amplified direct response and donations across more consumer touchpoints. Here's a snapshot of how we combined digital ad campaigns to bring the cross-channel strategy to life.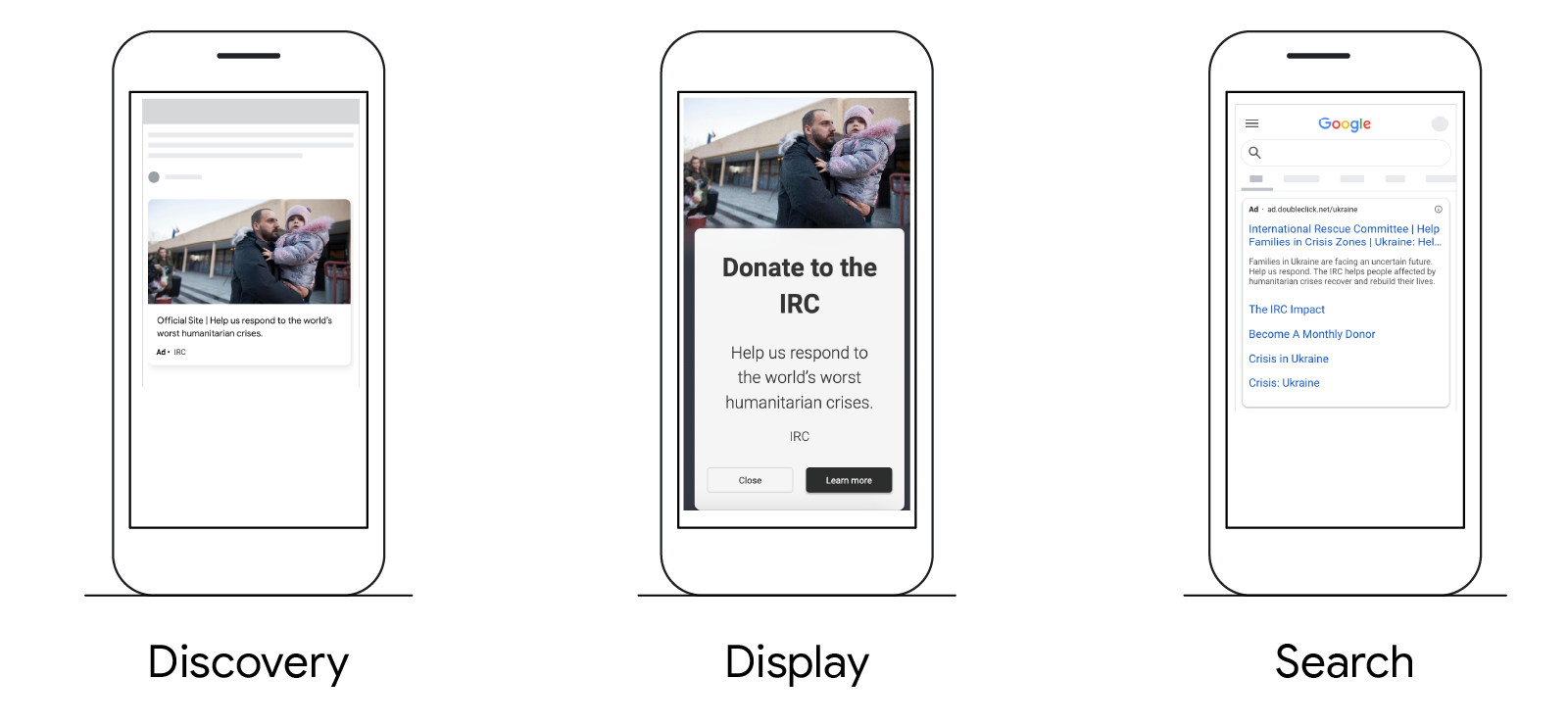 3. Future-proof our measurement
As we tested these new campaign strategies, it became imperative to understand the impact of our investments. That motivated us to take a deeper look at our measurement practices to ensure we were accurately evaluating marketing impact on our donor-acquisition goals.
Thanks to data-driven attribution and advances in machine-learning-driven conversion modelling, our team was able to automatically unlock a fuller picture of our donors' journeys. By selecting a data-driven attribution model, we were able to accurately credit the campaigns, keywords, and ads that had the greatest impact on our conversions. This helped us see interactions between our campaigns and invest more in the valuable ad interactions that led to incremental donations.
These strategies combined to help us diversify our digital strategy to build demand and grow conversions across channels — all while improving our measurement foundation — so we can assess the full impact of our marketing. Our mission is to make our programmes a model for global humanitarian response. Our enhanced, full-funnel approach to Google Ads enabled us to supercharge donations and make that mission a reality.