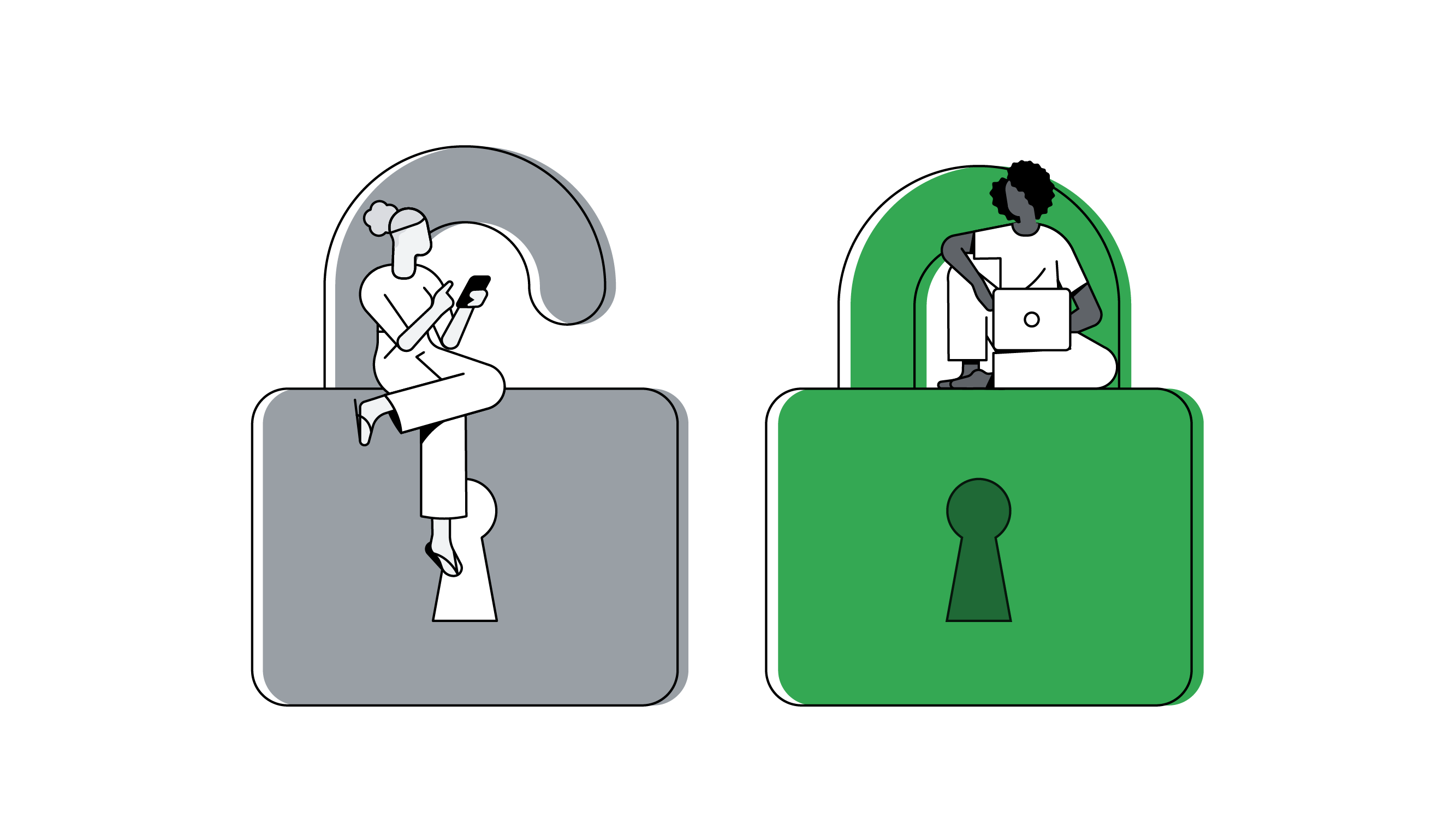 Imagine your personal information was stolen in a corporate data breach. You'd probably feel some combination of anger, frustration, and mistrust.
Now imagine you're browsing a company's website and you feel the site is providing a poor privacy experience. How would you react?
According to new research by Google and Ipsos, people in a similar hypothetical situation feel roughly the same about these two scenarios in at least one crucial respect — they're less likely to trust a brand with their personal data. For businesses, that means the negative impact of providing a poor privacy experience is almost as severe as that of a data breach.1
The study, which involved surveying 20,000 people across Europe, highlights the business and brand implications of not enacting a good privacy strategy.
In fact, 43% of people say they'd switch from their preferred brand to a second-choice brand if the latter provided a good privacy experience.2
Here's how you can upgrade your privacy practices to build trust:
Customers want to 'feel' in control, and that means more than just 'being' in control
Our new research shows that when customers feel in control of their data, they experience significant increases in trust and brand preference.3
Crucially, for customers, feeling in control is about more than just being in control.
Privacy tools that allow people to change their cookie preferences and unsubscribe from email marketing can help keep customers in control of their data. But those tools are not enough on their own to provide customers with the more substantial feeling of control that they need to trust a brand and its data practices.
Brands need to go beyond the basics to provide truly positive privacy experiences. This involves letting people know why their data is being collected, what it will be used for, and how the customer experience will be improved. All these factors combine to create transparency and build trust with your customers.
One research participant from the U.K. explained it in his own words:
"[Being informed] would make me feel more comfortable about my data being shared. I would trust the company for being open."
The privacy practices that help people feel in control of their data
Our 2021 privacy research showed that brands can help people feel in control by making their marketing and digital experiences meaningful, memorable, and manageable. Here's what that means:
Meaningful: Show people what they get in return for sharing their data
Memorable: Remind people what data they shared and when
Manageable: Provide tools for people to manage their privacy
According to our new research, there are particular privacy practices that can go a long way towards providing a positive experience for customers. For example, asking people how they wanted to be reminded of their privacy settings — and how often — led to customers feeling more in control. This practice can reassure customers that their data sharing will be memorable. Offering a privacy digest email also increased feelings of control and helped build trust. This practice can make the privacy experience manageable and memorable.
Here are the privacy practices that made a difference: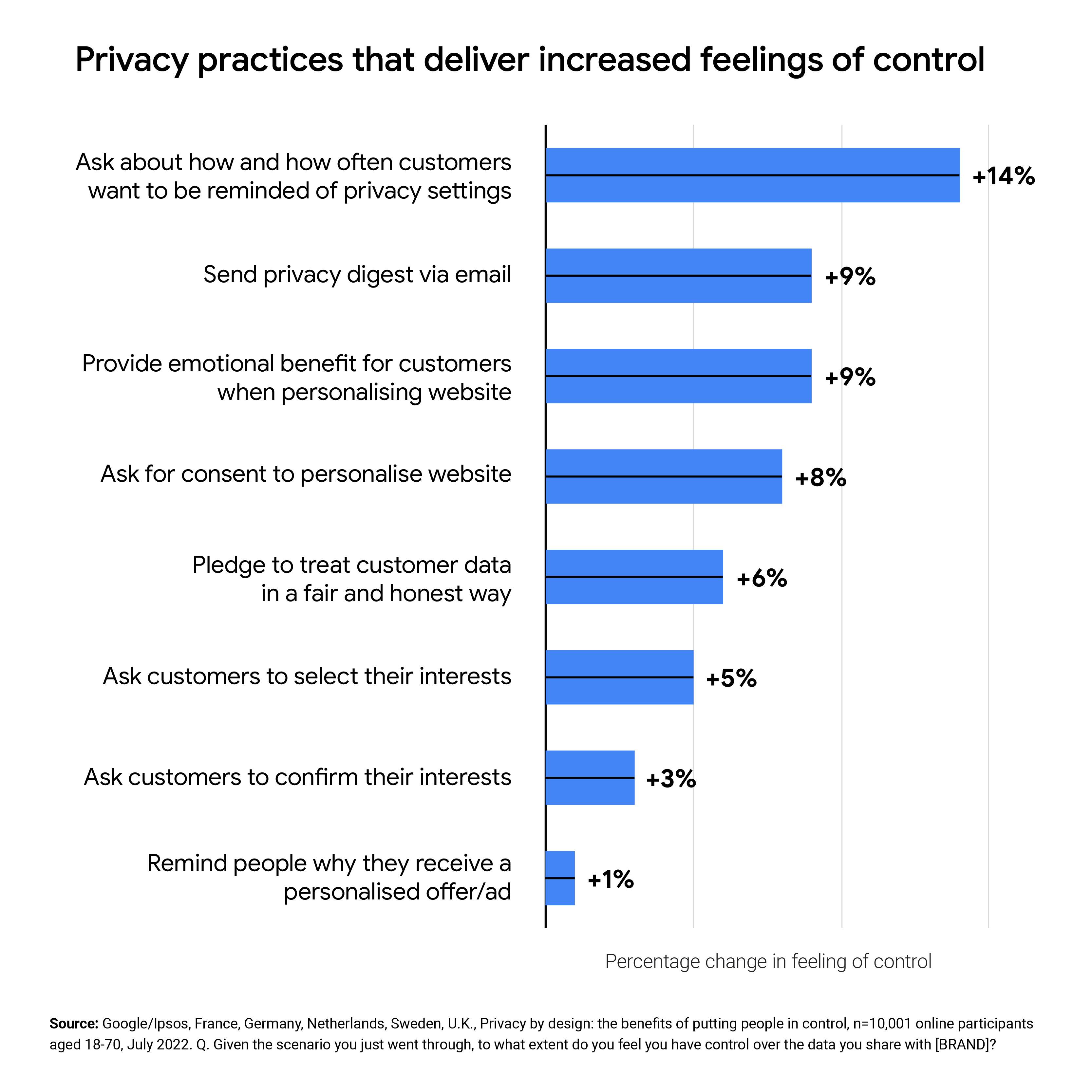 The snowball effect of good privacy
When we tested the impact of two or more privacy practices together, we saw noticeably more impressive results. For instance, let's take three of the best-performing practices:
Asking customers how (and how often) they wanted to be reminded about their preferences
Sending an email privacy digest
Asking for consent to personalise a website
Individually, these practices increased feelings of control by 14%, 9%, and 8%, respectively. But when used together, they produced a combined 37% increase — more than the sum of the three practices deployed separately.4
As well as increasing customers' feelings of control, our study showed this combination of practices also:
increased trust with personal data (+11%)5
increased positive emotional response to ads shown (+27%)6
increased perceived relevance of ads shown (+11%)7
The benefits of getting privacy right
In our research, we started by considering the serious implications of getting privacy wrong. Fortunately, our research has revealed a proven way to get it right.
Adopting privacy practices that are meaningful, memorable, and manageable — particularly in combination — helps brands give people a feeling of control, which, in turn, boosts brand trust and marketing effectiveness. For customers and marketers, that's a win-win scenario.