Lucy Sinclair is the EMEA director of the insights team at Google, where she and her team analyse changes in consumer behaviour.
Many countries across EMEA are in the midst of fresh lockdowns due to another wave of COVID-19 infections. But the new 'Lockdown 2.0' is looking very different to what we experienced back in March.
People are spending more time at home again and limiting social contact, but the context and our collective mindset has changed. We are expecting to see different behaviours and needs emerge sooner this time around.
Consumers are more knowledgeable than they were all those months ago and new routines have been established. Home offices are fully equipped, kitchen cupboards are stocked up, and haircutting skills have improved. People have muscle memory so everyday life quickly adapts.
The acceleration of digital adoption in particular means that people now more easily switch from physical experiences back to digital. This creates an opportunity for many brands and businesses. People are less cognitively taxed by logistics, with digital set-ups such as video conferencing already in place, which means many people find themselves with some extra time on their hands. In this spare time, consumers are craving more connection, more entertainment, more novelty, and more normality.
These unmet demands are manifesting in interesting ways, especially in the retail sector with the surge in online shopping. In the lead up to the holiday season, this is manifesting in a rise in searches for 'Black Friday' and 'advent calendar'. Interest is also up again for 'home delivery', alongside a resurgence in searches for 'cake recipe' and 'recipe with' as people cook and bake up a storm. Queries for 'close to me' are also rising, showing an increase in interest to support local businesses.
While we cannot project the exact searches that will be rising (again) in the coming months, we have created a timeline of search trends from the first wave of lockdowns across EMEA to identify lessons learned so far — and how behaviours are expected to evolve further during 'Lockdown 2.0'.
The 5 key phases of the first lockdown
Using insights from Google Trends, we found five distinct behavioural phases during the first lockdown, inspired by Maslow's hierarchy of needs:
Information needs surrounding health, news, and finance
Basic and safety needs such as food and home office supplies
Independence and belonging needs, including pets, hobbies, and home & garden
Large investment needs as there is a renewed focus on the future
Partial recovery with the resurgence of travel and nightlife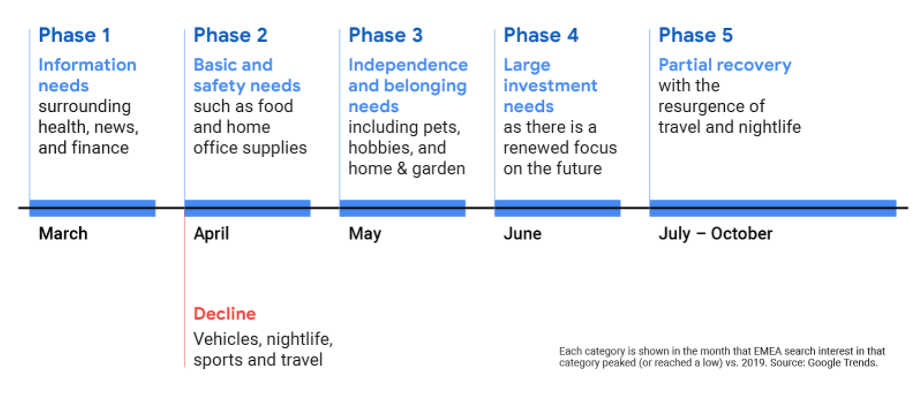 Phase 1: People wanted the latest news and health information
As lockdowns were rolled out across EMEA in March, consumers searched to find information that nowadays they're more familiar with. This included government guidance, health information such as 'what is a' normal temperature, financial updates such as 'dow jones', and the more general 'latest news'. There was a sense of uncertainty about the impact of COVID-19 and the lockdowns in the short and long-term.

What we learned: In times of rapid change, consumers want updates in real-time. Continuously refresh your digital channels with the latest information, such as opening hours and stock levels.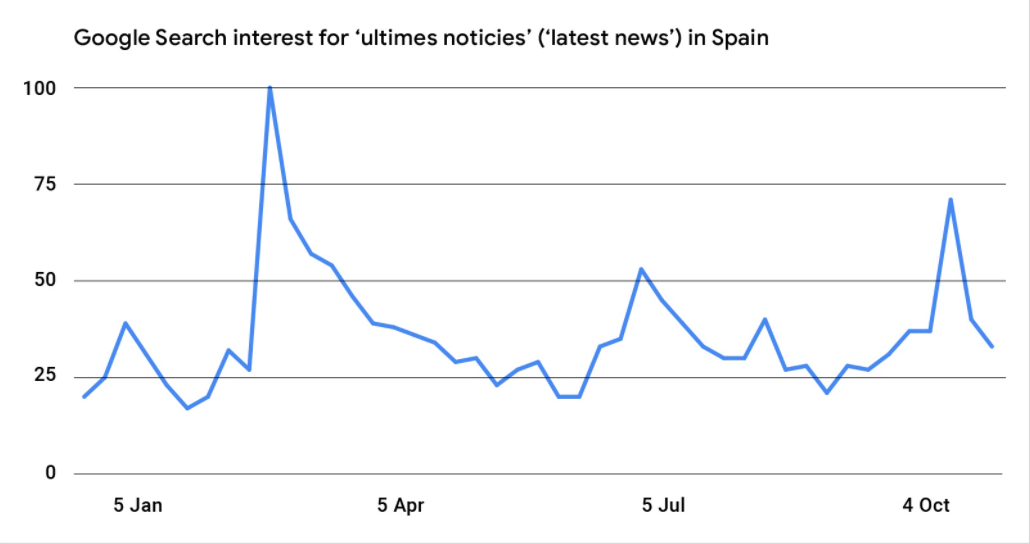 Phase 2: Searches rose for basic needs and financial security
With unprecedented lockdowns in place, consumers were searching for basic needs such as flour, frozen foods, and toilet paper. And when stockpiling led to scarcity, people turned to search to learn how to 'make it yourself' (referring to, amongst others, yoghurt and fries) and ask 'can you freeze' (products such as milk and bananas). More people started to work from home and searched for office equipment, such as 'desktop computer' and 'office chair'. For many, this period was also filled with financial insecurity and searches rose for 'business loans' and 'payment relief'.

What we learned: Consumer needs are constantly evolving. It is important to stay on top of changing needs so you can be helpful at the right time.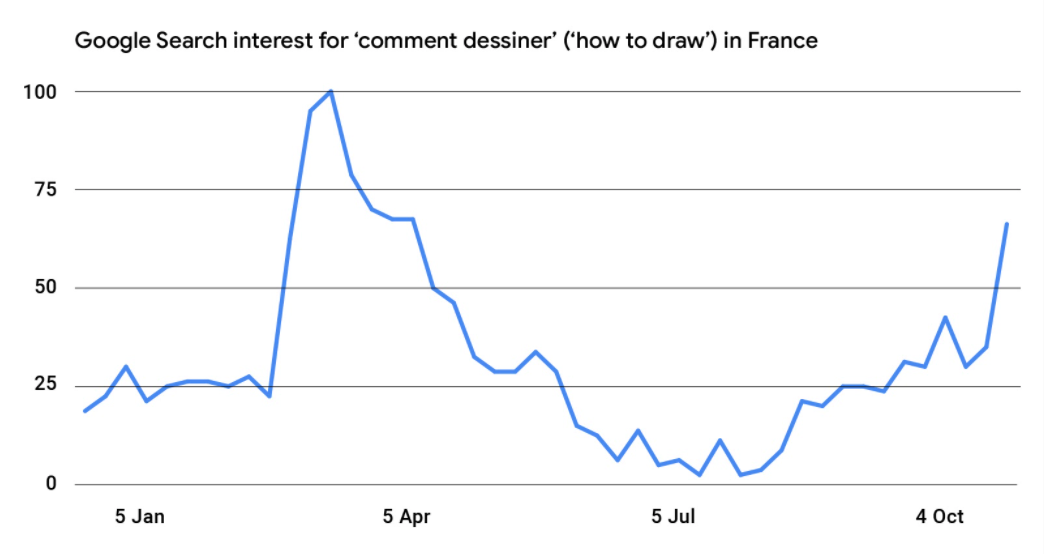 Phase 3: People searched for home comforts and new hobbies
In April and May people were spending more time at home. They looked to improve their home comforts with a rise in searches for home appliances and design inspiration, such as 'bedroom ideas' and 'Smart TV'. Pets were adopted for companionship (dogs were particularly popular in Germany and the U.K.) and new hobbies were explored, with a rise in creative searches such as 'how to draw' and gardening ones like 'how to cultivate'. People took ownership over things they previously outsourced as they searched en-masse for 'cut hair yourself'.

What we learned: Consumers are curious and want to learn new things. Brands can tap into this by sharing their unique expertise, products, and services.
Phase 4: Searches for large investments indicated a renewed focus on the future
June and July saw a renewed focus on the future with search interest moving away from basic needs to large investments. With summertime in full-swing and restrictions easing in some markets, people were tentatively exploring long-term plans again. Both real estate and vehicle categories saw a temporary strong recovery, with interest increasing sharply for searches such as 'apartments for sale', 'houses for sale', and 'second-hand car'.
What we learned: Brands need to be ready to pivot when consumers renew searches for products and services they had previously put on hold. It can happen suddenly and sooner than expected.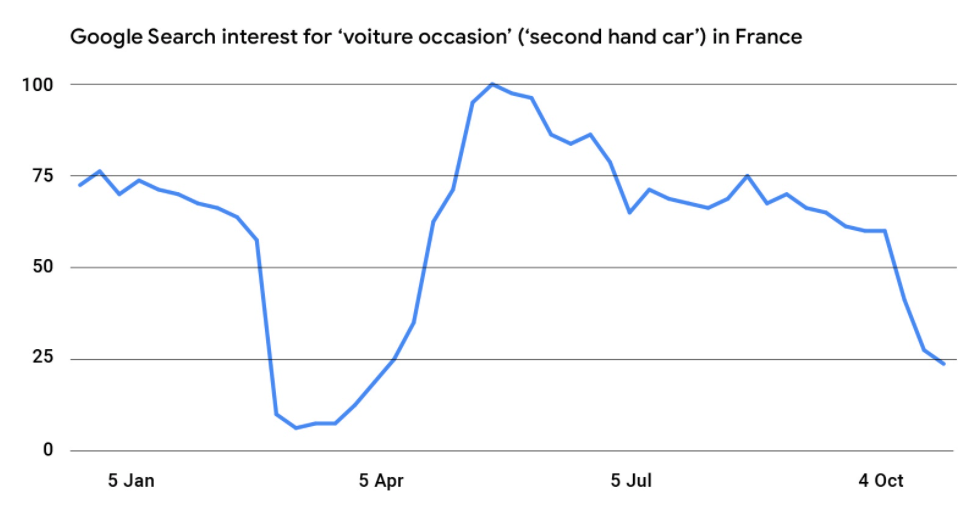 Phase 5: Resurgence of travel and nightlife during partial recovery
From August to October searches for categories such as travel, nightlife, and schools started to rise as restrictions relaxed across EMEA. We saw an increase in searches for 'international flights', 'nearby' restaurants, cafes, and cinemas, and 'back to school shopping'.
What we learned: Nothing is certain. Brands need to be agile to stay ahead of changing consumer needs, whatever they may be.
3 ways retailers can prepare for new consumer expectations during 'Lockdown 2.0'
In addition to the long-term lessons coming out of the first lockdown, we're seeing signals that people expect an improved online retail experience this time around. Customers believe businesses should now be fully prepared and equipped to deal with the shifting preference towards e-commerce.
This change in mindset presents an opportunity for retailers to innovate their digital presence and address these consumer needs. This is particularly critical ahead of the holiday shopping season, the biggest moment on the retail calendar.

We've identified three key areas for retailers to focus on to meet these new consumer expectations:
1. Enhance the online shopping journey
The online purchasing journey has become even more complicated and 'messy' during COVID-19, so it is important to stand out. Use your online store as a showroom to inspire and immerse customers on their online shopping journey, and look at other industries for inspiration to create an engaging, digital experience.
2. Connect with customers through thoughtful gifting opportunities
If people can't physically buy, wrap, or gift presents this holiday season there is the opportunity for retailers to step up their game. Offer services such as personalisation or gift-wrapping, and make consumers' lives easier through gift guides and recommendations.
3. Innovate to pique consumer interest
Over the last eight months people have picked up a slew of new hobbies and interests, and there is an opportunity to provide novel products or services that match; from looking at the new home exercising rage to offering digital arts and crafts classes. Be insights-led and stay on top of changing consumer needs and trends with Google Trends.