Africa has one of the fastest growing app markets in the world. Sub-Saharan Africa's largest markets, Nigeria, Kenya, and South Africa, are in the global top 30 for app downloads,1 and this trend, accelerated by the pandemic, is expected to continue.
A new report by AppsFlyer and Google gives insight into this thriving app market in Sub-Saharan Africa. Having reviewed 2 billion installs across 6,000 apps, the report found that app installs grew by 41% from the start of the pandemic (Q1 2020) to Q1 2021.2 This growth is seen across almost all verticals and categories, especially in gaming (44%), general applications (40%), and fintech apps (116% in South Africa and 60% in Nigeria).3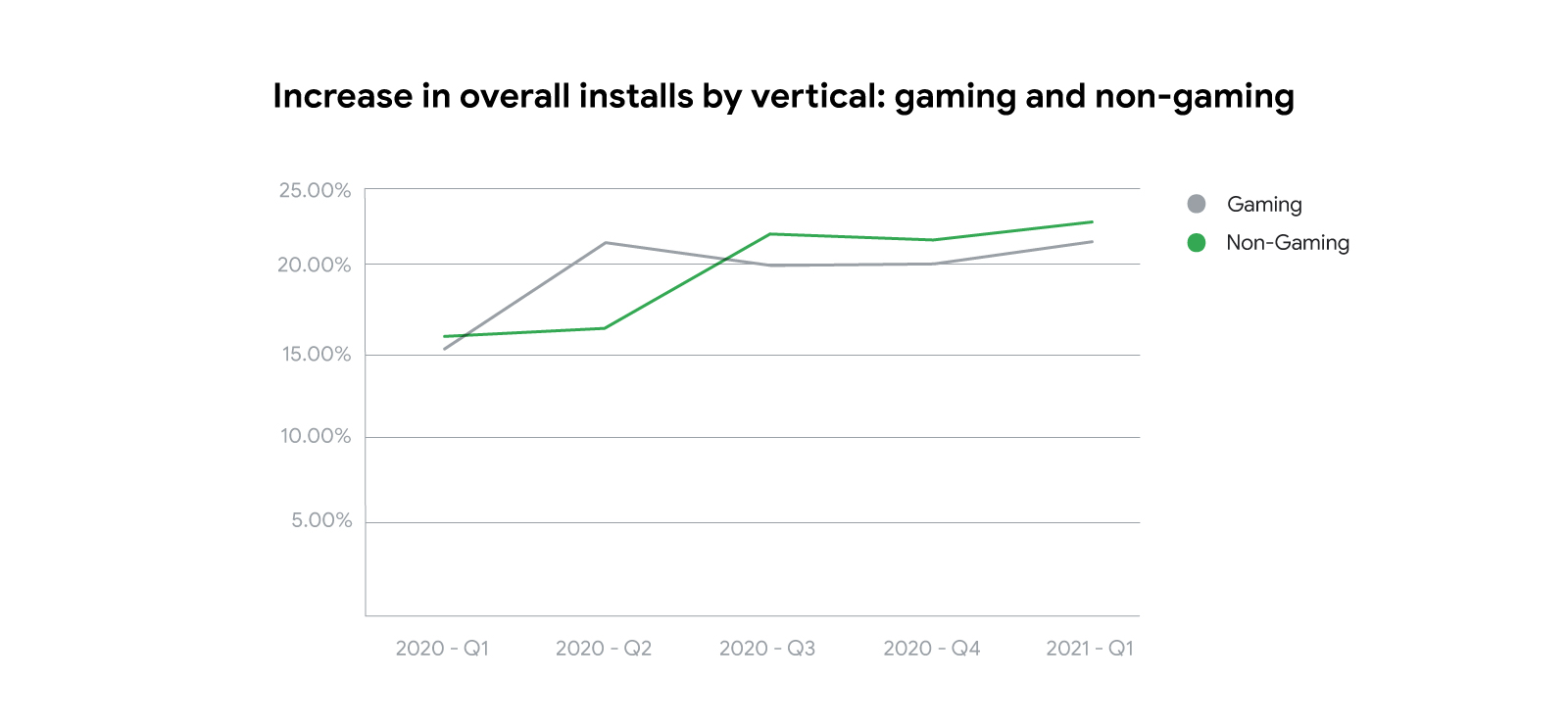 As these categories continue to grow, fintech and super apps — apps with multiple features, marketplaces, or offerings — have shown increased momentum. Fintechs, in particular, have been a shining example of African ingenuity in how they've responded to African challenges in a unique way — paving a path forward that all app marketers can learn from.
African ingenuity: The fusion of fintech and super apps
The fintech space has recently garnered significant attention with a number of new billion-dollar investments and acquisitions, especially in Nigeria. The focus on this vertical in Africa is no accident.
Access to financial services in one of the world's youngest and fastest growing markets is now a necessity. Market-leading micro-financing services inventions like mobile money service M-Pesa is evidence of this. The super app helped pave the way for the rise of fintech apps as super apps almost 15 years ago in Kenya — and this has accelerated in the last few years.
In Africa, fintech super apps have become a gateway to financial inclusion
In a region where most people have phones with low storage that require them to delete one app in order to install another, fintechs have evolved to become super apps to address this pain point. Many fintech apps, such as Vodapay and Nedbank Avo in South Africa, and Opay in Nigeria, are geared at being "everything apps" for the markets they serve.
These apps offer an all-in-one solution for services like shopping, transportation, delivery, and of course financial services. Considering that 57% of Africans don't have a traditional bank account, apps like these are understandably appealing as a gateway to financial inclusion.
What marketers can learn from fintech super apps
The success of fintech super apps comes down to a clear focus on addressing user pain points. Addressing your own users' concerns doesn't have to mean transforming your app into a super app though. It means putting the user at the centre of all your decision-making.
Take merchants and payments platform, Xend. After consultation with customers revealed that regular drops in Internet connectivity was slowing down business, Xend was able to make its app work offline. Ride sharing app, Bolt pivoted to grocery delivery during last year's lockdowns when users weren't able to go to the store.
The success of fintech super apps comes down to a clear focus on addressing user pain points
What ultimately draws people to super apps is their unique ability to aggregate multiple user needs in one place. But you don't need a super app to achieve this. Through rigorous user testing, Sephora learned that its users didn't want to search all over the app for features like purchases, accounts, and subscriptions. So they developed a "Me" section to house everything in one place.
How the pandemic is shaping the future of Africa's app landscape
The height of pandemic induced a 20% increase in app installs and a sustained upward trend through to Q1 2021.4 With smartphone connections in Africa expected to double by 2025, the app economy will see even further growth.
Against the backdrop of steady growth, fintech super app innovation, and a move towards digital transformation, there has never been a better time to refine your app strategy for a mobile-first Africa.
To learn more about the changing African app landscape and how to thrive in it, download AppsFlyer and Google's report below.